On Monday, October 29, day five of the 2023 North American Division's Year-End Meeting (NAD YEM), delegates applauded as treasurer/CFO Judy R. Glass, the first woman elected to the role, took the stage for her inaugural report. Glass began with a heartfelt testimony. "When I started this position 91 days ago, there were times when I felt like I was thrown into the deep end of the pool. [What] helped me on this journey was the reminder that I have a Friend. And my Friend walks on water," she said.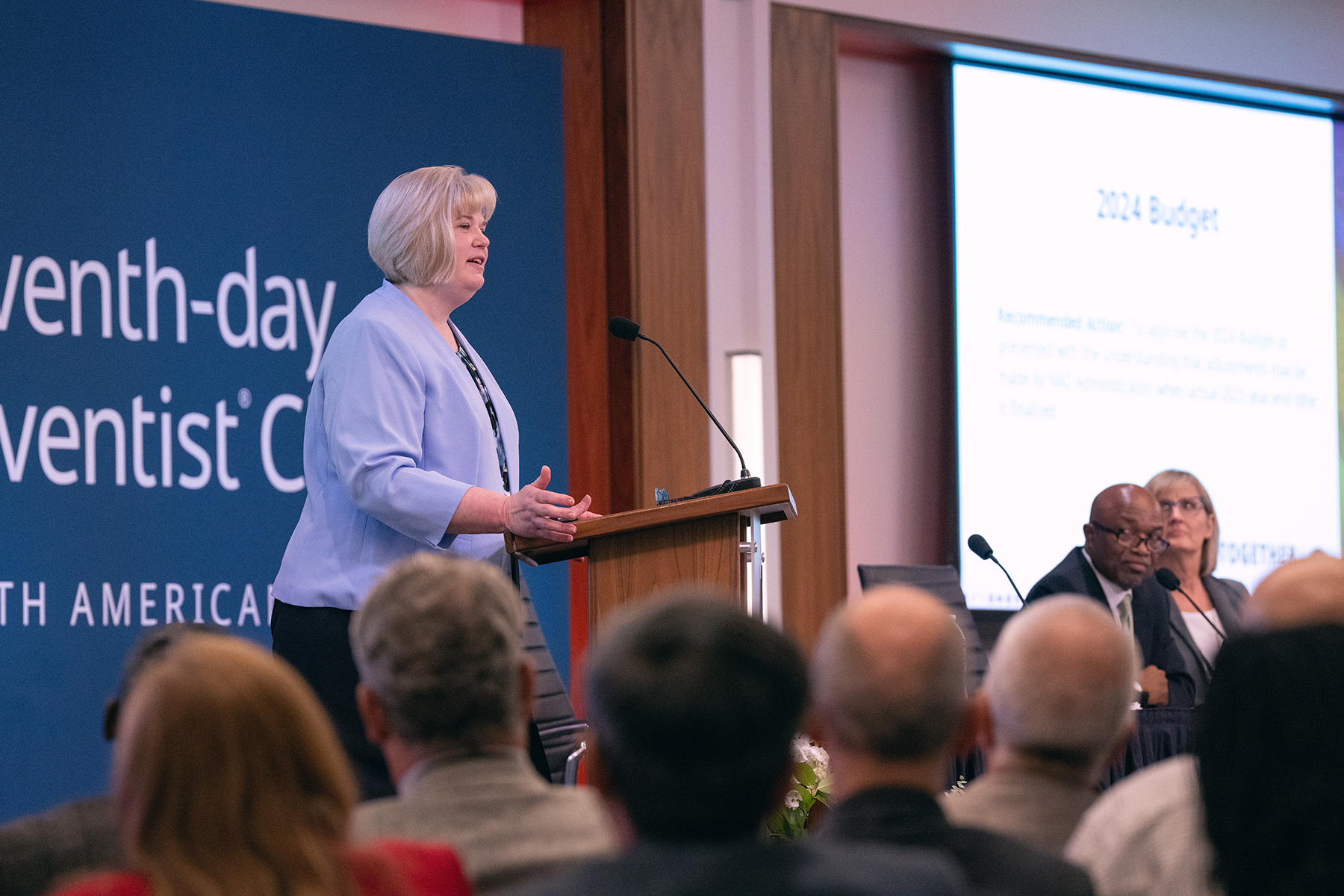 "This year has just been amazing," she continued. "Through September, we have a tithe gain of 9.65 percent. That's with every union reporting gains and only one of our 59 conferences showing a loss. God is blessing us as we look forward."
Glass shared that the surplus enabled the NAD to allocate funds to its strategic focus areas — media, mentorship, and multiply (three Ms), as well as the Antioch initiative, which aims to resource and create centers of influence[1] in major U.S. cities. She challenged delegates to submit proposals for the Antioch project, emphasizing using God's resources for mission.
Financial Highlights
Next, Glass presented highlights from the 2022 audited financial statement. She underscored that the NAD's net assets are "all on an upward trend," while liabilities have remained consistent over the past several years.
Glass then addressed the NAD's working capital, i.e., the assets available for its day-to-day operations.[2] With a working capital of 9.06 months in 2022, the NAD has exceeded the six months recommended by the working policy. "Those extra months benefit us, especially when we get into [emergencies] like COVID-19 in 2020." This cushion helps the NAD "be a backstop for [its] organizations."
The last two years have shown significant gains over five years. "In 2021, we still weren't traveling a lot, and in 2022, we had significant tithe growth," Glass explained.
Glass and others subsequently presented several reports, which the NAD YEM executive committee voted to approve.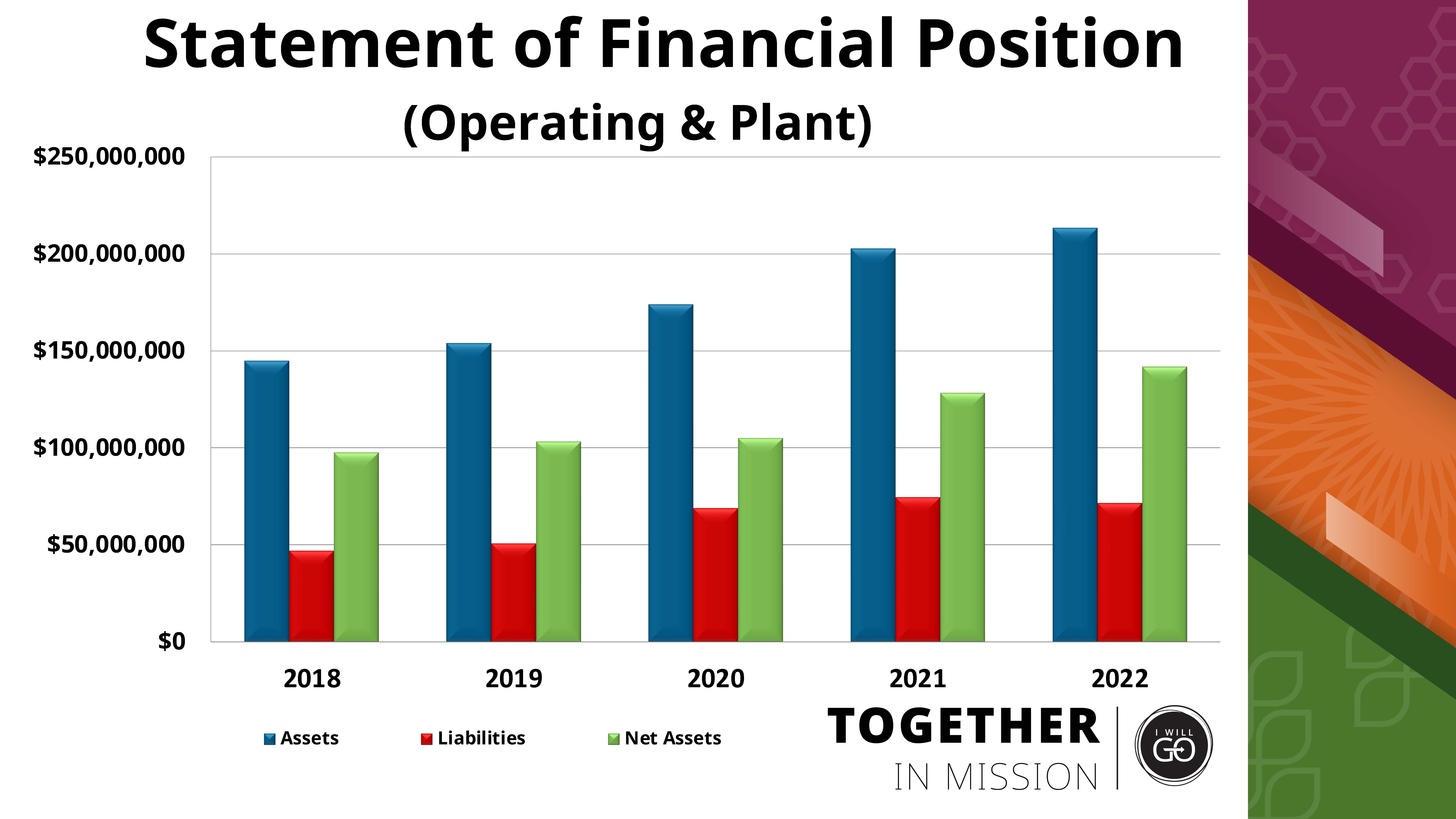 NAD Audit Review Committee Report
Ken Denslow, Lake Union Conference president and chair of the committee that reviewed the audited 2021 and 2022 NAD consolidated financial statements, then gave his report. He joked, "Our audit was so clean they decided anybody could share it." Denslow then reported that the committee, comprised of union leaders, had reviewed the audits without any NAD leaders present in case of any pressing questions or comments, of which "there were none."
Year-to-date Unaudited Financial Statements
Transitioning to year-to-date (YTD) unaudited financial statements, Glass shared that comparative tithe was up by 8.36 percent year over year through August 2023. Moreover, while all nine unions demonstrated growth, "Lake Union led the way with 11.67 percent."
Among several gains, the NAD's income exceeded the budgeted amount by nearly $9.9 million, net tithe was $10 million greater than the budget, and expenses were under budget by roughly $5.3 million. The overall bottom line, including non-operating activity[3], showed a gain of $8.1 million, $16.5 million better than the budget. Finally, the NAD's cash and investments totaled $123 million, a $4 million increase from last year.
Glass referenced another financial metric, days cash available, which is how long the organization could cover expenses without additional income. She shared that cash available, excluding the $8.3 million set aside for special projects, is 172 days, slightly under the target of 185 days but still healthy. Similarly, by August 2023, working capital was 7.67 months, below the August 2022 figure of 9.06 but close to the target.
She then turned to the August year-to-date expense summary. "We're ahead of or better than budget in all but a few categories." Also, while income per day was  less than expenses per day in 2020, the reverse was true in 2021. Among cost-cutting measures will be encouraging departments to engage in more collaborative initiatives. Overall, the NAD's financial profile is favorable, exceeding 2022 figures, with strong tithes expected in September.
Glass asserted that, by God's grace, the division is in a position "to weather some challenges … and provide support for our churches, unions, and conferences." She concluded, "God is faithful. And as long as we're partnering with Him, we know He will walk with us on this journey."
Compensation Review Committee Report
Mid-America Union Conference president Gary Thurber presented the compensation review committee's findings on compensation paid through December 2022. He mentioned that the group had met via Zoom to review prepared materials. "It was a good committee. They asked all the right questions," he remarked, noting that after carefully reviewing the material, they had voted to accept the compensation report for salary and the report for travel expenses.
Invested Funds
Glass shared that the NAD's invested funds have remained steady. However, investments declined by the end of 2022 due to a significant market decline. "We're working our way back up in 2023. But what I really want to talk to you about is the 2023 funded depreciation," Glass said enthusiastically. In 2021, the NAD allocated $5 million as a capital depreciation fund for their building, reasoning that thoughtfully investing a lump sum would yield more funds for building depreciation than annual allocations. Glass also noted that the NAD is using short-term treasuries for some funds to take advantage of the higher interest rates (about 5.5 percent). She concluded, "We're continuing to monitor and evaluate all our asset allocations over time."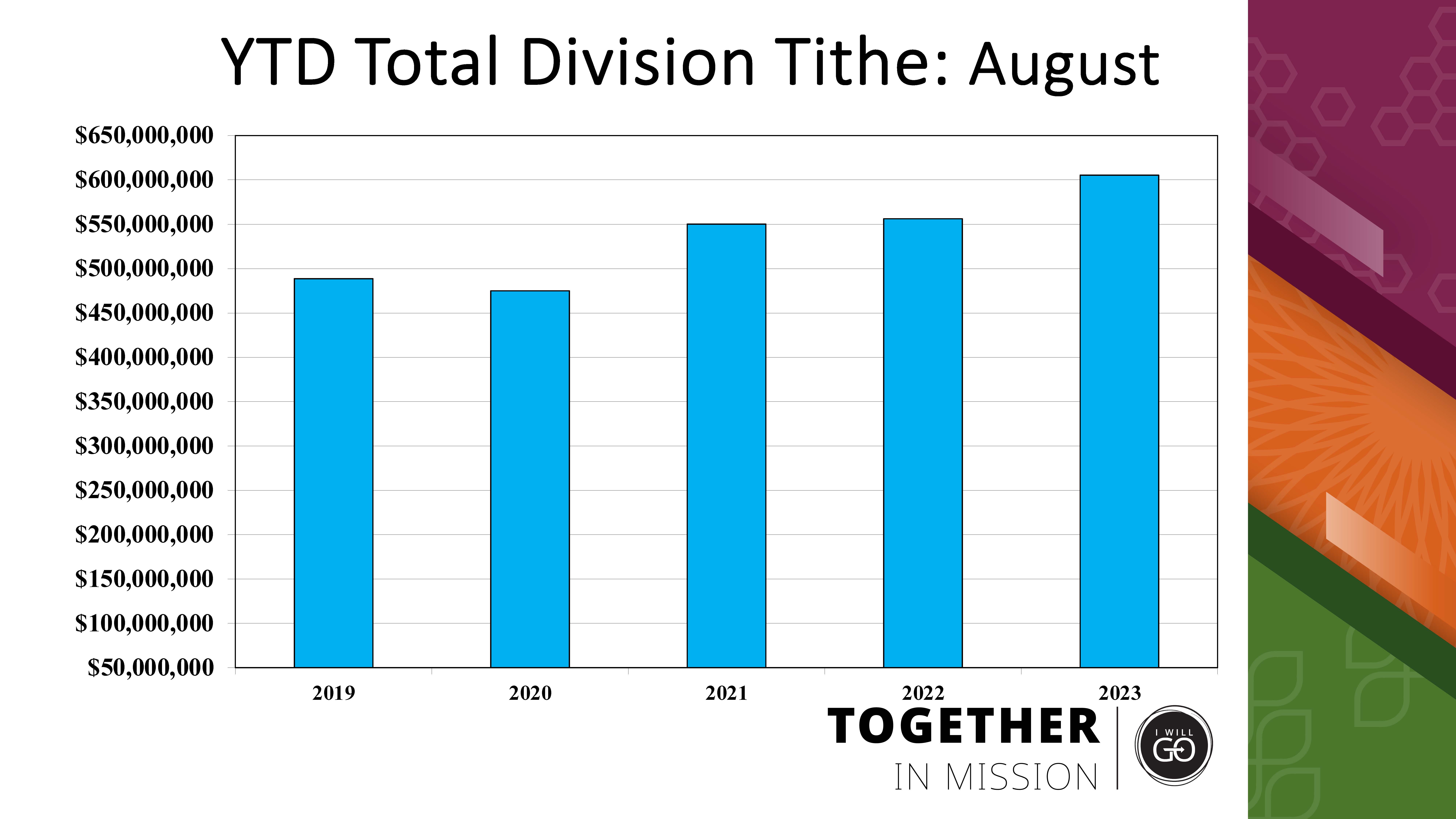 Report from General Conference Auditing Service (GCAS)
"The confidence and trust of our members is the greatest human resource of the Seventh-day Adventist Church," began JoJean Birth, associate director for GCAS in North America. She conveyed that GCAS's theme for the next five years is transparency and accountability, aligning with the church's touchstones established when the General Conference (GC) and first audit committee were founded nearly 160 years ago. Birth noted that GCAS represents a standard of financial transparency and accountability rare in religious organizations. "This is something we as the church can be proud of," she said.
Birth shared that in 2022, GCAS committed to conduct 295 audits and completed 250. Notably, 86 percent of division audits received a standard or unmodified opinion, compared to 63 percent globally. Only one percent of audits received an adverse opinion, and nine percent were qualified. Four percent were disclaimer audits, representing insufficient financial information.[4]
Moreover, 72 percent of policy compliance reports violated at least one of the NAD's core policies, with conflict of interest being most typical at 33 percent. Birth concluded that GCAS would continue to tackle accountability and transparency issues so the church could focus on mission.
Birth's report was accepted following a brief discussion in which a key topic was the division-wide shortage of accounting professionals for hire, mirroring the teacher and pastor shortages.
Birth recommended that more entities hire and mentor recent graduates. Judy Glass noted that she began her career as a GCAS intern while in college, and the NAD has paid internship programs in business, communication, information technology, human resources, and now public affairs and religious liberty.
(Click here for the entire 2022 GCAS annual report.)
NAD Retirement Plan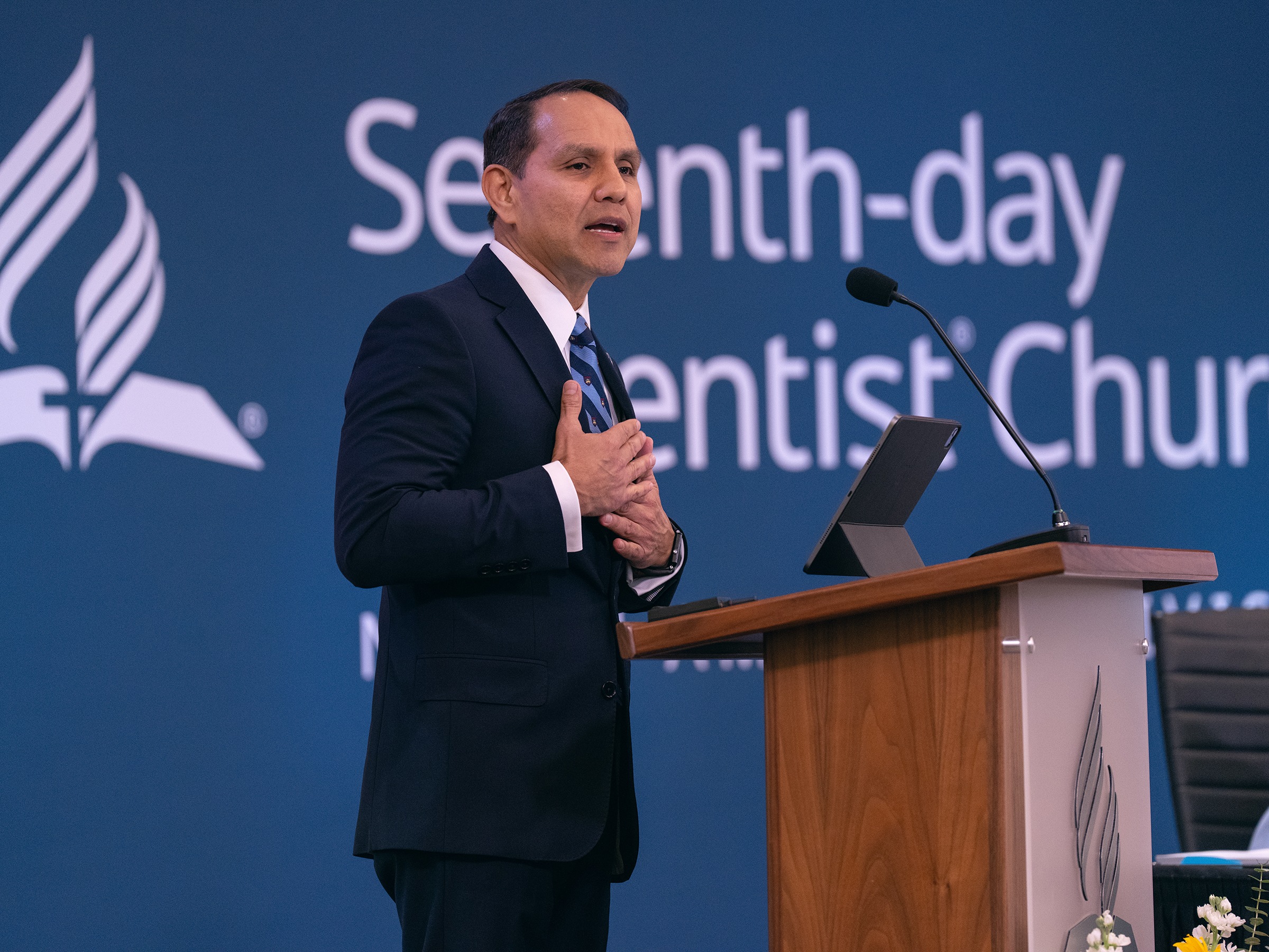 Edwin Romero, NAD retirement plans administrator and associate treasurer, underscored the value of the NAD's eight retirement plans, worth $8 billion, benefiting 36,000 participants. He read messages from grateful retirees, including a pastor, who said, "After 40 years of preaching, teaching, and bringing people to Jesus, when I receive my monthly pension, I feel valued. I feel connected." Romero stated, "These precious preachers and teachers, administrators and supporting staff, are the main reason, the main driver, for us to fund our defined benefit church plan as well as health care plan."
Romero then mentioned the transition from a "pay-as-you-go" plan, which would have taken 30 years to pay off, to the "de-risking plan," with full funding expected in only 11.7 years as of July 2023. Also, as of January 2023, 7.6 years remain for the health care plan to be fully funded. They anticipate reaching a fully funded status for the defined benefit plan by 2035 when assets reach $684 million which would be enough to offset the liabilities of the plan. This will also reduce conferences' retirement contributions.
Romero shared about initiatives including a Certified Financial Planner for retirement participants, auto-escalation allowing participants to increase their contributions from seven to 15 percent, and the Supplemental Healthcare Adventist Retirement Plan (SHARP).
He also addressed employee longevity; namely, that NAD employees have a higher mortality rate than the general population. He then introduced a workshop series on holistic well-being — health, wealth, and faith.
Finally, Romero expressed a longing for Jesus to come back soon so he "didn't have to talk about market corrections, investment earnings on funded plans, and asset allocations."
He continued, sharing photos of himself and other retirement leaders engaged in ministry. "Jesus Himself said, 'Occupy until I come.' So, we will. But without losing sight of our main occupation, our mission to reach North America and the world with a distinctive, Christ-centered Seventh-day Adventist message of hope and wholeness."
2024 Budget Assumptions
While presenting the 2024 budget assumptions, Glass switched hats to undertreasurer, a role she has been temporarily carrying since August 1 when she became Treasurer/CFO. Bryant noted, "The NAD budget is 300 pages. So she has been doing the work of two people for several months. We want to say thank you so much, Judy, for the many hours you have spent to bring us to this point."
She spoke to the NAD's two percent reduction in remittance to the GC over the past four years, highlighting that "all two percent is going back to the conference." The 2024 budget includes the fourth and final .5 percent reduction.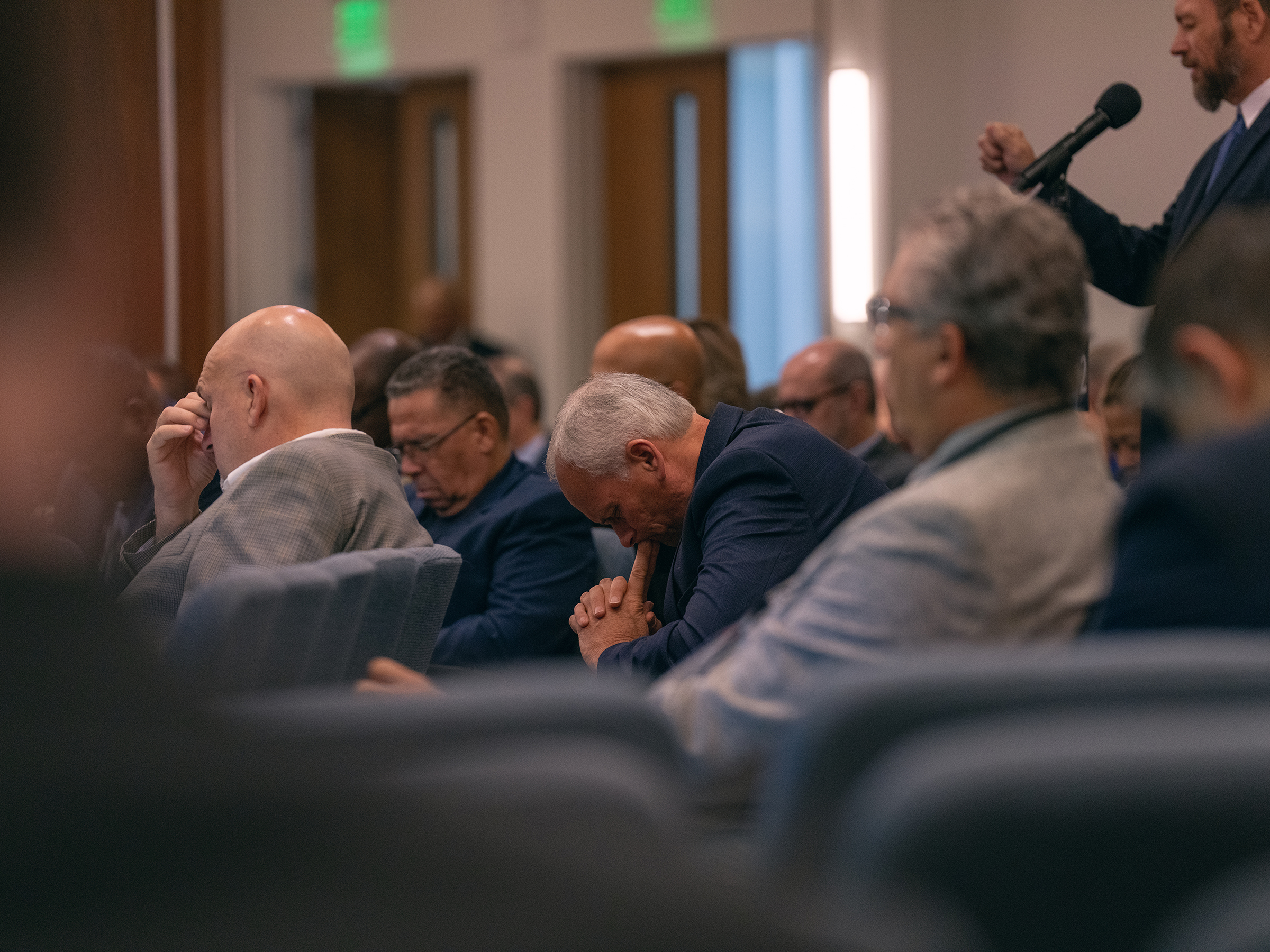 Additionally, the budget assumption will incorporate a five percent cost-of-living increase. Travel has been budgeted at approximately 93 percent of pre-COVID levels. The budget also includes a $1 million ARM appropriation for premium reductions and $110,000 for the new Alive in Jesus Sabbath School curriculum training.
The total budget is more than $135 million, a $168,507 increase from 2023. "Our budget is balanced, [including] an approximate $1.34 million of existing fund balance we're planning to use. We've reviewed the expenses and feel like we're on target for 2024," Glass stated.
Finally, Glass addressed how the NAD will use the budgeted $1.2 billion gross tithe. She shared the following breakdown: the NAD will keep 13.9 percent, roughly $166 million, much of which provides services for the field, and the rest, 86.1 percent, or $1,033 billion, will be retained by the conferences. Later, she shared a video on tithe allocations (view here), which summarized an earlier report by recently retired NAD treasurer Randy Robinson emphasizing the reallocation of NAD and GC funds back to the conferences.
A lively 30-minute discussion covered topics including reaching immigrants and refugees, recruitment challenges, and more. Several leaders, including former NAD treasurer Tom Evans and current GC treasurer Paul H. Douglas, affirmed Glass for her excellent work in dual roles.
Douglas added, "The reports you heard today mirror what we're seeing in the world field where tithes and offerings exceeded even 2019, pre-COVID levels. God is doing something extraordinary. And I would encourage us with all God has provided through His faithful members to do what we must so He can come."
In her conclusion, Glass thanked the treasury team, including the newly added AdventistGiving personnel, and former boss Robinson. She stated, "God is amazing in what He does. Praise the Lord. Give thanks to the Lord, for He is good, for His steadfast love endures forever. … I am humbled and honored to serve as your treasurer. It's not something I ever imagined or dreamed about. But it's amazing the journey God takes you on when you trust Him and follow His path for your life." Then Glass called for the treasurer's report to be accepted, and delegates received it without hesitation.
---
[1] Centers of influence are "wholistic ministry centers in urban areas [connecting] the church to needs in the community." Source: https://am.adventistmission.org/360-centers
[2] https://www.investopedia.com/ask/answers/071114/how-do-you-calculate-working-capital.asp
[3] Non-operating income is the "part of a company's income that is not attributable to its core business operations." Source: https://corporatefinanceinstitute.com/resources/accounting/non-operating-income/
[4] https://www.onboardmeetings.com/blog/audit-report-types/