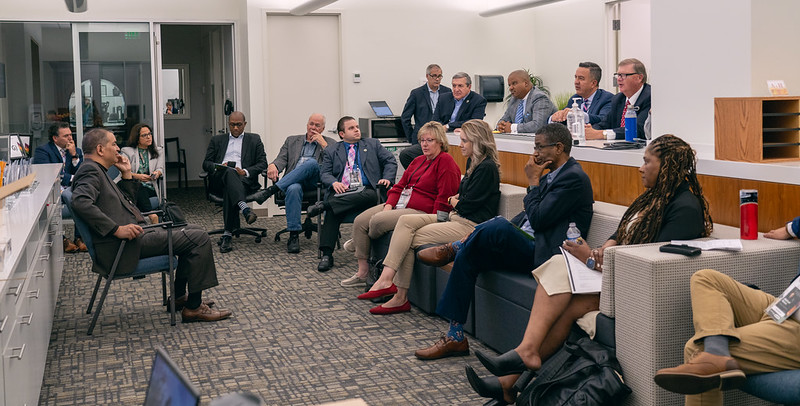 Breakout session one on Friday, Oct. 27, 2023, allowed each union to report on their discussions during the past year on the points raised during the 2022 year-end meeting. Topics included online church, educator remuneration, and membership data collection. 
Church Member Data and Online Churches
The committee report on "church member data collection and use" stated its usefulness as a growth and involvement tool, as well as a source of insights for improvements "to enable pastors, churches, conferences, unions, and the division to better serve their constituents and communities."
The online church guide rational names online church as "a relevant and essential tool for the mission of the church," playing a vital role in evangelism and enhancing digital discipleship. "By leveraging online platforms," the document states, "the church can extend its reach, engage with a diverse audience, and provide opportunities for spiritual growth and connection."
In general, all groups endorsed these recommendations, though a few shared suggestions for minor modifications or further consideration. 
Several asked that a separate entry be added to the Seventh-day Adventist Church Manual regarding online churches with guidelines specifically on handling membership information and financial matters such as budget and tithe. Southern Union also recommended a specific guideline for identifying legitimate online churches to avoid scams, etc.
Atlantic Union requested a simplified, user-friendly platform for sharing of materials between all conferences and unions, and a place where members can go and do everything they need to do with their church in one place, from listening to music to giving tithe.
In regard to online church, Columbia Union urged the committee to seek methods for getting purely online churches together for "the in-person connection we all seek and need."
Along a similar vein, assigning elders to online churches was a suggestion from the Adventist Church in Canada, to ensure follow up and connection with those who do not worship in person.
Columbia Union's report on their discussion on membership data focused on church clerks; there was talk of paying church clerks, as the accuracy of all church databases rely on them. 
Educator Remuneration
Recommendations under consideration from the education task force were as follows: To update the wage scale for educators to reflect industry standards; To develop and implement an employment benefit package for educators; To have NAD partner with and support unions in creating incentives for theology and education majors; and To provide funding for hiring union-level coaches to facilitate the coaching process of educators in their territories in an intentional and sustainable manner, and to include the development of resources to support the process.
By and large the most in-depth discussions were had on this topic. 
The general consensus of all groups was that the remuneration of educators cannot be separated from consideration of the remuneration for pastors. Many concluded that keeping up with industry standards is not possible for the church, and instead the church should seek to set standards for within the church, based on a living wage. Some also pointed out that this needs to be evaluated at a state level, as cost of living varies greatly from state to state.
Tuition reimbursement and student loan relief were also mentioned several times; Atlantic Union additionally suggested that alternate methods of financial support for Adventist schools be pursued so they are not reliant fully on tithe dollars.
Pacific Union suggested that the committee not only review the current employee benefit package, but enhance it as well. The Adventist Church in Canada agreed, recommending a more equitable benefits package for teachers and pastors.
Lake Union pointed out that incentives are currently driven by unions, meaning educators are gravitating toward certain areas simply due to greater incentive.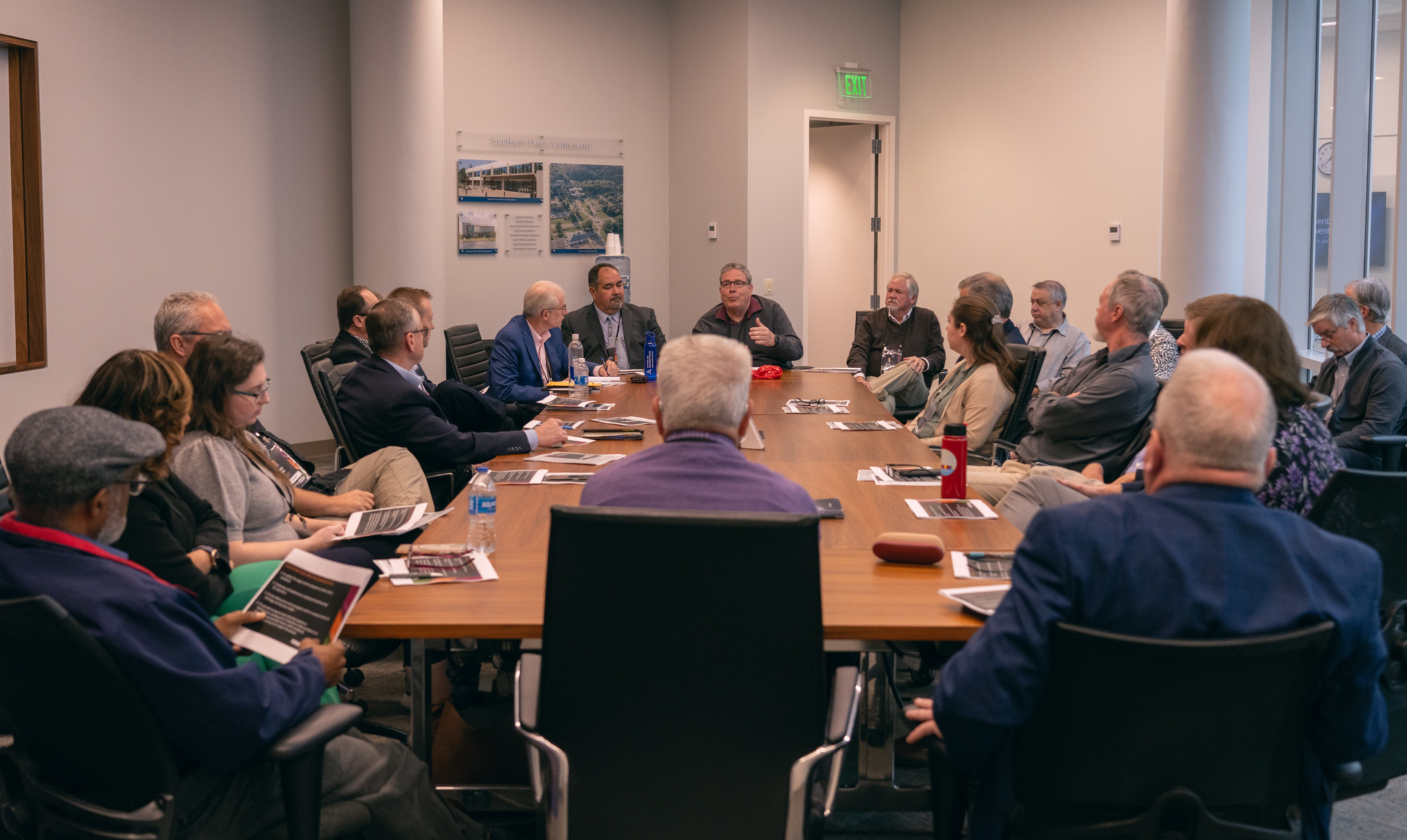 Motions
Three motions were put forth at the conclusion of the reports, and they are as follows:
A motion to send the education recommendations with consideration of mentioned modifications on to the committee for discussion and conclusions over the next year. This motion was seconded and carried with none opposed.
A motion to accept the membership data recommendations as stated in the document. This motion was seconded and carried with none opposed.
A motion to accept the online church recommendations, noting there must be better guidelines created for them. This motion was seconded and carried with none opposed.
The education remuneration and benefits issue will be revisited throughout the year by a special committee formed in August 2023 by the NAD, and will be brought before the unions for a vote during the year-end meeting in 2024. G. Alexander Bryant, NAD president, indicated one to two Zoom meetings in spring or summer may be required to ensure the committee is tracking with the unions' requests leading up to the report and vote in October.
Breakout on Pastoral Ministry
On Monday, Oct. 30, delegates gathered to hear and discuss responses from each union on the following questions:
What are the reasons people are not choosing to go into pastoral ministry, and how can we address concerns?

How can all levels of the church help with the NextGen initiative and recruiting process?
Judy Glass, treasurer for the NAD, read submitted comments from the screen. Many were similar in nature; and those that appeared most frequently included: the church not addressing issues young people feel are relevant and important; ongoing inequality in ordination; remuneration; and the lack of work-life balance.
The Lake Union breakout group commented that with a declining number of households modeling daily scripture reading, it makes sense that few young people would be interested in being part of a profession which includes a devotional life.
The Pacific Union simply said, "We may not be the best promoters of our occupation." The Adventist Church in Canada echoed this in their comments: "We don't present the positive aspect of bringing salvation to others." Mid-America Union said, "There are too many negative messages on social media about pastoral and educational ministries."
Ideas for addressing concerns varied, though many suggested scholarships to remove the barrier of educational expense. Mentoring was also frequently mentioned, some with the idea that older pastors would mentor younger pastors to keep them in their ministry, and others with the idea that high school and college students demonstrating characteristics of pastoral ministry would be mentored into these academic programs and careers.
Reviewing the role of a pastor and redefining expectations came up a few times, as well, with one union stating it plainly: "Expectations placed on clergy is crushing."
Columbia Union suggested, "Be intentional about recruiting young people to the ministry through modeling, sharing the benefits and blessings of pastoral ministry." They also said, "Give them a taste of ministry through service, volunteerism, and short-term mission experience."
Bryant commented after all responses had been read that the four or five issues mentioned the most frequently would be taken to a committee for strategy development. The floor was then opened for comments and discussion.
"If I was a young person and met one-on-one with the leaders in this room, and I asked them if I should become a pastor or not, what would they say?" asked Kevin Erich of Washington Conference. "It would behoove us to take a look at what's right with being a pastor and have talking points on that instead of why not to do it." He sat down amidst a round of applause.
Louis Fitting, pastor from Idaho Conference, suggested that leaders gather more input on the issue from young people, intentionally hosting gatherings for open conversations across the division. 
"As one of the youngest people in this room, I'm grateful for what was done here, and the results," commented Eric Claus, associate director for hosting and infrastructure in IT at the NAD. "The culture of the church has been built around 70-year-old white male pastors, and I'm grateful to see that changing today."
Rodney Hahn from Lake Union urged delegates to remember it's not the church but the Holy Spirit who calls people into ministry. "The question is," he concluded, "what do we need to do to make sure we're acknowledging who God is already calling?"
John Freedman, president of North Pacific Union Conference, shared that their scholarship initiatives have resulted in notable increased enrollment in both the theology and education departments at Walla Walla University. It's the process of getting through the system, he said, that is overwhelming and confusing to many, and if we help them with that, the rest will fall into place.
Later in the discussion, Ivan Williams, NAD Ministerial Association director and new NAD vice president, introduced the room to Danny Calderon, an employee in the shipping department of the NAD. 
"For the last three years, Danny has told me he feels called to ministry," Williams explained. "He has a wife and a new baby and he needs to work, so I wanted to introduce him to this room full of employers who can work out something between heaven and earth to give him the opportunity to join us in ministry, even outside of the shipping room."
Bryant spoke up then and said, "Part of our job is to take the hindrance away from the person who feels called. There are a lot of 'Dannys' out there for whom we need to facilitate the call so they can move forward."
After the breakout session report and subsequent YEM presentations, Charles Tapp, president of Potomac Conference, closed the day's session with prayer. 
"We have come from the north, south, east, and west, with no idea what would transpire here these last few days," prayed Tapp, "but I'm truly confident the presence and power of your Spirit has been here. And all God's people said, 'Amen.'"