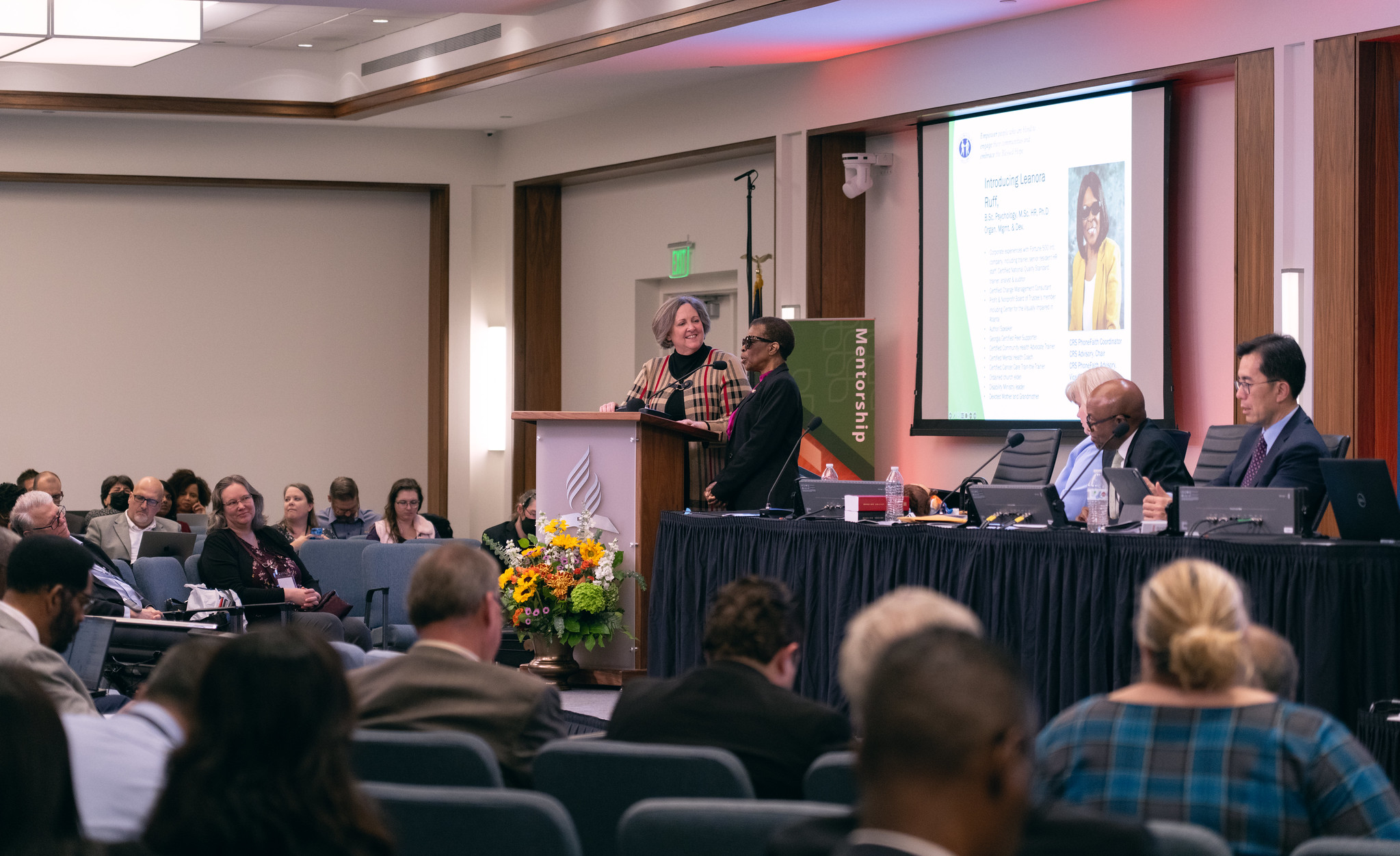 The breadth and diversity of the North American Division (NAD) ministries and institutions was on full display Monday, Oct. 29, as Seventh-day Adventist church leaders gathered for the fifth day of the 2023 NAD Year-End Meeting. Because these meetings are also publicly live-streamed, this was a chance for not just church leaders, but church members at home to see their tithe dollars at work — as well as "who the people behind the ministries are" and "what the new resources are that they might want to access."
The agenda also included the report of new NAD treasurer Judy R. Glass, which will be covered in its own article, as well as the results of a breakout discussion on the looming shortage of pastors, which will be included in a forthcoming in-depth article on the break-out sessions of these meetings.
The first group of departments are all key providers of resource materials for the church.
Pacific Press Publishing Association
Established in 1874, the publishing ministry is one of the oldest in the Seventh-day Adventist Church. Their report shared about "the beautiful tapestry of ways Pacific Press touches the lives of church members every day."
Located near Boise, Idaho, Pacific Press produces daily devotionals, the quarterly Bible study guide, and supporting materials, church bulletin templates to reduce the design burden on local churches, and small group resources. The youngest church members get specially tailored content each week in the Sabbath School magazines that "are like a treasure chest of wonder for our children's faith."
Pacific Press also releases about 70 books each year and ebooks and audiobooks, which can be purchased online at Adventist Book Center.com and in independent ABC stores around the country. Cookbooks and health materials help educate people about the connection between their spiritual and physical health while magazine special issues and pocket tracts equip members for outreach so they can share the right message at the right time. "Pacific Press resources are woven throughout the beautiful fabric of Adventist life," concluded the report.
Children's Ministries
Children's Ministries shared that they will be releasing a new and fresh package of Bible studies for children between the ages of 7-10. The 20-lesson series will be launched at the Children's Ministries retreat in Jan. 2024. Director Sherri Uhrig shared that this, and other resources, were developed in response to a survey that was sent to all conferences and unions and it is shaping their planning for the coming years.
They also produce the Vacation Bible School (VBS) program package and last year sold 685 English VBS kits and 236 Spanish kits.
Other free downloadable resources highlighted were:
Children's Sabbath

program for October 1: Based on the first day of the year's VBS, leaders can invite children back where they will see the same songs and responses. It is led by kids, for kids and families.

Happy Birthday Jesus

is a resource for families of young children to have a 25-day journey to celebrate baby Jesus.

Blue Chair Podcast

: Launched in July 2023 to stay in touch with the children's ministries teams. It is on podcast apps and the NAD Children's Ministries YouTube channel.
There is also a new children's Sabbath School curriculum, Alive in Jesus, produced by the General Conference, that will start launching in 2025, with one age group coming out each year.
AdventSource
AdventSource is the resource center for the Adventist Church in North America and is located on the campus of Union Adventist University in Lincoln, Nebraska. AdventSource chose to highlight a new resource developed in partnership with NAD Health Ministries. Seasons is a small group resource that helps people move through the changes of grief and loss.
The next group of reports was for institutions belonging to the NAD. For the non-profits Christian Record Services and Adventist Community Services (ACS), the NAD Executive Committee serves as their legal constituency, so for each of these, the NAD adjourns its own business session and then separately convenes as the constituency of the non-profit.
Oakwood University
Before the Oakwood University presentation, the Oakwood Adventist Academy boys' varsity basketball team was highlighted in a short film produced by the NAD Office of Communication. The film, which premiered at the YEM, told the story of the OAA team reaching the state championship game of the Alabama 1A Class boys varsity level, after having missed out in the previous year when they had to forfeit a game scheduled on the Sabbath.
The young players were united that their faith came first, and the resulting uproar over the refusal of the athletic association to move the game led to an outpouring of support across the state, culminating in an invitation to meet the governor. With help from the General Conference Office of General Counsel and Beckett, champions of religious liberty, OAA was able to participate in the 2022-2023 season with religious accommodation, and though they lost the championship game, everyone felt like they were the winners in the bigger picture of life.
Oakwood University is a historically Black, Seventh-day Adventist institution in Huntsville, Alabama, that was founded in 1896. As he transitioned into the university report, Oakwood president Leslie N. Pollard said, "We sometimes wonder if they are listening when we are talking, but they are listening. … That is what Christian education produces."
In line with their strategic theme of "Enlarging Our Territory," Oakwood celebrated the largest attendance ever (700 students and 250 parents and chaperones) for the Oakwood Live high school recruiting event, which allows students to test drive what it would be like to attend the school. Though this year's enrollment dipped slightly after three years of gains, the event attendance is encouraging for future numbers.
The other major area of expansion is in graduate education. The board has taken a vote to launch the first doctoral-level program in 2024 and there is also a new Master of Arts in Urban Ministry. This unique program rests on three areas; social justice, community health and diversity, equity and inclusion. "The kinds of concerns that are holding communities together or ripping them apart," said Pollard. The school has also increased the pass rate of its nursing program from 50 percent to 91 percent and now 100 percent, and has a cohort of 13 new students enrolling in its Master's in Social Work program this year.
At the end of the report, NAD president G. Alexander Bryant said, "I was just reflecting on what we have heard over the last several days and, though it was not planned, what we have heard is a constant thread of the impact of Adventist education … It shows the power of this gift God has given the [Seventh-day Adventist] Church."
Christian Record Services (CRS)
Next year celebrates 125 years of providing resources and services for people who are blind.  "This is truly a legacy ministry of the church" said director Diane Thurber.
Everyone was very proud to also get a chance to celebrate CRS employee Dr. Leanora Ruff in person, who was recently awarded the President's Lifetime Achievement Award in Atlanta by Rubye Braye on behalf of AmeriCorps and the Office of the President of the United States in recognition of her commitment to build a stronger nation through her lifetime of volunteer service.
Ruff, who is blind herself, described how she had been helped personally and professionally over her life by CRS and came to run the call-in service PhoneFaith, which joined CRS in 2020. Each year they reach well over 1,000 people with at least 17 different weekly call-in programs.
"We try to inspire mind, body, and spirit through our speaker-led programs and also hold prayer conferences," said Ruff. "Every Friday night we review the Sabbath School lessons and we also celebrate the birthdays of our callers on the fourth Monday of every month. We have revivals and virtual meet and greets. We nurture legally blind people into becoming volunteer hosts and they do so in a marvelous way."
She added, "People able to be presenters can contact the program directly. Everyone can refer a friend for services and give to help keep this ministry going."
Thurber shared details about the healthy financial position of the organization and Bryant reminded listeners how through Thurber's leadership CRS has gone from a ministry that seemed to have reached its end to a vibrant organization. Exciting new projects for 2023 include publishing the Conflict of the Ages series in Braille, thanks to a grant from Adventist Laymen's Industries (ASI) and CRS's new braille production suite, just opened this year. A NAD grant will allow them to produce the most comprehensive version ever done of the Seventh-day Adventist Church Hymnal in Braille, and it will also be available in large print.
The total 2022 ministry impact statistics were 17,611 people uplifted, more than 100,000 resources delivered, 17 weekly Phone Faith programs provided, five college scholarships awarded, many Bibles and Bible lessons mailed, 40 Bible course graduates, and five partner camps held.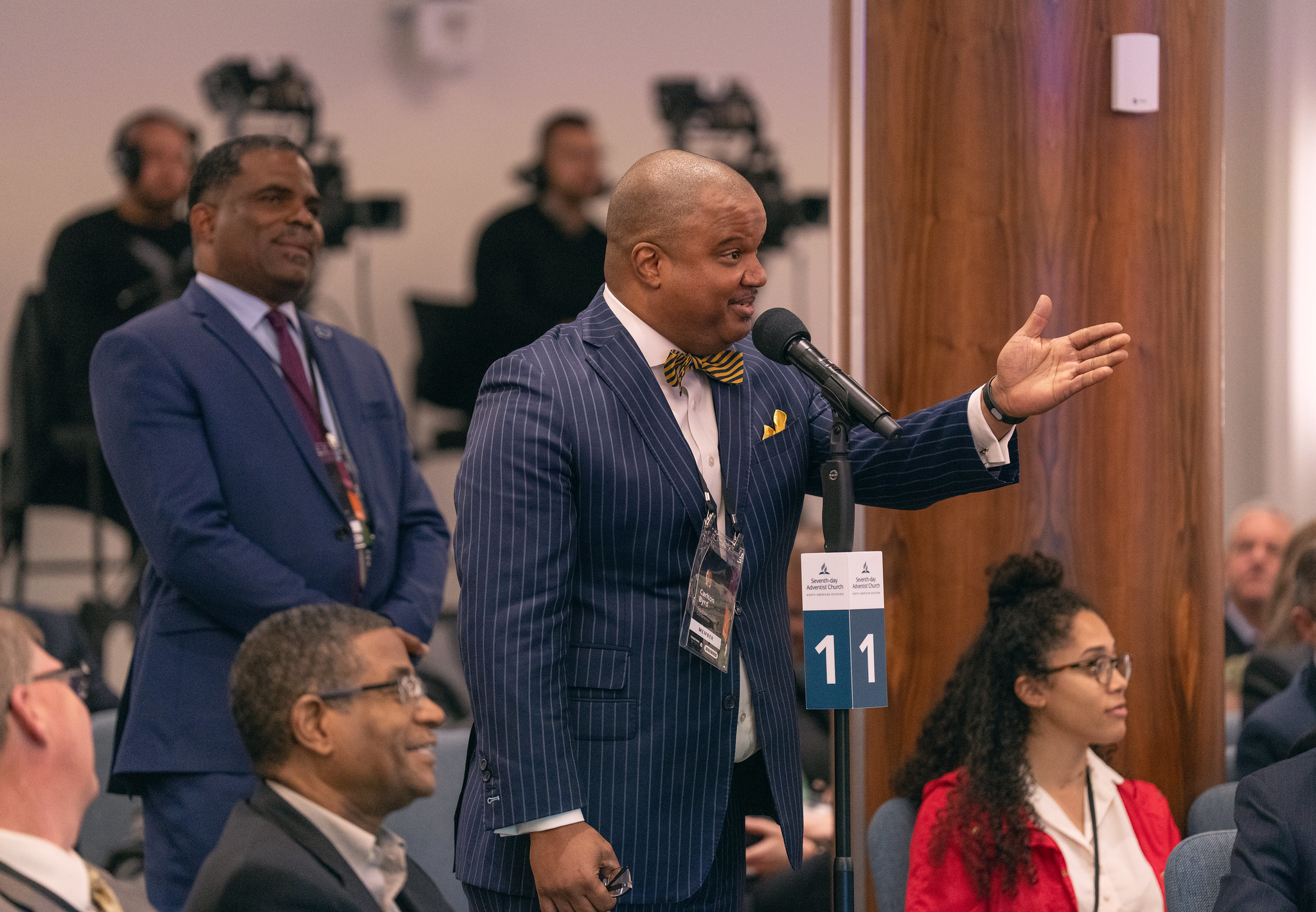 Adventist Community Services (ACS)
ACS forms a network of programs committed to caring for vulnerable people in their communities. "No matter the size of the operation or volunteers, these centers share the value of compassion in the name of Christ," said director W. Derrick Lea. "We trust [this report] will give you an idea of the valuable services Adventist churches are offering as they represent the love of God to their communities. The past few years have seen growth, both in need and in programming. As well as innovation of what services are offered and a shift in how we deliver."
Food pantries have been a major area of focus in the wake of the COVID-19 pandemic, as the resulting unemployment and now inflation have kept demand high. ACS has funded equipment such as industrial refrigerators and freezers that have allowed pantries to accept more donations of perishable food.
One such center, Renewed Hope, serves the Overland Park, Kansas, community. An ACS grant allowed them to convert a city bus into a mobile food unit. They can now take a bus of nutritious food to low-income housing areas. In 2022, with the help of close to 400 volunteers, they were able to serve almost 7,000 people each month.
Other innovative investments included the purchase of shower and laundry trailers, greenhouses, welding equipment and so much more. Through more than $350,000 in grants, over $1.5 million has been distributed to disaster response to affected conferences and unions. This has included responding to natural disasters such as the Maui wildfire disaster and to human-made ones such as the mass shooting in Buffalo, New York. The Buffalo response included ACS-trained volunteers who had gone through its emotional and spiritual care certification program.
Another very successful intervention is the ACS thrift stores. These are self-funding ministries that transform traditional clothing banks into stores where families can outfit themselves and their homes at affordable prices. This approach generates cash that can support additional community ministries such as medical services, food pantries, and support groups. And ACS staff can offer goods for free in case of urgent need. It changes the dynamics at the ACS centers and increases the dignity of its clients as they can shop and choose what they need.
"This is just the tip of the iceberg," said Lea in closing. "We know that in all corners of the division, God's faithful servants are bringing hope and wholeness to their neighbors."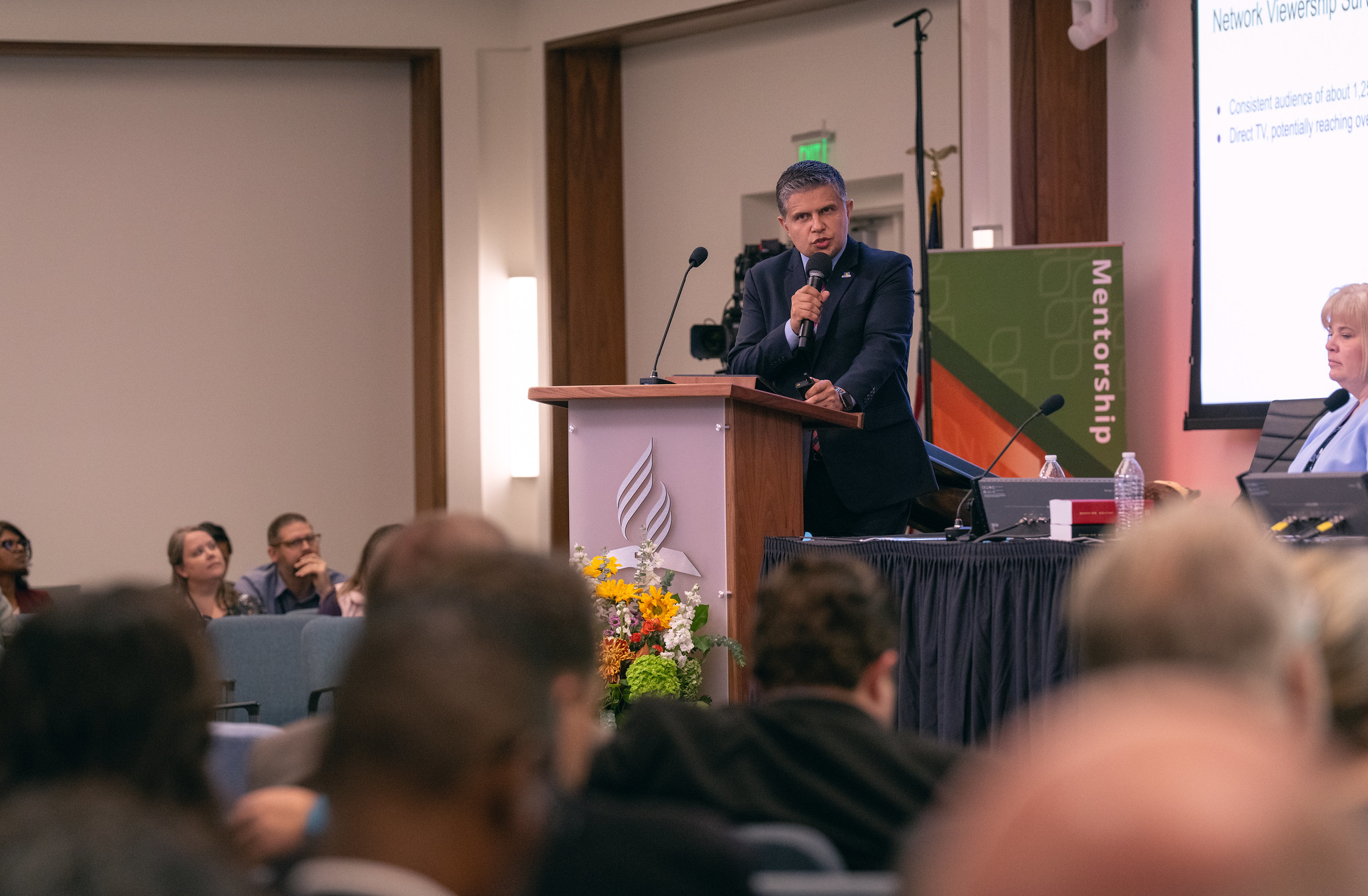 Other Business and Updates
The General Conference (GC), which is the worldwide leadership level of the Adventist Church, sent vice president Tom Lemon to share about the new proposed strategic plan (2025-2030), which is in the final stages of development, and other key updates. The GC's Hope Channel, the global Adventist television organization, also shared its report with the gathering, as it is based in the NAD and serves a large NAD audience.
The GC Strategic Plan 2025-2030 will be voted on at the worldwide church leadership meeting, annual council, next fall. It is developed by a large group of people and rests on four pillars:
Communication with God

Identity in God

Unity for God

Mission for All.
"Mission ReFocus" is the name for the effort to realign how the GC allocates missionary budgets. "Currently we support missionaries who are administrators and not front-line ministries," said Lemon. These budgets (known internally as "Code One Budgets") are being re-evaluated around the world to try to bring them in line with front-line outreach ministries in the area of the 10/40 window, the large cities, and those people groups the church does not normally each very well.
Hope Channel new president, Vyacheslav Demyan, expressed, "Our sincere gratitude to North American churches for their generous support so that today we have a global network of 82 channels with many owning their existence to the generosity of North American church members and donors."
Hope Channel reaches a consistent audience of about 1.25 million people. It also has a presence on DirectTV, which has a potential audience of 25 million. NAD is in the process of signing a license for two new channels within NAD territory: Hope Channel Hispano and Novo Tempo USA.
A "Church Growth Planning Tool" has been designed to support pastors with planning to grow their churches. In line with this topic, Bryant invited It Is Written lead television evangelist John Bradshaw, speaker/director, to share about an upcoming series of meetings in Alaska that churches outside the state can also stream to their congregations and even home groups. He encouraged churches to participate, especially those with 100 members or less, which is 50 percent of NAD congregations.