Together in Mission
The North American Division Strategic Focus
The NAD's strategic focus "Together in Mission" incorporates the General Conference theme "I Will Go," with special divisional emphasis on media, multiplying, and mentorship.
Click here to learn more
News & Events
Christian Record Services, Inc. (CRS) is pleased to announce the opening of its new office space dedicated to the production of braille resources. This expansion marks a significant commitment to serving the worldwide visually impaired community and enhancing access to braille literature for all.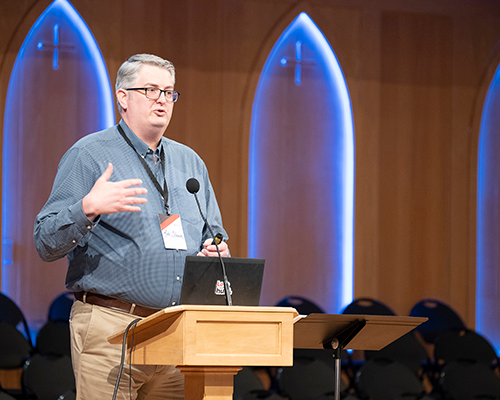 Themed "Safeguarding Peace," the enditnow Summit on Abuse, held from Nov. 12-13, 2023, at Andrews University, featured an abuse survivor's video testimony and follow-up discussions; thought-provoking devotionals; and presentations from advocates, church leaders, and educators. It ended with hands-on training on responding appropriately to abuse disclosures and creating a resource list for abuse survivors. More than 100 church leaders, educators, seminary students, professional advocates, and volunteers across North America and Europe registered for the event, indicating their commitment to combatting abuse. The two-day initiative concluded with an enditnow certification ceremony for attendees who demonstrated the ability to support abuse survivors through a skills assessment.
What does your church parking lot look like during the week? For many, the answer is "empty," but for two Adventist Community Services (ACS) ministries in the Houston, Texas, area, the answer is "full of cars." The Fondren Seventh-day Adventist Church ACS moved their food distribution into the parking lot in 2020 to abide by COVID-19 recommendations and they haven't moved back inside. Rain or shine, Fondren ACS volunteers distribute boxes of food to their community every Wednesday.
The third stop of the Young Adult LIFE Tour landed in the Southern Union Conference of Seventh-day Adventists at Spring Meadows Seventh-day Adventist Church in Central Florida. With more than 200 registrants and 1,000-plus in attendance, the weekend was filled with meaningful connections, inspiration, and relevant training on growing together.
NAD Newspoints E-Newsletter
During the Adventist-laymen's Services and Industries International Convention in Aug. 2021, GC president Ted N.C. Wilson announced an initiative to distribute copies of The Great Controversy worldwide. As 2023 begins, the NAD is encouraging members to participate in a special new approach to distribution.
North American Division Interactive Map