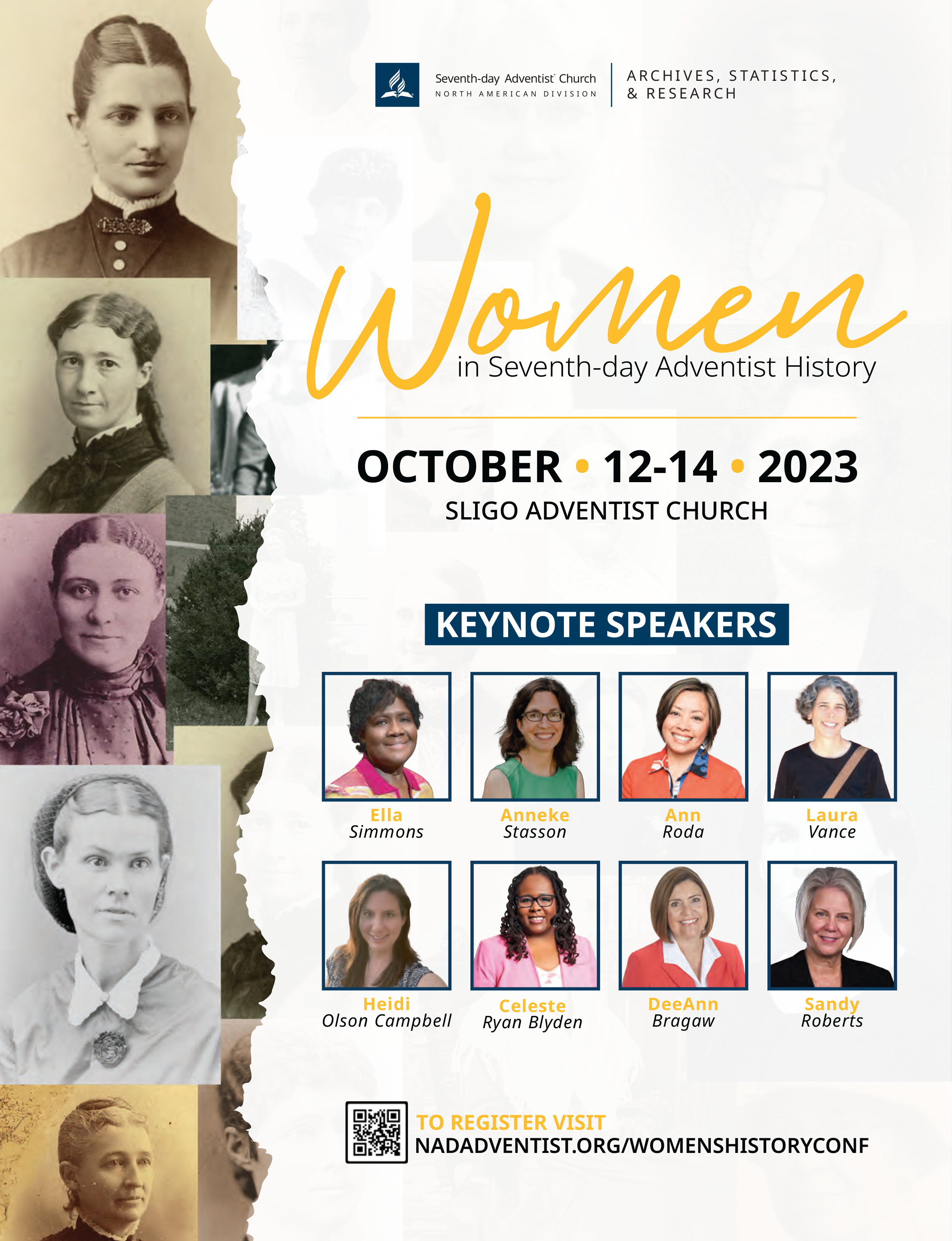 The North American Division (NAD) Office of Archives, Statistics, and Research will be holding the first annual Women in Seventh-day Adventist History research conference on October 12-14, 2023, at Sligo Seventh-day Adventist Church, on the campus of Washington Adventist University in Takoma Park, Maryland. The conference will feature a plethora of researchers who will be sharing stories of historical Adventist women.
Some of the featured keynote speakers include Ella Simmons, former vice-president of the General Conference, Anneke Stasson, author of the book Women in the Mission of the Church, Heidi Olson Campbell, women's historian and host of the new podcast, "Women in Adventist History," and Laura Vance, author and historian. Attendees will hear a wide selection of presenters, featuring the varied contributions of women in Adventist history — from women who served as missionaries, to evangelists and Bible workers, to educators and physicians, these stories will inspire participants with how God has and continues to lead women to share the Adventist message. 
The conference will begin on Thursday evening with a special address by NAD president G. Alexander Bryant, and continue all day Friday and Sabbath with a series of devotionals, papers, and plenary sessions. Friday evening will feature Ann Roda, vice-president of Adventist HealthCare for Mission Integration. Friday morning Kevin Burton, director of the Center for Adventist Research will share about Millerite women; and Sabbath morning will feature a discussion by Adventist women leaders. Sabbath afternoon will include a tour of area Adventist heritage sites celebrating the contributions of local Adventist women near the denomination's former main headquarters in Takoma Park. 
This purpose of this gathering is to spend some intentional time reflecting upon the significant contributions of women in Adventist history. This conference is intended to encourage scholarship and to submit papers that will result in a book to help increase awareness of women's contribution across our Adventist past. Keynote speakers will help to situate the roles and contributions of women within the larger context of Adventist history. A wide variety of topics are encouraged for consideration as papers including:
Stories of women who have served in a variety of roles within the church (pastoral, education, healthcare, publishing and editing, finance, etc.). 
The contributions of women as scholars and to scholarship. 
Women who have worked actively on behalf of social justice and who have served as leaders in their communities. 
The economics that have impacted women's roles, both in the home and in the church and society, and the ability to work (or not) juxtaposed with familial responsibilities. 
Women who have served as missionaries, particularly single women, and who have paved the way for the expansion of Adventist missions around the world. 
The contributions of women in the arts (as musicians, writing hymns, as artists and illustrators, etc.). 
Women in medicine and healthcare leadership; and how women have shaped the development of Adventist healthcare systems within Adventism. 
College students are welcome to participate and encouraged to attend! To register, visit NADadventist.org/WomensHistoryConf.