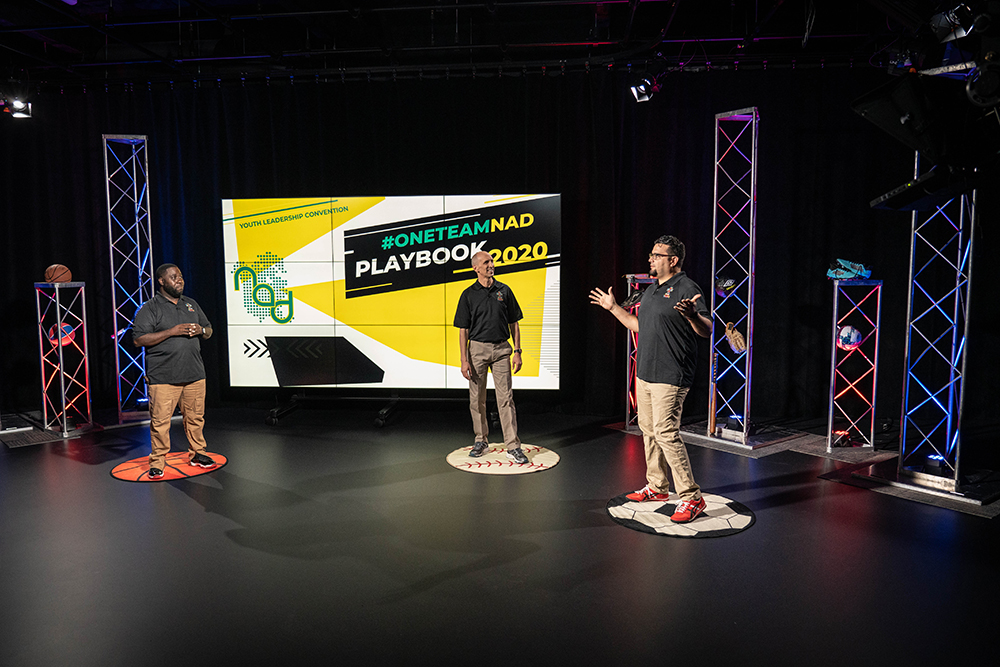 The NAD Youth and Young Adult Ministry OneTeam is pleased to announce the opening of its #OneTeamNAD Playbook website. This is a division-wide, multi-level training platform for youth and young adult ministries. We encourage leaders in this ministry to utilize the tools provided on this website.
We invite you to spend time exploring the ministry training resources and encourage you to share this site with your colleagues and friends in youth and young adult ministry. Below are the answers to frequently asked questions (FAQs).
What is #OneTeamNAD Playbook?
#OneTeamNAD Playbook is a repository of training from the 2020 #OneTeamNAD Playbook Convention. As we develop more training it will also be posted here.
Who is #OneTeamNAD Playbook for?
Union and conference Youth and Young Adult Ministries directors, coordinators, pastors, and leaders. Basically, if you lead youth and young adults, we have training for you.
Why is Momentum Youth Sabbath School live streamed on #OneTeamNAD Playbook?
This gives a place for Youth Sabbath School leaders to livestream Momentum Youth Sabbath School right into your Sabbath School rooms without distractions from Facebook or YouTube.  Leaders can pause the stream for discussion and dialogue — as well as Q&A — as they determine what will connect best with their youth.
How can #OneTeamNAD Playbook continue to be used for leadership training?
There are two areas of trainings: Certification Tracks & Workshop Tracks.  The certification tracks on this website are designed to be self-study courses. Here is the step-by-step process:
Notify your conference youth department that you want to take this self-study course and confirm with them if they support this learning process.
Download the Record Card (Certification Tracks only) and follow the requirements. Note: for the Workshop signatures and dates record the name of the presenter for each workshop and the date you watch the workshop video.
For each workshop, download the handout and watch the 1-hour video.
Develop your personal portfolio (hardcopy 3-ring binder, or digital folder and files on your computer). Include the handouts and your notes from the workshops, your club, area, and conference calendars, meeting schedules, and other ministry documents you have collected and developed for the current year during your Field Work.
Complete the required Field Work. (Note: the Introduction to Youth Ministry Leadership course does not require Field Work.)
When you complete the Field Work, schedule your portfolio review with your conference office youth department. (Note: the Introduction to Youth Ministry Leadership course does not require Field Work or a Portfolio Review.)
Certification certificates and pins can be ordered from AdventSource by conference youth departments using the authorization code when ordering investiture items.
More questions?
We anticipate that you may have additional questions and if so, let us know. Our goal is that this website will serve our union, conference and church leaders well during this pandemic time. We pray that https://oneteamplaybook.org/ will be a resource where youth and young adult ministry leaders can continue their education and sharpen their ministry skills.