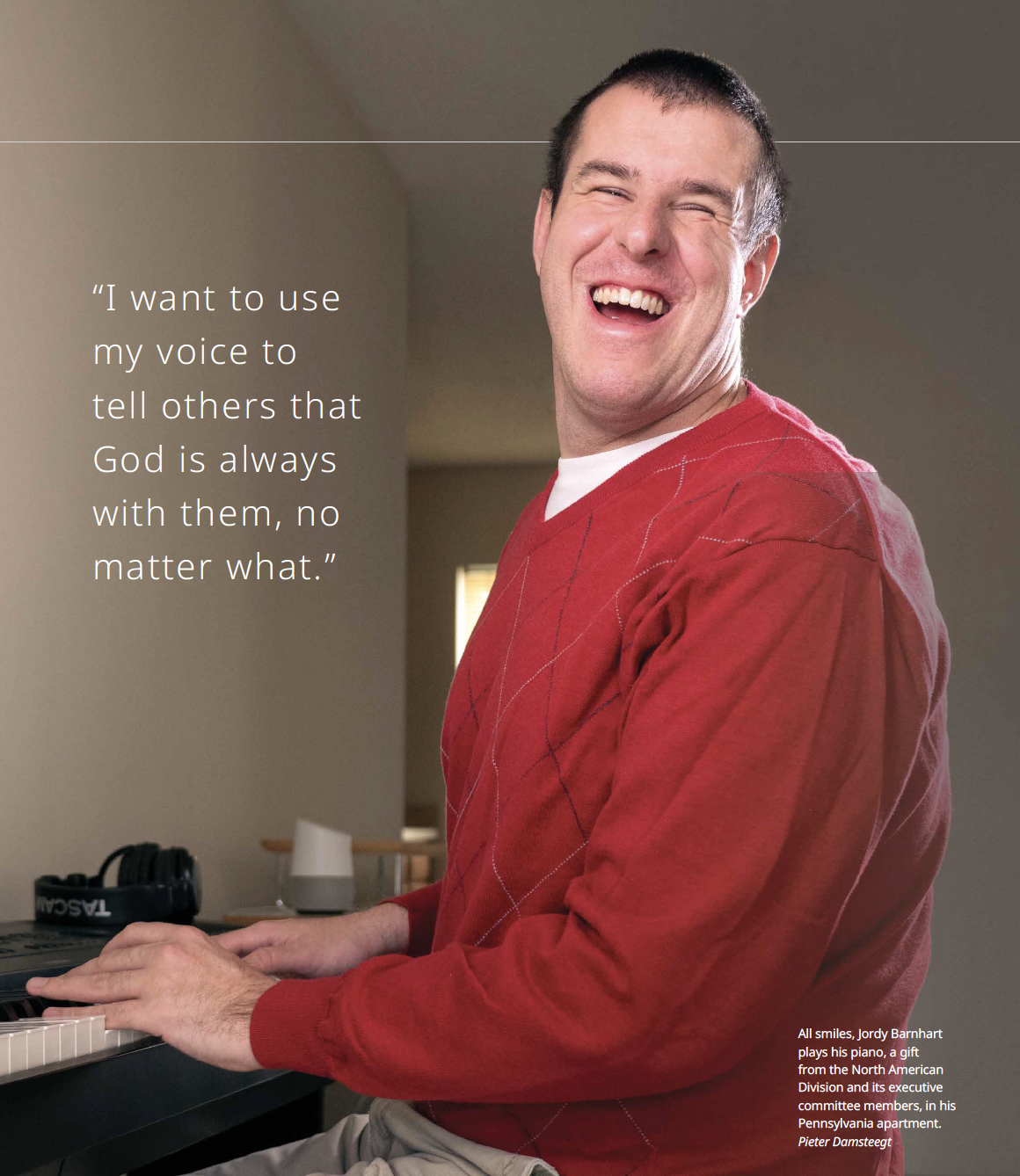 Jordy Barnhart is a legally blind musician who lives in Waynesboro, Pennsylvania. He was featured on the cover and in the cover video story of the March 2019 issue of Adventist Journey. During the interview with Kimberly Luste Maran, Barnhart shared how Christian Record Services for the Blind — an organization of the North American Division that offers free resources and scholarships, and sponsors summer camps for the blind and visually impaired — helped shaped his faith.
When would you say your Adventist journey began?
It really started with my grandmother, who modeled what it's like to be a Christian. I spent a lot of time with her when I was a child.
In terms of how I became an Adventist, I was introduced to the church through camps sponsored by Christian Record Services for the Blind. I started attending the Hagerstown Seventh-day Adventist Church in Hagerstown, Maryland, in 2011. Between hearing the sermons at church and going to the camps, I was being drawn closer and closer to the Lord. I gave my life to Christ at the Indian Creek Camp in Tennessee in 2015. There was a call during one of the programs to stand up if anyone wanted to give their heart to Jesus. I stood up; people prayed with me. Eventually I was baptized [in September 2018], and I've continued to grow spiritually since then.
How did you discover Christian Record Services for the Blind (CRS) and its camps?
In 2004 my mom looked for camps for me to go to during the summertime. She knew I wanted to grow my Christian faith because of my relationship with my grandmother. During her search she stumbled upon the website for Christian Record Services. She emailed me information about the camps she found on its site. I decided to try the camp. Well, I loved it so much that I went again and again. I've been to camps in Massachusetts, Colorado, Tennessee, Florida, and Maine.
The camps have helped me on my Adventist journey. Over the years I've received an audio Bible, study guides, and hymnals. I also enjoy the activities, including talent shows. I especially love making new friends and staying in contact with them.
Not too long ago you received a surprise as a result of something that happened at the North American Division headquarters. Can you describe it?
I went to the North American Division headquarters in Columbia, Maryland, in 2018 to give my testimony on how the ministry changed my life. I went with Diane Thurber, who is president of Christian Record Services for the Blind. After I gave my testimony, I played the piano—the first three verses of "Amazing Grace." I was asked if I had my own piano; I said I didn't have one.
After the program, Diane gave me a ride home. During the ride she received a call that an offering was collected at the program to purchase a piano for me. I said, "You've got to be kidding me!" She's replied, "No, I'm dead serious." There was even enough money to purchase insurance for the piano.
Two days later I got a big box on my front porch. It weighed around 50 pounds and came with a stand, weighted keys, and everything. A friend helped me set it up. I just couldn't contain myself. My happiness was through the roof.
When did your love of music begin?
I grew up listening to country music—Johnny Cash, Oak Ridge Boys, Willie Nelson, etc. My mom introduced me to the genre in 1992. I've watched every country music awards show since then. I was in a jazz band in school for six and a half years, not to play jazz but to learn more about music.
I play the piano, guitar, and bass guitar. I want to learn how to play the banjo.
Here's a quick story: I went to Portland, Oregon, in July a couple years ago to visit a friend and go to camp meeting. On the way to camp meeting I heard the Christian song "Reckless Love." I thought, I've got to learn it. So I did, plus a few more from camp meeting. I love that song and another, "Who You Say I Am," which I learned at the camp meeting.
You know, we are who He says we are. We live and, as another favorite song of mine, "Thrive," says, we were made to thrive. We are truly made for more than what we have.
How do you incorporate music into your daily routine?
I start my day with breakfast, then I run errands with my sisters if they're available. Then I practice the piano before I go on Facebook Live to sing and get my voice heard. I want my music to be an inspiration. I've been told I have the voice of a country star. I want to use my voice to tell others that God is always with them, no matter what. Sharing that message through music makes me feel good.
A lot has changed in 2020; how have you been dealing with it all, and how has God, and your music, been a comfort?
I've been dealing pretty well with the COVID-19 restrictions. It hasn't affected me in a lot of ways, but I usually go to Christian Record summer camps, and they have been canceled this year. I understand why, so I'm just coping with it. No complaining!
God has still helped me through it as well. And my music—my church closed earlier this year, but reopened in June, and so I've been back in church, and playing the piano for the offering, the children's story, and our "garden of prayer."
It's been a comfort to know that the circle of friends I have who attend church will pick me up every week, and make sure I get everything I need at the church. They sit with me; they don't leave me hanging. God brought them into my life for a reason. And I am so glad He did. . . . We're all there for each other.
What advice would you give to someone who is also blind?
I'd tell them to believe they'll succeed in life. I'd say don't limit yourself just because you don't have any sight; don't let that stop you from your going about your daily life. Have faith in yourself; you can do everything without sight. You do things differently with your hands. Your hands become your eyes. Also, ask God to help you be self-sufficient. He'll help you become independent.
Here's a tip: If you experience something difficult, don't let it ruin your day. If there's a difficult situation, something that catches me off guard, I don't get mad about it. I just stop and think, OK, it's going to get better. That's what you do.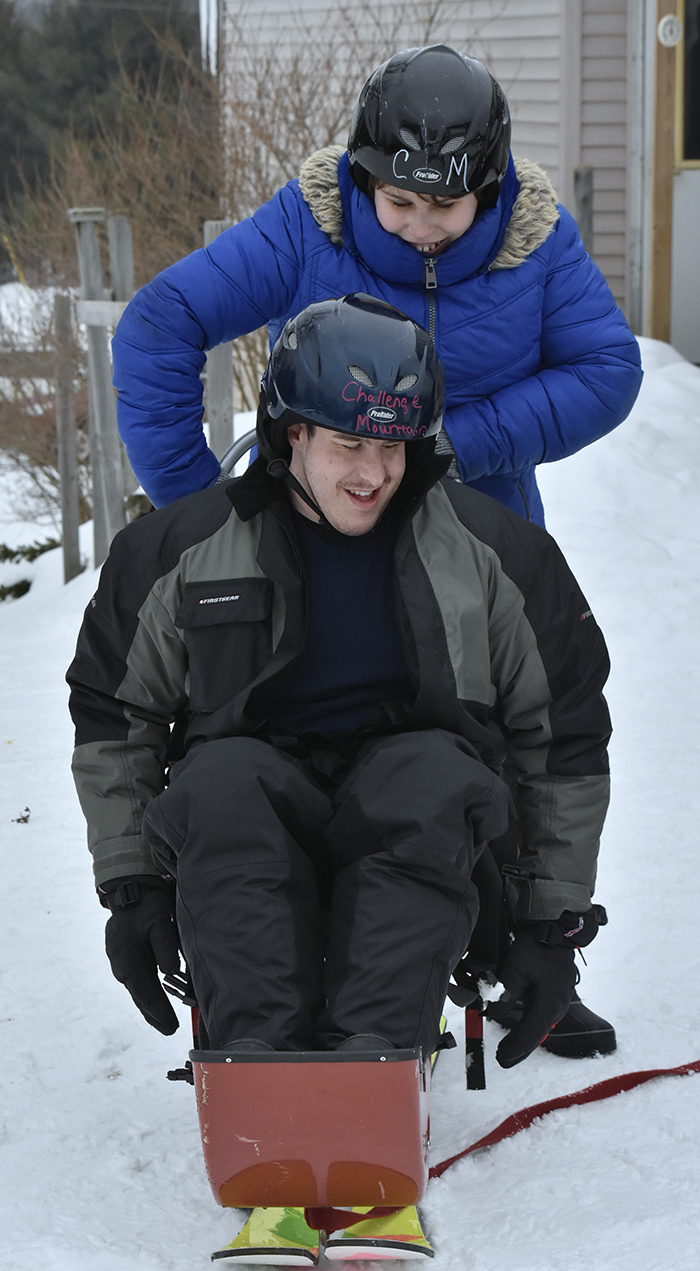 About Christian Record Services
In 1899 Austin O. Wilson, a legally blind young man in his early 20s, was concerned about the lack of Christian reading material available for the blind. He tried an experiment. Taking a clothes wringer, he modified it to accommodate two metal plates with a sheet of heavy paper between them. As the plates were squeezed through the wringer, the raised dots on the plates made an impression on the paper, producing one page of a braille magazine he entitled Christian Record. More than 100 years later Christian Record is still being published, along with eight other periodicals.
In 1950 the first talking books were recorded for Christian Record. Now more than 1,600 talking books are available through the Christian Record lending library.
In 1967 National Camps for Blind Children was formed. That first summer camp was held in Florida with 23 youth. Since then, nearly 50,000 campers have attended these special camps.
Some of the services and products provided by this international organization include subscription magazines in braille, large print, and mp3 disks; gift Bibles and study guides in braille, large print, solar player, and NLS digital cartridge; and summer camps operated throughout North America.
Click here to learn more about Christian Record Services for the Blind.