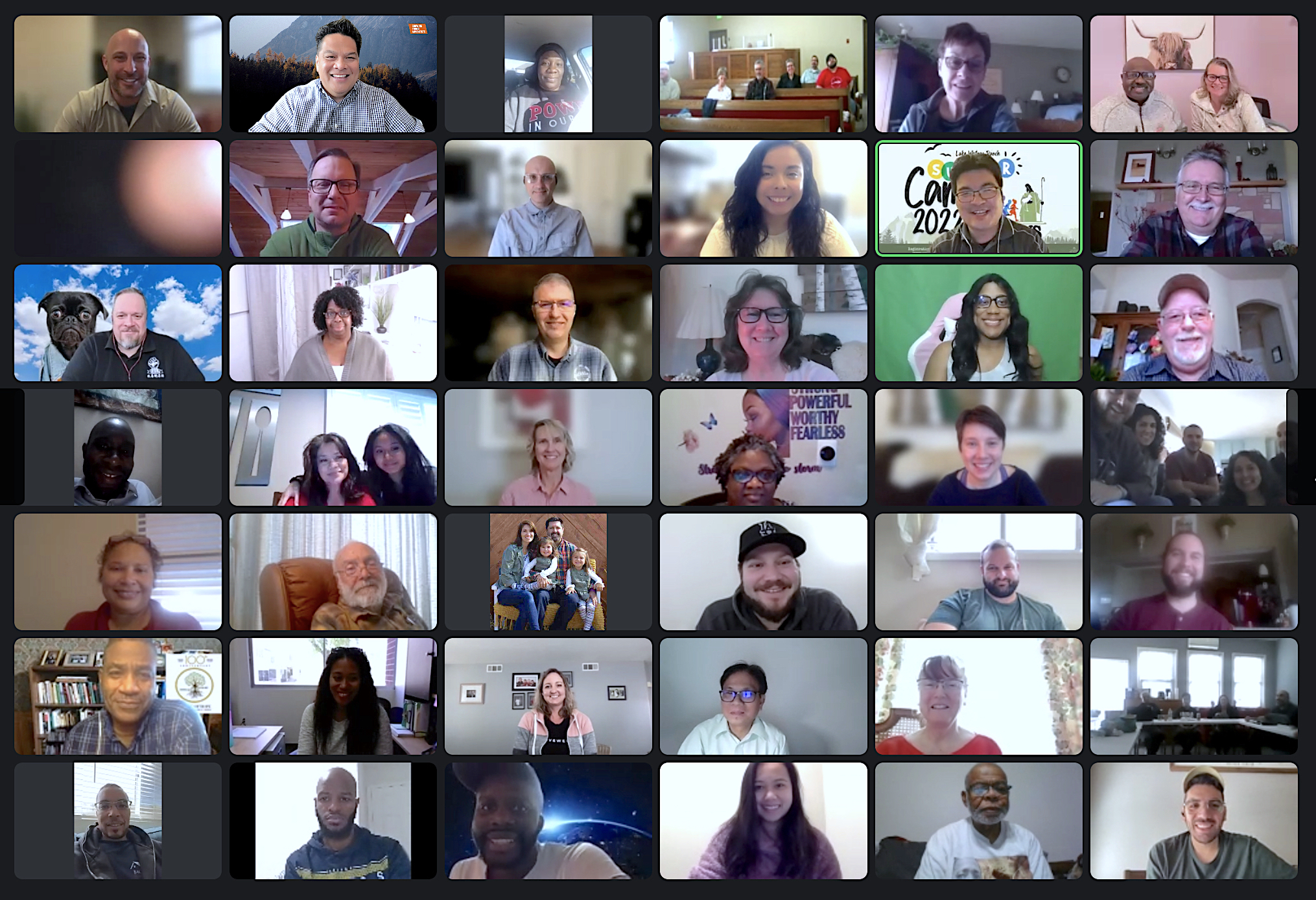 The 2022 Growing Together Cohort launched with nearly 150 leaders from 40 different churches across the North American Division (NAD) attending the virtual summit.
"I was just blown away by the diverse and unique ministry contexts they all represented," lauded Justin Yang, Young Adult Ministries director for the Texas Conference. "I was impressed by how passionate, committed, and authentic they were in sharing their story, their journey so far."
An inaugural virtual summit officially begins the year-long learning journey. Cohort participant churches are from many of the unions across the NAD, representing all church sizes, major ethnic groups, and every geographical location (rural, urban, suburban) — all committed to #GrowingTogether with Jesus at the very center!
"Growing Together is about changing the culture of our churches. It is about intentionally reaching out to youth and young adults with acceptance, grace and the love of Jesus," shared John Freedman, president of the North Pacific Union Conference. "As they respond to the love of Jesus shining through His church, we need to also disciple them in Christ, so they can reach out to others. A focus on Jesus Christ and His matchless, sacrificial, and unconditional love changes lives. I'm excited about those who are passionate about reaching out to, active and inactive, youth and young adults with the truth about the love of God!"
Feedback
"The Growing Together summit was a very informative experience that enabled me to understand what this program is all about as well as what's expected of me," noted Diana Mogeni, a 29-year-old account manager, and part of one of the local church teams. "It was great to evaluate and get a deeper look at our church; Where we stand versus where we would like to be. It was great to discuss what we can do to change."
"I liked how we start from the beginning. Looking at what we have now and examining the current health of our church," offered Joan Okemwa, a 22-year-old nursing major at Rasmussen University. "Being honest among ourselves in the group is important, so that we know what we are working with."
"I am beyond excited to experience my church is no longer just talking about the young people leaving our church, but instead intentionally doing something. . . Knowing is one thing. Doing something about it is a key thing," interjected Mark Sigue, young adult pastor at the Minnetonka Seventh-day Adventist Church in Minnesota. "It's only summit one and I am already supercharged."
Digging Deeper
The cohort has been made possible by North Pacific Union and Southwestern Union collaborating together, making the Growing Together training experience available to churches across our division — as well as an international participating church from Uganda.
"The Southwestern Union is excited to be a partner in Growing Together," noted Helvis Moody, Young Adult and Youth Ministries director for the Southwestern Union. "We are grateful for the churches who have started this journey and we look forward to seeing what God will do as it's our desire to see all of our churches experience kingdom growth."
Throughout the year-long cohort journey, local church teams will receive training, coaching, and assignments to help their church adapt and change culture where Jesus is at the center and all generations can thrive together. In addition to virtual summits, webinars, and coaching sessions, each local church will participate in assessments and engage with research-based commitments that have been shown to improve the vitality of church life especially among young people and young families.
"In my travels around our union, in person and on zoom conference calls, I'm excited to hear of positive stories and appreciation for the Growing Together emphasis," continued Elder Freedman, explaining how Growing Together started as an experiment to answer the greatest weakness church leadership and laity identified six years ago — the tragic loss of more than 50 percent of its youth and young adults from our churches. "Growing Together has grown (even during the pandemic) from an experiment with a few churches to a multi-conference, multi-union strategy to address the tragic issue of the losses of youth and young adults from our churches. I'm extremely grateful and thankful for those of you who are not content to just talk about the losses, but are actually partnering with Christ to do something about it. You are making a difference!"
Said Yang: "My heart is once again filled with hope, as I witnessed local leaders committing themselves to learn, grow and recalibrate inter-generationally — to reconcile and collaborate for such a time as this!"
"Let's do this for kingdom citizens!" exclaimed Sigue. "Thank you, Growing Together Cohort leaders and organizers!"
To learn more about the Growing Together Cohort, go to growingtogethercohort.com.
— A. Allan Martin, Ph.D., is teaching pastor at the Younger Generation Church in Arlington, Texas.