Katie McTavish abhors human trafficking and her faith fortifies her resolve to fight it. That's the story of the 19-year-old from Newday Christian Seventh-day Adventist Church in Parker, Colorado.
On March 11, 2017, McTavish joined 300 other activists at SHIFT Justice Conference 2017 in Denver. She was one of the original organizers.
Begun by six students and a teacher at Valor Christian High School last year, the youth chose the name SHIFT, realizing it takes a shift in thinking to actually do something about an issue after hearing about it.[1]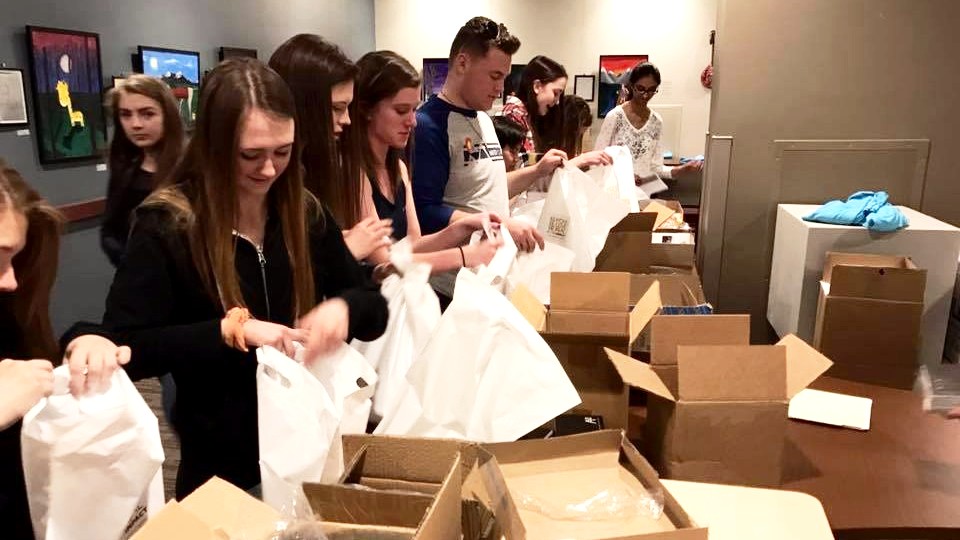 "Human trafficking is the third-largest global criminal enterprise, exceeded only by drug and arms trafficking," shared Laura Lederer, a leading State Department official on human trafficking at a Washington conference.
That's why as many as 60 young volunteers from several high schools in the Denver area organized the March 11 conference to educate, empower, and motivate people to get involved. That's why these widely-known organizations were willing to send speakers to this event organized by high school students.
The lineup of speakers for the SHIFT Conference reads like a list of Who's Who in the fight-against-human-trafficking. They came from Dalit Freedom Network, Hope Academy, and A-21. They arrived from Free Indeed, Girl Above, Tall Truth, and Joy International. And, lest you think this is an exhaustive list, just google "list of organizations that combat human trafficking" and you'll see at least 70.
Although we typically think of human trafficking happening in countries like Cambodia or Greece, it has become a problem in the United States. Denver has become a human trafficking hub. "We're in the middle of the country, and that makes us a destination state, but also a transit state," says Amanda Finger, co-founder of The Laboratory to Combat Human Trafficking.[2] "With I-25 and I-70 connecting us to the coast or to the borders, we sit right in the middle of a lot of action."
The conference, held at Valor Christian High School, provided attendees with a goody bag of information flyers, along with a SHIFT bracelet and water bottle. As many as 20 vendors set up booths where they sold such things as bracelets to benefit women in Africa.
With featured speakers and breakout sessions, much information was shared and digested. A head deputy from the police system in Denver — part of the FBI — spoke about what they're doing to stop human trafficking in the city. Created in 2012, they participated in Operation Cross Country IX, conducted in Colorado and Wyoming. In Denver, 20 underage victims were recovered, according to FBI officials.
After the conference, Krisa Van Allen, founder of Girl Above and speaker for the conference, spoke with sisters Laura and Katie McTavish, both avid supporters of the push for justice for victims of human trafficking. "Can I take you guys to coffee before I go to the airport?" Van Allen asked, impressed by their enthusiasm.
"The conversation we had was an answer to prayer," shares McTavish, a communication student at Colorado Christian University. "I've been wondering what to do with this passion and this call." She fired questions at Van Allen and received answers for things that had been burning in her heart: What should I take in college? What is one of the hardest times you've had as well as one of the most rewarding times working in this field?
McTavish says that Van Allen explained that some days she sits in her office working on spreadsheets, while other days she'll find herself in Greece working with victims. "She encouraged me to finish my education and to step into volunteer opportunities," says McTavish.
"Today's Christians have to realize the need for justice in the world, and that it is something God calls us to do," says McTavish, "Our congregations really need to talk about these things. A lot of poverty as well as human trafficking is based on messed-up justice systems and corrupt governments. People can't get out of poverty nor out of human trafficking without help."
Dave Kennedy, pastor of Newday church, says that several of his members are involved in fighting for justice. Among them is Kirk Samuel, founder of Free Indeed and a contributor to the Justice Conference. "Katie and Kirk are examples of passionate Christ followers who love God and serve people in tangible ways," says Kennedy. "They use their gifts to fight oppression and set the captives free."
McTavish encourages people to get involved. Give a week, a month, a year, she urges. "It's not easy and it won't be comfortable, but it is something that has to be done."
— This article originally appeared on the Rocky Mountain Conference website. 
---
[1]
Click here
for more information on the SHIFT Justice Conference.