Two-and-a-half months after students urged Andrews University administrators to address the issue of racial inequality on campus, two campus churches embarked on a "Great Exchange" in hopes of further promoting healing and reconciliation.
On the last Sabbath of the 2017 spring semester, in a highly unusual move, Pioneer Memorial Church (PMC) and New Life Fellowship vacated their normal places of worship and swapped sanctuaries with each other. Pioneer Memorial is an international yet predominantly White congregation, while New Life Fellowship is a predominantly Black congregation; as such, both churches have variant worship styles.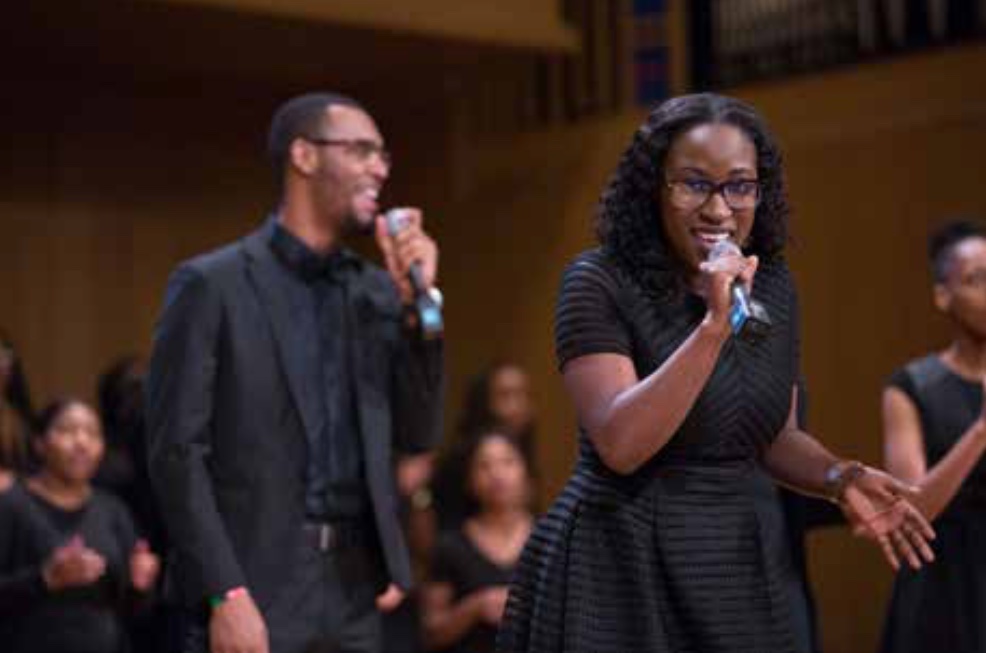 Dwight Nelson, lead pastor at Pioneer, said the reason behind the exchange of worship spaces was "our two leadership teams wanted to make a symbolic statement about how important is our shared quest for racial reconciliation on this campus."
"Over the years, New Life Fellowship has had difficulty accommodating worshippers in the Seminary Chapel," said Christon Arthur, provost of Andrews University. "This exchange will provide an opportunity for each congregation to experience the worship space of each other; then survey their congregants to collect data on how people felt during the exchange. The data may inform long-term worship plans."
At the end of their separate services, the two congregations and those at One Place, a collegiate fellowship located at the Newbold Auditorium of Buller Hall, came together in the Johnson gym for koinonia (Greek word for "fellowship") and socialization. The popular Adventist delicacy haystacks, along with dessert, was served to more than a thousand people.
Tables were set for 10; coded stickers were given to participants to indicate at which table to sit. This was done to encourage mingling between different races and ethnicities.
On each table, the organizers placed a note that read, "Welcome to Koinonia. PLEASE USE THE CHAT PACK TO GET TO KNOW EVERYONE AT THIS TABLE! Each person takes a turn drawing a card." Some of the cards asked participants to describe experiences, such as their best and worst birthday experience, dating, or a new topic they would like to learn about.
One person who worshipped with the New Life Fellowship at Pioneer Memorial Church house, Walton Yeboah-Amoako, said that he had a great time, and enjoyed "every bit of the worship."
Doris Omari, another worshipper who was at the New Life's Chapel at the seminary building, said that the place was too small — and that might have prevented a lot of people from coming to the place because, according to her, not all the people who normally attend the second service at PMC were in that small building.
— This article originally appeared in the June/July 2017 edition of the Lake Union Herald; Andrews University is located in Berrien Springs, Michigan.