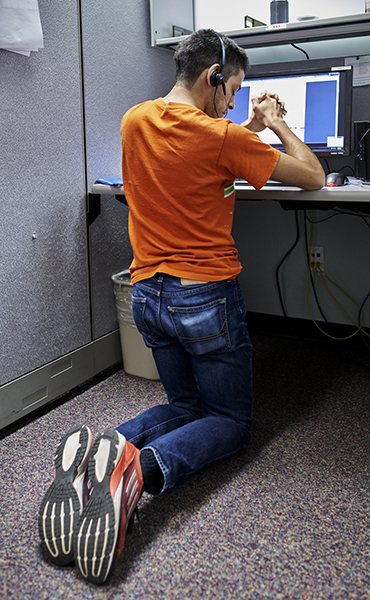 The role of media ministries in the North American Division (NAD) of the Seventh-day Adventist Church is to create a flood of interest through their programming, station placement, and their weekly offers. The main role of Adventist Information Ministry (AIM), headquartered on the campus of Andrews University in Berrien Springs, Michigan, is to collect those interests and "upgrade" as many as they can to pass on to the local church, often for personal connection and Bible study. As a 24/7 ministry, AIM assists the church's evangelistic outreach by taking orders, processing requests for literature, upgrading interested persons for further studies and by referring these interests to local churches.
AIM sometimes learns what happens with those it connects to local churches. Here are a few of those stories, shared during ministry meetings in August.
Debbie
On May 5, 2018, "Debbie" called to request the Amazing Facts offer Mark of the Beast. She called again June 24 and requested Did God Create the Devil?and the Bible Correspondence Course, an Amazing Facts Bible study course. Customer service representative (CSR) "Nichelle" recognized a deeper spiritual interest and asked if Debbie would like to speak with one of the AIM chaplains for spiritual encouragement. When Phillip, the referral chaplain, contacted Debbie, she requested studies with a local pastor. He got in touch with Desmond Haye, pastor at the Wakefield Seventh-day Adventist Church in New York City and a former chaplain at AIM (2007-2009), who, in turn, connected with Debbie. Hayes. After Bible studies, Debbie was baptized on July 28.
Eugene
On May 22, 2016, CSR "Mack" received a request from "Eugene" for personal Bible studies. The call was an upgrade that originated with a call from It Is Written. After confirming Eugene's interest, Brian, an AIM chaplain, began looking for someone to study with Eugene. He reached Steve Hanson, a laypastor from the Cypress Seventh-day Adventist Church in Texas, who connected with Eugene.
Eugene was amazed with what he was learning, and invited his sister to come and listen to what Hanson was saying. Both siblings were impressed how clearly the Bible spoke. Every time a Bible study guide was finished the two would send it to their older brother in California. He too was amazed and started reaching out to his local Adventist church. During this time "Ruby," a friend of Eugene, came to Eugene's study group.
Multiple church members would visit the gathering, which became much like a small support group. After faithfully studying the Bible and making relationships with church members, Eugene eventually decided on baptism.
On April 29, 2017, Eugene celebrated his new "birthday," and his sister, older brother, and friend Ruby were also baptized around the same time.
Debra
On Dec. 17, 2016, "Debra" called Amazing Facts. The CSR noticed that Debra was seriously interested in Bible studies and renewing her faith. The CSR upgraded the call for visitation an on Jan. 22, 2017, "Joel," an AIM chaplain, connected Debra with "Pastor Snyder." After the pastor began meeting with Debra and her husband, the Bible studies started to occur on a regular basis.
While participating in Bible studies, Debra discovered that she had a lump in her breast. The stress of the situation caused Debra to pause in her diligent studies. But once the studies started up again, Pastor Snyder saw that Debra and her husband were ready for baptism.
About one year later, Debra and "Marvin" were baptized on June 2, 2018, at the Altoona Seventh-day Adventist Church in Pennsylvania. Through the power of the Word of God, the couple experienced transformation, renewal, and a fresh start in life.