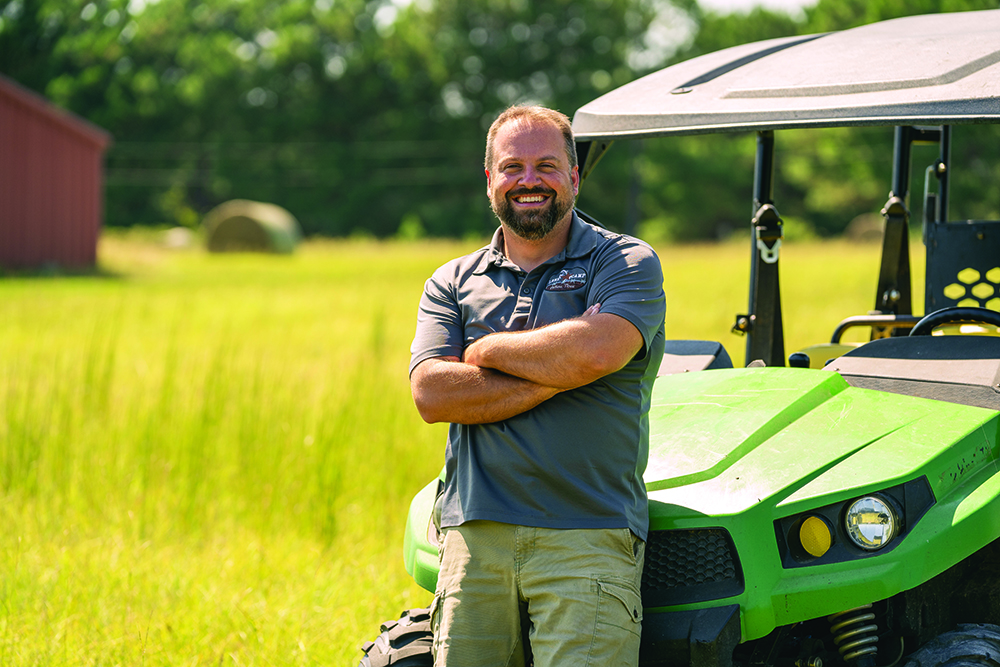 "God, if You want me to go down there, I have no problem with it. If You want me to leave everything I know, if You want me to leave my family business and all the things and all the friends I have in this area, and move to Texas, away from everyone — to take on a job that I've never done, that I'm not quite sure about — I'll do it."
This was Robert "Bob" Allen's prayer eight years ago as he and his wife contemplated leaving their lives and jobs in New York for camp ministry in Texas. He worked for the family contractor business his father had started. Allen, his sister, and brother-in-law had been discussing the takeover of the business when they got a job building a welcome center at the Hiram Edson barn near Clifton Springs, New York. Allen, a husband and father, began to draw closer to God, recognizing that he needed a closer relationship with Him. As Allen worked, he felt a stir in his soul. "I started seeing a glimpse of wanting to work for God more, instead of just trying to fit it in."
Allen had become a deacon in his local church, and although he was very busy, it wasn't enough. He prayed to God, "How can I become full-time for You? How can I do more for You?" Shortly after this, he received a phone call from Helvis Moody, Southwest Region Conference youth and young adult ministries director, asking Allen if he'd be interested in a job as camp manager. In Texas. A place Allen and his wife, who was just transitioning from a vet tech to a nurse as she worked to finish her nursing degree, had talked about living.
After several months of miraculous experiences and lots of prayer, the couple visited Lone Star Camp and Retreat Center. "I loved the campground," said Allen. "It just all of a sudden started feeling like home."
It wasn't all smooth terrain, however, as Allen felt anxiety creep in as he tossed and turned one night after the camp visit. Could they afford the move, and the reduction of income? Feeling attacked, he prayed, and asked others to pray as the couple contemplated their next steps. God answered their prayers with just enough salary — and several miracle grocery store gift cards — to pave the way as they made the move. Allen, camp manager, greets every day of work with gratitude and a spirit of service.
"The campground is all about the ministry, about helping people," said Allen. "If we lose sight of that, there's no point in us having it. It's not just about the facility, it's about helping people by providing a place where they can get away from their chaos, the craziness of their lives — and where they lose sight of what it means to have a relationship with God. We [can help] them by providing a safe place to get away and spend time hearing God's voice."
In addition to space to relax, enjoy nature, and hold meetings, the camp provides church services on Sabbath. "Everyone is welcome to come up to the gymnasium and do a church service with us," Allen shared. "And to have that exposure that they normally wouldn't have — because when they're here, they tend to listen. It's another aspect of outreach."
"We're here to do ministry, we're here to help people," reiterated Allen.
Hurricane Ida
That is the purpose of the Lone Star Camp and Retreat Center as a variety of groups use the facilities. "We get Adventist groups from our conference that come through here," said Allen. "Adventist groups of other conferences, union events; and we also get groups that are outside of the Adventist Church. We are that safe haven where people can go and realize that they have somewhere to get away from their normal, daily lives, that constant chaos."
Allen explained that the camp is prepared every year to welcome people who evacuate their homes when bad weather makes it a necessity. "At least every other year we work with Adventist Community Services to provide shelter to those who need it," he said. "With Hurricane Ida we took in evacuees who were coming not just from the everyday chaos of life, but out of fear, or from something that may be devastating to everything they own."
"The Lone Star campsite is just a little ways from New Orleans," shared W. Derrick Lea, North American Division Adventist Community Services director. "This particular campground has been made available for individuals who can no longer stay in their homes because of lack of power and sewage [services]. We [brought] people in from southern Louisiana." In the first few days after Ida touched down, about 75 people were at the camp, as some wrapped up their stays to make room for those needing shelter. Nearly 60 people have already sought shelter at the camp.
"We have eight cabins and six dormitories that we've opened up, and we have a gymnasium and cafeteria that we can open as well," said Allen. "We're here to do ministry, we're here to help people. We're here to serve . . . for as long [as needed]."
"We're not really sure how long this is going to take," said Lea. "This particular camp will be open to those that need a place of refuge. We're providing lodging, food, and activities for the children. . . . We are grateful for what the leadership of this conference, and this camp in particular, are doing for and offering to the members of the community."
Carlton P. Byrd, Southwest Region Conference president, agreed. "We have free food, free lodging, and air-conditioning here; and most important, God's Spirit and His presence are also here," he said. "We have heard that it could be . . . three weeks, three months, before full power is restored in southern Louisiana and water is available to everyone. With that in mind, we solicit the prayers of everyone. . . . We're not asking the persons who have evacuated for anything; we're just saying, 'Come.' "
And that's what Derrick Wiltz and his family did. He was 18 years old when Hurricane Katrina hit New Orleans; with Ida he did not hesitate to prepare his family for a long-term evacuation. According to Wiltz, his family was welcomed with open arms at Lone Star Camp. "We ended up here about 5:00 in the morning, and [when] we got here . . . it felt like home. Going from hotel to hotel is uncomfortable — and it costs a large amount of money," he said. "I'm grateful that we chose to come here instead. I've been blessed here, and we've been able to relax — God [is] here."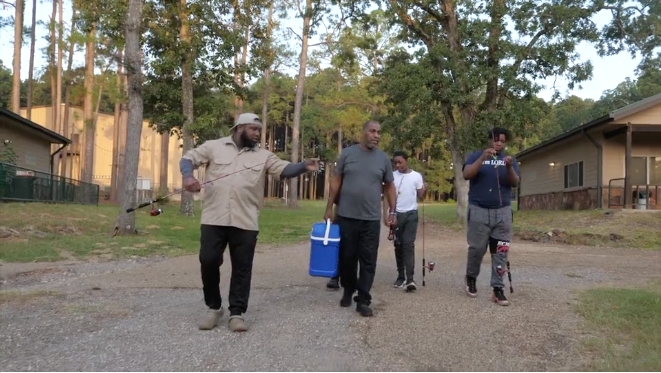 Present and Future
"We want to grow the campground, to help come up with ideas of how to expand it, and how to make that happen, as well as continue dealing with the groups that are coming through," said Allen as he looks to the future.
"My job is everything from growth of the campground, remodels, builds, plunging toilets, cleaning up areas—anything that has to happen here is my job. That's just camp ministry," he said. "My gift, which I learned later on in life, is to be able to provide the facility for people to come in and rest. And I can help them. You can say I'm the deacon here at the camp."
Allen said that coming to Texas to serve as a camp director changed the trajectory of his life. And he has no regrets. "People asked me, 'Do you know what you're giving up? You're giving up everything that you know, all of your friends, your family who's still in the area, and the security of a job that makes good money.' "
"But working at camp, it's not about the money. You have to have an entirely different focus. It's about doing ministry. And so it changes your outlook on what success is," he added. "You have to basically throw out [what the world] says is success to work camp ministry, or any kind of ministry, really. Ministry is not about money. Ministry is about serving."
"And that's what we do here. The entire purpose is to serve others. That's what we do."