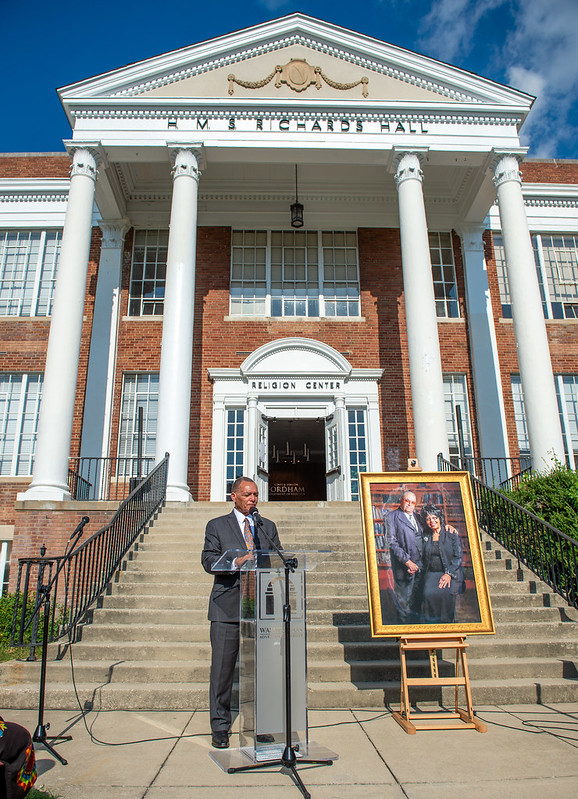 On a sunny Sabbath afternoon this September, below the pillars of H.M.S. Richard's building on the campus of Washington Adventist University, a group gathered to honor the lives of Henry and Sharon Fordham in a department naming ceremony. A framed portrait stood symbolically at the base of the historic steps. After the Fordham's tragic deaths in a house fire several months ago, Washington Adventist University (WAU) decided to rename their religion department in honor of the Fordhams and their indelible presence in ministry and the spread of the gospel. Henry Fordham was serving as Allegheny East Conference president when he passed away.
At the base of the steps, Weymouth Spence, WAU president, welcomed the crowd to campus. Board chairman Dave Weigley offered remarks, and department chair Bogdon Scur defined the department and the plans for its future. Musical selections were provided by WAU's ProMusica, a 40-plus member choir from G.E. Peters Adventist Academy, Pastor Ramone Griffith, as well as a piece of music performed by Abner Marquez and Jidong Zhong.
Personal testimonies were offered regarding Henry and Sharon Fordham's ministries both together and as individuals. These testimonies were provided by Ronald Anderson, Gene Donaldson, and Dahlia Palmer. In addition, Shawn and Joey Fordham offered a response. Shawn Fordham said, "To have this religion department inside this H.M.S. Richard's building, named after both he (Henry Fordham) and my mother (Sharon Fordham), is special because they approached ministry as a team."
A special poem entitled "Who is the Gospel" was written and recited by WAU student Jenevieve Lettsome. Griffith, a recent WAU alumnus, gave his vision and testimony as Fordham led him at the beginning of his ministry.
The ceremony culminated as Weigley invited the Fordham family and members of the university's religion department to carry the Fordhams' portrait up the stairs to its place of honor in the entry of Richard's hall. Religion and Theology Students lined the steps as the procession of attendees followed the group up the steps. The ceremony continued as the department students were asked to kneel amid the crowd filling the entry. Charging words and a special sending were then offered by university provost Cheryl Kisunzu, Spence, and Weigley. The crowd then offered a responsive prayer of dedication for the religion department and the students it represents.
Washington Adventist University's Henry and Sharon Fordham Religion Department is currently growing its urban ministry educational focus. The legacy that this new naming represents offers inspiration for its students and faculty as they endeavor to be a beacon for future students who wish to impact the ministry by spreading the Gospel of Jesus Christ.