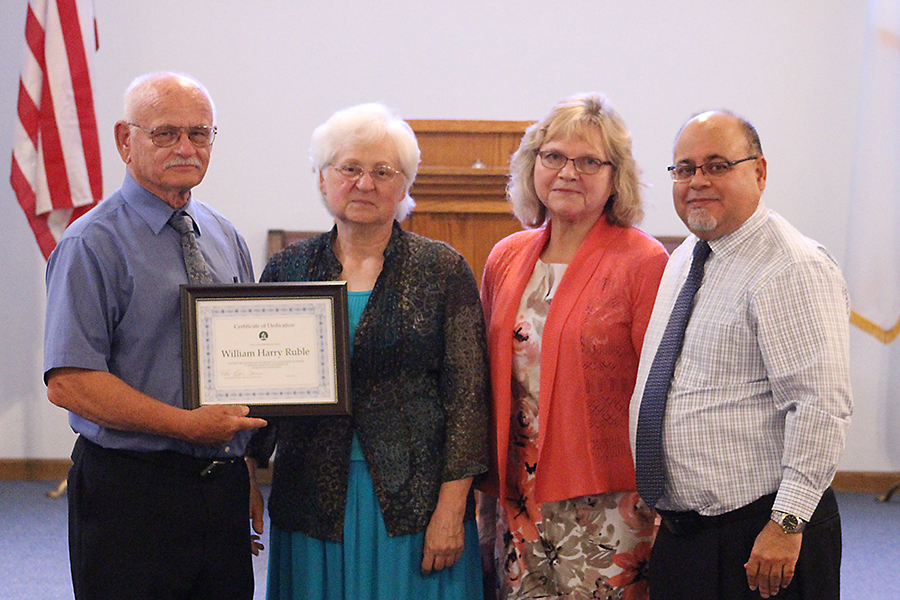 With just one member still in regular attendance a year ago, the Osceola Seventh-day Church in Iowa was about to close.
That all changed when Bill Ruble entered the picture. He and his wife, Carol, immediately got to work inviting old members back to church and visiting with prospective members, many of whom had previously attended evangelistic meetings but had not joined the church. They also recruited help from others who had been active with them in a home-based church plant for several years prior.
After a year of these joint efforts, there are now 25-30 people in regular attendance at the Osceola church. Ruble now serves as the church's volunteer lay pastor. Recently, his ministry was recognized during a dedication service.
He credits the church's revitalization to prayer. "I often wake up at 2 a.m. and pray for help to bring the church back," he said.
On a typical day, Ruble gets up around 4:30 a.m., has worship with Carol, then gets ready and heads to his full-time job as a school bus driver. He spends the rest of his time giving Bible studies, preparing sermons, gardening, and raising pigeons.
Bill is one of two lay pastors currently participating in the Iowa-Missouri Conference's Volunteer Lay Pastor (VLP) program. The program just launched this year and offers resources, mentoring, coaching and training to those who want to plant a church or bring new life to a dying church.
At the dedication service, Eddie Cabrera, VLP program coordinator, joined with members of the Osceola church in praying over the Rubles. "There is already fruit from their ministry, and we praise You for that," he prayed. "We thank You for their service. We give them into Your hands. We pray for a special outpouring of the Holy Spirit, and we know that the Holy Spirit always brings grace—grace for each other, grace for the congregation, grace for everyone who comes seeking Christ."
Before presenting Ruble with a special certificate and a gift of an evangelistic series on DVD, Cabrera invited Ruble to reflect on Paul's charge to Timothy (2 Tim. 4). "Preach the Word. Proclaim its message," he said. "Share it in such a way that it moves people — that it moves you — to minister to people with longsuffering. You're not a boss but a servant leader. So how is that going to happen? You need to have a personal experience with the Word yourself. That which moves you, feeds you,inspires you, and opens your eyes is going to impart an experience when you preach the Word to others."
Ruble plans to hold an evangelistic series this fall. "I hope to see the church grow to the point it was years ago," he remarked. "That is going to take a miracle, but I believe in miracles! I will continue to encourage people to come and pray for them." Beyond raising up a healthy church, Ruble also hopes to build up leadership that can one day take his place, when the time comes.
When asked if there was anything else about his experience as lay pastor he'd like to share, Ruble expressed gratitude for Carol's support and was quick to give the Holy Spirit credit for anything good that's come out of his ministry. "I could not even begin to do this without my wife. She is the backbone of the whole thing," he said. "Second, it is the Holy Spirit who actually does the work. I do the visiting, but without the conviction of the Spirit, it would all be for nothing."
— Randy Harmdierks is communication director for the Iowa-Missouri Conference; this article originally appeared on the Iowa-Missouri Conference website.