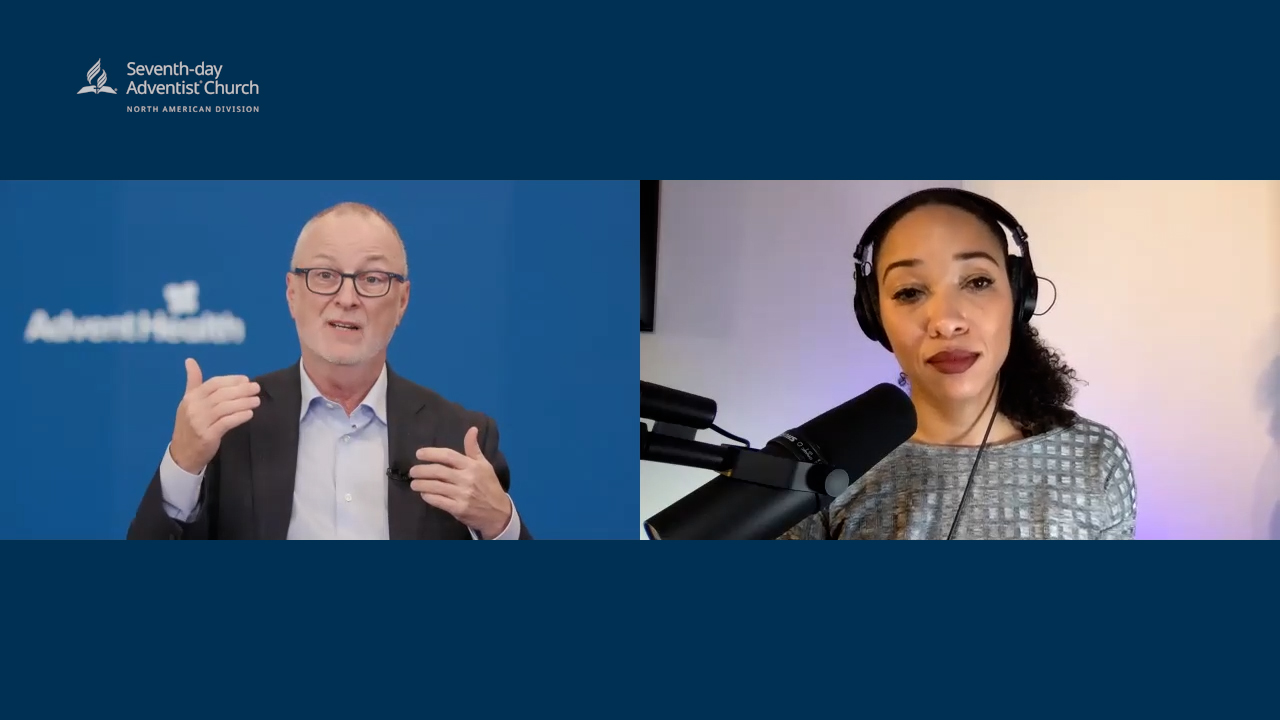 Steven Smith, M.D., vice president and chief scientific officer of AdventHealth, and principal investigator of the Janssen Pharmaceuticals COVID-19 vaccine clinic trial, recently shared his expertise and insight on vaccine development with Mylon Medley, assistant director of NAD Communication.The full conversation can be listened to (and watched) on the ninth episode of NewsPoints ON THE AIR podcast, available on Apple Podcasts, Spotify, Google Podcasts, and YouTube. The following portion of the interview has been edited for space and clarity. 
MYLON MEDLEY: HOW DOES A VACCINE GET DEVELOPED?
STEVEN SMITH: Let's start with the traditional way that one makes a vaccine. Technology, particularly genomic science, has advanced radically fast over the last several years, just like computers have advanced almost in parallel. The old way of making a vaccine was you took an isolated particular virus, killed it, ground it up, and put it in a shot. That was how the old polio vaccine was created.
That development process was really quite long. It took a long time to figure out how to isolate the virus, kill it effectively, put it into a shot, and scale it up. I mean, it was really complicated and could take between five to 10 years to get a good vaccine.
The newer and much quicker technologies are based upon genomics.
CAN YOU WALK ME THROUGH THE DEVELOPMENT PROCESS OF THE TWO AVAILABLE VACCINES?
In January of last year, we had the first genomic (RNA) sequence of SARS-CoV-2, which is the virus that causes COVID-19. Once that RNA sequence of coronavirus was published, pharmaceutical companies immediately started to develop vaccines for that particular virus, based upon work with earlier versions of SARS and MERS. That's why this is called SARS-CoV-2 — there was CoV-1 one, which was MERS, and now we have SARS-CoV-2. That really gave us a head start.
There are two vaccines that are available and another in the development process. The Pfizer vaccine, which collaboratively worked with BioNTech, and the Moderna vaccine are the first two out. Those companies are using technology that's about 10 years old and had been in clinical studies already — not for SARS or coronavirus, but for other purposes. They both have outstanding safety profiles.
Those vaccines actually use a tiny snippet of a nucleic acid, or RNA, from the virus's sequence. In the body, DNA gets copied into RNA, and then that RNA gets turned into a protein. All the proteins in our body are made through that process. The vaccines use a little snippet of this genetic code that's made in a big test tube. Once it is shot into the body, it allows the body to make the protein (a spike protein) from just one little snippet of that coronavirus. That tricks the immune system into thinking the whole body is infected. That's how the immune system responds. When antibodies are developed, little lymphocytes and white blood cells (T-cells and B-cells) get a little bit "angry." Those T-cells, and B-cells get angry because they think they're fighting a real virus. Instead of the whole virus, however, they're fighting just one tiny snippet of the virus. As the body makes those antibodies, it teaches those T-cells and B-cells to fight off the real coronavirus when the body is exposed to it. This method, the mRNA method, is very fast. This is the new way [of making vaccines].
Johnson & Johnson (through Janssen Pharmaceuticals) has a similar kind of vaccine that's in development right now. We're testing that here in Orlando at AdventHealth.
WHERE WOULD YOU SAY THE NARRATIVE OF, "THIS VACCINE IS COMING OUT WAY TOO SOON" CAME FROM?
This RNA technology has been in development for more than a decade, there just hadn't been [widespread interest] in how vaccines were made prior to the pandemic.
The typical way of making a vaccine is you make a little bit, you test it in a few people, you make a little bit more, you test it in some more people, and then eventually, over years, you get a developed vaccine. With "Operation Warp Speed" by the federal government, those steps ran in parallel. That really accelerated the pace.
This has never happened before because we never had a pandemic to really push us. None of the rules the FDA puts it in place for how one develops vaccines were changed or broken. Companies had been going slow because they're used to going slow.
I've seen this from the inside as we've worked on this vaccine trial with Janssen; no corners have been cut. All the same regulatory environments are in place. In fact, the bar went up from a regulatory standpoint. The FDA asked for more people to be involved in the clinical studies than a flu vaccine would typically be tested in. Really, the urgency came from the pandemic and by creating these more streamlined processes, not by changing the rules.
IT SOUNDS LIKE SUPPLY AND DEMAND AT THE END OF THE DAY.
Yes! Exactly. I'm the principal investigator of this trial with Janssen here in Orlando. We had a fantastic response from our community. People who volunteered to participate in the research study did it not only for themselves, but because they felt the urgency of being able to do something to help their neighbor, friends, parents, and the whole world. People showed up knowing the uncertainty, but they still wanted to participate. That was true across the globe. People stepped up.
IT'S A COMBINATION OF THE TECHNOLOGY THAT HAD ALREADY BEEN DEVELOPED, THEN ALONGSIDE THAT YOU HAD A SENSE OF COMMUNAL AND GLOBAL REALIZATION OF THE NEED TO STEP UP TO HELP OTHERS. PUT THOSE TWO THINGS TOGETHER AND WE HAVE A VACCINE.
I think that second piece is something that people haven't really talked about. Human nature oftentimes gravitates towards the negative, or what can go wrong, but there's so much that's gone right around the development of these new vaccines that I think we can be proud of [the work].
WHAT'S YOUR ELEVATOR PITCH FOR PERSUADING SOMEONE TO TRUST THE VACCINE?
I've seen all the data and it's quite compelling. You couldn't design a vaccine that looked any better than these first two vaccines that are out of the gate.
We formed a scientific review committee here at AdventHealth that went through all of the data. There's beautiful data transparency. You can go out and look at all the results from those two clinical trials. You can see how many people's arms hurt, how many people got tired, how many headaches there were. It's all sitting there. You can go to FDA.gov and read for yourself.
I use what I call my "mother, brother, neighbor rule." That is, "As a physician, is this something I'd recommend to my mother, brother, or neighbor?" That's just a perspective I often take in addition to the data. Without a doubt I would recommend these two vaccines for my mother, my brother, or my neighbor. The safety profile is outstanding.
With regards to the efficacy, [people may wonder]: Does it work? In comparison, flu vaccine is probably about 70 percent effective. These vaccines are 95 percent effective at preventing asymptomatic cases of COVID. Both of these vaccines have been shown to be 100 percent effective at keeping people out of the hospital with COVID. The one in 20 people who developed a case of COVID had mild symptoms and did not need to go to the hospital.
WHAT ARE SOME OF THE COMMON SIDE EFFECTS OF THE TWO VACCINES?
Common side effects include fatigue, headache, soreness at the injection site. There are a few people who will have fever and chills — that's not common, but it happens. Just to be very clear: These vaccines are not viruses that you can transmit or get infected with. That's not how these vaccines work.
The good news is that [the side effects] are time-limited, they last a day or two. We recommend taking Tylenol or something like ibuprofen for people who have a little fever or sore arm.
There's a very, very small number of people who will have more severe reactions. I think everybody may have seen the news reports about the reactions that occurred in the United Kingdom with those first couple of doses. We now have data to that shows that kind of severe reaction occurs with a very low frequency, 1-in-100,000. By-and-large, these cases are with people who carry EpiPens with them already and have a history of allergies. Those people need to speak with their doctor and be in a special setting if they're going to take the vaccine.
WHEN DO YOU THINK A LARGE PERCENTAGE OF THE POPULATION WILL BE ABLE TO GET VACCINATED?
I think certainly by [early] July, but probably beforehand. Everybody who wants to take a vaccine should have access by then.
ONCE VACCINATED, CAN A PERSON WALK AROUND WITH THEIR MASK OFF WITH NO MORE SOCIAL DISTANCING?
Oh, what a dream! We will begin to know that vaccines have taken hold when the case counts are going down and the percent of positive tests in our community goes down. There's going to be a lot of signs as we approach this beautiful day when we can all take our masks off and be closer to each other. We're going to get there, but we're not going to be able to do that in the beginning.
The vaccine is 95 percent effective not 100. That means one in 20 people may still get an infection compared to somebody who didn't have the vaccine at all. To prevent yourself from getting a mild case and giving it to somebody else, you still to be masked up.
We wear masks and we distance not just for ourselves, we do it for our friends, colleagues, family, and even the person at the grocery store we don't know. We do this because we care about others. That's what masks and vaccines are really about.
CAN YOU ALSO TALK ABOUT THE VARIANT STRAINS OF COVID-19 AND HOW THE VACCINES FARE AGAINST THEM?
Just so we understand what these strains actually mean, it's about ease of transmission from one person to another. There's a South African strain and the United Kingdom strain. There have been a few others; there was one identified last summer, for example, the 614-variant. What we know from the science at this point — it's not deep and strong science but it's compelling —is that these little changes that occur in the virus over time accumulate and make it easier to pass the coronavirus from one person to the next.
With regard to the vaccines, there have been a few reports that suggest the vaccines are still going to be active against these strains. I personally, based on the science, don't believe there's going to be any concern with the vaccines. The human body has a rich and varied response to the vaccine. It doesn't just make one kind of antibody, it makes thousands of different antibodies against multiple parts of this particular virus.
SINCE IT'S MUCH EASIER TO PASS ALONG, ARE THERE EXTRA PRECAUTIONS WE SHOULD BE TAKING IN ADDITION WEARING MASKS, WASHING HANDS, AND STAYING SIX FEET APART?
No. Just do those things and you should be just fine.
WHAT WOULD YOU SAY OUR "NORMAL" WILL LOOK LIKE POST-PANDEMIC?
I am very hopeful we will have learned many things from the pandemic that will make life after the pandemic just pretty amazing. I think if we slow down and recognize what we've missed during the pandemic, it's really been about the collegiality, friendships, connections, the communal community environment, prayer groups — you name it. Sometimes you don't really know what you're missing until you miss it. I hope people see this as being a real test of our connection, our faith, and our community.
It's going to be a fantastic, beautiful thing once we have that back.