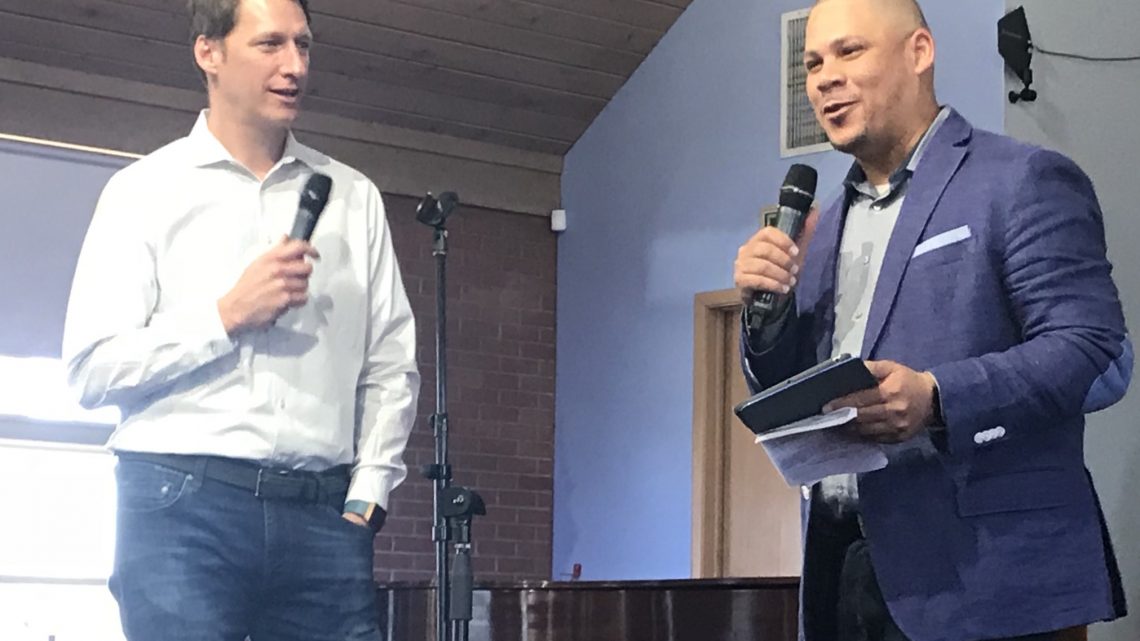 Author's Note: Being a member of the Park Hill church means I have had a connection for the past 20 years with the Central States Conference, one of six conferences in the Mid-America Union Conference. Over the years, I have also been involved with the Rocky Mountain Conference, visiting various churches, attending Mile High Academy and becoming a summer intern for the RMC communication department.
Recently, two Adventist churches from separate conferences came together for a worship service, potluck, and community outreach.
When Robert Davis, pastor of Park Hill Church in Denver, Colorado, and Dave Kennedy, pastor of Newday, met, they immediately clicked and began talking about Newday's project of establishing a church in Downtown Denver, Colorado. It was then they began to discuss a ministerial partnership.
As a result of the partnership, both pastors brought their churches together to do a joint service, eat together and go into the community to participate in an activity Park Hill calls a prayer walk, where members knock on doors and ask to pray with residents in the Denver area.
Park Hill Church, consisting of about 180 members, is a part of the Central States Conference, which is headquartered in Kansas City. The conference, which was established in 1952 and is currently under the presidency of Roger A. Bernard, has more than 50 employees and almost 40 churches in the nine state region of Mid-America. With their mission "to proclaim the everlasting Gospel of Jesus Christ to every person in our nine state region, inviting them to become fully devoted disciples of Jesus," they are dedicated to impacting the lives of their 16,000 members, engaging in God's mission in their communities.
Newday was originally located in Parker with a predominantly Caucasian congregation, and Park Hill is located in the Denver area with a primarily African American congregation, but this allowed them the chance to learn from one another. This collaboration held more significance than just a church service. "This was a chance for us to sit down to have courageous and honest conversations relative to race, where we discussed the difference between worship preferences and racial intolerables," says Davis. By bridging the gap, these two churches were able to worship together, share their experiences, and participate in fellowship.
This was not the only collaboration we saw this year. On March 23, 2018, four churches in Colorado Springs held a joint communion service. Jaden Miller, pastor of Palace of Peace, a Central States Conference church, approached Mike Maldonado, pastor of Colorado Springs Central church, saying there was a need for churches to do more together and find an avenue to foster spiritual unity across conference, church, and racial lines.
Central States has 10 churches in the Colorado area, and although they are within a close proximity, the relationship between fellow Adventists is limited. Davis stressed the importance of churches reaching out to others. "We need to do better. As a people in today's culture we are becoming more disconnected from the church in general. It's not only churches in separate conferences who don't come together, there are churches from the same conference who rarely interact with one other. We have to unite if we hope to fulfill the mission we as Christians are called to do," he commented.
As for church members, the collaboration left them encouraged. When asked about his feelings toward the event, James Harris, a member of Park Hill, responded, "It was about time. Great things can happen when we as a body of believers come together in the Spirit of God's power in obedience to His words and shine light to the dark world."
Kim Kennedy, Pastor Dave's wife and member of Newday also commented saying, "More things like this should happen. God wants us to intermingle with people from all different walks of life." She added, "It is an amazing experience to meet and pray with people I never get the chance to talk to. For me, this was just a small glimpse of what Heaven will look like."
The collaboration is an example of  Adventists working together to fulfill God's mission. Harris said, "It shouldn't matter what conference or church you come from. The beautiful thing to remember is that when we work together we can accomplish so much more."
Brittany Winkfield, Central States Conference communication director, shares the same perspective. "It is so important to work together now more than ever. Together we are stronger for each other and for the kingdom," Winkfield said.
While Central States and Rocky Mountain are separate conferences, both have the same Christian goal to share the love and Word of God to all we come we in contact with. Working together with churches within the same territory means there is a greater chance of making a difference in a world that is in need of a redeeming God.
— Alaysha Harris is a communication intern for the Rocky Mountain Conference; this article appeared on the Mid-America Outlook magazine website.