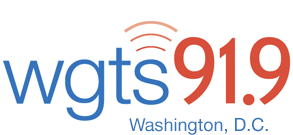 WGTS 91.9 is transitioning from Washington Adventist University (WAU) to a separate nonprofit entity. Pending approval by the Federal Communications Commission (FCC), it will soon be owned and operated by a new corporation called Atlantic Gateway Communications, Inc. (AGC), which has been incorporated specifically for this purpose.
On May 9, 2018, the WAU Board of Trustees voted to divest itself of the station's operating license for $12 million. Pending the FCC approval, administrators expect the purchase to be completed sometime this fall with all assets transferring to the newly formed non-profit AGC, Inc.
"While ownership will change, our mission, programming, team and focus remains on bringing our listeners in the Washington, D.C., region a message of hope and encouragement," said Kevin Krueger, vice president and general manager. "We are so thankful for the foundation which has been built over the last 60 years at WAU. Now, much like a college student coming of age and moving out of Mom and Dad's house, WGTS 91.9 is moving forward and expanding."
Rob Vandeman, who has served as board chair for the last seven years, and will continue in that role, said, "This governance shift will facilitate a nimbler operation, which will enable the ministry to stay relevant in the ever-changing, fast-paced arena of media and digital communication. Overall, the change will provide the room and tools necessary for the team to grow stronger and serve the community in even greater ways."
To facilitate this and other plans for growth, much of the media ministry operations will be relocated to a larger space that will provide greater access to advanced technology, equipment, and the broadcast tower. WGTS 91.9 will, however, maintain studios on the WAU campus to continue its training and mentoring work with the university's students, as well as for backup studio and transmission needs.
"We are excited for both WGTS and WAU in this transition and pleased that they remain committed to continuing the legacy of service, which is one of our pillars of excellence. It will also support our focus of better serving current and future students," said Weymouth Spence, university president.
"Everything we are doing will enhance our ability to help us reach out to people who need connection, encouragement, spiritual care and hope in their daily lives," said Krueger. "It's about a future and a vision that we really feel God has laid on our hearts, and this change will allow that to be fully played out in years to come." 
Krueger added, "We introduce people to Jesus, answer their questions, and invite them to become engaged with us through intentional outreach initiatives. And we appreciate the opportunity to partner with area Seventh-day Adventist churches and ministries who initiate the next steps in spiritual growth."
Dave Weigley, president of the Columbia Union Conference, believes God has a special mission and purpose for the media ministry. "Through the ministry of WGTS, the Seventh-day Adventist Church is able to share Christ's message of hope and wholeness with 600,000 listeners each week, which is remarkable!" he says. "As it continues to grow, this valued ministry will maintain its denominational status and strong ties to the union."
— This article appeared on the Columbia Union Visitor magazine website; learn more about the transition by clicking here.