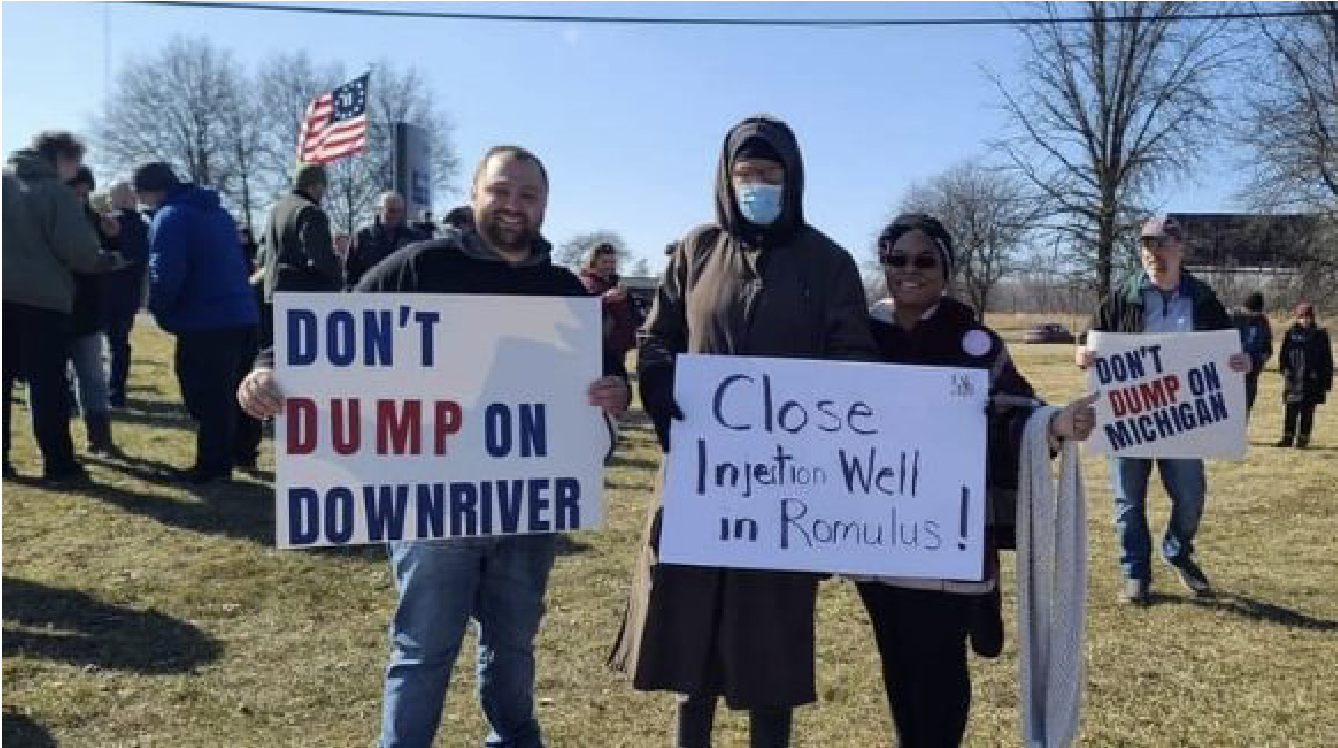 In February 2023, a train carrying more than 115,000 gallons of toxic chemicals derailed in East Palestine, Ohio — 230 miles from Inkster, Michigan, where the Sharon-Inkster Seventh-day Adventist Church is located.
The catastrophe released cancer-causing chemicals that polluted the East Palestine air, soil, and water, eventually spreading to adjoining states and communities.
Springing Into Action
Jacqueline Galloway-Blake, a devoted 40-year member of Sharon-Inkster, found herself thrust into action when she learned toxic waste from the derailment in Ohio was now being shipped to a toxic injection well just four miles from the Sharon-Inkster church.
"We do not want health-destroying chemicals in our community!" Galloway-Blake explained. "I was not going to sit by quietly as they shipped toxic waste all the way from Ohio to our backyard, where our people live."
Galloway-Blake didn't hesitate when she learned about a protest against the toxic waste. After all, she had stood up for this same community two decades earlier to protest the installation of the injection wells.
Joining a protest with around 50 people near her home, Galloway-Blake crafted signs that read, "Don't dump poison where people live!" on one side and "Close the injection well in Romulus!" on the other. Her presence at the protest soon caught the attention of the local media. 
Galloway-Blake's history with activism runs deep, rooted in her family's experiences in the segregated south and a strong sense of justice. Growing up, she heard stories from her parents about their own struggles during the era of segregation, and at 15 years old, she participated in the 1963 March on Washington. This historic event left an indelible mark on her, inspiring her lifelong commitment to social justice causes.
Galloway-Blake knew that her efforts couldn't end with the protest against the toxic waste dump. She contacted Keynel Cadet, senior pastor of the Sharon-Inkster Church, who shares her passion for community well-being and advocacy. Together, they composed a letter to local, state, and federal lawmakers, urging them to address the toxic waste issue.  
"We wanted and needed to make a difference," said Cadet. "As a church, we have a light that we are called to let shine. That means standing up and making a difference. We cannot keep silent and expect things to take care of themselves. We must be a light and make that known in this dark world."
A Little Garden, a Lot of Power: Sowing Seeds to Meet Community Needs 
In an urban area plagued by poverty, deteriorating infrastructure, food deserts, and high rates of diabetes and chronic illness, the Sharon-Inkster church family decided to take action. 
"One day, I realized that our church has a beautiful, grassy lot right next to our garage that could be repurposed. At that moment, God gave me the idea to put a garden there," explained Galloway-Blake. "We could grow vegetables and help people learn the value of eating fresh foods. And we would give them access to this garden for free."
After reviewing grant options and applying for several, The Pollination Project awarded $1,000 to create a community garden to offer fresh and nutritious produce to their neighbors who lacked access to healthy options. 
The project received overwhelming support from Pastor Cadet and the church community. From plowing the land to installing the fence and planting the seeds, church members and friends rallied behind the initiative. 
"It's a little garden that has a lot of power," said Cadet. "As a church we have always believed in the importance of health and the prevention of chronic disease and illness. That is top of mind here at Sharon-Inkster. This garden is designed to educate and aid our community. But at the same time, it's an opportunity to let them see our church as a light and as a people who care about the needs, suffering, and health of those around us." 
Drawing from his personal experience when caretaking for his mom, Cadet feels called to educate people to move away from dietary excesses and junk foods.  
"God's original plan for us is best," he said. "If we can move toward His plan, we'll be healthier and live longer, better lives."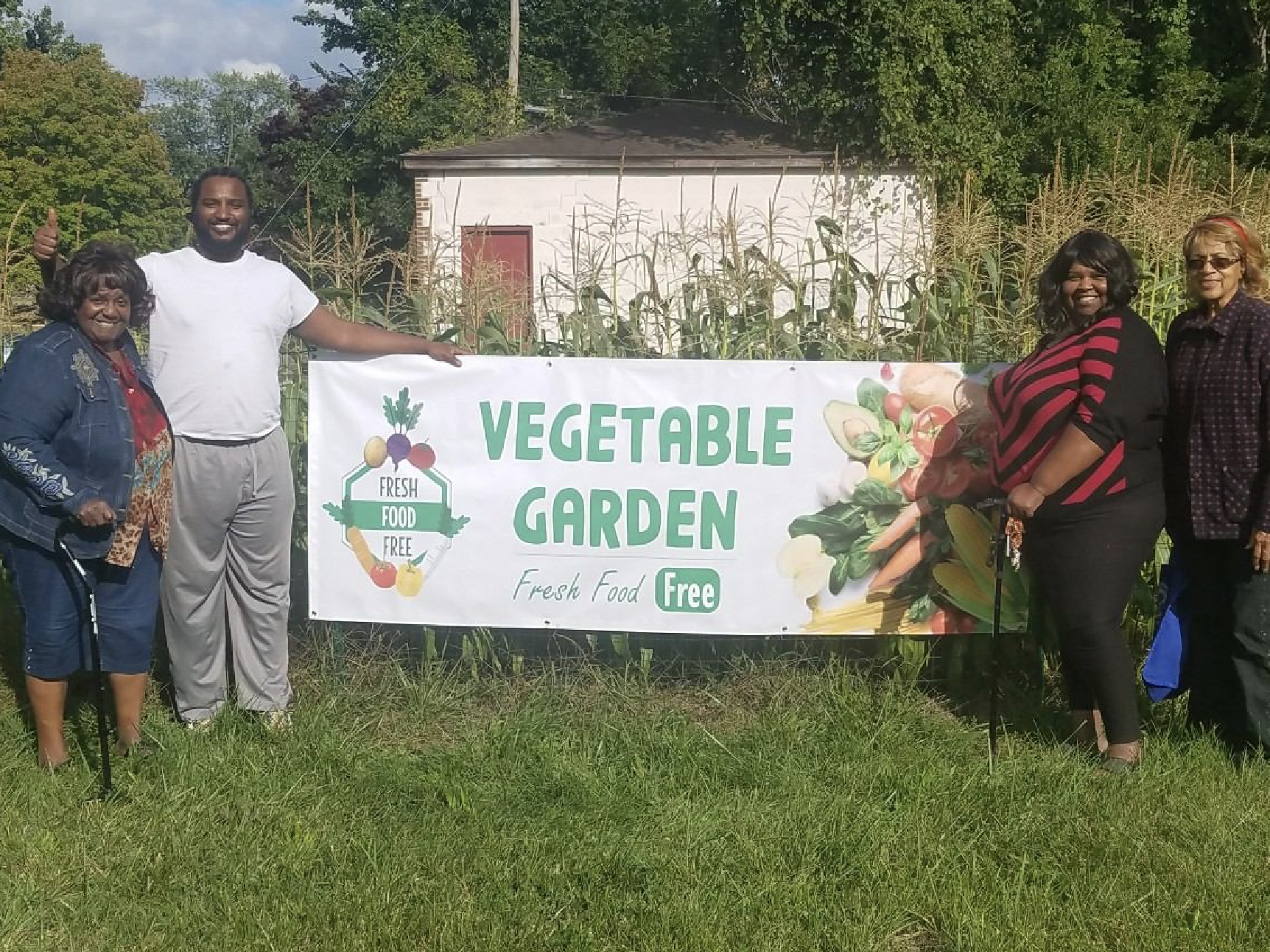 This Is Your Garden: Seeds in the Ground and Hearts 
The garden vision became a reality and now provides the community with an array of vegetables, including corn, eggplant, okra, turnip greens, kale, collards, potatoes, green beans, zucchini, spaghetti squash, and more. 
One Sunday, as volunteers were weeding the garden, a woman was walking by, and Galloway-Blake called out to her saying, "Excuse me, this is your garden!" 
"When the lady asked me what I meant, I explained to her that we secured a grant to build this garden for her and others to help provide healthy foods to combat diabetes and other illnesses," said Galloway-Blake. "The lady was thrilled and said to me, 'My mother has diabetes!'" 
For Galloway-Blake, this encounter demonstrates that the garden extends the church's role beyond its four walls and into the hearts and lives of the people nearby. The church was sowing seeds into the ground and into people's hearts and lives. 
Moreover, both Galloway-Blake and Cadet recognize that just as God called the first man and woman to dress and keep the garden of Eden, the church is called to dress and keep the Earth while planting seeds in the gardens of people's hearts.  
"God made a beautiful world," said Cadet. "We are responsible for it, and for the people He placed on in it. His people and the Earth are gardens we are called to sow seeds into, dress, and keep. That's why whatever happens in and around our community is our concern." 
The efforts by the Sharon-Inkster church demonstrate that God calls His people to be active participants in making the world a better place for those in need, whether through advocacy, community initiatives, or simply by being a beacon of hope and support. 
"This is who we are as a church and who we should be as a denomination. We cannot keep silent when things happen," said Cadet. "We must be active in the church, community, and government to make a difference."
— Danni Thaw is a freelance writer; this article originally appeared on the Lake Union Herald website.