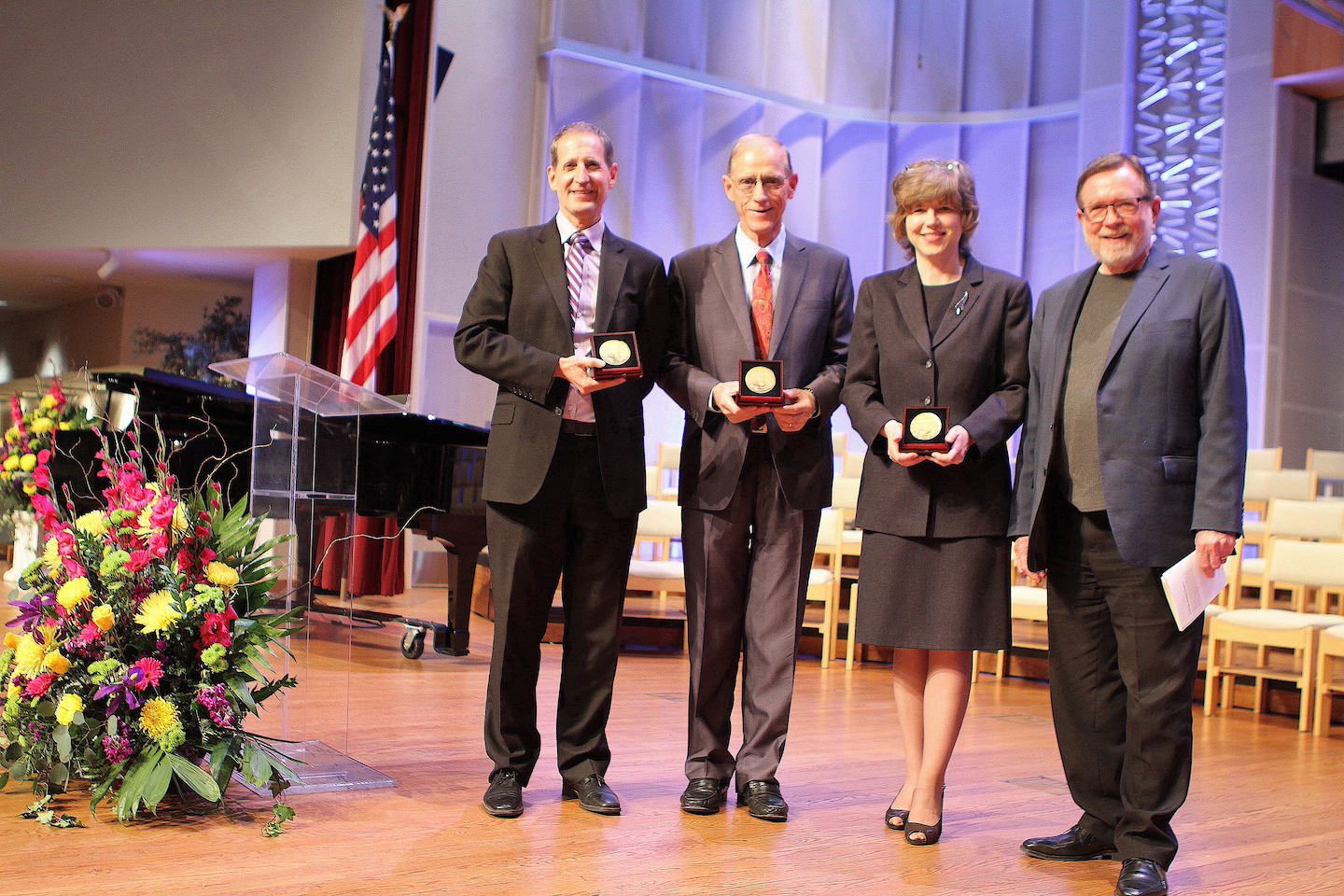 Colloquially referred to as the "Adventist Oscars," the awards ceremony in late February measured up to expectations when it honored a musician, three educators, and a bioethicist for notable achievements in their fields and for denominational and societal contributions.
The Charles Elliott Weniger Society for Excellence 47th Annual Awards presented medallions to five individuals and recognized 13 student scholarship recipients during its annual meeting at the Loma Linda University Church on Feb. 19. Medallion awardees included three current and former faculty members from La Sierra University's music department, its School of Education and H.M.S. Richards Divinity School — violinist Lyndon Johnston Taylor, former education school division chair and author Gilbert M. Valentine, and current professor of New Testament studies and author, Kendra Haloviak Valentine. 
Other Weniger Society awardees were David R. Williams, chair of the Harvard T.H. Chan School of Public Health Department of Social and Behavioral Sciences and a member of the national academies of medicine and science, and bioethicist Gerald R. Winslow, founding director of the Institute for Health Policy at Loma Linda University and an instrumental organizer of the Bioethics Consortium of five Adventist health systems. 
Weniger, a beloved Seventh-day Adventist educator known by many as "Uncle Charlie," served as an English professor and later as dean of the Seventh-day Adventist Theological Seminary in Washington, D.C., and Michigan from 1948 to 1961. He was known for his kindness, expertise, broad professional influence, and dedication to excellence. The society was founded to honor those who exemplify Weniger's humility, character, and commitment.
Divine Messages Through Music
Weniger Society executive committee member Daniel G. Matthews, in introducing Taylor, noted Taylor's exceptional background and achievements and Matthews' own history with Taylor's family — he was a voice student of Taylor's mother in 1954 at Walla Walla College (now Walla Walla University). "Oh, that your parents could have even dreamed of their yet-unborn son, how he would bless our world and their memory with music beyond anything they could have imagined," Matthews said. 
Taylor currently serves as principal second violin for the Los Angeles Philharmonic and is the Benjamin H. Culley Teaching Artist in Residence at Occidental College in Los Angeles. He began learning the violin at age 5 and later toured internationally as a member of the Taylor String Quartet comprised of himself and his siblings. The group, in 1975, performed at a U.S. state dinner in Warsaw, Poland, at the invitation of President Gerald R. Ford, Matthews noted. 
Despite his formative musical foundation, Taylor first studied for a career in medical research. While pursuing an M.D.-Ph.D. program, he recognized his passion for music and switched tracks, earning master's and doctoral degrees from California State University, Northridge, and The Juilliard School. Achievements and accolades followed including wins at the Joseph Fischoff National Chamber Music Competition and the Lipizer International Competition. Taylor taught in La Sierra University's music department where he held faculty positions between 1991 and 2004. He also taught at the University of Redlands and the USC Thornton School of Music. 
"It's truly an honor to be given the Weniger award as a musician amongst an impressive list of primarily theologians and historians," said Taylor in accepting the medallion. Among numerous inspirational figures whom he credited with aiding his musical career, Taylor cited La Sierra University music department and university leaders with providing his first full-time teaching job. He also noted Herbert Blomstedt as "a hero and mentor." 
Blomstedt, a Seventh-day Adventist, is conductor laureate of the San Francisco Symphony and an internationally renowned guest conductor who at age 94 recently led the New York Philharmonic. Between 1970 and 1985 he held conducting master classes at La Sierra University and returned to the campus in 2018 to give a presentation. Blomstedt received a Weniger medallion in 2011. 
The evening's presentations included a performance of Maurice Ravel's "Tzigane" by Taylor and La Sierra University music professor and pianist Elvin Rodriguez.
Telling Adventism's Story
Larry Geraty, a Weniger Society executive committee member and La Sierra University president emeritus, introduced award recipient Gilbert Valentine. "He is enthusiastically committed to the holistic mission of Adventism. This has led him into opportunities for service in a remarkable international career in higher education," said Geraty. "Valentine has continued to forge new paths in Adventist historiography [and has] earned a reputation as a leading historian in Adventism." 
Valentine, a native of New Zealand, is an author, historian, pastor, educator, and administrator with six books and nearly 80 articles and book chapters to his credit. Much of his work sheds revealing light on the lives, philosophies, controversies, and impact of Adventist pioneers John Nevins Andrews, W.W. Prescott, and Ellen G. White. A seventh book currently in the works is a biography of Edward Heppenstall, an internationally influential theologian, La Sierra religion professor, and university church pastor. 
Valentine holds respective bachelor's, master's, and doctoral degrees from Avondale College in Australia and Andrews University in Michigan. He has held varied senior leadership positions in Pakistan, England, Thailand, Australia, and New Zealand including serving as president of the Adventist Seminary and College in Farooqabad, Pakistan, and vice president for academic administration at Avondale College from which he received a lifetime achievement award in 2008. He was also instrumental in assisting with the establishment of Asia-Pacific International University in Thailand through the merger of three existing institutions. 
The illness of his wife Gail, which ultimately proved fatal, prompted a move back to Australia in 2007 for medical care where Valentine served as associate education secretary for the South Pacific Division of Seventh-day Adventists. In 2010 he moved to Southern California after marrying Kendra Haloviak. He served as chair of La Sierra's School of Education Leadership and Administration program until his retirement in 2017. 
In accepting his award, Valentine thanked the society for affirming the important effort on his part and that of many others to "write careful and accurate Adventist history, even if such history might unsettle some folk in the pews and [of the] religion at times." 
Such historic exploration is "invaluable," he said, "because it fills in the gaps, it notices complexities." The goal is not to diminish or denigrate the past, nor judge it by today's canons, he continued. "The task of historical inquiry is to seek a comprehensive, well-informed understanding of people in faith, … their decisions in their own time and place." 
He said, "I'm indebted to a community of faith which shaped me in my early years, and which still continues to challenge me in service. There is blessing in walking through doors of service by faith, not always sure where the doors will lead to, [taking you] in unanticipated directions."
The Love of a Village
Richard Osborn, Weniger executive committee president, and his son, Trevan, presented the Weniger Society medallion to Haloviak Valentine, a scholar of multiple articles, papers, and books; and a popular educator, lecturer, and pastor. She holds degrees from Columbia Union College and Andrews University Theological Seminary and earned a doctorate in New Testament and ethics from the Graduate Theological Union at Berkeley. She has taught at La Sierra University since 2002. 
The elder Osborn, Haloviak Valentine's former academy principal, provided brief insights into her background and faith journey in Adventism and the village network of family members and educators who sustained her and upon whom she made an early impression. He noted Haloviak Valentine's distinction as being one of the first three women ordained in the Adventist denomination in 1995 along with his wife, Norma, and Penny Shell. 
Trevan Osborn described Haloviak Valentine's impact as his teacher and an educator nurturing the intellects, curiosities, and faith development of her students. "Kendra is the most influential teacher in my life," he said. "I know countless others say the same. As a young theology major, I took a class from her, Jesus and the Gospels, and it changed my life forever. She showed us that we can disagree with some church policies and teachings, yet remain committed and faithful to creating a better Adventism. Thank you, Kendra, for being part of my village." 
"When I think of the principals, and the pastors and the presidents and the mentors, and the professors that I've been blessed to have over the years, I feel overwhelming gratitude," responded Haloviak Valentine in her acceptance of the award. She cited key individuals who impacted her life and career path.  
Haloviak Valentine gave the evening's keynote Clinton Emmerson Annual Address titled "The Irony of Orthodoxy" in which she delved into Charles Weniger's perspectives and understandings of the Bible as literature, illustrated through insights into the story of Job and the meaning of suffering and of traditionally held theological views.
Sacred Literature, New Insights
"Charles Weniger not only left an enduring mark in 20th century Adventism, but his ideas can also help inspire Adventism in this century," began Haloviak Valentine in opening her address. "I refer to Charles Weniger's understanding of the Bible as literature. This essential conviction shaped his work." 
Weniger, who loved the Book of Job as a poem and literary sacred work, encouraged his students to imagine the experiences of Job and to contemplate the dark night of the soul, she said, the plight of despair over great loss that is the shared human experience. She noted the unimaginable losses suffered by a righteous Job and the words he received from friends. "They speak the sacred tradition, arguing the standard orthodox answers to the problems — sinners bring suffering on themselves, God punishes sinners for their sin. Yet the irony of orthodoxy in the Book of Job is that readers know that the orthodox answers are not true," she said. "The orthodox tradition is inadequate, but so was our pushback against it." The Book of Job, a complex poem of complaints and rebukes, seeks greater understanding, she said. 
"This isn't about law versus grace. …This is something new," said Haloviak Valentine. "Here in Job we find a new form – wisdoms, creation poetry, that allows a shift from God as covenant maker to God as creator of all life, … a God of unlimited possibilities who will not be boxed in by retributive justice or by anything else. Job's complaints paved the way …for theological breakthroughs, for new ways of thinking about God. … God is even more compassionate than we thought." 
In comments following the Weniger Society awards event, the Valentines described what it was like to jointly receive the prestigious Weniger awards. "The way our paths crossed that led to our joining together in marriage and ministry we have both regarded as nothing less than amazing. … Being honored for each of our different contributions but with the same award and at the same event has been like having some more stardust [added] to our incredible journey. We both feel exceedingly blessed," they said.
Callings and Opportunities
The evening's awards concluded with brief video acceptance speeches from student scholarship recipients at the denomination's 13 higher education institutions in the U.S. and Canada. La Sierra University Master of Divinity student Christian Botello received this year's Weniger scholarship. As a biology undergrad at Pepperdine University, he served as a spiritual life advisor and developed Bible study curriculum. In 2019 he began a position as youth ministry director at the Rolling Hills Seventh-day Adventist Church. 
"Since I was a young boy, I have thought that God was calling me into the pastoral ministry and throughout my life, such as in this case, he has provided opportunities for me to step into that calling," Botello said. "In the footsteps of Dr. Weniger, my desire is to strive for excellence in all that I do, realizing that I've been called to lead others to Christ, draw them close to him, and empower them to go and do the same for others."