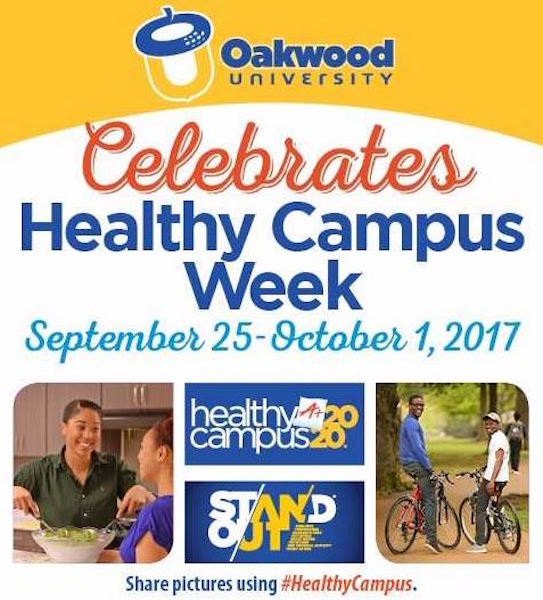 Partnership for a Healthier America (PHA) launched its third annual Healthy Campus Week on Monday, Sept. 25, 2017, as part of its Healthier Campus Initiative (HCI), a national effort to ensure college students have access to healthier environments during a time of profound change — a time when new habits are formed. Oakwood University is one of 52 college/university partners.
During Healthy Campus Week, PHA, along with Healthy Campus Week sponsors, Alaska Seafood Marketing Institute (ASMI) and Target, supported campus partners as they created opportunities for students, faculty, and staff to participate in on-campus fitness and wellness events, contests, and more. "For thousands of college students across the nation, it's the first time they are making their own choices about food and lifestyle," said Nancy Roman, PHA President and CEO.
For one of the main Healthy Campus Week activities at Oakwood University, Miriam Battles, customer care coordinator, shared her healthy lifestyle testimony, comparing her experience with cancer to being in a "Lion's Den." Just as Daniel was thrown into a den of lions, Miriam explained how she was faced with the "Diagnosis Lion," the "Treatment Lion," the "Financial Lion," and the "Employment Lion."
The overarching Bible promise that guided Miriam through her experience was Daniel 6:22 and 27: "My God hath sent his angel, and hath shut the lions' mouths, that they have not hurt me: . . .  He delivereth and rescueth, and he worketh signs and wonders in heaven and in earth, who hath delivered Daniel from the power of the lions" (KJV).  
Miriam shared that she was implementing some of the STANDOUT principles of health (sunlight, temperance, adequate rest, nutrition, drink water, outdoors, use physical activity, and trust in God), but not all eight of them. She stressed the importance of embracing all eight health principles because six or seven won't do.
God showed Miriam in so many ways that He was in control of the situation by providing her with His promises to sustain her; family, friends and co-workers to support her; financial blessings, including a paid invoice from the Cancer Treatment Centers of America; and a cancer-free diagnosis.
Other activities on the campus for the week include the kick-off of the Calorie Burn III Weight Loss Challenge, a spin-off of the "Biggest Loser," where teams track how much weight is lost through the end of the semester; a creative expression coloring contest, to encourage patients at the Cancer Treatment Center of America; and a bread-making class.