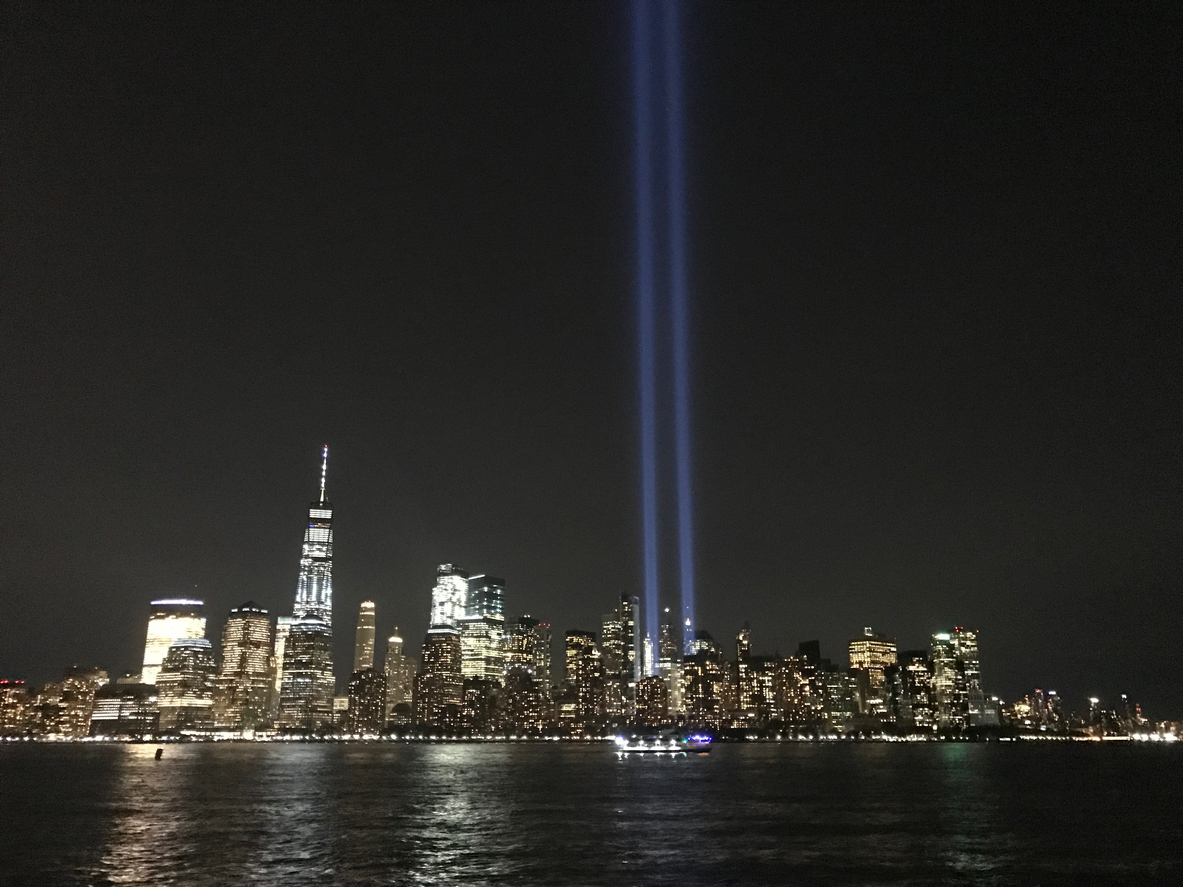 On every September 11 since 2001, I remember two events: that it is my grandmother's birthday; and watching the news reports of planes crash into the World Trade Center in New York, the Pentagon in Virginia, and a field in Pennsylvania. And while the utter disbelief, crippling fear, and raw emotions from that day 18 years ago have faded, memories of busy signals on cell phones, silent skies, footage of falling buildings and people, photographs of ash-covered pedestrians, and victim and first-responder interviews remain in sharp focus. 
For my children, however, born after this infamous date in American history, there is no recollection, no memory. On the way to school this morning I listened to my younger two comment on 9/11/01. One knew about passengers crashing a plane, the other knew about buildings burning and crumbling into rubbish. Both called it a terrorist act.
In the few minutes left of the car ride, I gave a arguably adequate synopsis of what happened. I left them at school. I glimpsed eyes wide and swirling with thoughts as I drove away.
It's not just my kids. A new generation crossing the threshold into legal adulthood this year also have no real frame of reference. Their generation, and those to come, will be able to see the reports, hear the stories. And various ways, this "Generation Z" (born between about 1997 to 2016) has been shaped by 9/11 and its aftermath. What they will understand and take from it is highly predicated on the reports, responses, and rhetoric of older generations.
Back to my own children. As a Christian parent, what am I teaching them? Fearmongering — psychological, societal, political — is not a good approach. Neither is imparting apathy.
Swallowed Up
Talking to my children about what I remember from 9/11, and the ways in which life in the U.S. changed is important. I also have a responsibility to shine a spotlight on other atrocities, past and present, from around the world. This should be done through the lens of my faith. Mass shootings, terrorist bombings, genocide — people do hateful things to other people. Evil exists, and all humanity is touched by it. 
But we know the end of the story: Jesus won! And until the prophetic words of Revelation 7:17 come to pass, God has equipped us. 
Yes, I'll tell my children about the past, but I'll also tell them about the future, and help them responsibly live in the now.
I'll give them encouragement from the Word of God: "I have told you these things so that in Me you may have peace. In the world you will have tribulation. But take courage; I have overcome the world (John 16:33, NKJV)."
I will share with them that although it seems elusive at times, we've been gifted with peace: "My peace I give to you; not as the world gives do I give to you. Let not your heart be troubled, neither let it be afraid" (John 14:27, NKJV).
I'll remind them to use the power God gives for earthly good; "for God has not given us a spirit of fear, but of power and of love and of a sound mind" (2 Tim. 1:7).
And in the context of life now and in eternity, I will leave them with vibrant hope: "When the perishable has been clothed with the imperishable, and the mortal with immortality, then the saying that is written will come true: 'Death has been swallowed up in victory'" (1 Cor. 15:54, NIV).