As this fall's meeting approaches, here is a look back at a 2017 Year-End Meeting (YEM) discussion with student body presidents of Adventist colleges and universities (Adventist Intercollegiate Association). The students, some of whom have recently graduated, were invited to participate in the North American Divison's annual meeting with voice and vote privileges for its business sessions. The conversation started with the students sharing their expectations of YEM, and hopes for the future.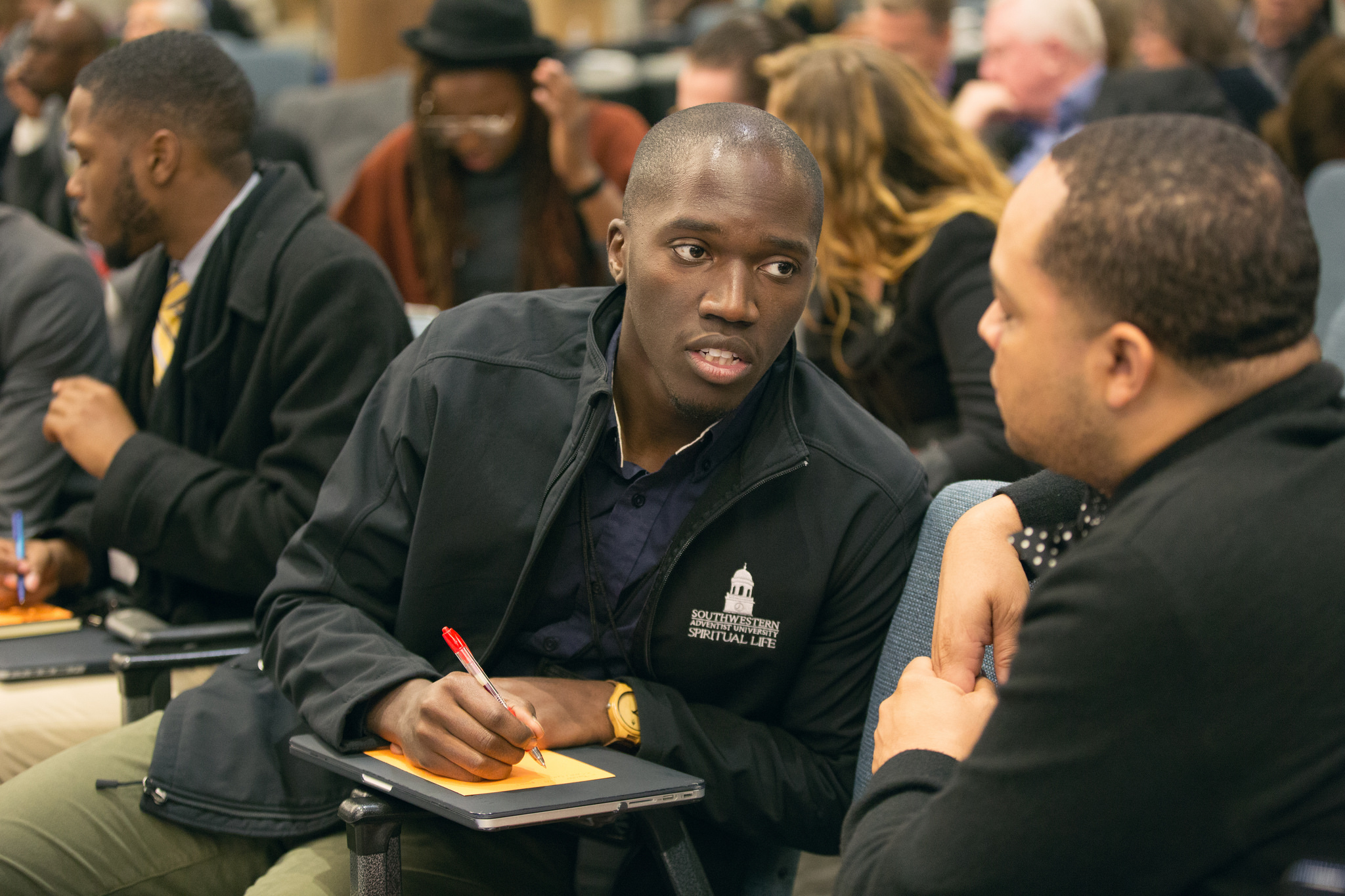 Andrew Taylor [Oakwood University]: I expected to have a great time because I'd get to see all of my fellow presidents again. I was also kind of excited to see what our church is moving toward. I'd like to understand what the church battles on a consistent basis, and how it handles those issues.
Anthony Gann [Union College]: I was looking forward to meeting with all the presidents again to discuss different things that would benefit our universities. But on the same note, I was looking forward to representing and standing up for the beliefs and ideas, not just of my fellow students, but of people in my age group that attend my church and that are in my area.
Jessica Young [Andrews University]: I'd like to learn a lot about the church. I was definitely expecting to gather insight. I was excited to hear from the leaders of our North American Division, just to listen to their perspectives.
I feel that a lot of times there's a large disconnect between young adult voices who are going to be and who are currently in leadership positions within the church. I also thought it would be a huge privilege and responsibility to be part of this group of young adults.
Peter Flores [Walla Walla University]: Frankly, I thought I would be bored during the meetings. I'm just being honest. I didn't know how much would be accomplished. But I'm surprised and thankful that there are a lot of movements in our church that are kind of on our behalf. A lot of other presentations have excited me. The intentionality of youth involvement in the church makes me proud to be here, and makes me proud to be part of this church.
Spencer Page [Burman University]: Something that surprised me is how well our input has been received. It seemed like the committee was so open to hearing anything we had to say. I expected we'd be invitees and not anything more. And I sort of expected that our comments wouldn't really matter as much as those of like elected union and conference presidents. But what I actually found was the complete opposite. I felt that our input was valued at a level that was far superior to even some of the conference and union executives.
Adam Hagley [Walla Walla University]: I never expected to form some sort of personal connection with the leaders, but the approachability and the humor of people like President Jackson has made the time here really enjoyable. So that's been awesome.
Rajesh Inparaj [La Sierra University]: I expected things to be uptight, but they're very welcoming, and really just wanted to hear what we had to say. We weren't pressured to speak with eloquent words, they just wanted us to be representative of our communities and age groups. And I think that helped me take a deep breath and feel like, 'Okay I can relax.'
Megan Williams [Pacific Union College]: I would say I was pleasantly surprised at how welcomed we were. I think that made all the difference in how we reacted to the meetings as a whole. I'm so excited to go back to my school and tell people, 'Hey, our church is really trying to make headway towards something better. We're great right now, but we're going somewhere even better.' I think NADis making such a great example right now to the rest of the world by taking our voices and making sure we realize that we matter.                               
Moderator: Did you know your conferences' leadership before coming here? 
Megan Williams: I did not know the Pacific Union president, but he actually approached me and a group of us from the Pacific Union, took a picture with us, and thanked us for coming. That meant the world to me to realize they care that we are here. 
Philip Warfield [Southern Adventist University]: I actually knew my union president, and of course the president of Southern Adventist University. All year, the president of my university, Dr. David Smith, has had meetings with me, whether it's twice a month or sometimes even more. He always asks me how I'm doing. He's extremely busy but always makes time for me. It's usually like an hour. 
As for the Southern Union president, I met him at Southern's board of trustees meeting earlier this month. And turns out he knows my family, and so does the education superintendent who is also here. I was able to meet, network, and get to know good people, great people who said they were there for me, who want to help me learn anything I'd like to learn, whether here as a student body president, or as someone going into education, like myself. It's just really helpful that they don't just care that I'm president, they're more invested in my success as a student.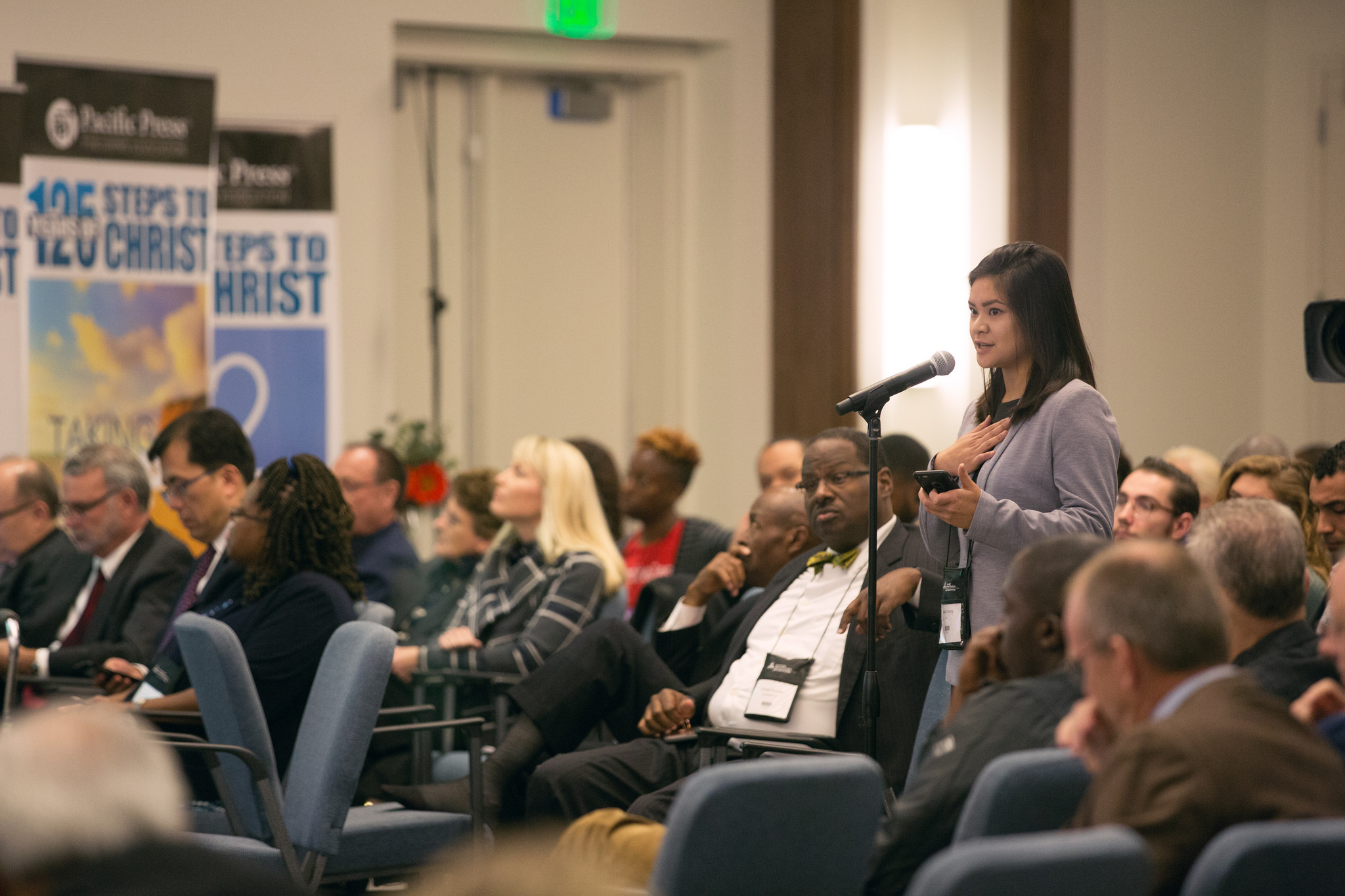 Moderator: What are things we can do to move forward and to encourage other young people to take leadership in the church? Further, how can we encourage young people to embrace and help the church? Not only on your campuses, but in your networks.                                     
Peter Flores: I hope that the administration or executives that we're in contact with here are going to continue that contact during the year. And I expect that. I'm hoping if I send an email, I'll get a response. I hope they're willing to mentor us, give us advice, and help us grow.
And as far as what I can do personally, I want to share some of the information I've gathered here. I guess first would be on my social media platforms, but then word of mouth, then I'd like to encourage people to seek out that information for themselves. But I think I want to stay engaged with this energy I have right now of being convicted, wanting to be involved. 
Andrew Taylor: I want to make sure my constituents know about some of the things I didn't know the NAD is putting out. A lot of us didn't know about The Haystack, and even The Potluck. I want to share this at the first chapel upon my return to Oakwood. 
Samson Simbebba [Southwestern Adventist University]: When I got on my plane to come here, I didn't really understand the system at all. I didn't know who Dan Jackson was. Just going to be honest. But coming here, I learned a lot. I mean so much to the point where I almost feel like my feet have been glued to the Adventist Church. It's beautiful to see this. And I want to say this. Coming here is good. For me. Samson. It's good for me. 
Is it good for my campus? Hopefully. The most I can do is go back and share what I learned. But sometimes you have to "taste and see" for yourself, you know what I'm saying?
My concern more is for the individual student that walks the halls of Southwestern and the graduates without this opportunity. 
You can buy me a plane ticket up here, you can let me see all this, but how much are you actually willing to invest in me and all of us when we share thoughts that will revolutionize the way we do ministry and mission, and also help the average student that walks the halls of Southwestern Adventist University?
Anthony Gann: We're leaders, and we do have the power to make changes, but we can't do it alone. A lot of it does fall in place with our administration, and our leaders that are already in the church, our universities, and our schools. But how can the leaders of today help pave the road and assist the leaders of tomorrow? 
Megan Williams: I just think it takes intentional efforts to truly communicate, to be transparent about what church leaders want. What can we do to better the church? And in what aspects? 
This is only nine or ten representing thousands of students. Just on PUC's campus, everyday I'm amazed at the talents of twenty-somethings, whether it's with videography or public speaking. If we utilize those talents, and what the young people have to offer, then I'm not worried for this church. So I think just being intentional on every side, and making sure you're reaching out and being extremely transparent about what you want, what you need, and letting us deliver — because we will.
Moderator: Transparency. Mentorship. Involvement. Trust. All those things.
Megan Williams: Yes, exactly. 
Moderator: With that dialogue we can share ideas. Such as, 'Hey, what do you think about this? Should we have a channel? Should we go with YouTube? Should we create our own distribution for video?' Young adults need to be involved in those types of conversations. I think that's what I'm hearing you say. 
Megan Williams: Exactly. We know what's relevant, because we're living it, we're doing it every day on our campuses. 
Jessica Young: Being at this meeting has given us incredible access to knowledge and leadership, which has really ignited passions a lot of us didn't know we had for ministry.
We can contribute energy and passion once we've been inspired, one we've tasted and seen, as Samson was saying. And the young adults are abundant, as Megan talked about. There are plenty of us, so many people back on our campuses. We're talented. And everyone's looking to get behind a worthy purpose. 
If more young adults can see what we've seen and experienced, and the church leaders of today can reach out to connect to college students about the needs of the church and how they really want us to be involved, we can help. We want to be involved in a cause that is greater than ourselves. We just need to be connected.
CLICK HERE to read more NAD news.