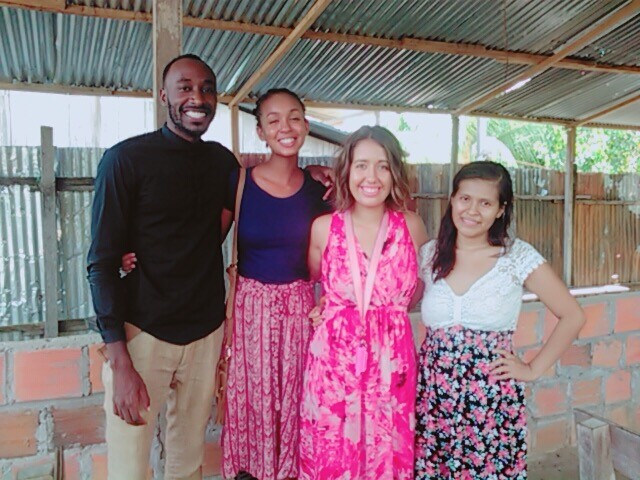 Editor's Note: Cristina Norcross is from Mount Pleasant, Michigan, working on her bachelor's degree in biology, with plans to attend medical school at Loma Linda University and become a pediatric oncologist. Her volunteer work at Amor Projects in Pucallpa, Peru, was a perfect fit. Her role for 10 months included serving as a nurse at the clinic, setting up mobile clinics, and promoting health awareness. She was also involved in other ministry projects, as told in the story below.
After only three weeks in Peru, Cristina and some of the other volunteers attended the funeral of a local church member. She wasn't sure how her presence could be much of a support for a family she didn't know, but God used her willingness in a surprising way. While at the funeral, the volunteers discovered that some of the locals were looking for a place to attend church and have Bible studies.
Jennifer and her family, owners of the house where the funeral had been held, offered to host Bible studies and English classes. It became a house church. Cristina joined this new church family and excitedly watched it grow from four to 10 members.
As they worked together, Cristina and the other volunteers became close to Jennifer, her husband, and her three daughters. When they discovered that her oldest daughter, Laurita, was suffering from tuberculosis, they brought medicine, but realized that she needed more help than they could give.
One night the volunteers received a phone call. Laurita was not well and needed urgent medical attention. Cristina and Joffre, another volunteer missionary, drove immediately to Jennifer's house, where a crowd of family members stood outside. Laurita's fiancé rushed her out to the car, and several family members jumped in before they rushed to the medical clinic. Laurita struggled to breathe. After running tests, the doctor informed them that Laurita was septic.
When Cristina and Joffre arrived back at their home at Amor Projects they received another phone call. Laurita
needed to go to the hospital by ambulance, but the clinic would not release her without payment. Laurita's family was poor; so Cristina quickly ran door to door and collected enough money from the missionaries to cover the medical expenses. Then she rushed with Joffre to the clinic to pay so that Laurita could be released and taken to the hospital. They stayed with the family until things were more stable, and returned to Amor late that night.
On Sabbath the missionaries returned to the hospital to visit, and although they could not enter the room, they received permission to sing to Laurita outside her room. Her expression let them know that God had lifted her spirits through the music. However, on October 18, 2017, Laurita passed away in the hospital, surrounded by loved ones.
The Sabbath after the funeral, Jennifer told Cristina that she was pregnant—she had confirmed it the same day Laurita died. She asked Cristina and Joffre to be the padrinos (godparents), which they happily accepted. Cristina marvels at how God worked through a stranger's funeral to lead them to this family just in time to help them through their crisis, and to look forward with them to the new life of baby Dulce Laurita, born in March 2018, as well as to eternal life and a heavenly family reunion someday.
— Written by Andrea Keele, as shared by Cristina Norcross