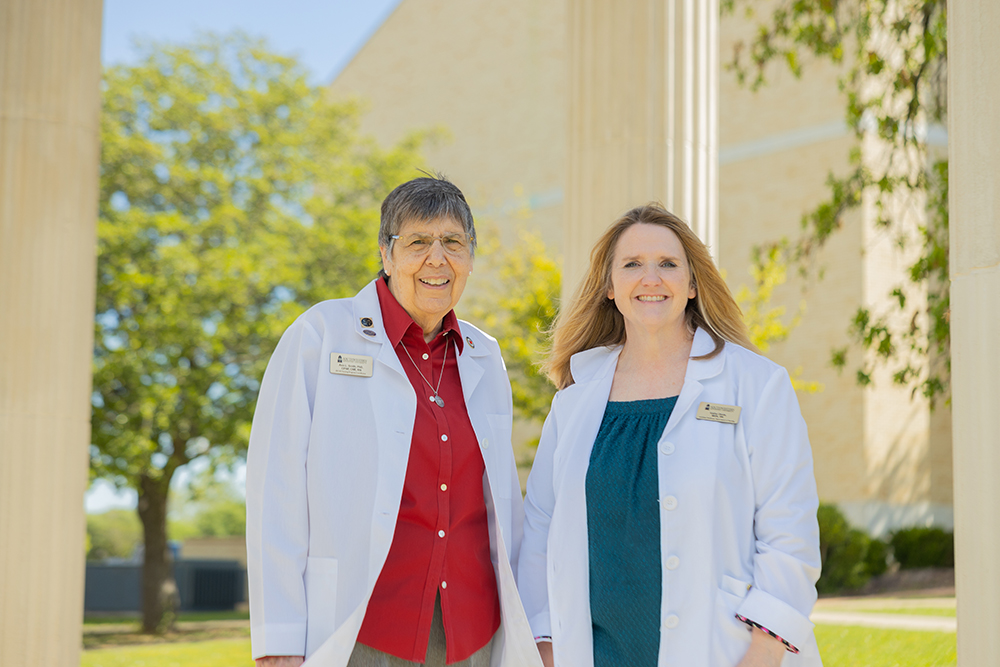 Southwestern Adventist University (SWAU) is the proud recipient of Promoting Postbaccalaureate Opportunities for Hispanic Americans Program (PPOHA) Title V Part B grant. Over the next five years, SWAU will receive more than $2.7 million to develop a Master of Science in Nursing Education program with state-of-the-art wrap-around student success services. The generous grant will not only provide funding to establish the scholarships for the first cohorts of nursing educators, but it will also establish a $250,000 Nursing Educator Endowment to support nursing educators for generations to come.
A senior nursing major, Haylie Bowman, will be among the first cohorts to join the program. "As graduation approached, I was filled with gratitude for the foundation in nursing education I built at SWAU. I was also sad to leave a place I cherish and the faculty and staff that poured into me," said Bowman.
Bowman continues, "It is a dream come true that I can now continue my education on a graduate level among faculty that have now become mentors. I hope to one day walk in their shoes as an educator to inspire the next generation of nurses." Bowman's dream is coming true, thanks to two extraordinary nursing faculty members who spent their summer writing this grant: assistant professor Kathrine Davis and adjunct professor Dr. Ann Smith.
The proposed program is specifically designed to prepare educators for post-secondary teaching positions in community colleges and universities, offering nursing programs across the nation and particularly in the southern region of the country where there is a significant need for nurse educators and a striking disparity between the demographics of the population and the demographics of current nursing faculty. "We are excited about this opportunity to expand what we offer and provide this education program through SWAU," shared project director Dr. Terri Gibson. "I know that as I completed my master's degree and then entered academia, I enjoyed the exposure to what I learned and the option of caring for 'clients' in a very satisfying way. We know that patients need compassionate nurses, and quality educators and programs are needed to make this key nurse role more available."
The Master of Science in Nursing Education program at Southwestern Adventist University is poised to meet the growing demand for nursing faculty strategically and is being developed at a pivotal time in the history of nursing. According to AACN's report on 2021-2022 Enrollment and Graduations in Baccalaureate and Graduate Programs in Nursing, U.S. nursing schools turned away 91,938 qualified applications from baccalaureate and graduate nursing programs in 2021 in part due to an insufficient number of faculty. In addition, an article published in Nursing Outlook on Retirements and Succession of Nursing Faculty in 2016-2025 by Dr. Di Fang and Karen Kesten, one-third of the current nursing faculty workforce in baccalaureate and graduate programs is expected to retire by 2025. These findings underscore the urgency for the nursing education community to address the impending exodus of senior faculty and to develop younger faculty for succession; Southwestern Adventist University is poised and determined to bridge these discrepancies in the nursing community.
About the Master of Science in Nursing Education Program
The graduate Master of Science in Nursing Education program will be offered in a completely online format. The asynchronous format will allow students to attend their own schedules and limit the costs and barriers of a traditional in-person program. The graduate program will be 40 semester credit hours, broken into eight-week courses, with enrollment in two courses (six semester credit hours) at a time or one course per 8-weeks to accommodate students' lived experiences when needed.
About Southwestern Adventist University
Southwestern Adventist University is committed to providing students with an exceptional education that emphasizes academic excellence. Our dedicated faculty members are experts in their fields and are passionate about teaching and mentoring. Our curriculum is designed to provide students with a strong foundation in their chosen field of study and foster critical thinking, problem-solving, and creativity. The university's small class sizes, state-of-the-art facilities, and hands-on learning opportunities provide students with an unparalleled educational experience. Learn more.