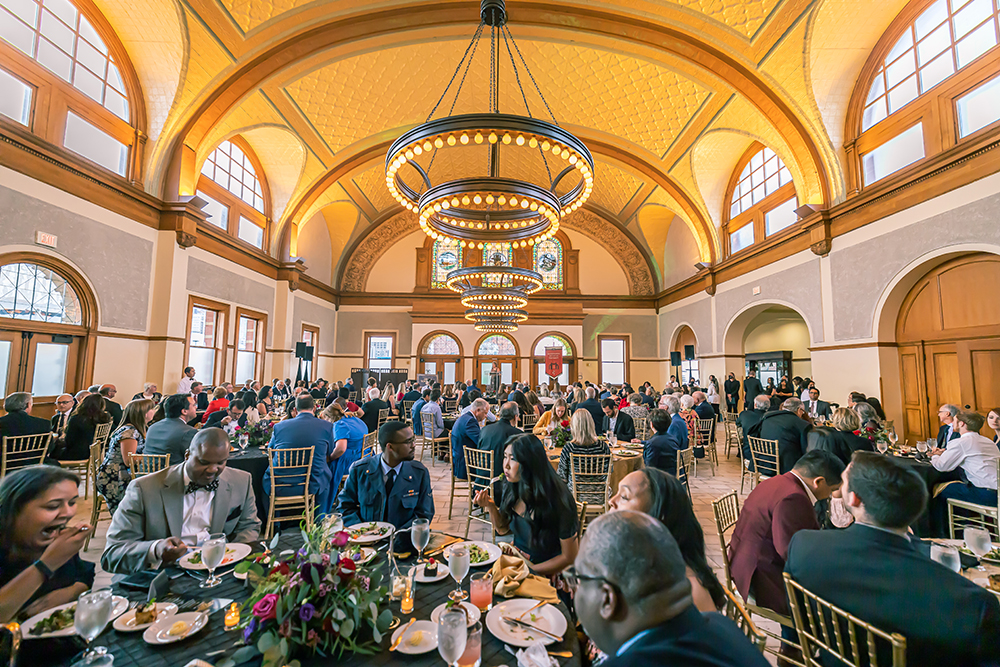 Southwestern Adventist University hosted its annual scholarship gala on Sept. 27, 2021. Proceeds from this fundraiser exceeded $100,000 through sponsorships, ticket sales, and donations. Held at The Ashton Depot in Fort Worth, Texas, the event was attended by nearly 200 guests who enjoyed dinner catered by a creative and talented culinary and service team led by executive chef Cesar Gallegos.
 
The evening's entertainment featured talented students from the university's department of music. The Southwestern Jazz ensemble performed hits from the 1920s and the University Singers, Southwestern Adventist University's elite traveling choral group, delighted guests with their melodic sounds of music throughout the evening. Additionally, the Plaza Theatre Company from Cleburne, Texas, brought laughter to the room as they presented highlights from their upcoming show "Smoke on the Mountain." 
University president Ana Patterson shared the importance of a university experience that is relational. She recognized the educators in attendance and how scholarship giving helps to support the students they serve. Throughout the evening scholarship recipients expressed their appreciation, thanking donors for providing the means for them to obtain a Christian education and to help them achieve their goals and reach their dreams.
"Scholarships are a lifeline for many students who are seeking to improve their lives through higher education. At Southwestern Adventist University, our students learn in a Christian environment and prepare for a future of leadership and service," said Patterson. "We want this opportunity to be available for every student that has a desire to be here. We are so thankful to recognize our donors at this year's event. Their generous gifts help students achieve their goals."  
To close the evening, Tony Reyes, the university's vice president for advancement, joined Patterson in expressing his gratitude to the generous donors and supporters in attendance. Reyes challenged guests to continue the spirit of giving and bring the total donations for the event to $100,000 — a goal that was met with enthusiasm.
 
The generosity of sponsors and donors will enable students to pursue high quality Christian education in the coming year and beyond. Individuals interested in supporting the university can learn more at www.SWAU.edu/give. The 2022 Annual Scholarship Gala will be held on Sept. 26, 2022.