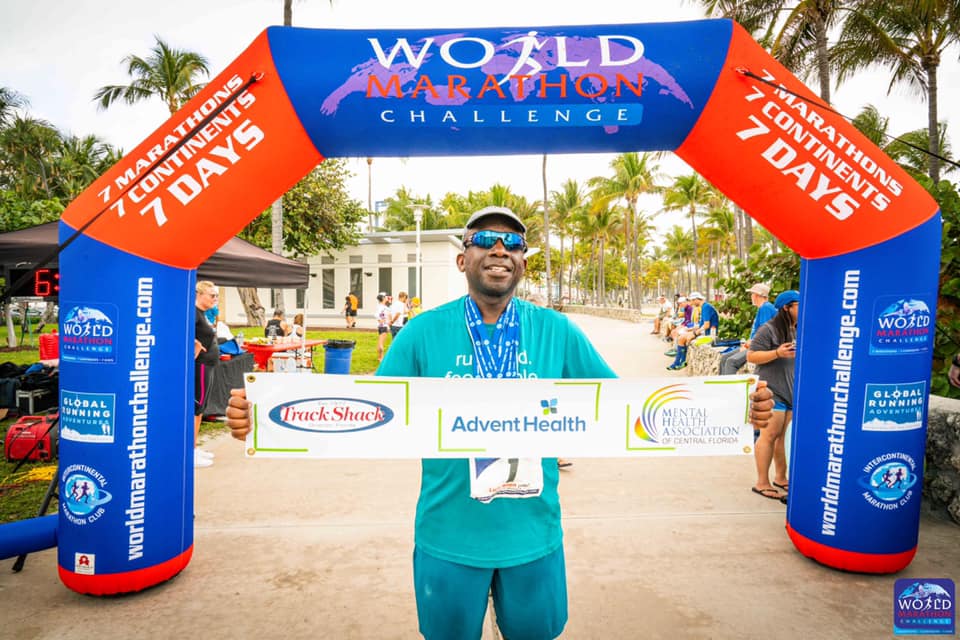 Luis Allen, M.D., psychiatrist and medical director of AdventHealth's Center for Behavioral Health,* participated in the World Marathon Challenge on Feb. 6-13, 2020 . Allen ran seven marathons on seven continents in seven days under the banner of one important cause: mental health awareness.
This was Allen's first time participating in the global event, though he's run a total of 40 marathons in the past. The challenge was monumental, but certainly not the first — or worst —challenge he's ever faced.
Allen is a survivor of the horrific 2008 terrorist attack in Mumbai, India, in which more than 150 people died. For two days, he and his family of four hid under a bed in their hotel room as gunmen inside the Taj Mahal Palace & Tower Hotel pulled guests from their rooms and shot them.
When the Allen family was rescued by local authorities, they emerged from their room to find that every door in their hallway had been knocked down with the exception of the two doors that led to them.
In the wake of that experience, Allen re-examined his life and, among other changes, took up running to improve his mental and physical health. Gradually, he became a marathoner and started to compete around the world. He signed up for the World Marathon Challenge — an international event that would blend his love for running and traveling — and used his participation as an opportunity to raise awareness around the importance of mental health. He also raised funds for the Mental Health Association of Central Florida, where he serves on the board.
"As a psychiatrist, I've learned that we need to start in our communities when it comes to access to mental health resources," Allen said. "That's the reason I work with the Mental Health Association to help build awareness and, therefore, improve access."
The World Marathon Challenge, the only annual event of its kind, is organized by Global Running Adventures. Participants run 183 miles and spend 68 hours flying in a charter plane throughout the course of the challenge, which includes the destinations Novo (Antarctica), Cape Town (Africa), Perth (Australia), Dubai (Asia), Madrid (Europe), Fortaleza (South America) and Miami (North America). The races take place at different hours of the day in varying climates. The first one in Cape Town had winds so intense that Allen's son, who was running a few miles with him, ended up with debris in his eyes and had to see a doctor. In Antarctica, Allen braved freezing temperatures, snow and ice. He slipped twice.
"The biggest challenge about doing something like this is the short period of time. It's a repetitive process," said Allen. "How do you recover from one race to the other? What's your nutrition? Your hydration? Do you have enough shoes and the appropriate clothing? These are all of the factors we had to consider."
Preparation
Allen trained for the World Marathon Challenge for a full year, completing six marathons in 2019 alone. But his preparation went beyond the physical aspect.
"Yes, we prepare physically, but this is more of a mental challenge than a physical one at times," he said. "It's the goals you set in your mind, what you're trying to get accomplished, the cause you're doing this for — all of these things really come together and push you through the difficult spots."
One of Allen's preferred methods for preparing mentally for a marathon is to start his morning with a devotion. He uses different books, most often the Sabbath School quarterly (Adult Bible Study Guide).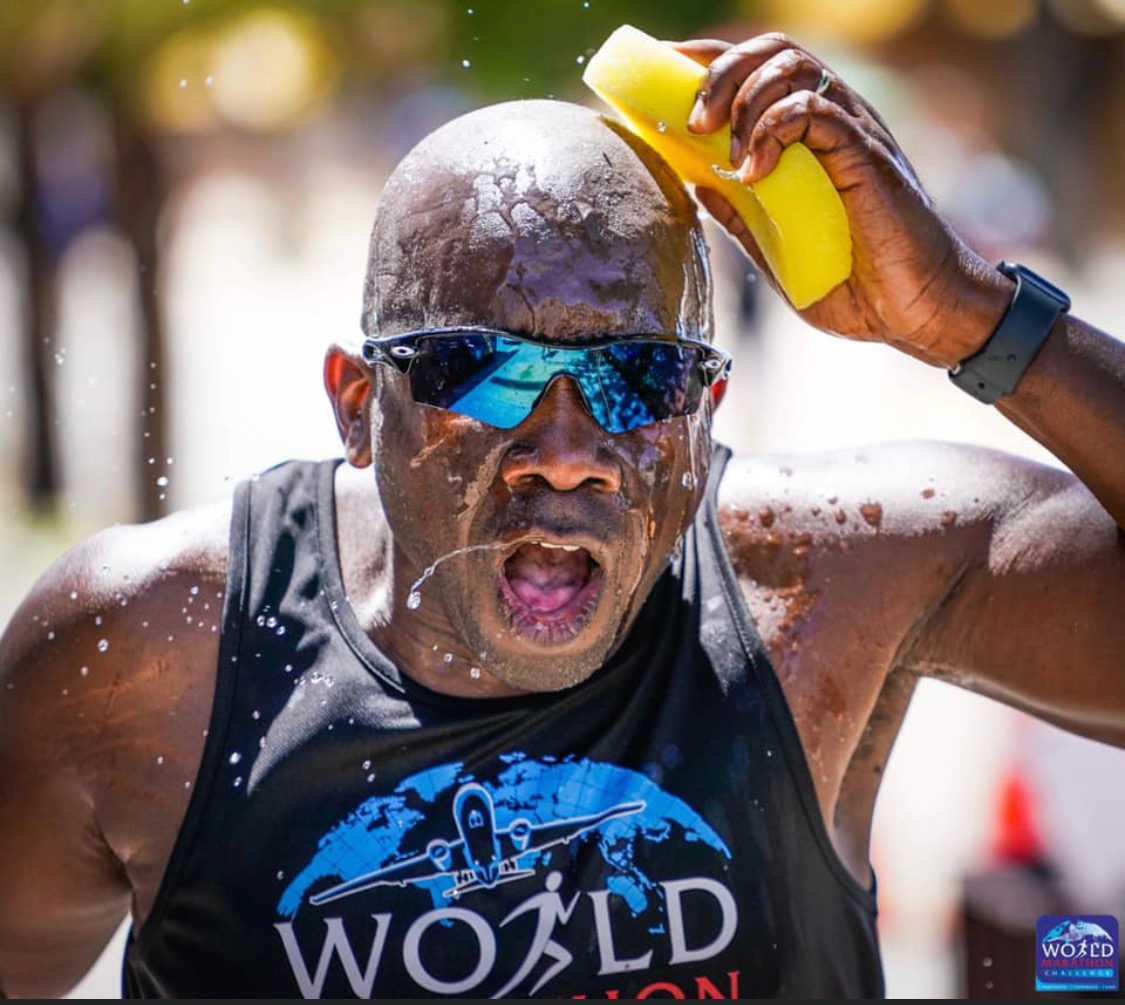 Close Connections
The people surrounding Allen also help push him to each of his finish lines. First, there are his running mates. Over the years, Allen's marathoning has connected him with a network of running mates who motivate and cheer each other on.
For an event such as the World Marathon Challenge, the network is even tighter, as you only have about 40 to 50 competitors sharing in the experience, unlike the massive, singular racing events like the Boston or New York marathons where there are tens of thousands of participants.
Because the World Marathon Challenge is a global event, Allen also had the opportunity to connect with other Seventh-day Adventists around the world. At many of the locations, he was met with Adventist media professionals who were filming and photographing his participation for the General Conference.
"Anywhere in the world I would go I could find an Adventist I knew; that was such a unique experience," he said. "Even the other runners we saying, 'Who else does this person know? We understand one person, one place, but everywhere we go?' My family and I have traveled to more than 25 countries and we've always gone to church on Sabbath no matter where we were."
His family, with the exception of one of his sons who's in college, was with him on this trip, too. They cheered him on for four of the seven races.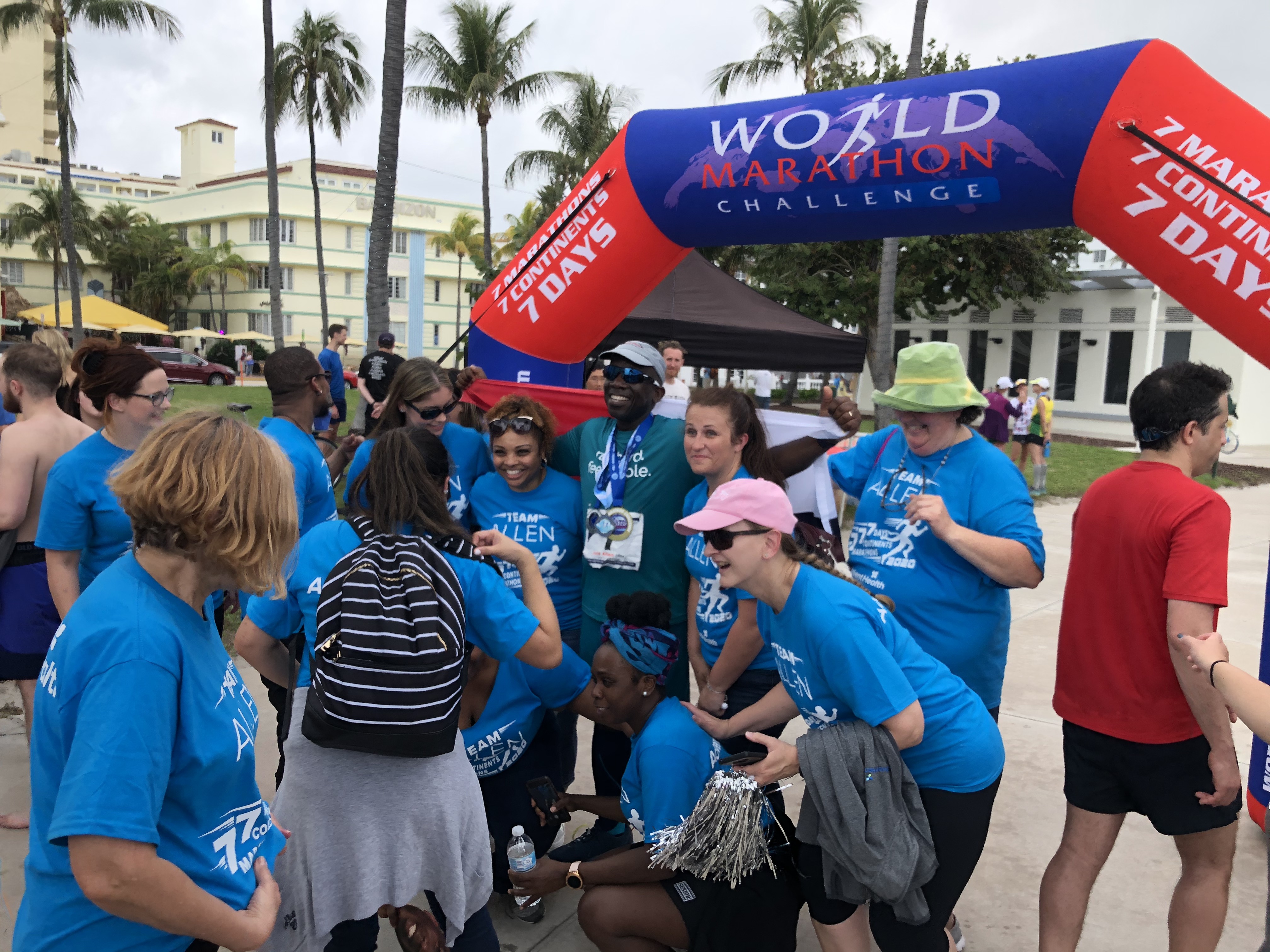 And then there's his AdventHealth family, a group of colleagues that departed from central Florida the morning of Thursday, February 13 to be at his final race in Miami.
In the end, Allen completed the World Marathon Challenge with an average time of 6:37:32.
"I've felt that [this challenge] was like hitting a restart button," he said. "I don't know exactly where it's going to go, but I know there's going to be new meaning in my life and I'm hoping that it'll help me serve my patients better."
*Allen is board-certified in general and geriatric psychiatry and holds academic appointment at Florida State University, Nova Southeastern University, and St. Matthew's University.
— Ingrid Hérnandez is senior communications specialist for AdventHealth.