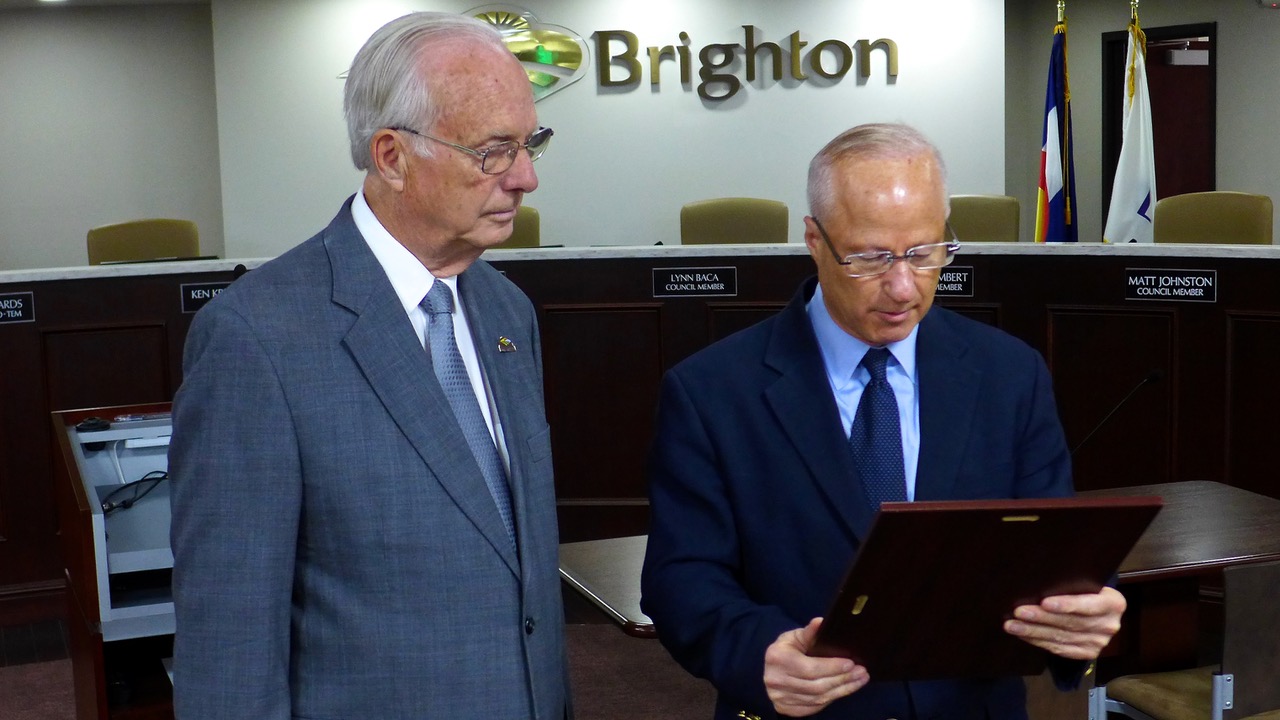 "Pastor Rex Bell has made the City of Brighton a better place to live," said U.S. Congressman Mike Coffman at a ceremony in Brighton, Colorado, on May 1, 2018.
The Adventist pastor was recognized for "many years of extraordinary work and dedication to the City of Brighton" throughout the two terms he served as city councilman.
At City Hall, Bell was also presented with a Congressional Record Plaque, signed by Rep. Coffman, that read, "Councilmember Bell has served his community for 23 years as a Seventh-day Adventist pastor in the City of Brighton. "Councilmember Bell has, without a doubt, enhanced the quality of life for every citizen in the City of Brighton throughout his tenure as a city councilmember and as a resident of the City of Brighton."
The plaque also reads, "Councilmember Bell's dedication to the City of Brighton and his leadership and vision has, among other accomplishments, contributed to the city's growth and prosperity. Rex Bell represents the very best in public service that the State of Colorado and our nation has to offer."
"I'm humbled, grateful, and kind of empty because it's the passing of a part of my life that has been very important to me," said Bell while surrounded by family and members of the city council. "So, I feel like I'm moving on to new land and ventures."
Bell's road to city council began with newly forged friendships with people at City Hall, who would later ask him to serve on the city's planning and zoning committee. He ran for city council when an opening emerged. When the term ended, he was re-elected to continue his service to Brighton.
With every stage of public service, Bell was mindful of how he incorporated his faith into his work. "I [did] not want to take my religion to the city, but I [wanted] to take my faith. There's a difference. And I [wanted] to take Christ to the community and that's what we attempted to do. We got involved and one thing led to another," said Bell.
Colleagues from the city council also presented Bell with a plaque, expressing gratitude for his "hard work and selfless dedication in serving the Brighton staff and community."
Phillip Rodriguez, city manager, said "to be able to honor councilman Rex Bell is not only a reflection of his service and all the good things he was able to do for the community, but it was a chance for us, as an organization and as a city, to really just honor and focus in on the good man that Rex Bell is and the family that the Bell family is in our community."
Rodriguez continued, "Rex really was someone who shared a lot of wisdom with us and the rest of the council. He helped us aspire to be more as a community."
Eric Nelson, Rocky Mountain Conference vice president for administration, also participated at the event in Brighton's City Hall. "It's obvious that he will be missed," said Nelson. "It was wonderful to hear the councilmembers recalling phrases that Rex often repeated as they had worked together for so many years. There was an obvious appreciation and admiration of Pastor Bell's wise and calm presence."
The contribution of Pastor Bell's time and effort as a pastor and community leader "has been a major contributing factor in helping the Brighton Seventh-day Adventist Church be recognized as a church of significance to Brighton and it's people," Nelson concluded.
— Rajmund Dabrowski is the communication director for the Rocky Mountain Conference.