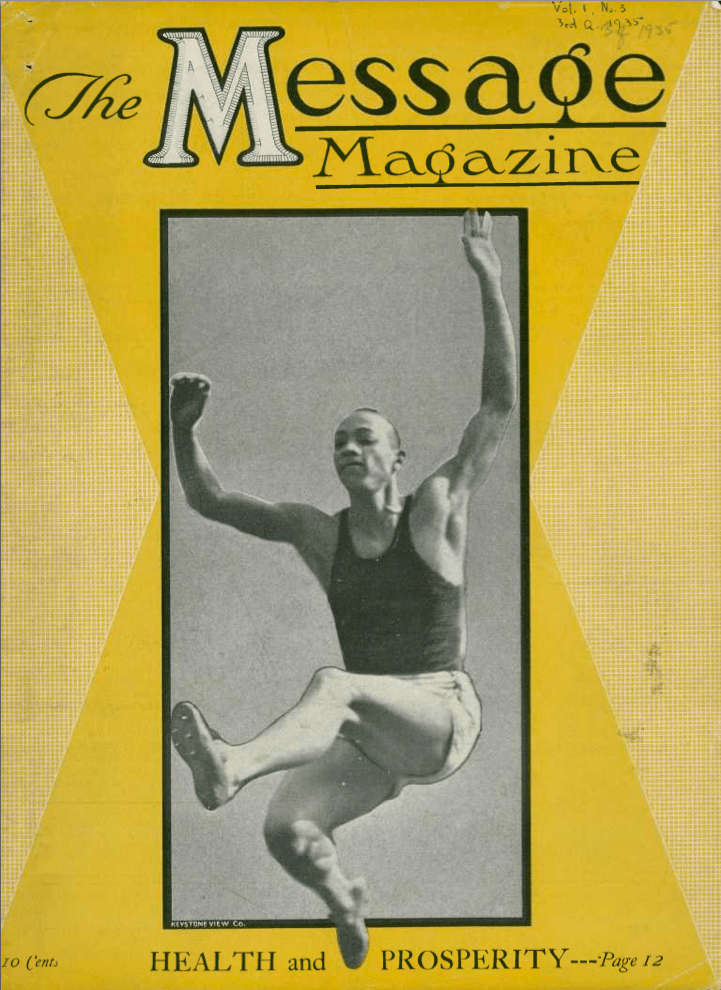 Message is published by the North American Division of Seventh-day Adventists, and printed at Pacific Press Publishing Association. Message is one of several sharing magazines geared toward members being able to share them with their family members, friends, neighbors, and colleagues. Message magazine, the second to be featured in our series, is available for subscription at www.messagemagazine.com. Once there, check out other products such as Bible studies and tracts. Also available at www.Adventsource.org.
What was the original mission of Message?
The origin story of Message brims with inspiration, if you ask me.
We know the mission of James Edson White, the second son of James and Ellen White, pioneers of the Seventh-day Adventist Church. Many people think of Edson White as a "late bloomer" whose sentiments seem to echo today's youth. He told his mother that he was "not at all religiously inclined,"1 but was later moved to action upon learning the plight of Blacks in the South in his mother's written work Our Duty to the Colored People. White would become a writer, printer, and operator of the Morning Star steamboat, where he made his mark on the Adventist Church with his commitment to the dangerous and unpopular work among African Americans in the South.2
De jure racial structures, and de facto racist actions made it nearly impossible for the gospel to be internalized by many in the church in the late 1890s. This is post-Reconstruction, in the long shadow under the Supreme Court decision in Plessy vs. Ferguson that sanctioned Jim Crow. Yet White raised the money, partnered with members of means, and crafted a seaworthy steamboat with the aim of using it as a riverboat classroom and church. He docked his boat in cities along the Mississippi, where by day he'd teach Black children to read and write. White used his Gospel Primer to teach reading and spiritual concepts. By night, after they'd paused their backbreaking toil, Black parents learned reading, agricultural, and other vocational skills through White's ministry.
To solicit funds, prayers, and support, White published the magazine Gospel Herald; however, he suffered from a lack of resources. Fought discouragement. Struggled with illness. His team fought off both the threat of violence and actual assault. After he wrote his mother, she advised the sale of some of her work to raise money for the ministry. Unfortunately, the money raised was diverted to other projects, and was never fully recovered.3 By 1903 the Morning Starministry had fizzled. Yet Black preachers, teachers, and church leaders saturated the country with churches and schools.
I find this story so compelling — the risk and the reason behind this ministry. The perennial lack of resource, the diverted funds. But the seeds planted and preached by those Black preachers grew like weeds! During the General Conference Session in 1934 the discussion of mission to Black America was, alas, revisited, and renewed.
Frank L. Peterson, who in 1934 was the secretary of the North American Negro Department, reported the vigorous growth among Blacks in membership, churches, institutes, clinics, and schools. Catch his appeal:
"One of our most urgent needs is the adoption of a program for the advancement of the work of the third angel's message among the Negroes of North America, rather than a discussion of the problem of the Negro. A problem is a puzzle. A program has in it prophecy and hope. It tends to strengthen and build up. It means cooperation. While problems have to do with theories, a program has to do with facts. A larger work has yet to be done for the 12 million Negroes of North America. In order that the best may be accomplished in the shortest possible time we must have a basis for mutual understanding, for common leadership, and for united action."4
Peterson's book, The Hope of the Race, in which he outlined the only hope of the human race, that of the righteous and redemptive gospel of Jesus Christ—met with great success in community sales. Likewise, the appeal to the General Conference for a "regular program" crystallized, in part, in the creation and publication of Message. The actual motion reflected in the minutes had such gravitas: "There are not less than 12 million colored people in the united Sates who must be reached by this message before probation closes"!
Since then, beginning in 1934, Message magazine has been working to word and reword, message and remessage, the gospel to Black America.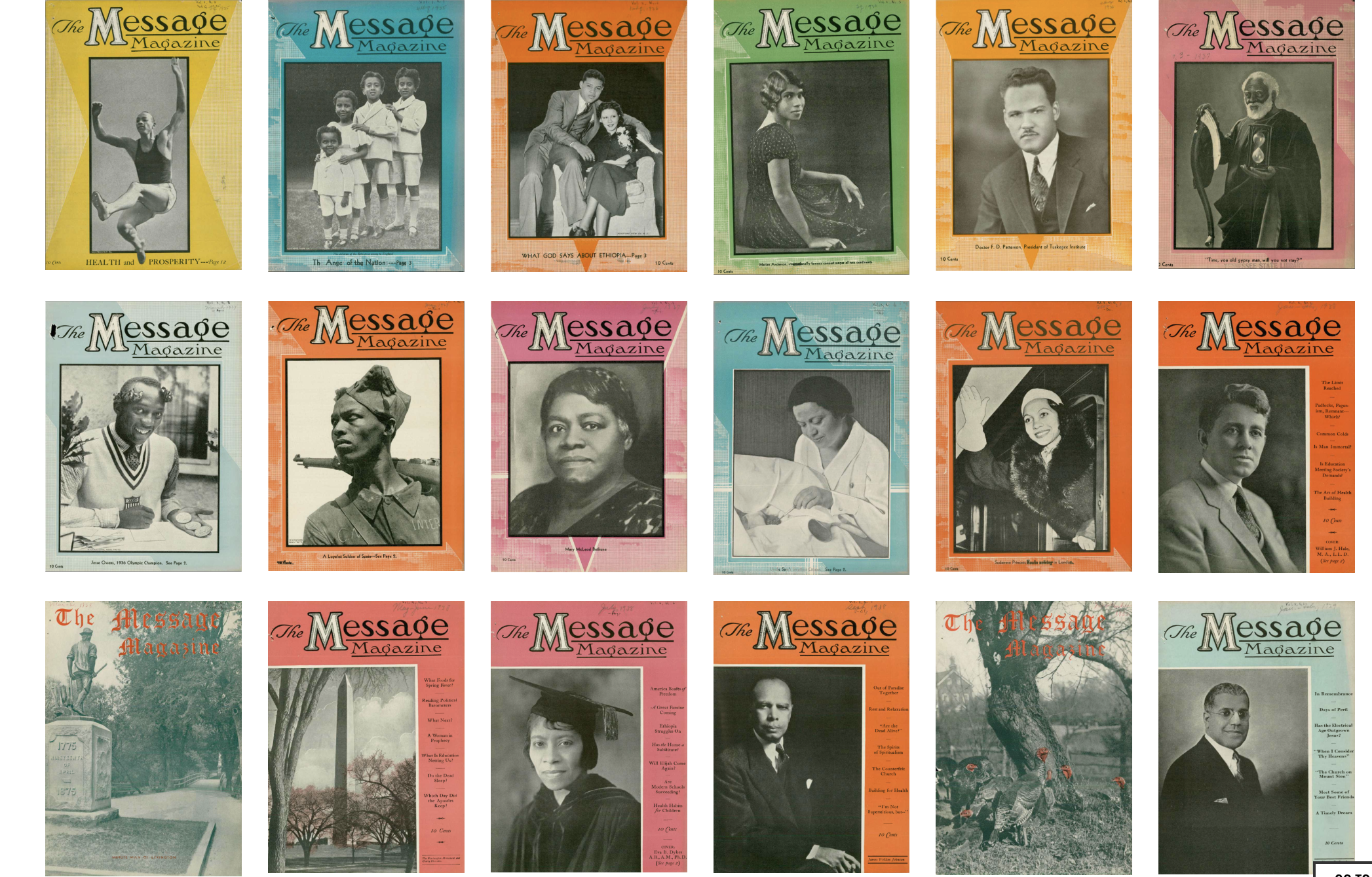 How has the mission of Message changed?
It hasn't. The methods have changed, but the mission is still there. It's important for us all to all continually reevaluate our mission and our methods. Even if we encounter some pushback on aspects of the mission.
We've encountered resistance to covering topics of concern to the specific needs and interests of Black people. We ran an article after the death of Trayvon Martin — a senseless killing at the hands of a self-appointed neighborhood watchman who sought clearance from local police to pursue this boy on baseless suspicions that had to do with Martin's race. Martin's death led to protests and calls for justice, as well it should have. The racial threat, and how to approach it, how to dialogue, needed to be addressed in our magazine for our audience. Some eight years after that conversation, the death of George Floyd demanded the attention of us all. It required internal examination. It forced a critical conversation around race that challenges our Christian core.
That's why we remember the spirit and mission behind the Morning Star in our Adventist DNA. So we maintain the mission. We spread the gospel message. We identify and resist racist structures and systems that taint our theology, countering the uniquely American style of racial hegemony, and then — praise God — helping to restore and uplift this community. That is the righteous mission we should never release.
And just as central to our mission is the idea that Message is an outward-facing journal. We fight the temptation to focus on Adventist personalities, Adventist successes, and the jargon of "truth." All of that keeps us focused inward. That, along with the constant analysis of our Adventist "foibles," keeps us talking to ourselves. No, our mission is to present the ever-attractive and multifaceted gospel of hope and wholeness to the world.
Look back across the years of Message, and one can trace the resistance — from the cover showing Olympic track star Jesse Owens refuting in real time Hitler's murderous, Aryan propaganda to today's Pamela Price, the new Alameda County (California) district attorney whose own case was the impetus for today's Title IX protections against gender discrimination and harassment. One can discern the mission of uplift in the beautiful images of Black women on the cover. This is an inspiration of editors such as Louis B. Reynolds and W. R. Robinson, who operated in a time when Black people had precious few national media outlets, and were all too often negatively portrayed.
Where is Message shared?
We float our content on social media (Facebook, Twitter, Instagram, and YouTube), and our website, through our digital magazine, and our podcasts.
Community is the focus now. How do we emerge from our own bubble in the world to bless and be blessed? In addition to our bimonthly magazine, in digital and print, this year Message witnessed a boon in evangelistic opportunity, and by God's grace we were directed to support and infuse our communities with this product — carrying the gospel good news.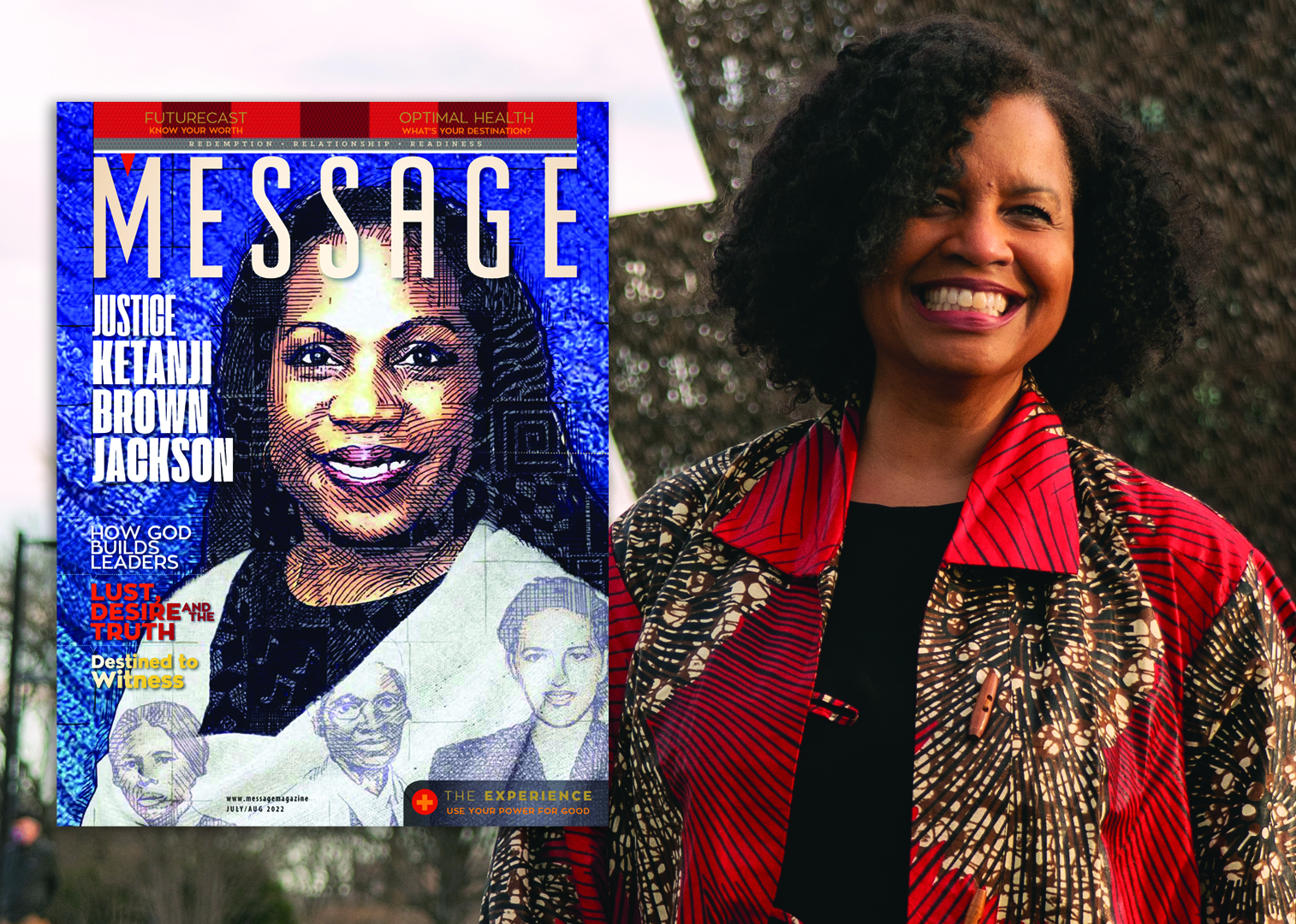 What else are you doing in the community, in that public space?
We attended the Congressional Black Caucus Legislative Convention to track some of the most pressing issues concerning our people today. There we were able to present our September-October 2018 issue to the cover subject, Congresswoman Lucy McBath. She had never before seen this issue (we didn't meet in person). You may remember the story of her 17-year-old son, Jordan Davis, who was shot and killed in the parking lot of a Florida convenience store. The murderer claimed that he feared for his life and that he saw a weapon. McBath went to Congress. Fought for gun legislation. Fought. Just fought. She told us, "I'm so glad you talked about this from the perspective of my faith. That's the only way I can get through."
In November we attended the Holy Convocation of the Church of God in Christ in Memphis, Tennessee. There we believe God blessed us, because we were graciously welcomed to introduce Message to another audience. The sermon on Sunday appealed to the congregation to use an "old school" touch, the human touch to knock on doors, and be salt and light in the community. And as members passed us by that afternoon, we spread out our magazines and tracts and suggested, "You're going to need something when you go out there."
Finally, this year, we've learned how laypeople shared our Message Bible studies, and God has blessed the sharers and the materials to have been effective. "They have created a hunger and thirst for a connection to God," said Elythia Dean, a member of the Allegheny West Conference committee, and an ad hoc Bible study instructor. In Pittsburgh, Pennsylvania, we learned that members distributed magazines in front of a grocery store, when a young man approached and asked, "What is this? Who is this Jesus?" He came to their Relaunch Revival, with Pastor Jerome Hurst, and the NAD's Philip Baptiste, Adventist-laymen's Services and Industries secretary/treasurer, where he completed the studies and, along with his family, was baptized. Message — the message in Message is our superpower. It carries the gospel of Jesus Christ, and God has promised that His Word would not return to Him void.
1The Ellen G. White Letters and Manuscripts (Hagerstown, Md.: Review and Herald Pub. Assn., 2014), vol. 1, p. 905.
2History of Message magazine shared from The Seventh-day Adventist Encyclopedia (Washington, D.C.: Review and Herald Pub. Assn., 1996).
3See Louis B. Reynolds, We Have Tomorrow (Washington, D.C.: Review and Herald Pub. Assn., 1984).
4Frank L. Peterson, addressing General Conference Committee, Nov. 9, 1934.