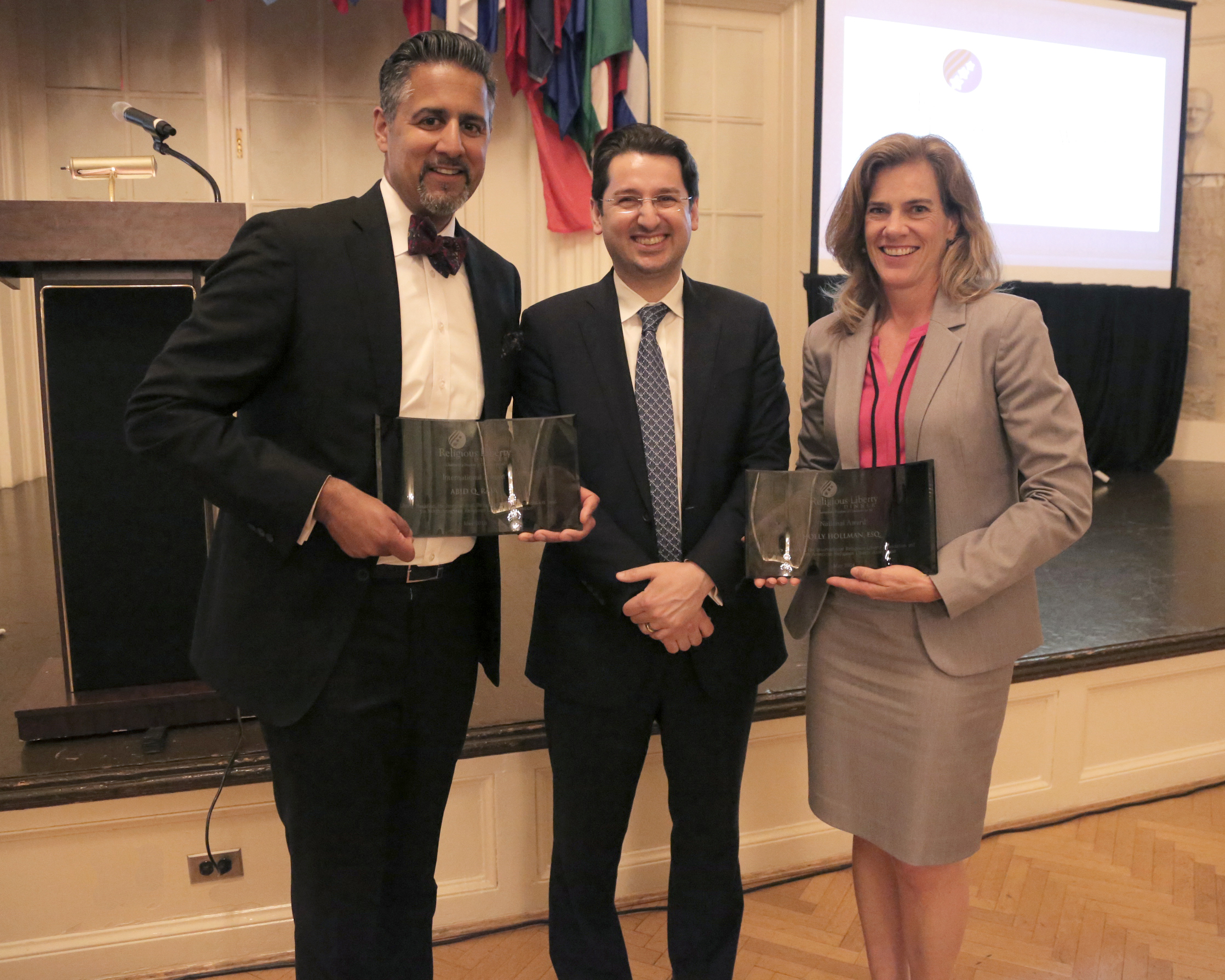 On May 22, 2018, in Washington, D.C., heavy rain gave way to a wet sunset just before the start of the 16th annual Religious Liberty Dinner. More than 80 diplomats, religious liberty advocates, government officials, and guests gathered at the Organization of American States building. The event, themed this year "Championing Freedom of Conscience for All," is held to celebrate and bring attention to a central human right: the freedom of religion or belief.
Noted Turkish academic, author, and former politician Aykan Erdemir, Ph.D., delivered the keynote address. According to event organizers, Erdemir, a senior fellow of the Foundation for Defense of Democracies, brings a unique perspective on current challenges to religious freedom around the world.
During his address, Erdemir shared the story of Andrew Brunson, a Christian pastor from the U.S. being held in a Turkish prison and facing up to 35 years behind bars. Brunson, who has spent more than 20 years in Turkey, is awaiting a July 18 court date. He has been accused of aiding terrorist groups.
Erdemir described how letter-writing campaigns and special prayer meetings from different countries around the globe are putting pressure on the Turkish regime. Erdemir said that reaching out is important in bridging divides when it comes to inalienable rights. He said, "There is strength in weak ties; and the strength of weak ties build those weak ties into strong ties. . . . What we do together does make a difference."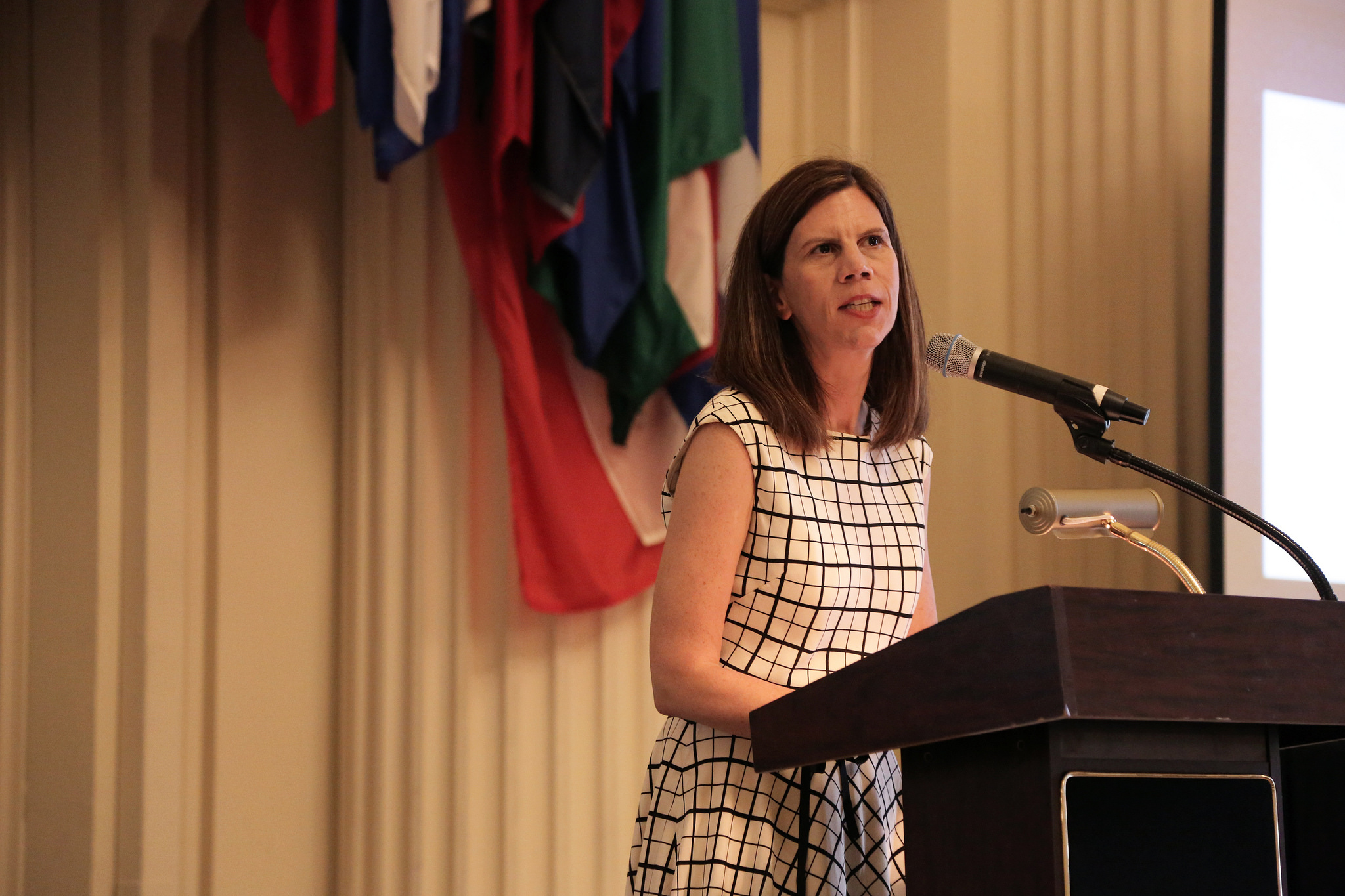 In addition to the keynote, two awards were presented to honor national and international religious liberty advocates and pioneers.
Holly Hollman, general counsel and associate executive director of the Baptist Joint Committee (BJC) for Religious Liberty, was awarded the national award for her work in legal analysis of church-state issues that arise before the U.S. Congress, courts and administrative agencies, and her counsel with churches and organizations about religious liberty issues. Hollman, who has written for Liberty magazine, is a BJC columnist and often discusses matters relating to church-state relations with the media.
Upon receiving the award, Hollman thanked organizers, sponsors, and peers. She described the dinner as a "wonderful event to highlight the importance of religious liberty and the different kinds of work that is necessary from different quarters in this country and around the world to make sure that this fundamental human right is something that's honored by governments around the world."
Hollman added, "There are tons of historical and constitutional reasons that religious liberty is important. But at the very base level, it is important to our humanity to be able to act and believe according to our conscience."
Abid Q. Raja, deputy speaker of the Parliament of Norway, member of the Foreign Affairs and Defense committee, and a founder of the International Panel of Parliamentarians for Freedom of Religion or Belief, was awarded the international award. The award recognizes Raja's efforts toward combatting religious persecution and advancing freedom of religion or belief, as defined by Article 18 of the United Nations Universal Declaration for Human Rights.
Raja, a Muslim who grew up in Norway as a child of immigrant parents from Pakistan, experienced the impact of racial stereotyping and religious discrimination. The organization he helped found started with five parliamentarians and has grown to more than 250 members from 70 countries worldwide. Raja said the organization is designed to "build capacity, build networks, get them to know the academia, to know each other, to know the parliamentarians from around the globe and to know the NGOs. Once we know each other we can "see how you actually can work to promote freedom of religion and belief."
Appreciative of receiving the award, Raja said, "If we free parliamentarians around the globe don't raise our voices, then what's the point of being a parliamentarian? If you're elected by the people — we actually have a choice and an opportunity to raise our voices and we are not waiting for our governments to do anything — we, as free parliamentarians, can actually react and act on it."
Raja challenged attendees, concluding that its important to plant seeds of religious freedom at an early age. "We need to make sure [we] provide children and youth with the tools they need so they can break free from the chains imprisoning our mentality," said Raja.
The annual dinner is sponsored by the International Religious Liberty Association, North American Religious Liberty Association, Liberty magazine, and the Seventh-day Adventist Church.