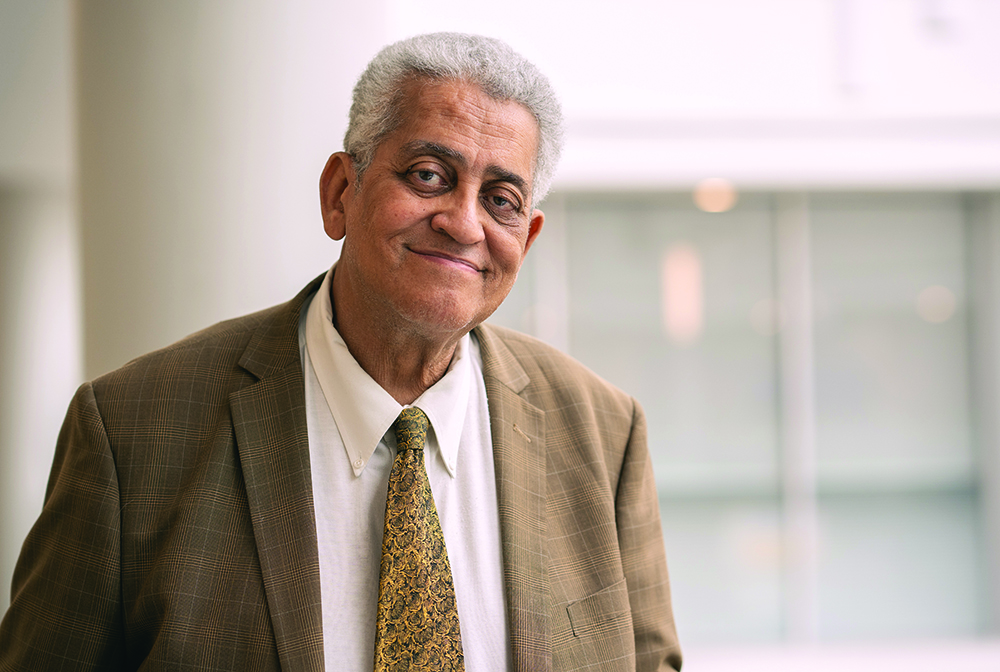 Rockefeller Ludwig Twyman, known to many as "Rocky," was born in Atlanta, Georgia, and currently lives in Rockville, Maryland. A public relations consultant, Twyman describes what he does this way: "I bring about positive stories, promote positive stories about churches and social organizations in the media." In addition to this role, Twyman is an accomplished musician and choir director, activist, and prayer warrior. He is a graduate of both Pine Forge Academy in Pennsylvania and La Sierra University in California. Through his life of service, Twyman has interacted with many, from celebrities and high-profile politicians to those most in need in our society. He started the "Pray at the Pump" movement in 2008, brought bone marrow donation to the forefront in the African American community, and today, dedicates himself to sharing the gospel, promoting social justice, and advocating for prayer in the public and private spheres. Below is part of an interview conducted by Kimberly Luste Maran, North American Division (NAD) associate director for communication and editor of Adventist Journey, this past fall with Twyman (edited for space and clarity). Click here to watch the interview; and check out this month's Adventist Journey magazine.
KM: Please share a bit about yourself.
RT: I've been doing PR for about 30 years. I started at CBS News, and I've gone on with it throughout my life. My company is Rocky's PR Miracles. And I'm looking forward to doing more to promote the Second Coming of Christ through my public relations firm. And yes, I am an accomplished musician. I am very blessed to be able to do all the genres, from the classical to contemporary gospel. And it's been an especially wonderful opportunity to witness in the First day churches where I play because I also distribute literature, such as [Ellen G. White's] Steps to Christ, to the members.
I just love playing the piano and directing. I had a choir called the Capitol Hill Chorale, and the choir was so unique because we went out and sang for the homeless, and for those in prison. One year Christmas fell on the Sabbath, and we sang for the gunshot and stab wound victims of D.C. General Hospital. All the press came out: CNN, everybody. It was a wonderful experience, and we were more blessed than the people who we were ministering to. This choir also went into the D.C. jail on Mother's Day one year and ministered to the mothers there who were so lonely because they couldn't be with their children. The choir was really a wonderful witnessing tool for the church.
You've traveled to many places here in the U.S., and you've traveled abroad, advocating for various issues as well as spreading gospel seeds. Please share about your most recent trip to New York City in late 2021.
I just got back from New York. I was impressed when I found out Nick Cannon, who used to be married to Mariah Carey, opens his TV talk show with prayer. I said to myself, I have got to go up there and see this.
I went up and sure enough, before the show Nick came out and offered prayer. And he kind of zeroed in on me. It was like a divine meeting. He was just so fascinated with my name, Rockefeller. When the show actually started Nick looked at me and said jokingly, "Rockefeller, I need some of that money." Afterwards I was able to give him A Ministry of Healing and Happiness Digest. It was a divine appointment.
We should just follow God and just see what happens. And we should not write off people who are well-to-do and rich because they can do a lot to spread the gospel. We don't have a whole lot of time left. The Lord is really getting ready to come, no doubt about it.
You've been able to take your musical abilities, your PR skills, and your desire to witness to many places. Despite COVID-19, you've continued to share hope with other people, spread the gospel message — and the message that prayer is powerful. How have you been able to continue this during the pandemic?
The pandemic did not slow me down. We've had vigils on Capitol Hill and in front of the White House asking the president to have a national day of prayer and fasting to end the pandemic. That's so important because right now we really do need to pray and fast. We always try to have a socially-distanced prayer vigil when we go up there. It's also a lot safer outside than inside — like in a restaurant or in a church. It's been difficult but we've been able to reach a lot of people, I think, through those media stories when we go out there and pray and sing and shout.
Prayer is the answer to every problem in life. We can be socially active, but we also need to look to God for guidance. We can't just go out there and start protesting. We need to ask God for guidance. Three of us Adventists who were part of the Civil Rights Movement in the 1960s in Atlanta went to Ferguson, Missouri, when Michael Brown was killed in 2014, to encourage the people to follow the principles of the Civil Rights Movement. Rather than act in a violent manner, we told them, "Let's pray because that's what John Lewis and others did before they got out there and marched. They prayed."
You mentioned John Lewis, a civil rights activist and c

ongressman who served in the U.S. House of Representatives

until his death in 2020. Did you know Lewis?
It was just a blessing to be in Atlanta at that time of the Civil Rights Movement. I had gotten a job with John Lewis' wife, Lillian, at the Atlanta University (now Clark Atlanta University) library. Mrs. Lewis was a great lover of the arts, and she loved my piano playing and choir. And that gave me a direct contact with Congressman Lewis, as they would have me play at some bigtime events in Atlanta. While I was in college, I never had to worry about a summer job — and it paid well because at that time they were microfilming all the library's Afrocentric books, which is one of the largest collections of Black History books. I was able to go and play for Mrs. Lewis when she was dying, which [was an honor].
Recently I've started the John Lewis for Nobel Peace Prize campaign because I was involved in some of the picketing in the '60s. I couldn't go to jail because I was too young at the time, but I did picket certain stores and places that were holding on to segregation. I became very close to that family through their civil rights functions; and I used to love to go to their house because they had so much memorabilia from the Civil Rights Movement. John Lewis was truly an icon — he put his life on the line for the cause of civil rights. I think that just kind of stuck with me.
I'm also going to do a tribute to him again this year in February. Last year I was able to put together a musical tribute to him at the Rockville Library, and with God's help, I'm going to do that again this year. We don't want to forget Congressman Lewis because he truly made a difference.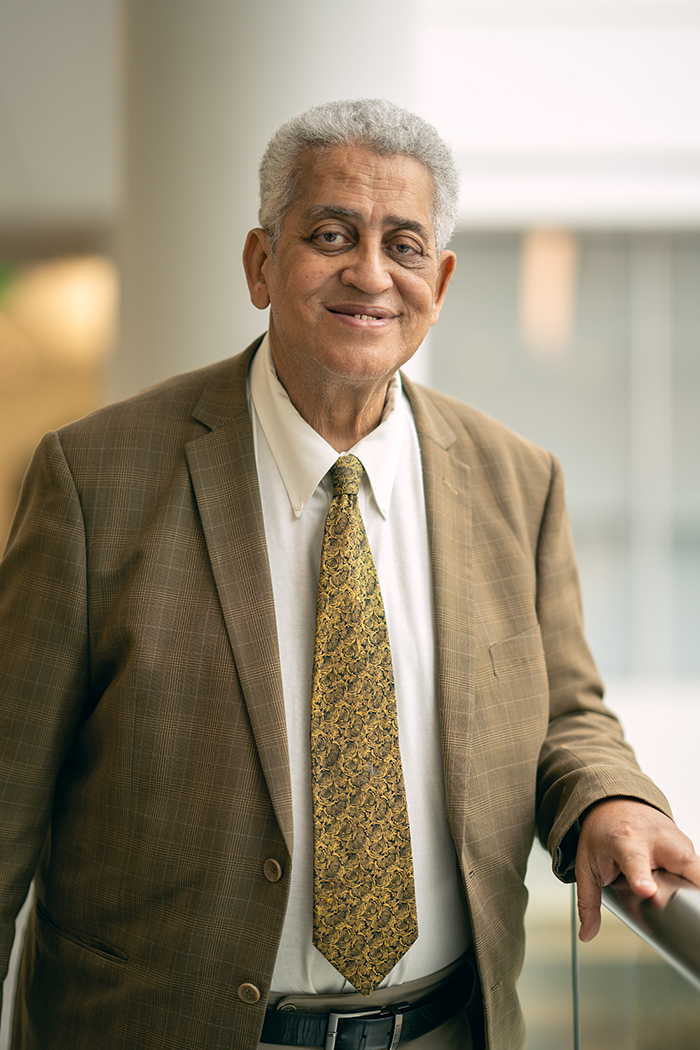 Let's talk about another social cause — one you raised awareness on, in 1992, regarding bone marrow donation.
The bone marrow thing came out of my job at D.C. General Hospital. I was doing media work for them and a coworker of mine needed a bone marrow transplant. The problem was that we needed to get more minorities into the registry since bone marrow is different from organ donation because they're ethnically related. I could give you a kidney and we'd be all right. But for some strange reason bone marrow is different. You have to have that ethnic relationship.[1]
And so I started a campaign for Alicia Nelson, my friend. It just exploded. She was so willing to come to all drives we had for her. Sometimes she would have just undergone chemotherapy and her hair was gone and everything, but she would still come to those drives. That just really pushed it, made it into a big campaign.
I kept on doing it for other people that I would come in contact with. And the Adventist Church was so wonderful because they just opened up the doors to let me hold drives after Sabbath [sic].
I remember one time at the Capitol Hill Seventh-day Adventist Church, when Wintley Phipps was pastor there, there was a baby who needed a bone marrow transplant. Pastor Phipps let me get up and talk to the congregation, and I asked the mother of the child to get up and talk. She did and just cried because the child was only about 18 months. The whole church lined up to get tested. It was just so beautiful. We must have gotten about 200 or 300 people into the registry that day.
I also coordinated events with J. Alfred Johnson, former NAD Personal Ministries director. Many times he would have these lay leader conferences and he'd let me do drives there. We did big drives down in Orlando, in Texas, and even as far away as Seattle. We were to register a lot of people.
The organization used to be called the National Bone Marrow Registry, but now they call it Be the Match. They changed the name of it — and it's a lot more advanced now because they used to have to take a blood sample and now all they do is give you a kit and you swab your mouth for the DNA. Adventists, with our good health principles, were great for the registry.
You were able to use this cause to help others and serve as a witness.
God blessed me with all kinds of awards because of the bone marrow donation cause. I was named a Washingtonian of the Year in 2000.[2] In 2008 NBC honored me as a finalist for what they call a Civilian Congressional Medal of Honor through [their "Above and Beyond" program].
But more importantly, in addition to the cause, the drives were also an opportunity to witness, because we would give literature, such as Steps to Christ, to the people who got tested.
Those are the kind of things that really give a person joy and it makes it seem like your work is not in vain. And I just praise God for the opportunity to serve — and that He has preserved me all this time. I hope to be able to do more and more along the lines of activism to spread the gospel so that the Lord can come.
I continue to advocate for a national day of prayer and fasting to get to the root of all of America's problems. The press really doesn't want to hear that. But as Nick Cannon says on his show, "Prayer changes things." We need more people involved, including more Hollywood stars like Nick Cannon, out there advocating for prayer so that we put spiritual things on a higher pedestal. And that's what will make a difference in our society.
Adventist Journey - Rockefeller "Rocky" Twyman from NAD Adventist on Vimeo.
You are so passionate about the Adventist message, yet you didn't grow up Adventist. Talk about those early years.
There were no Adventists in my family, but throughout my life my parents sent me to Adventist schools. My life was greatly influenced by Principal Jessie Wagner, as she encouraged my mother to send me to Pine Forge Academy. I'll never forget it because her husband, who had been president of the local Adventist conference down there, had just died and she was sitting in the limousine waiting to bury him when she called my mother over and said, "You send that boy to Pine Forge." And that's what my mother did.
There were so many wonderful role models at Pine Forge Academy. Elder C.L. Brooks, who is deceased now, encouraged me so much spiritually and musically. Paul R. Jones was like a father to me up there. And it was at Pine Forge where I joined the church my ninth-grade year. From there I went to La Sierra University.
From Atlanta I also remember Harold L. Cleveland, who was the brother of E. E. Cleveland. He was the pastor of the church there and was so encouraging to me. God had blessed me with many scholarships to worldly schools, but Elder Cleveland guided me to La Sierra. He also supported my group in Atlanta, the Berean Ensemble. I will never forget him. Going to La Sierra was lifesaving; so many wonderful things happened for me there at that university, including the Rocky Twyman Chorale, which was an ethnically-diverse singing group with many talented people. … I just salute all of those people. There have been so many other pastors who have encouraged me in the past.
Including Mark McCleary
I'll never forget Mark McCleary, pastor of the First Seventh-day Adventist Church in D.C., because he helped me promote a lot of different community projects, including one in particular: the Pray at the Pump movement. This was in 2008 and the gas prices had soared to almost $4 per gallon. One day God impressed me to [start the movement]. We had a bunch of senior citizens who would come to the church to volunteer at the soup kitchen and the prices were a tremendous strain particularly on these senior volunteers because they were on fixed incomes, but still coming to help out because they believed in that mission.
The movement exploded all over the country, all over the world, because people were calling me from Australia and everywhere else wanting to know "When are you all going to pray at the pump again?" Here's what we did: we would go to a gas station and just join hands and pray. The press just ate that up.
We know that prayer plus social action is critical. We could have just prayed and prayed but God wants us to do things such as using public transportation more and other social actions that could bring down the prices, so we encouraged that [at the pump].
Wherever we went and prayed the prices came down. And we went all over the country: San Francisco, California; Ohio; Florida; Atlanta; St. Louis, Missouri; and other cities. It was a beautiful movement. I was floored at what God did, how He promoted it — I was just up to my ears with media interviews because everyone was so fascinated that we would be using prayer in that venue.
Thank you for sharing your experiences. As we close, I have one last question: What is giving you joy on your Adventist journey?
On my Adventist journey the thing that is bringing me the most joy right now is seeing the fulfillment of all these end-time prophecies that I studied in school, in Adventist schools all my life. They're all being fulfilled right before my eyes. It's truly a miracle. And what I realize is that we are almost home.
---
[1] According to the Be the Match website, "When it comes to matching human leukocyte antigen (HLA) types, a patient's ethnic background is important in predicting the likelihood of finding a match. This is because HLA markers used in matching are inherited. Some ethnic groups have more complex tissue types than others. So, a person's best chance of finding a donor may be with someone of the same ethnic background."
[2] According to a La Sierra University article, Twyman's awards also include the "Who Cares" and "Everyday Hero" awards respectively from CBS and ABC stations in the D.C. area, and the United Negro College Fund's "Measure of a Person" award. The latter honor recognized an individual in the D.C. metropolitan area who best emulates the qualities of Dr. Martin Luther King Jr.