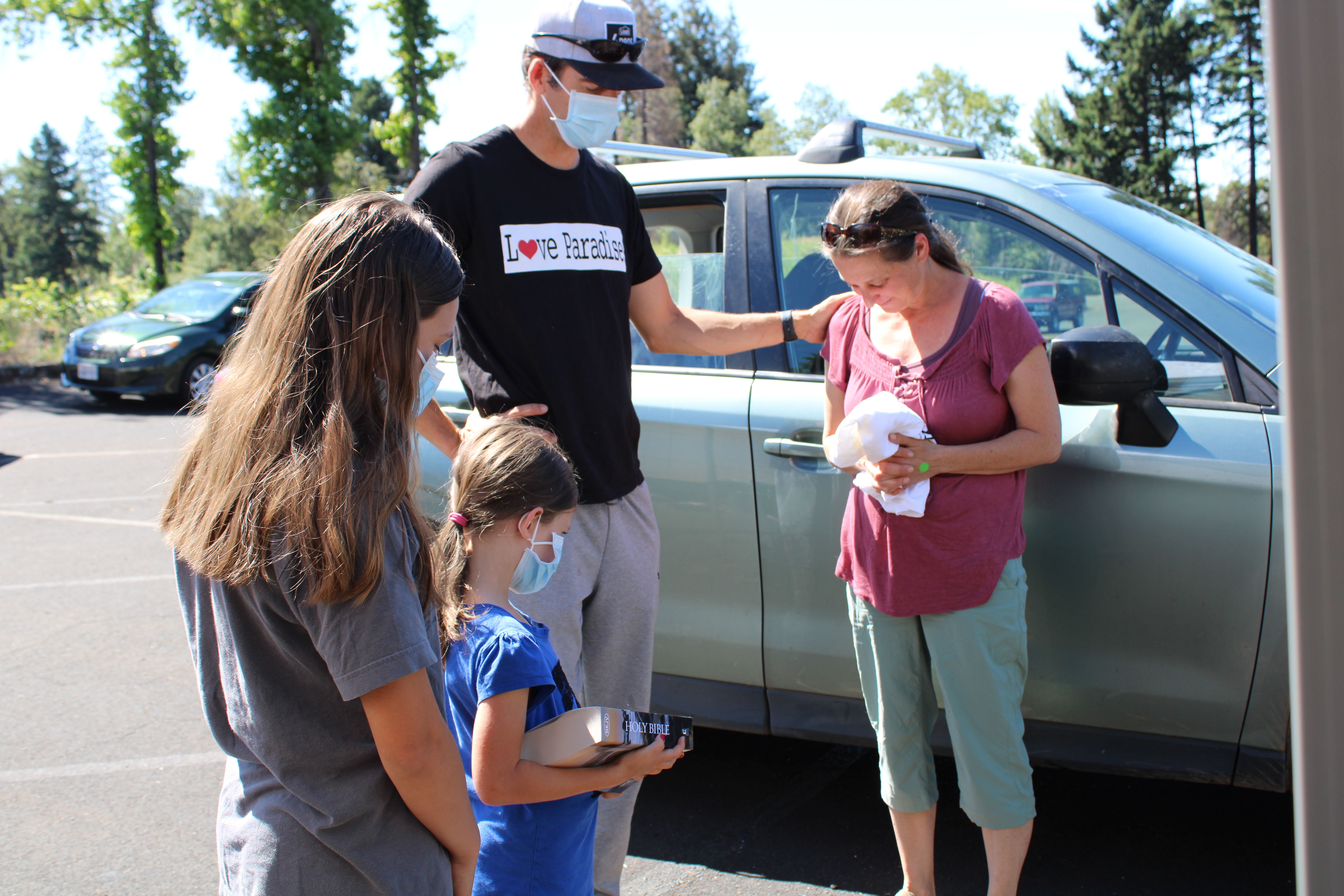 The Paradise, California, community understands the long-lasting recovery of a catastrophic disaster. The Nov. 8, 2018, Camp Fire burned 95 percent of the town. Now, in Paradise and across the nation, the impact of COVID-19 shelter in place is burning through check books and savings.
Millions are unemployed, and many businesses struggle to survive. This crisis is unprecedented, and it will be a long-lasting recovery effort. Without money, bills aren't paid. Food insecurity is a harsh reality.
But for those in the Paradise area, there is some good news. "The church burned down, but our members are still standing, and meeting the needs of others," explained Steve Hamilton, senior of the Paradise Seventh-day Adventist Church.
"We were looking for a way to help our community," said Joelle Chinnock, church member and director of development and disaster recovery for the Paradise church. She connected with North Valley Community Foundation in Chico, California, and asked for a few ideas. The greatest need in the community was immediate grocery assistance.
Chinnock called several supermarkets. She found Holiday Market. "They were willing to act as a personal shopper, but had no way to deliver," she said. "We could deliver! And the Love, Delivers program* was born." Church members delivered food to the door with masks and a six-foot distance — 40 boxes in three weeks.
The stories are heartbreaking. "My refrigerator is empty. I really need milk for my kids and meats for dinners, etc. My savings has run out and we are in desperate need. Calfresh said they can only give me $14 a month for food," shared one family.
Another said, "Due to shelter in place, my husband isn't working. We are struggling financially and it's difficult to provide food and other basic needs."
"We are living on one salary," added another family. "There are six of us and we are constantly in need of supplies. Mostly need eggs, oatmeal, bread, and butter. We also help feed other families several days a week. Fresh produce would be good, too."
There must be a way to help more people, thought members of the Paradise church.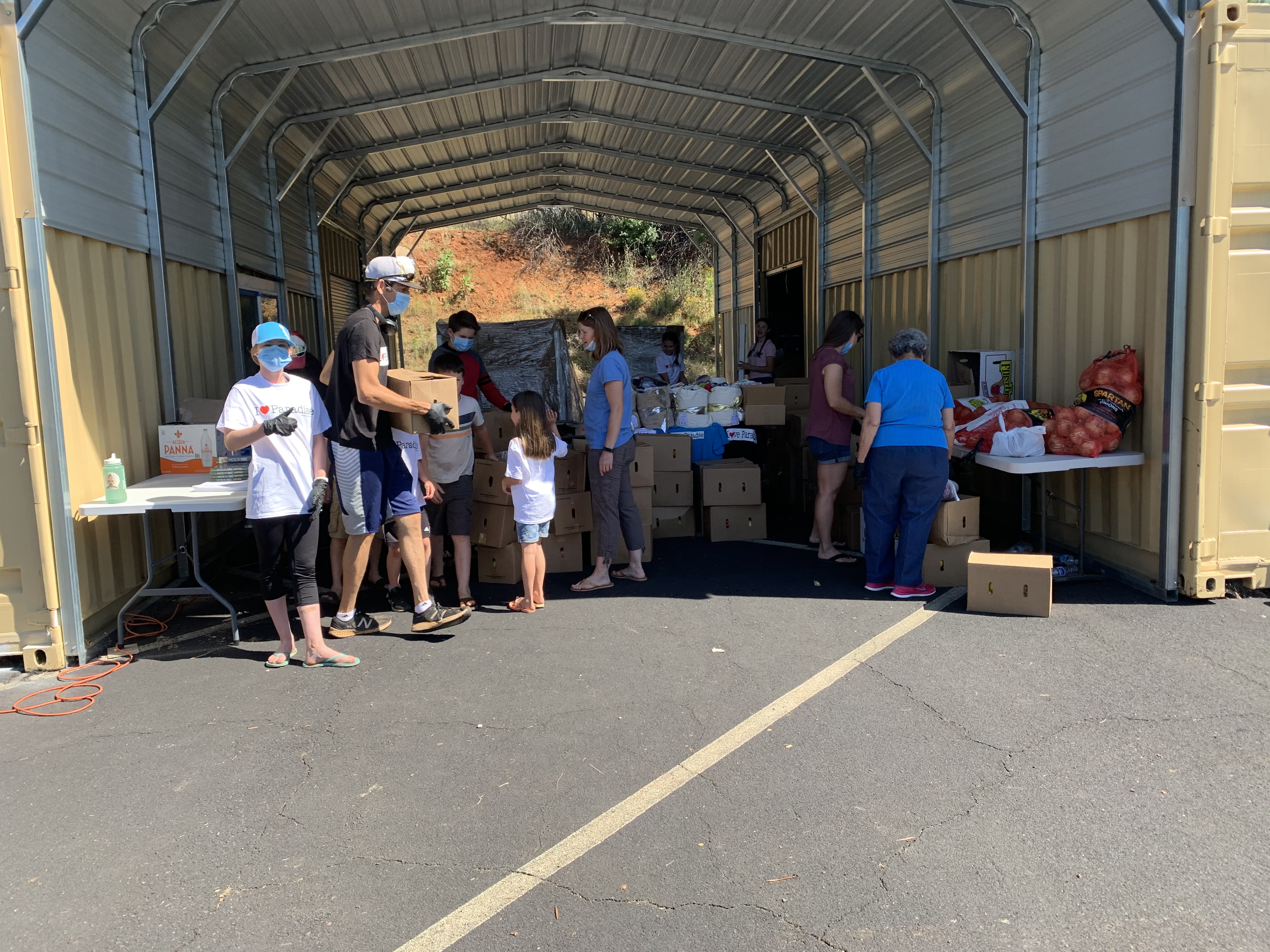 It Takes a Community
Food pantries stock shelf-stable products and donations of the day from grocery stores and other sources. Perishable foods require cool storage, which is in short supply in food pantries.
Shortly after shelter in place began, Glenna Eady, a case manager for Adventist Health, approached Chinnock to join forces to address food insecurity in the Paradise community. The goal was a fresh produce pantry. The project started with an education.
The Paradise church group contacted the four food pantries in Paradise to learn how they worked. Each opened one day a week and was operated by a community church. There were five essential resources to start a food pantry: money, reliable sources for food, a permanent location, a communication network, and committed volunteers. Adding fresh produce would require refrigeration.    
Chinnock started at step one — money. Chinnock received $15,000 from three grants and a $30,000 donation from Adventist Health. Eady explored refrigeration from Adventist Health. Communication on Facebook, email, and texts was already in place. With shelter in place, a permanent location, sources of food and committed volunteers, a fresh food pantry seemed impossible.
Now, their work was to wait on God.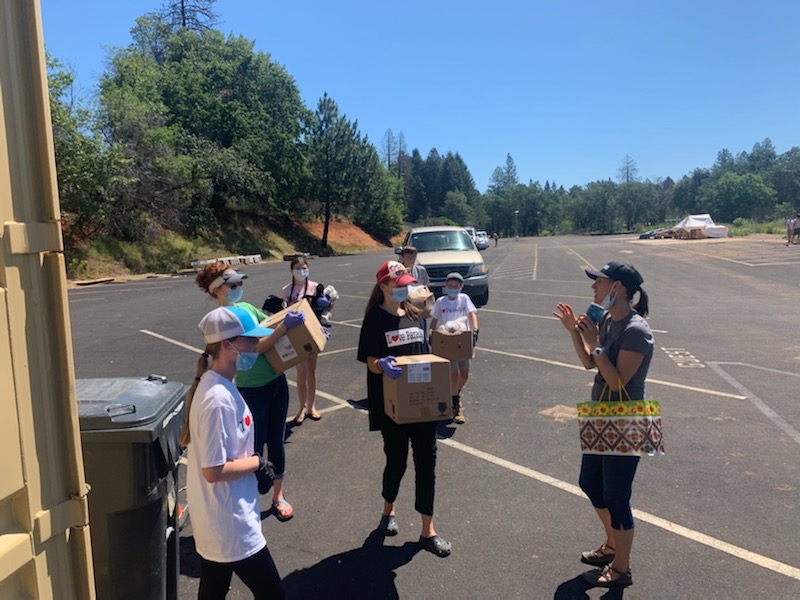 Feeding God's Community
The phone call came on Thursday morning, May 28. When Garrison Chaffee, associate pastor, answered, a familiar voice said, "I have 1,400 pounds of fresh produce in 20-lbs. boxes available for pick-up next Tuesday. It's free and I will deliver it. Could your church give some of these out to your community?" asked Keith Jacobson, senior pastor of the Sacramento Carmichael Seventh-day Adventist Church.
His mission is for Adventist churches to help feed their communities. Jacobson has partnered with the United States Department of Agriculture (USDA) for a source of fresh produce.  
His call was perfect timing. God works that way.
On Tuesday, June 2, volunteers unloaded much more — 5,760 lbs. of fresh produce arrived. The produce was distributed in 20-lbs. boxes to each family as cars filled the empty church parking lot and spilled into the street. In four hours, 290 boxes were given away. The surplus was sent to their neighbors — when there is surplus, the produce is also shared with the four church pantries.
"Oh, I am so happy! The world needs more nice people like you. Acts of random kindness rarely happen. [I] thank the Seventh-day Church!" said recipient Tracy Periman.
"In order to rebuild our community, we must work together. This is just another opportunity that God has given us to reach out, serve our community, and build strong ties within the body of Christ," Chinnock said.  
"Our experience is that when we help the hurting, get involved and give back, our pain begins to heal. We survive together," Hamilton added.
* Love, Delivers is part of Love, Paradise, a community ministry sponsored by the Paradise Seventh-day Adventist Church. You can find more information at loveparadise.net.
Did You Know?
Data gathered by Caron Oswald
According to the United States Department of Agriculture (USDA):
Food insecurity occurs when a household has difficulty providing enough food due to lack of resources for a healthy and active lifestyle. Almost every community in the country is home to families who struggle with food insecurity, including rural and suburban communities.
In 2018, 14.3 million American households, about 37 million people, were food insecure with limited or uncertain access to enough food including more than 11 million children. In April 2020, food insecurity ranged from 22-38 percent, including more than 18 million children. Mothers with children 12 and under have the highest percentage level since 2001. More than one in five households in the U.S., and two in five households with mothers with children 12 years and under, are experiencing food insecurity.
Many families do not qualify for federal nutrition programs. It's a perfect storm — food demands are soaring, supplies plunging and volunteers plummeting.
What Can You Do?
Be informed about your community.
Call or email your local food bank and pantries for facts and needs.
Call your conference to learn what Adventist Community Services programs are near you.
Get involved: donate, do a food drive, volunteer.
51 percent of food programs rely on volunteers for sorting and packing and, with shelter-in-place restrictions, about 70 percent new volunteers are needed — a great family outreach.
Remember, those who struggle with enough food may be the family in the church pew, a neighbor, a work colleague, and everyday strangers.   
— Caron Oswald writes from McDonald, Tennessee.