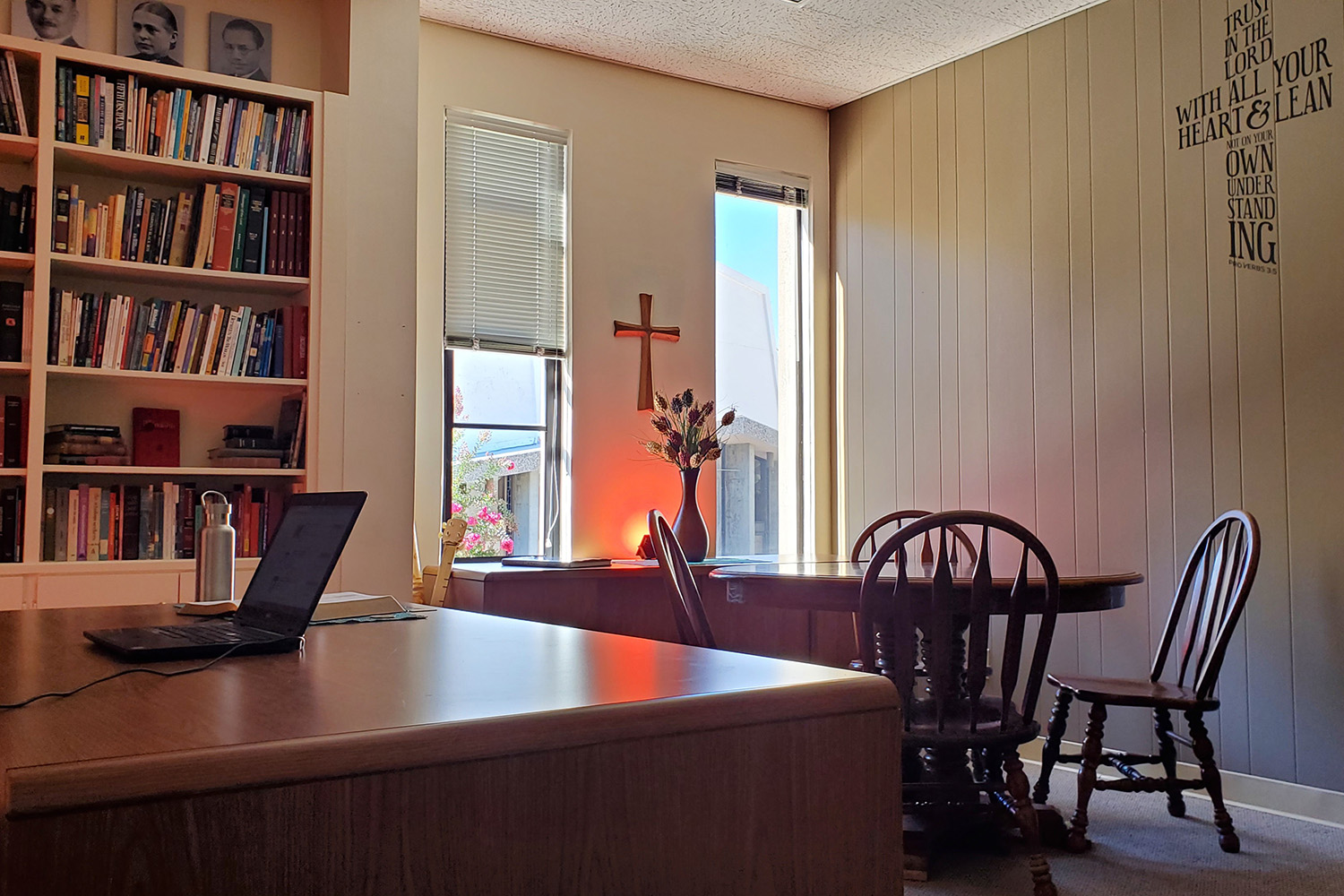 After more than 40 years, the theology department at Pacific Union College moved this summer from the basement of Graf Hall to the campus church offices. The change intends to highlight the central role of PUC's faith, be more present with the students, and collaborate better with the pastors and chaplain. 
In 1982, the department moved to the basement of the oldest dorm on campus as "a temporary measure" when the front half of Irwin Hall was torn down. Irwin Hall had been the center of campus, so a basement hallway was quite a demotion. Over the years, PUC has explored ways to put the department back at the center of campus life for practical and symbolic reasons, but nothing panned out. 
Theology faculty recognized that a larger building project could be years away, and in the meantime, they wanted to seize every moment to serve students. When Nate Furness, lead pastor, invited them to share the church office complex with the pastoral team, the move made sense. 
"We are excited to have the college theology department sharing office space with the church pastoral team," said Furness. "We believe that working in close proximity will enhance collaboration, church ministries, and student involvement. The Holy Spirit is moving in our community, and we want to participate in building God's kingdom together."
There was an open dialogue with the PUC administration about finding a new home. The administration saw the needs of the theology department and was supportive from the start. The theology faculty, the church board, and the college administration signed off on the plan. 
To Jim Wibberding, chair and professor of theology, this move means they are visible and present where the students are- that the spiritual role they serve on campus is featured at the heart of campus and can better collaborate with the pastors in training leaders for the Seventh-day Adventist cause. Aside from those purposes, they benefit from much nicer offices closer to their classrooms and more respectable to invite guests. 
"Theology students now have a freer flow between their ministry classes and their ministry mentors," said Wibberding. "Being in the same space makes it more natural for students to build relationships with the pastors who provide so many of their hands-on ministry experiences."
Over the past several years, the theology department refined its offers, ensuring a rich balance between theory and practice. "I believe it is the best place for developing leaders with the capacity to lead biblically-guided change in a changing world," said Wibberding. "We develop disciples and leaders who draw from a thoughtful understanding of scripture, a deep experience with God, and an appreciation of our Seventh-day Adventist faith to advance the good news of Jesus Christ in a changing world. One way we do that is by providing three years of guided hands-on ministry experience in the local church and other area churches."