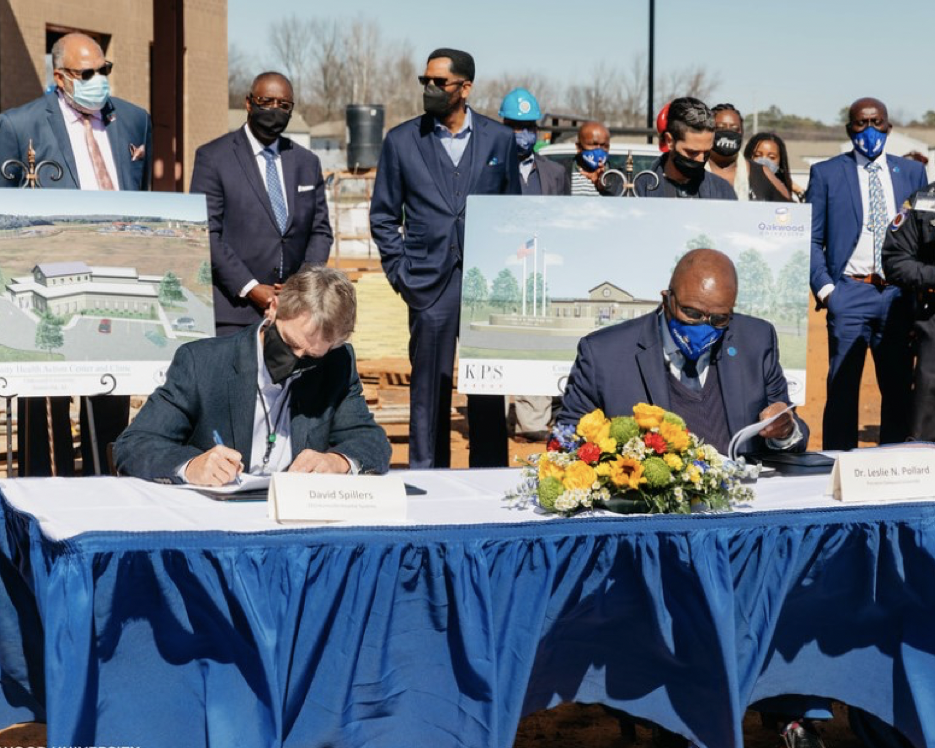 On Feb. 24, 2021, Oakwood University and Huntsville Hospital hosted a lease signing event at the Oakwood University Community Health Action Center construction site at Sparkman Drive and Bronco Circle in Huntsville, Alabama.
Huntsville Hospital will establish an ambulatory care clinic within the Health Action Center. Oakwood students, employees, as well as community residents, will have access to quality care at the walk-in clinic. Establishing this facility will also allow for continuity of care from the walk-in clinic to in-patient care at Huntsville Hospital.
"Huntsville Hospital Health System is very pleased to work with Oakwood University in bringing this dream to fruition. The clinic will provide important health services to people throughout this community," said David Spillers, CEO of Huntsville Hospital Health System.
"The Community Health Action Center launches Oakwood's community-facing phase of our nationally-recognized Healthy Campus 2020 campus wellness initiative. Our event today underscores our Healthy Campus, Healthy Community commitment to our community. This vision began with a request from yours truly to the CEO of Huntsville Hospital to consider a partnership with Oakwood in order to transform the health outcomes of Northwest Huntsville," said Leslie Pollard, said Oakwood University president.
"Oakwood University has been in the Huntsville community for 125 years and so has Huntsville Hospital. Together, we plan to bring health and healing to the morbidities affecting the citizens of NW Huntsville," Pollard continued. "The partnership today between Huntsville Hospital and Oakwood University is designed to improve the health status underserved citizens of the City of Huntsville."
The completion of Oakwood's 10,000 square foot Community Health Action Center will not only deliver health care on one side of our facility, the other side of the university's facility will house real-life service learning activities for students and faculty as they deliver health education, nutrition education, job skills training, and the services of Oakwood's Mobile Food Market. Faculty are already planning life-skills classes and after-school learning supports to children.
"Today, we are pleased to sign this agreement with our partner, the Huntsville Hospital System, as a symbol of our shared care for our community," said Pollard. "We look forward to our grand opening during the first week of June 2021."