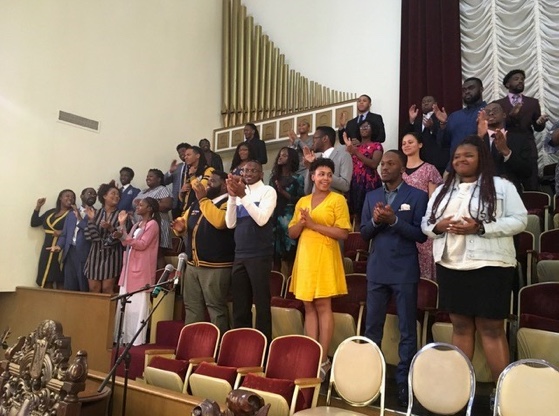 Administrators at Oakwood University in Huntsville, Alabama, received notice the morning of May 4, 2019, of a bus accident that took place in San Francisco, California, involving 18 students and two staff members. The students are members of the Oakwood University Aeolians who were scheduled to perform in the Bay Area on May 5, 2019.
Around 12:25 a.m. PDT on May 4, while traveling from the San Francisco airport, the tour bus transporting the students and staff was involved in a multi-vehicle accident on Highway 101, just south of Sierra Point. Students and staff members were checked on site by EMT, and initial reports revealed no life-threatening injuries. The bus was destroyed in the fiery crash that killed one motorist. The choir members' experience was covered by the media, including a report by ABC 7 News in San Francisco.
One staff member said, "We are thankful we lost things, and not lives."
The university is grateful for the role played by first-responders, and for the prayerful support and encouragement from local alumni, the board of trustees, and support personnel from the San Francisco area who aided the students and staff. Just hours after the accident, the Aeolians worshipped with the members of the Philadelphia Seventh-day Adventist Church (California).
Geeta, a friend of Oakwood at the Leicester Central Seventh-day Adventist Church in the United Kingdom, heard parts of the live-streamed concert on Sunday, May 5, at San Francisco's Third Baptist Church — the concert the Aeolians performed after the crash. She commented: "Our God is awesome. He saved [them]. . . . I heard their singing — and they were declaring the glory of God. Their singing sounded awesome. Continue to praise Him."
The choir members are safe, albeit shaken up, following this last tour of the school year and the aftermath of the accident. They were welcomed at the Huntsville International Airport on Tuesday night, May 7, by members of the Oakwood family.
On May 8, the Department of Health & Counseling Service offered the Aeolians an afternoon of self-care, pampering, and healing. From 1 to 5 p.m., counselors from the Office of Spiritual Life and massage therapists were available to offer trauma and spiritual counseling, massage, and quiet time in the tranquility room.
"While we are extremely grateful for God's protection and mercy, we are saddened by the fact that a precious life was lost," said Oakwood administrators. "Your support during this time means a lot to us." Please continue to pray for the victim's family and the healing of the students.
The Aeolians' final performance for this school year will be a mini-concert at the Von Braun at 7:00 p.m. on Sabbath evening, May 11, just before commencement.