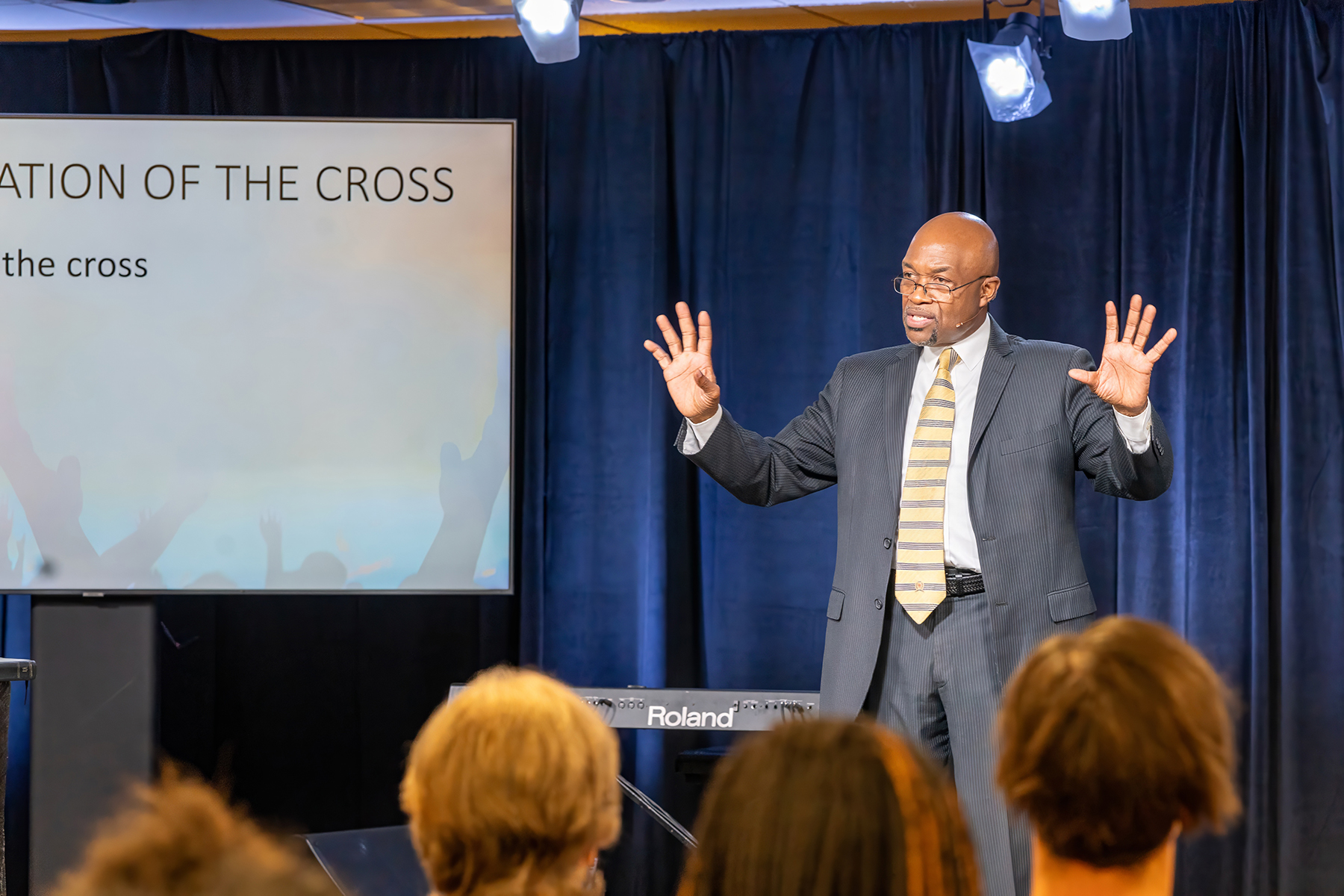 It's not every day that the leader of the North American headquarters of an international religious organization returns to the city where his ministry began years ago to conduct a three-week evangelistic series. But from August 27 to September 16, 2023, in Springfield, Missouri, G. Alexander Bryant, president of the North American Division of Seventh-day Adventists (NAD), did just that. Between 60 to 75 people attended the series each night — at least 25 percent of them community guests. At the end, 21 members joined the Providence Seventh-day Adventist Church, 18 by baptism and three by profession of faith — the same church Bryant helped revive 41 years ago in the early '80s.
Set in a Holiday Inn, the "Hope for Today" series offered what attendees described as simple yet profound teachings, stirring music, and a sense of belonging. Kim Coder, from Springfield Seventh-day Adventist Church, stated, "[The series] has been inspiring. It's renewed my faith."
Hope for Today was full of surprises, including the night a dog led his owner to the meeting. Still, community guests were amazed when Roger Bernard, president of the hosting Central States Conference, revealed the identity of the series' humble preacher as he welcomed new members to the global church. "Can anyone guess who our North American Division president is?" he asked. The room erupted in laughter and applause as Bryant's picture appeared.
Bryant later shared that he makes time for an annual series because "Matthew 28:18 - 20 calls everyone who takes on the name of Jesus to make disciples. Evangelism is the heartbeat of who we are and what we're about."
Sharing Hope and Wholeness in Springfield
Throughout Hope for Today, Bryant's messages emphasized God's love as an anchor amid chaos. In the first two weeks, he covered Seventh-day Adventist fundamentals, including salvation through faith, Jesus as Savior and Lord, the state of the dead, and baptism. In week three, Bryant introduced the Seventh-day Adventist church. In a message titled, "Why are there so many denominations?" he unpacked church history from the book of Acts to the present.
Bryant noted that Seventh-day Adventists integrated teachings from Lutherans (justification by faith), Methodists (holy living), and other Protestant denominations while embracing the second coming and the seventh-day Sabbath as "new light." He concluded that, while not perfect, the Seventh-day Adventist Church "imitates most closely the church Jesus established through His apostles in the book of Acts."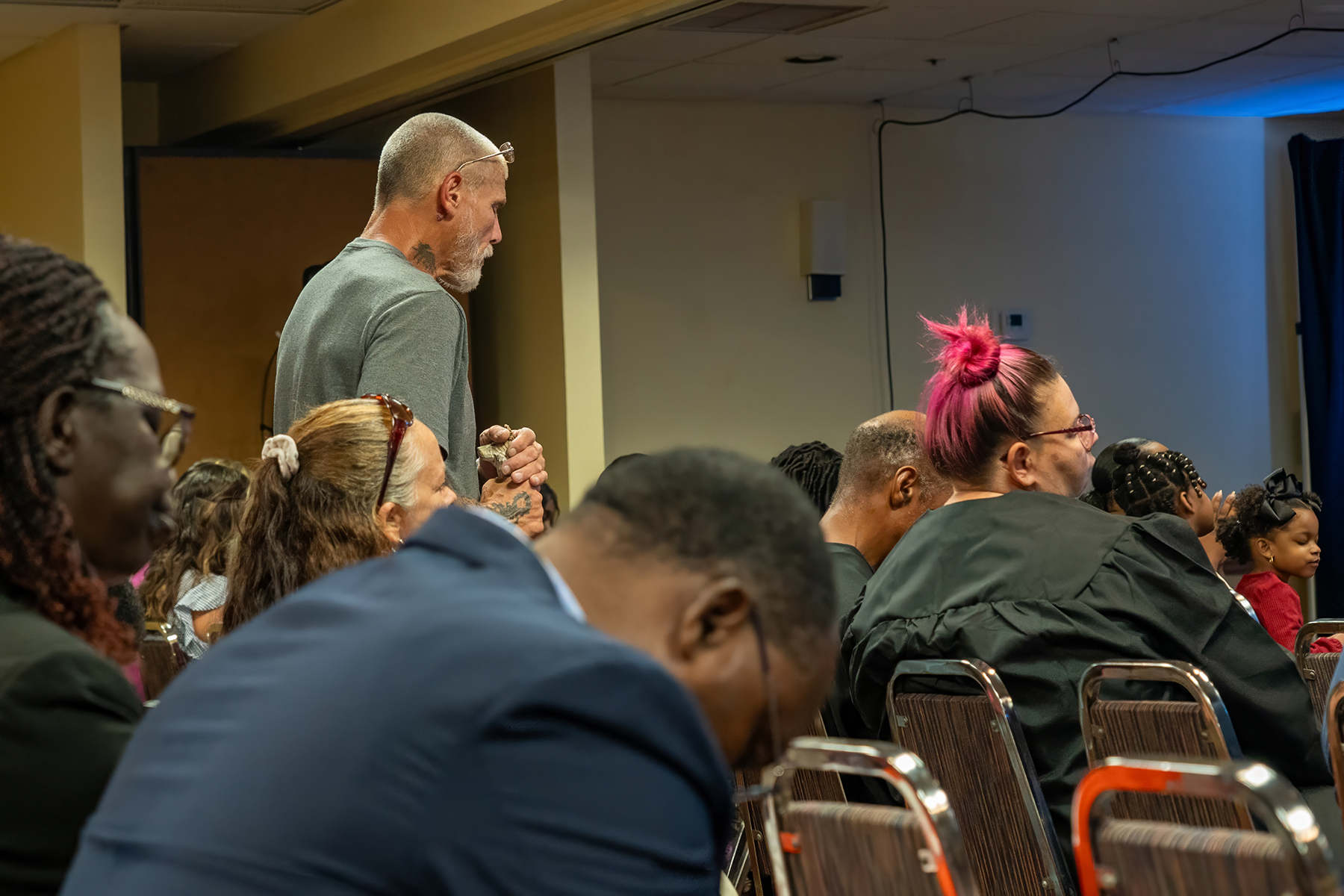 With humor and heart, he skillfully wove personal anecdotes into his messages. Bryant recounted stealing his father's car at age 16 while grounded, recklessly peeling off as his father chased him, barefoot. Hours later, Bryant snuck into his bedroom through a window he knew he had not opened. Days, weeks, months, and years passed, and the expected punishment never came.
More than a decade later, Bryant finally broached the topic with his father, who explained that his primary concern had been his son's safe return. Thus, he prayed fervently and opened the window. "Something inside me broke," Bryant recalled emotionally. Similarly, he said, "We have a heavenly father [who says] I don't care what you've done. I don't care how far you've fallen! I've left the window open for you [and] made it possible to have eternal life. All you have to do is surrender."
(Re)Commitment
The baptism held later at the hotel's swimming pool represented a fresh start for Providence. Among the new members was Carrie Wolf, whose husband, James, introduced her to the series after hearing about it from his employer, a Springfield church member. He'd long embraced the Sabbath truth and had been trying to share it with his wife of five years. After the first night, he had her attend alone so "the Holy Spirit could do its work." Carrie continued attending faithfully, bringing friends with her each night. That Sabbath, a radiant Carrie, and two friends were baptized, with James unexpectedly joining the church by profession of faith.
In another poignant moment, Bryant baptized eight relatives, including his oldest sister, Brenda, one of her daughters, two of her granddaughters, one great-granddaughter, two nieces and one nephew. Brenda, a member for 35 years, got rebaptized as an example for her family. A thrilled Bryant stated, "There's always joy when you see a soul getting baptized, but there's a special joy when you see your family come to the Lord."
Teamwork Makes the Dream Work
Several individuals contributed to the series' success, including Seminars Unlimited, which mailed Bible study cards to local homes, yielding more than 100 interests. "God has blessed this outreach. This is a lot of Bible study interests for this church family," noted Ella Johnson, who runs Seminars Unlimited with her husband Carl.
Pastor and Bible worker Roosevelt Williams, who assisted at Bryant's 2022 "Impact Columbus – Sharing Hope Revival," initiated follow-up with interests for three weeks before the 2023 series. He was then joined by six Bible workers, who answered Bible questions, prayed with interests, and befriended them. The relational aspect was critical, as Williams emphasized, "Friends follow friends."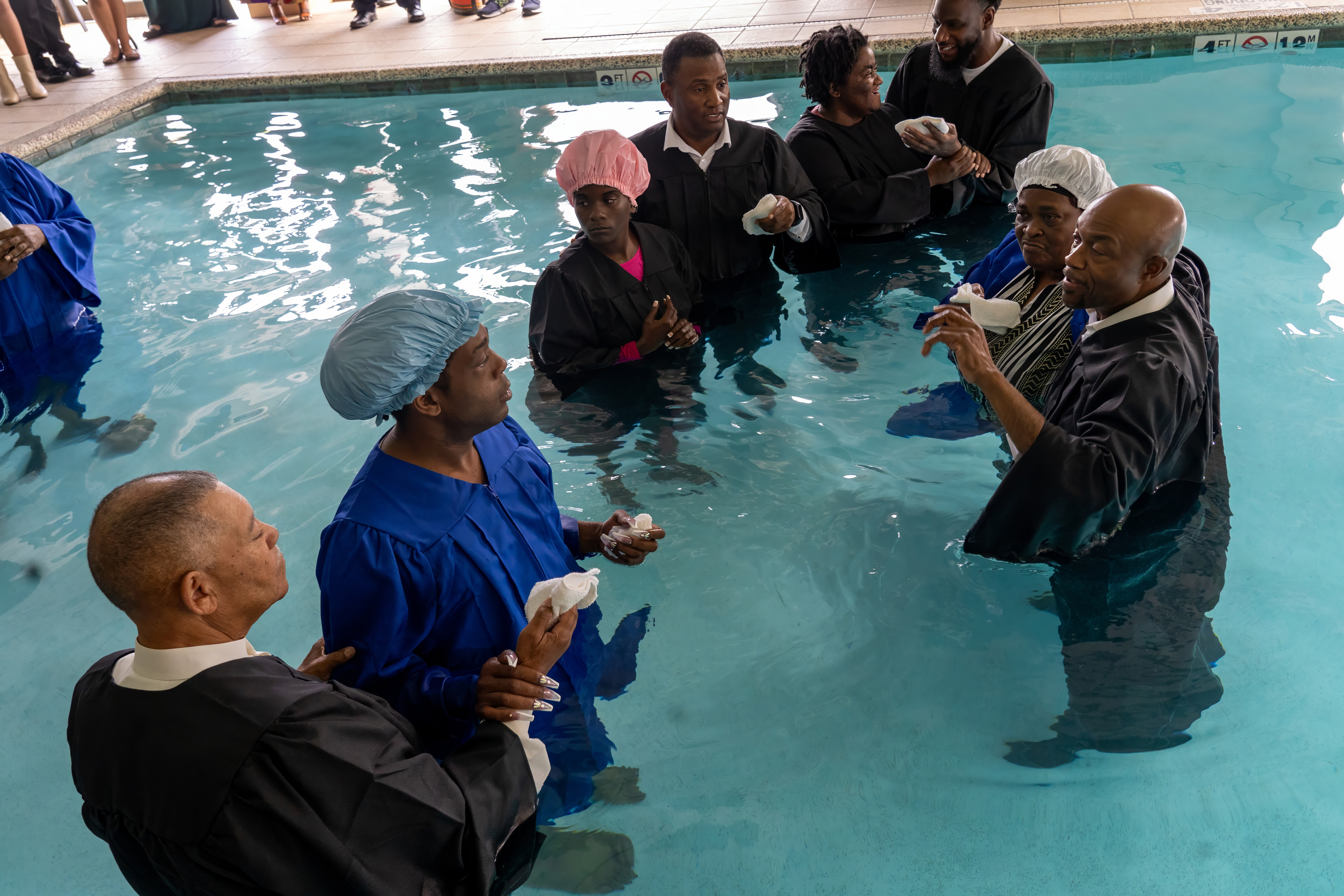 The tight-knit group included Janet Barnhill, who also worked with Bryant in Columbus. "It's amazing that since COVID-19, the doors [have been] open for us to be invited in. It's an open-door community," she said.
New team member Jordan McCoy, 16, said, "I've always liked working for Jesus; going door to door has been my favorite thing to do here."
On the final day, Bryant thanked the Bible workers, the NAD audiovisual production team, headed by Nick Wolfer, Central States Conference leaders, and Providence and Springfield church members.* His most heartfelt thanks went to his wife, Desiree, an NAD Ministerial Association associate director, who served as a Bible worker and wore several other hats on a smaller-than-usual team. "Des became everything I needed in this meeting. I thank the Lord for her," said Bryant.
Diverse Groups Unite in Ministry and Mission
Notably, while Providence church was founded as an African-American congregation, attendees, including Springfield church members and interests from the predominantly Caucasian community, were diverse. This multicultural aspect was evident in everything from the music and messages to the volunteers and new members. "This is the most multicultural meeting I've ever conducted," said Bryant, observing that attendees appreciated the diverse worship setting.
Hope for Today also set a precedent for the regional and state conference churches to serve Springfield together. Before breaking his collarbone in a biking accident, Springfield church's Pastor Abel Hagan was Bryant's "right-hand man." Members followed suit, enthusiastically assisting with greeting, music, ushering, registration, pre-baptism preparations, and more.
Hagan stated, "I pray yearly on behalf of our local church and community for God to open the right doors, that we'd follow His plans and work together to accomplish His goals. [This series] was an answer to prayer."
His wife Tammie added, "We want to do whatever we can to work together."
Reigniting the Fire at Providence Church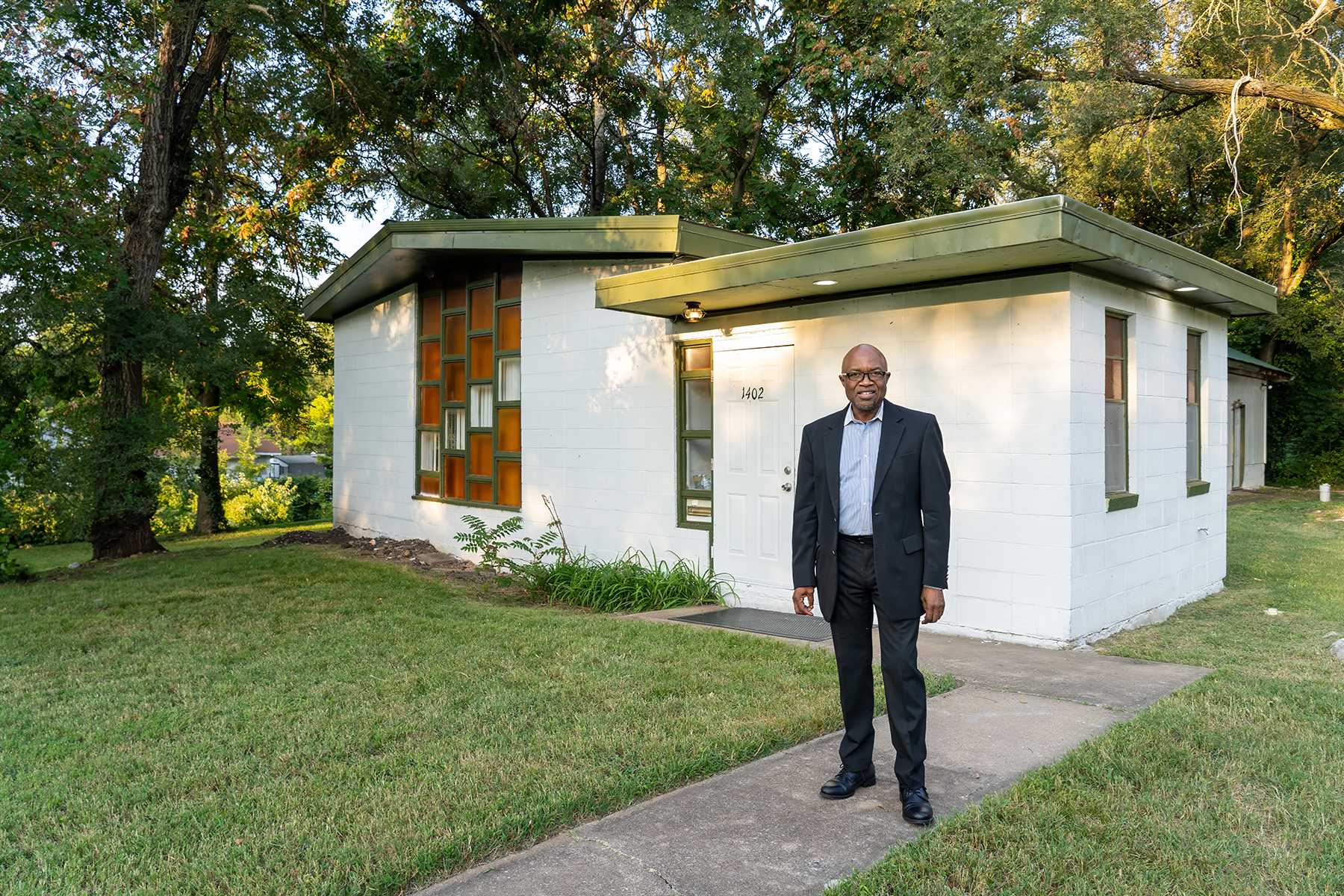 In 1982, Bryant, a recent Oakwood College (now university) graduate, arrived at the Providence Seventh-day Adventist Church to revive the small, one-room church built in the 1960s and closed a few years later as membership faltered. He grew the congregation from zero to 50 in 10 months by holding public evangelistic series and training members in personal outreach.
Before the meeting, Providence had 10 members on the books, with four attending regularly. There were no deacons, no elders, and, until recently, no pastor; they had not had a pastor for several years. Thus, they would gather weekly to study the Sabbath School lesson, sing, share testimonies, and pray, with Brenda Bryant leading. Despite their limited numbers, said Brenda, "The Lord has sustained us." 
Four years ago, Bernard invited Bryant to come back to help Providence. Bryant accepted, remembering the "very active and vibrant" church he'd left in 1983. "I was disheartened that it had gone down, [so] having an opportunity to try to put some fire and life into it was appealing to me," he stated.
Of the many series Bryant has conducted since leaving congregational ministry, Providence is the smallest host church. Thus, he kept the music and audiovisuals focused on what Providence could provide — the hospitality and warmth of its members and the undiluted gospel.
To keep the momentum from Hope for Today going, Bryant engaged Williams to remain in Springfield for a few months. Starting on Sept. 17, Williams began an evangelistic series every Sunday and Wednesday at Providence church, helping teach and nurture new members.
The Best is Yet to Come
During the concluding Saturday night concert at Providence church, new members received their baptismal and profession of faith certificates, signifying their transition into church life. Bernard then installed Quentin Everett, a 2012 Oakwood graduate from inner city St. Louis, Missouri, as the church's new pastor. In his commitment, Everett vowed to prepare the congregation to meet Jesus, and they promised to follow him as he followed Christ.
Bryant, Bernard, and the other Central States Conference officers, Cryston Josiah, vice president of administration, and Kelley J. Paris, vice president of finance, then laid hands on Everett. Bryant prayed for divine wisdom and strength for the young pastor and for the congregation to embrace him, that "together they might be a mighty, mighty force in the community."
In response, Everett affirmed the genuine warmth he'd already observed among the small congregation and promised to "love [them] authentically." Then, smiling broadly, he concluded, "Providence, the best is yet to come!"
*Springfield church is part of the Iowa-Missouri Conference.