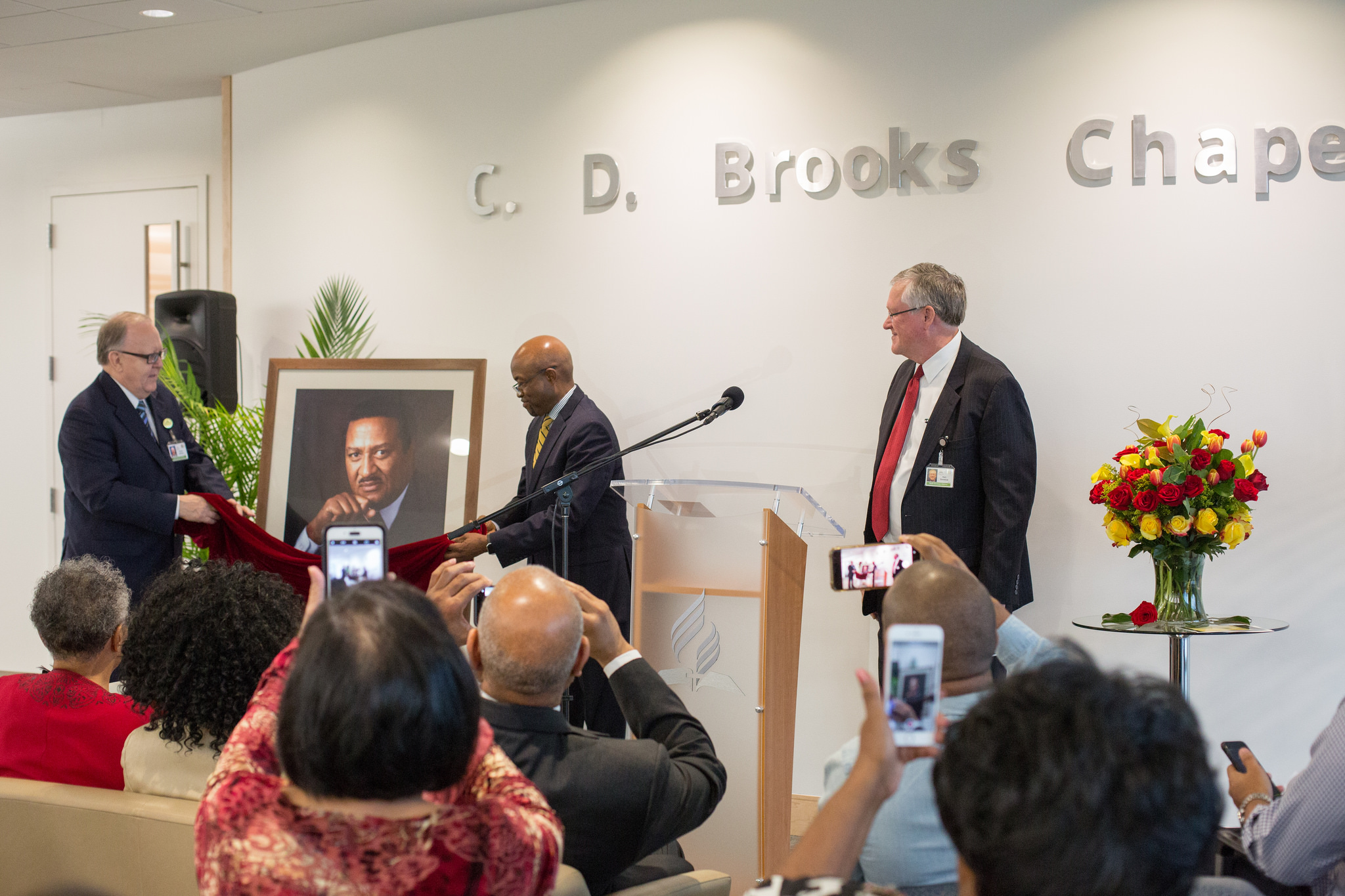 "This chapel is our mission control," said Alvin Kibble, NAD vice president, as he welcomed guests to the C.D. Brooks Prayer Chapel dedication ceremony in the division's headquarters in Columbia, Maryland.
On June 7, approximately 70 family members, NAD employees, and guests heard from various church leaders who shared memories of the renowned Adventist evangelist, who passed away June 5, 2016, at age 85.
Brooks' legacy as pastor, mentor, and evangelist spans more than six decades and carries on in nearly all of the world's continents through the millions of hearts he reached, 16 churches he established, and countless ministers he mentored. While retired, Brooks accepted the call to serve as chaplain to the division's staff in 2013.
"Many of our employees went to Elder Brooks for counsel, marital counsel, prayer, spiritual upliftment, or when they felt alone. They always left his office with a clear focus, more encouraged, and hopeful," said Alex Bryant, NAD executive secretary. "He served in such a magnanimous way that lifted our office, lifted our building. Many of our employees may not have known him as an evangelist, but they knew him as a spiritual man of God, a servant of God, [who was] full of wisdom, integrity and truth."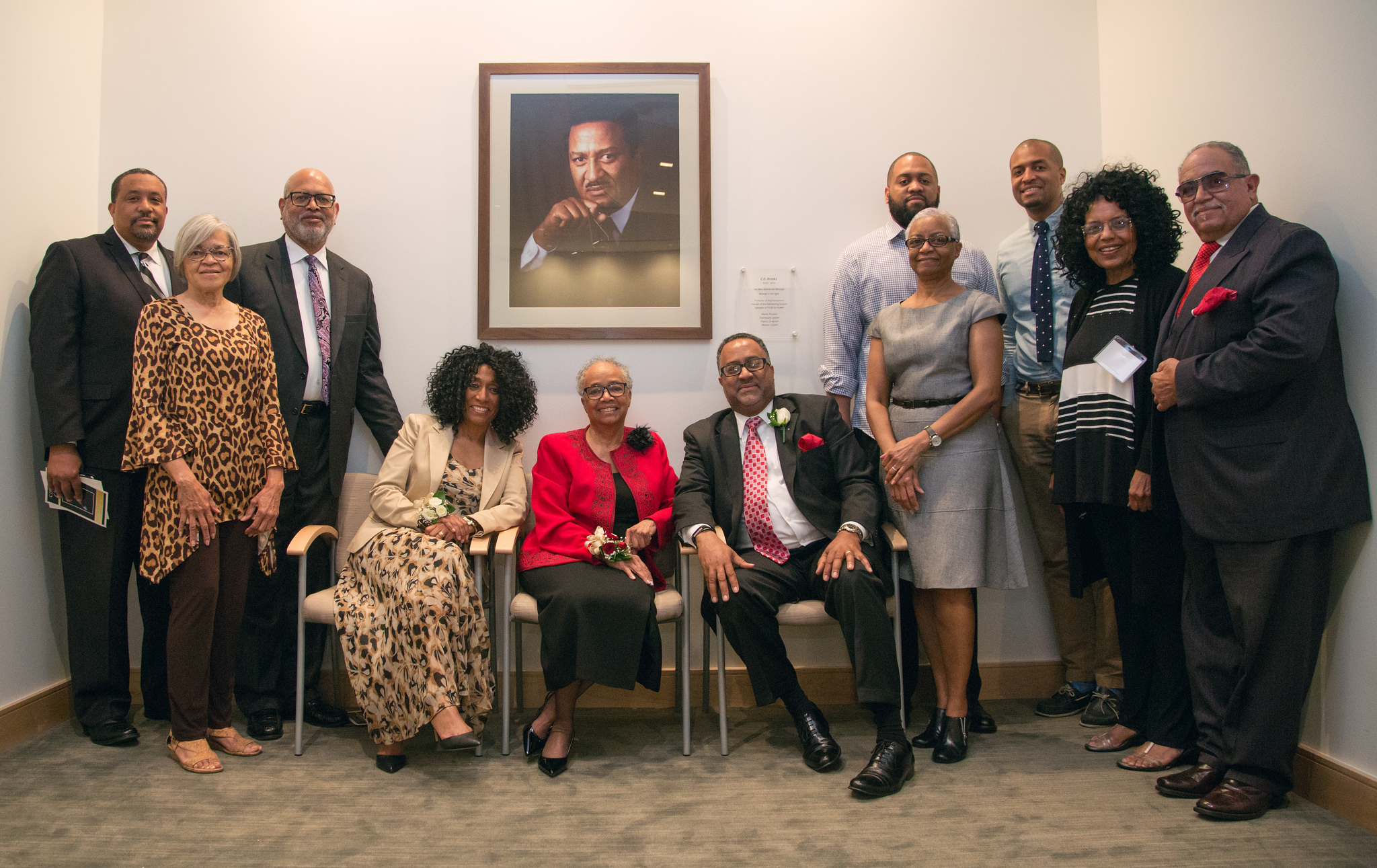 Brooks' Walking Ministry
A common theme shared was the effect of his presence, and more specifically, his walk. "There was a way Elder Brooks walked — deliberate, methodical, focused, missional," continued Bryant. "He had the ability to change the atmosphere of a room just by his presence."
"C.D. walked up and down the halls of the North American Division like a prince," said Dan Jackson, NAD president, who said Brooks always greeted him in the halls with encouragement and a reminder of his continuous prayers for him. "He was a person of great dignity, but also great humility. Wherever we went in the office, he blessed people. Whenever he talked to people, they were blessed."
Naming the Chapel
"Right from the beginning we had anticipated having a prayer chapel in the building," said Ken Denslow, executive assistant to the president of the NAD, and coordinator of the new NAD headquarters building project.
"It's important for a religious institution to have a place that is set aside specifically for worship and prayer. There are many places [where] worship and prayer take place in the building, but this is a special place — it's a house of prayer."
Before the grand opening of the division's new corporate headquarters, a contest was held to determine a name for the chapel. According to Denslow, 10 people entered the name "C.D. Brooks," and upon official vote, his name received overwhelming support from division employees.
"The reason this is the C.D. Brooks [chapel] is because he was a caregiver to the North American Division staff. He was a beloved chaplain."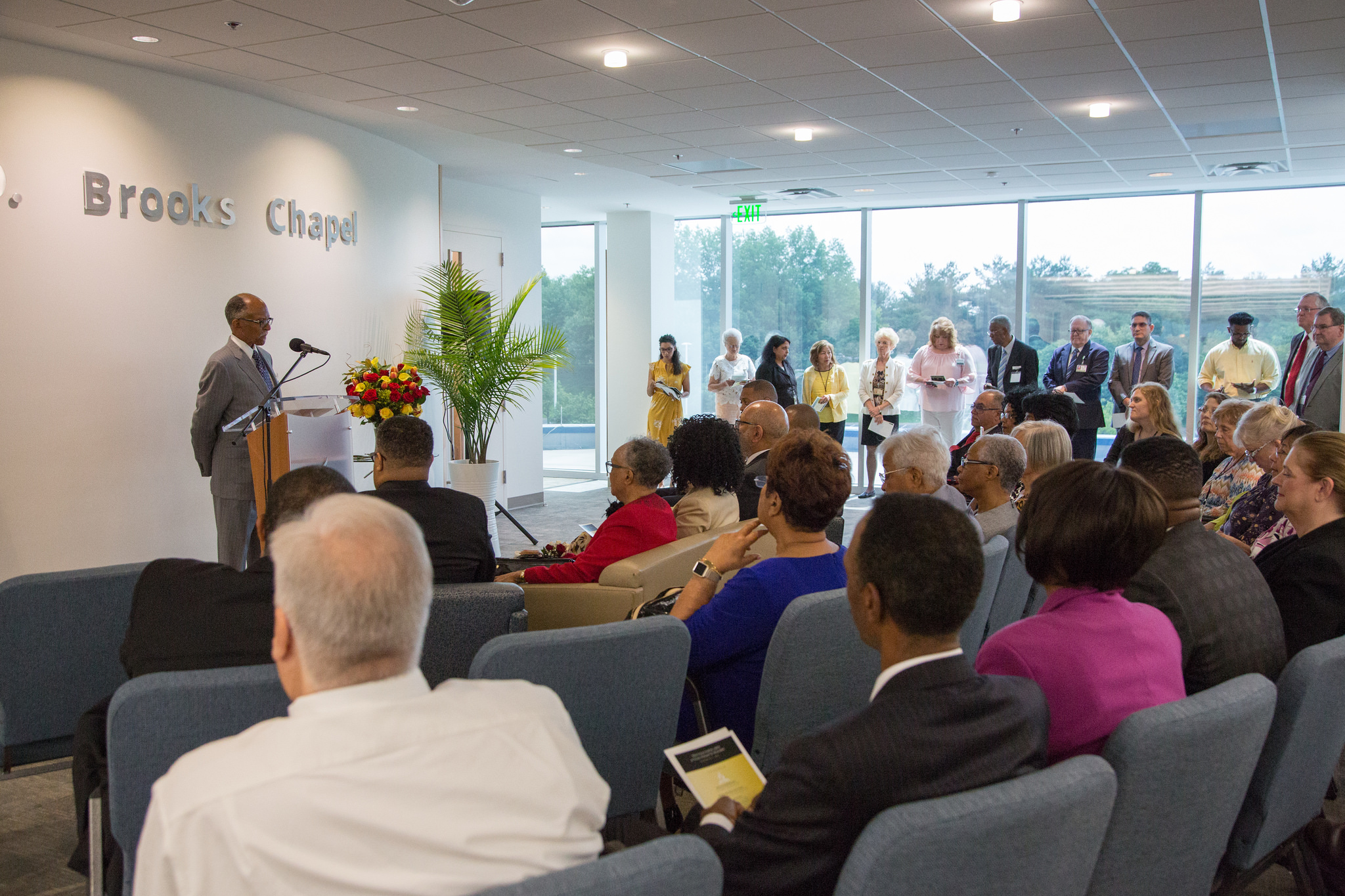 Inside the Prayer Chapel
The chapel contains two pieces of art, a stained-glass window, and a portrait of Brooks, which was unveiled during the ceremony.
The stained-glassed was created by Clayton Connolly, an Adventist artist whose art can be found in the administrative offices of the Hawaii Conference and North Pacific Union Conference (NPUC). His largest work is located on the campus of Union College in the Collegeview Church in Lincoln, Nebraska. The assembling effort was managed by Monte Church, former director for NPUC Native Ministries.
The glass portrays Jesus as the good shepherd. Jesus is surrounded by nine sheep, representing the division's nine union. What's unique about the glass is its "hidden" message — Morse Code borders the glass with the message, "Feed My Sheep, NAD."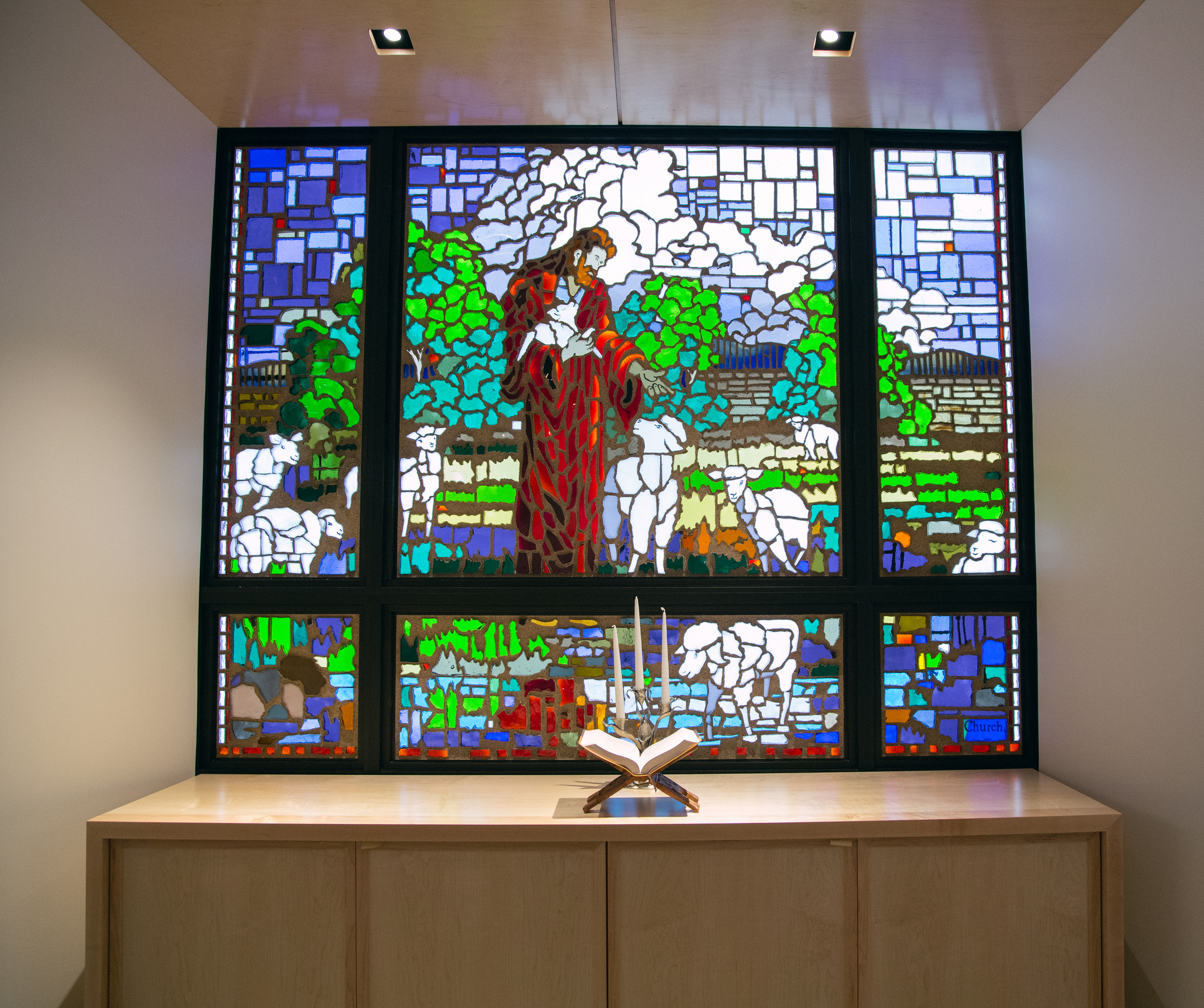 Longing for Heaven
Toward the end of the program, guests were invited to sing Brooks' favorite hymn, "When We All Get to Heaven." His wife, Walterene, spoke on the importance of the blessed hope of Christ's return.
"This is wonderful, we'll never forget it, but there's going to be one day when we can be all together in heaven with Jesus," she said. "I want to be able to tell him [Brooks], I want my children next to him, so we can say, 'Guess what happened at NAD? They honored you for your service, your work, and what you did in God's name. They honored you because you believed in Jesus, and you preached on many continents, and by God's grace many people accepted his message.'"
Brooks' son Charles Jr., or "Skip," called attention to the recent anniversary of his father's passing and left NAD employees with a charge.
 "June 5th is no longer a day of sadness for us, but a monument pointing toward that better day, the day of resurrection and renewing," he said. "So, in memory of [my father] … the man who lived what he preached, I charge you, NAD, to hold up the light, stay faithful, make good use of this chapel, and pray a lot."
--
Visit NAD's Flickr page to see more photos of the C.D. Brooks Prayer Chapel dedication ceremony.