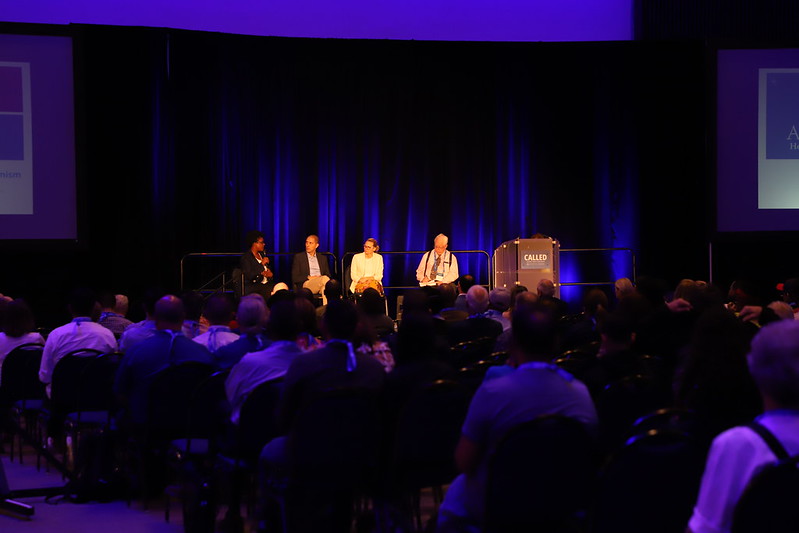 The 2022 CALLED Pastors' Family Convention started on June 19, 2022, in Lexington, Kentucky, with a special pre-session on mental health. Of the nearly 6,000 expected CALLED attendees, more than 1,100 registered for the Kettering Health Mental Health Seminar, which ran in two parts from 1 to 4 p.m. The third and final session, on pastors' mental health, is scheduled for June 21.
"The pandemic has highlighted the need for pastors to be aware of mental health needs and how to ensure that their congregants receive mental health care," said Ivan Williams, NAD Ministerial Association director. "The pandemic has also demonstrated that pastors, too, need mental health support. We are honored to partner with Kettering Health to provide this to our CALLED attendees."
The first segment was entitled "The Mind: God's Design and What Went Wrong and What You Can Do About It." Sul Ross Thorward, a psychiatrist from Sitka, Alaska, hosted the discussion with presenters/panelists Torben Bergland, psychiatrist and psychotherapist, and associate director of the General Conference Health Ministries department; Daniel Xisto, pastor of the Takoma Park Seventh-day Adventist Church in Maryland; Andrea Xisto, clinical psychologist; and Andrea Jakobsons, lead pastor at the Kettering Seventh-day Adventist Church in Ohio. Several shared their stories as they've dealt with extremism, racism, and polarization — and how this has impacted them personally as well as their experiences in the church.
Panelists Daniel and Andrea Xisto talked about their experiences with racism. Daniel said, "White supremacy ... I think it's a major blind spot in our church that we need to confront. We need to recognize the impact that it's having on our church and have the courage to stand up and speak out."
The Xistos shared their experiences in hopes of helping others recognize that racial trauma impacts people differently and that church leaders should learn how to reach out to hurting people in appropriate ways.
Jakobsons, who grew up in the Czech Republic, shared that Czech culture is suffused in racism toward gypsies. These beliefs "seep into the church … we don't realize that the things we say are hurtful. We have to be able to talk and share things. We all make mistakes, we have to work through them," she said.
Addressing another topic, she added, "I have faced polarization in women in ministry: I knew I would never become a pastor because of the fight I would have to face. No matter how much I felt God's call I said no until I couldn't shake the pressure from God on me." Jakobsons talked about how her father supported and urged her to go into ministry, giving her this advice: "Hear things then flush them away."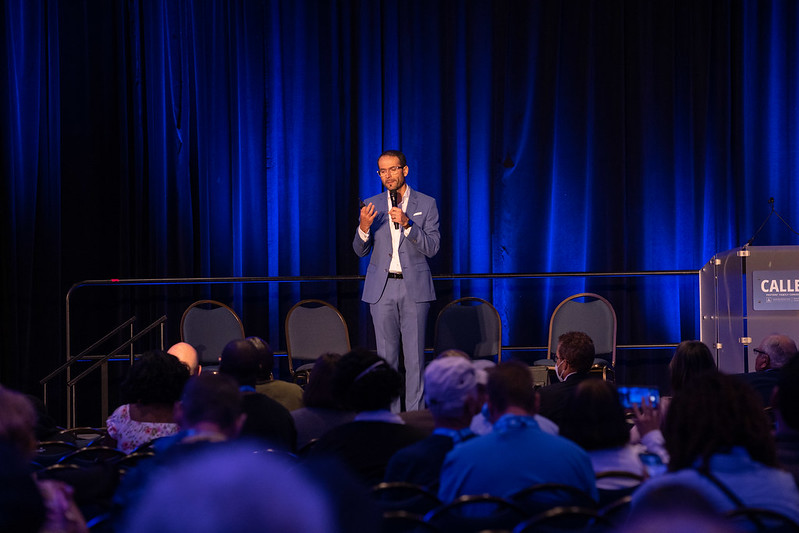 After participants on the platform told their stories, Bergland shared a presentation on polarization and extremism from the perspective of mental health experts, Ellen G. White's writings, and biblical resources, including 2 Timothy 4:3-5. "These issues of extremism, polarization, and fanaticism are things that we really struggle with, both in society and also in our church," said Bergland.
"We all need a place where we can go and just be totally vulnerable, feel whatever [we] feel, share everything about it, process it together with someone so that [we] can go back into the world and face it."
The panel answered questions posed by Thorward, who later participated in a panel, after a quick exercise break with the F5 Challenge team.
The second part of the pre-session, entitled "Relational Wellness and Wellbeing: The Pastoral Family; How to Breathe Again," included an interview with Jonathan Duffy by Mary Ann Schaepper, child and adolescent psychiatry at Loma Linda University Medical Center, followed by a panel discussion, and tips and resources in a presentation by Nestor Bruno, psychologist, and director of the Ministry Care Line of the Kettering Health Network.
Duffy, executive director of Mission and Ministry for the Kettering Health Network, shared how his son's suicide affected him and his family. Duffy then joined the panel, moderated by Bruno, which also included Schaepper, Thorward, and Rob Lang, North Pacific Union Youth director.
On dealing with aftermath of suicide, Thorward spoke about the common reactions of survivors. "Expect the survivors to have a bewildering flash of emotions, to be angry and sad at the same time; to be relieved and disappointed at the same time," he said. "They themselves will not understand the roller coaster. And there is no understanding for that roller coaster beyond knowing that that's a part of the process. … Survivors will search for meaning. And survivors tend to greatly overestimate their own contribution to the event. What you can do is stand beside them and hold their hands in the rapids while they go through this, reduce their isolation and provide support."
Lang shared a report that through the period of the COVID-19 pandemic one in four adolescents have considered suicide. "What about our church's role? As pastors, we feel responsible for these things … I just want to say a word to you today that if you're trying to carry all of that for your church, yourself, that will crush you."
"What if the church can become what God intended it to be: a fellowship of people that would journey together and have these relationships that would help bring resilience?" he asked, sharing about the Growing Together movement where pastors invite their church leaders, young adults, and others to create an intergenerational conversations in their churches.
"Mental illness is illness. It is a battle," said Schaepper. "The God that I know and love is the One that my mom said drove her to Scripture in such a way that she came to know this loving God she could trust with all of these amazingly complex situations — and that His grace is sufficient."
Bruno ended the segment with resources, tips, and an audience activity. "There is no such thing as a spiritual problem," Bruno said. "There are human problems that can be a spiritual, cognitive-emotional behavior of social, medical, and we can have other variables but this is just to put it in context. They are human problems."
He asked the attendees to finish three sentences that start with "I have to… ." Then he had the group change the first three words to "I choose to… ." He asked the audience if that changed their perception and feeling about the statements. "I work with pastors, and we have the world on our shoulders; we have to be everything for everyone. But we can choose. And we can choose to get help; we can lift the magnifying glass of loneliness … and connect."