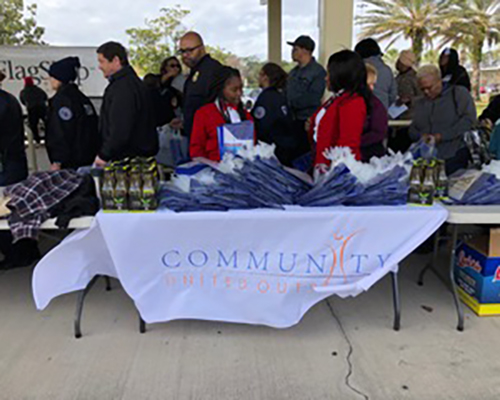 The United States experienced its longest government shutdown in history. During the 35-day shutdown, paychecks were withheld from thousands of federal employees, including those who work in safety operations at airports. More than 800,000 employees were furloughed or asked to work without pay.
Below are a few examples of Adventists meeting the practical needs of those whose lives were upended during the shutdown, which took place Dec. 22, 2018 - Jan. 25, 2019.
Adventist Community Services of Greater Washington
Adventist Community Services of Greater Washington (ACSGW) organized pop-up pantries on Jan. 14 and 23 in Silver Spring, Maryland, for furloughed government employees and contractors to get groceries. ACSGW also hosted two additional pop-ups after the government reopened.
"The supplies will cover me and my granddaughter for quite a while," said a government employee who visited a pop-up pantry.
Mytonia Newman
Mytonia Newman, a member of the Restoration Praise Center in the Washington D.C., metropolitan area — where thousands of federal employees live — utilized her catering business, "My New Cuisine," to provide 45 family-style meals to families.
Newman told the Potomac Conference that she used to work professionally in Washington, D.C., Her commercial kitchen is there. "I'm surrounded by federal workers. I knew several families personally that were affected by the shutdown and I also posted what I was doing on my Facebook page," said Newman.
"I had many responses from people asking if I could include their son or daughter on the list for meals and others asked how they could donate. I continued getting funding and ended up doing a second week of meals for families."
Community United Outreach
Community United Outreach, a Seventh-day Adventist co-op located in Orlando, Florida, sponsored a free food giveaway on January 31 to airport workers affected by the government shut down at the Orlando International Airport. More than 600 families were served.
Members of the Mt. Sinai Seventh-day Adventist Church's community services ministry and students of Mt. Sinai Junior Academy also partnered with the co-op.
Charles Drake, president of Community United Outreach said, "as Christians we are compelled to feed the hungry, even if they're just temporarily hungry."
Showing Up
Another impacted area is the national parks, which did not receive maintenance. According to a Columbia Union Visitor report, to help, WGTS 91.9 staff organized a cleanup event at the WWII Memorial in Washington, D.C. When the volunteers got there, however, they discovered that another group had already cleaned up.
Kevin Krueger, WGTS general manager, says, "[What] I noticed and thought about the effort is the coming together of community. ... People eager to do something, to help. ... We talk about being the hands and heart of Jesus to the Nation's Capitol and beyond. It was wonderful to see so many listeners from around the region show up."