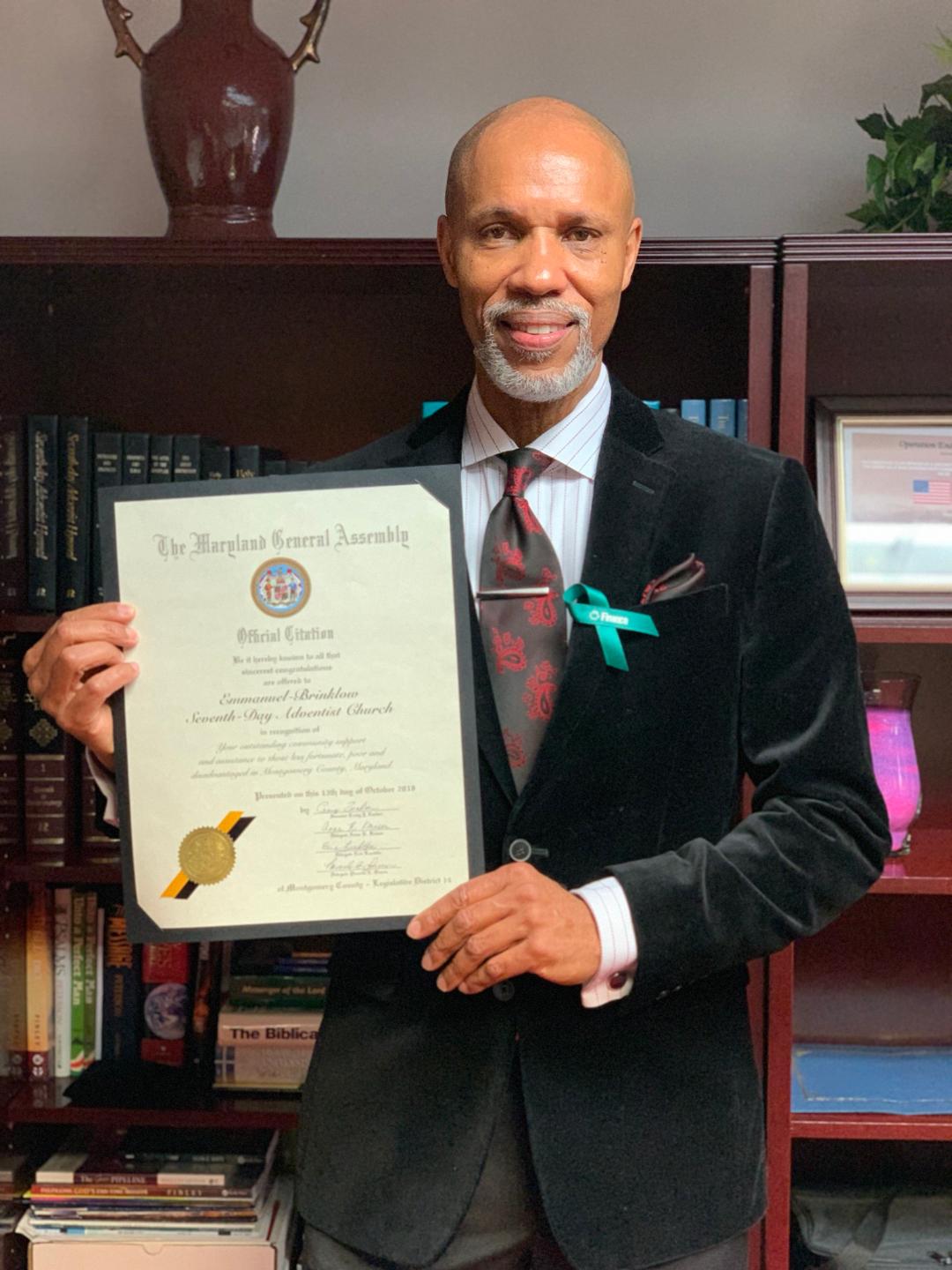 One of many quotes Martin Luther King, Jr. is known for goes like this: "Life's most urgent question is: What are you doing for others?"
The members of the Emmanuel-Brinklow Seventh-day Adventist Church in Ashton, Maryland, answer that question each month with major community service projects that have caught the notice of local and state government leaders.
The congregation recently received a citation from the Maryland General Assembly (MGA) for its "Brinklow Cares" initiative. Presented by Pamela Queen, member of the Maryland House of Delegates, during a Sabbath-morning service, the document read, "Sincerest congratulations are offered to Emmanuel-Brinklow Seventh-day Adventist Church in recognition of your outstanding community support and assistance to those less fortunate, poor and disadvantaged in Montgomery County, Maryland." The document was signed by Queen, senator Craig Zucker, and delegates Anne Kaiser and Eric Luedtke, who represent the legislative district where Brinklow is located.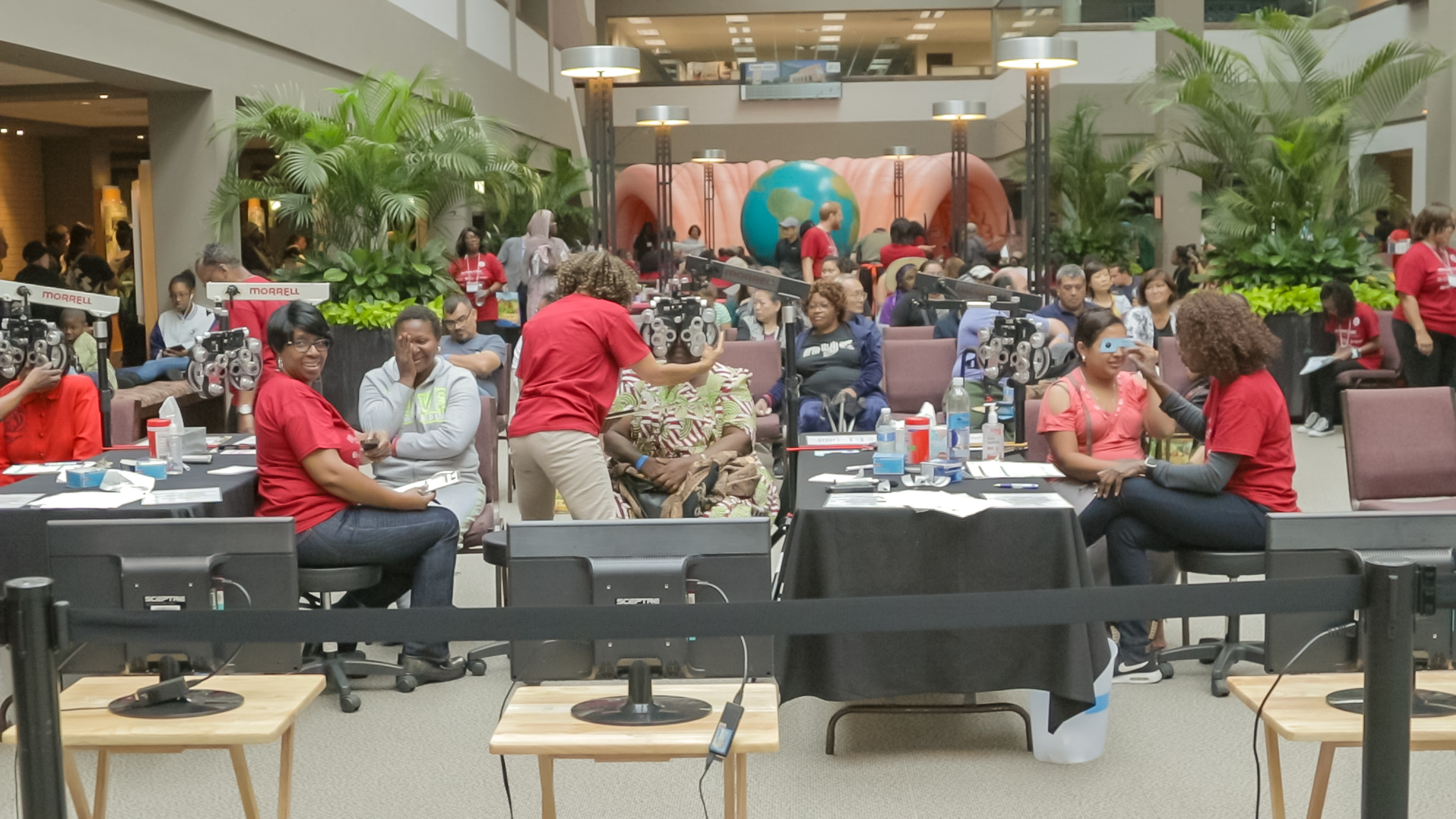 Brinklow Cares Local Partnerships
Brinklow Cares includes a comprehensive array of service opportunities for church members, including volunteering at clothing and food distribution centers, visiting nursing homes and sick church members, or sending greeting card messages. The church has designated the second Sabbath of the month as an outreach day. Worship services are shortened and church members are expected to go out and serve.
The church has also entered into a major partnership with the Housing Opportunities Commission of Montgomery County (HOC) to provide wholistic assistance to low-income families in five communities. The help includes classes in healthy cooking, financial seminars, computer classes, and after school tutoring. The county also assigned 60 food-insecure families for the church to provide short-term help as well as assistance in accessing county resources, while also providing holiday baskets and back-to-school supplies for children.
In an effort to extend its ministry, each spring the church offers garden plots to community residents so they can grow their own vegetables. And in the fall church stages a free yard give away for the general public.
The Hope Clinic
Through the past five years the church has staged health expos in various neighborhoods around Montgomery County, however, this past fall Brinklow and HOC partnered with the Adventist Medical Evangelism Network, General Conference, Adventist Development and Relief Agency (ADRA), and Hope Channel to provide a major medical and dental services for visitors.
Based on the grounds of the Adventist World Church headquarters in Silver Spring, Maryland, the Hope Clinic served more than 1,200 people with free haircuts, flu shots, massage therapy, HIV testing, healthy food demonstrations, and resource information for HOC. The people came from as far as northern Maryland, Pennsylvania, Virginia, and North Carolina, said Betsy Johnson, Brinklow's faith community nurse and a clinic organizer.
With more than 350 volunteers, including 65 dentists, oral surgeons, hygienists, optometrists, nurses, and medical doctors, the clinic provided dental screenings, cleanings, fillings, extractions, and referrals when necessary. Organizers estimate that nearly $83,000 of free dental care was provided. Those needing vision care received examinations and a free pair of glasses.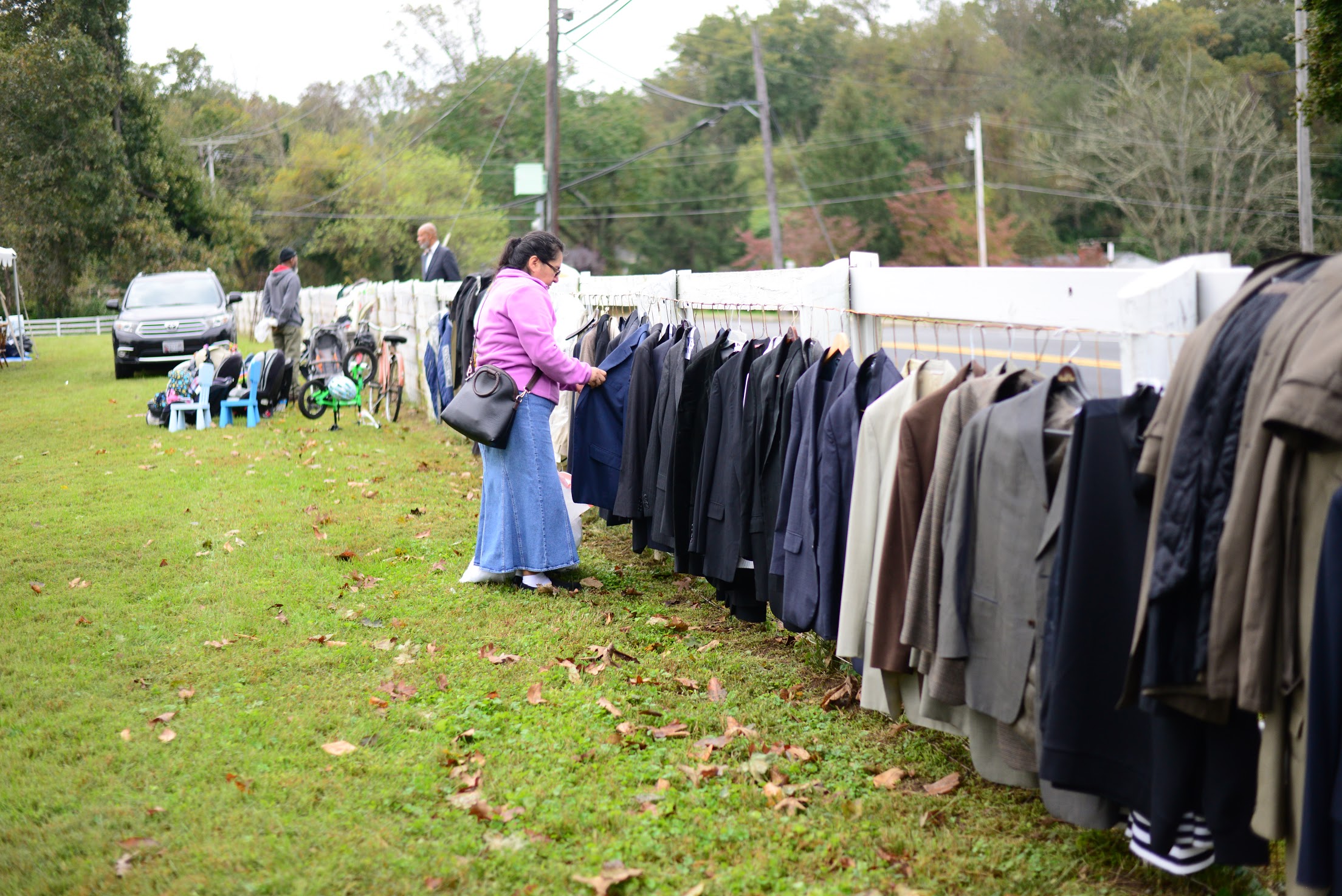 And the Ministry Continues
The recent MGA citation is just the latest of several honors that Brinklow has received. In March 2018, the church garnered an award from HOC for its community service and in February last year Anthony Medley, senior pastor, was granted the opportunity to give the invocation for the Maryland Senate.
While Brinklow has been recognized for working in Maryland, its ministry reaches beyond state lines. Through partnerships with other churches, Brinklow also ministers to the homeless in Washington, D.C., which has the highest per-capita rate of homelessness in the U.S., largely due to the high cost of housing. (And according to a new study, released by the National Community Reinvestment Coalition on March 19, 2019, more than 20,000 African-American's have been displaced by gentrification between 2000 and 2013.*)
For more than 25 years Brinklow deacons, deaconesses, and other members, have joined the Fourth Street Adventist Church in D.C. to provide a Sunday breakfast for homeless persons, along with messages of encouragement.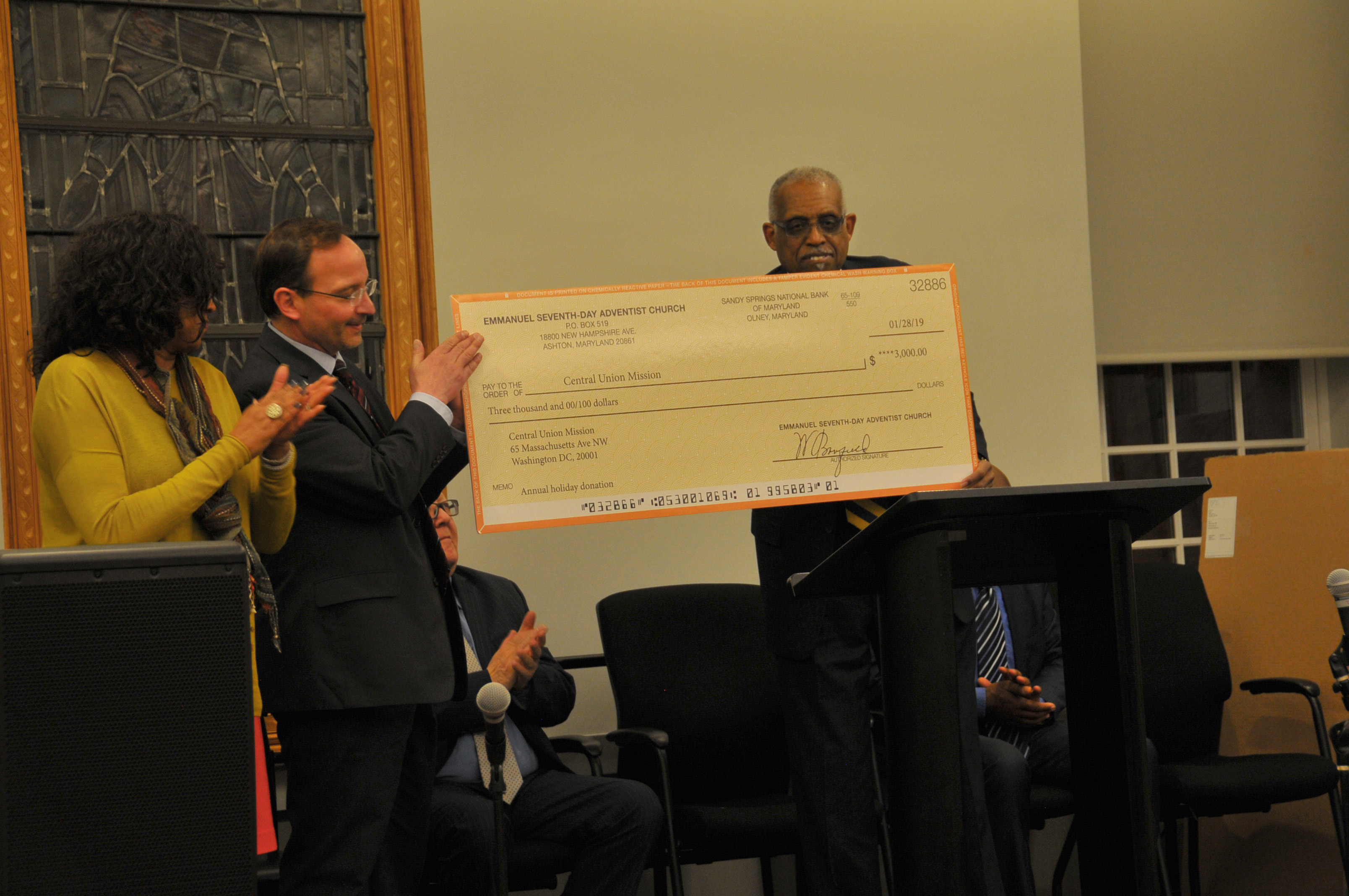 This year marks 10 years that the Brinklow's Inner-city Ministries has conducted chapel services at Central Union Mission (CUM) men's shelter. Founded in 1884, CUM is the oldest private social service agency in the District of Columbia. During the holiday season, Inner-city Ministries provides food and financial gifts to CUM and other agencies serving the homeless.
A special service commemorating the milestone was held on January 28. Daniel R. Jackson, president of the North American Division of the Seventh-day Adventist Church, spoke at the service.
Demonstrating Love
In defining Brinklow Cares' purpose, Medley explained, "Brinklow Cares is a demonstration of Christian love and compassion, reaching people at their point of need. It's the gospel in action, reaching the whole person, physically, spiritually, socially. And this requires a community focus. We go out of our way to find the wounded man on the side of the road and the wounded person in the executive office."
"We have made significant foot prints in Montgomery County," he pointed out. "And the county sees us as partners. My goal is to get 100 percent participation from our members. Each one should find a place in reaching the community."
In response to Brinklow's commitment several community leaders have voiced appreciation for the church's efforts. "We want to thank the church for helping people in need," said Del. Queen. "We have pockets of poverty in the county. And faith-based organizations share our mission of helping those in need."
Along with helping the disadvantaged, Queen also stressed the importance of churches advocating for the poor at the state legislature. "It's important for the legislators to see the faces of advocates in Annapolis. It really makes a difference."
"It's important for us to partner with faith-based organizations," Stacy Spann, executive director of HOC, which offers a host of social services, including housing; job training; drug intervention; nutritional education; financial and credit counseling; and mentoring and tutoring. "Churches often can engage people at a point of critical need. They will respond to church members when they may be afraid to talk approach government agencies. Without our partners we wouldn't serve the community as well," Spann added.
In the future, Medley wants to position the church to be the signature resource in addressing one to three critical needs for the county: opioid addiction, obesity, and diabetes. "want us to be the resource place that Montgomery County can identify in addressing [at least] one of those issues," he said.
* Washington Post, March 20, 2019, p. B1.
— Carlos Medley attends the Emmanuel-Brinklow Seventh-day Adventist Church where he serves as an elder.