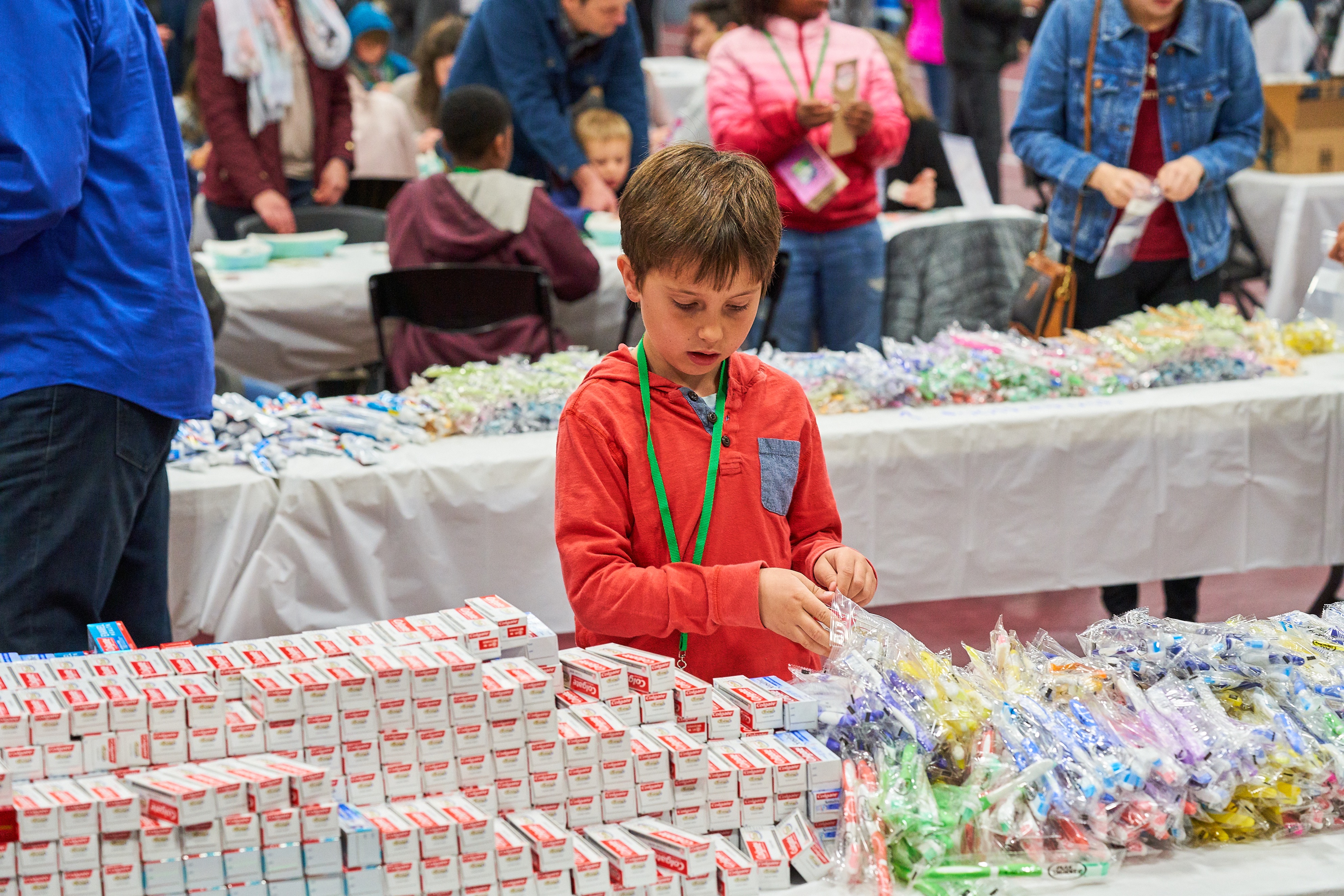 Eight years ago two mothers in the Loma Linda area wanted their young children to learn the importance of giving to those in need. But age-related legal restrictions prevented their kids' involvement with service organizations.
The mothers, Kimberly Thomas and Alane Hegstad, turned the roadblock into an opportunity not only for their children, but for the families, faculty, staff, and broader community of Loma Linda Academy where their children have attended since kindergarten and from which they will graduate this year.
In 2012, in connection with the academy's home and school association, Thomas and Hegstad launched Family Volunteer Night, an annual event that partners with local nonprofits to make a direct difference in the lives of thousands of homeless and low-income individuals, senior citizens, pediatric hospital patients, and other populations. Throughout the years, the event has funneled thousands of needed items into the surrounding community.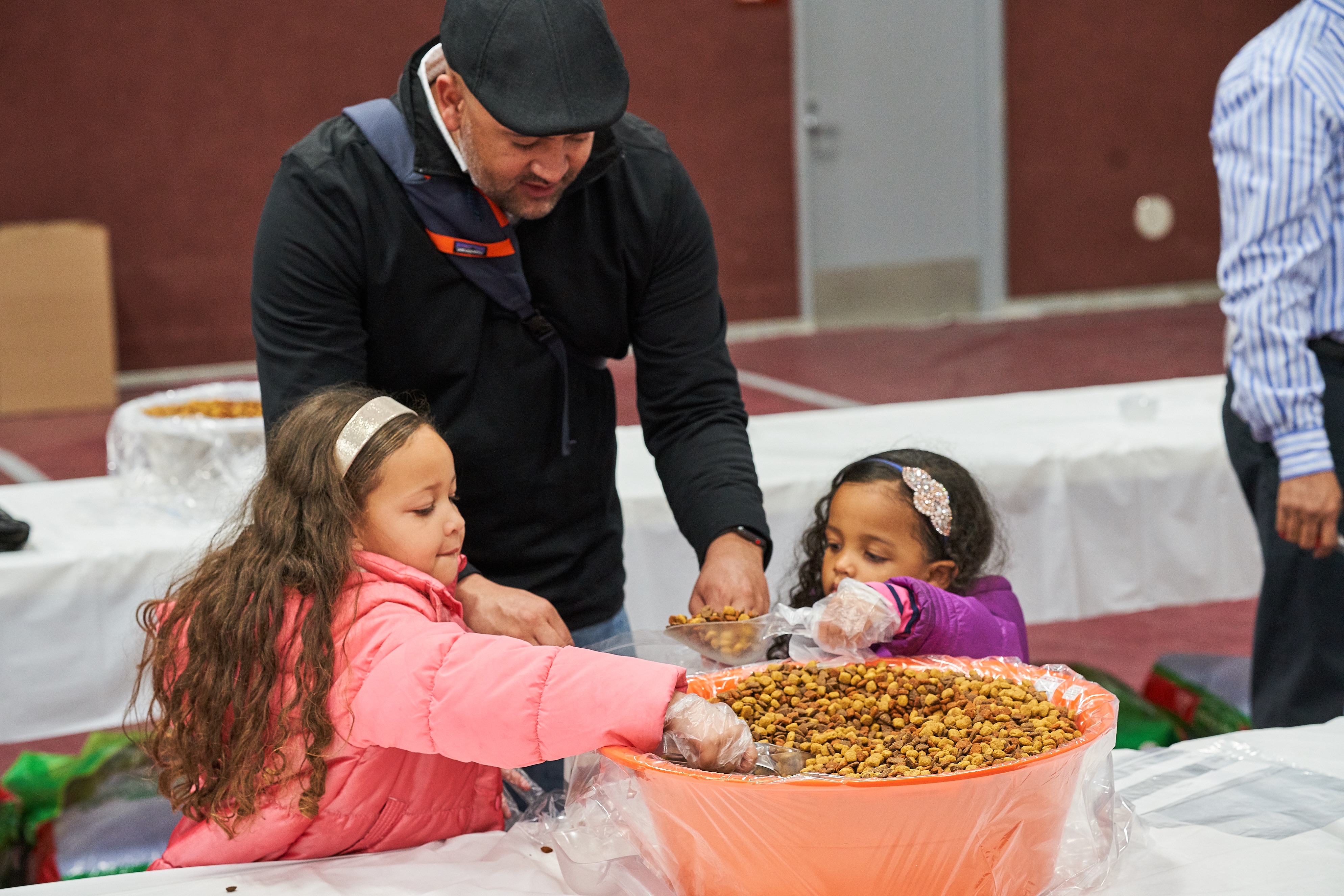 "We started Family Volunteer Night when our children were in elementary school and we discovered that young children cannot volunteer through most community service organizations due to legal and safety issues," said Hegstad. "By partnering with community agencies, we were able to come up with activities children could do that would be useful to those in need in our own community."
The eighth annual Family Volunteer Night was held March 9, and like previous outreach events was set up in the academy's high school gymnasium where several hundred people engaged in various tasks at 10 workstations formed by long tables. Using Family Volunteer Night passports as guides, participants, aided by student volunteers traveled from one activity to the next, assembling hygiene kits, packaging nutritious dry soup mixes and pet food, making dog and cat toys, and preparing fleece blankets for the homeless. They decorated door hangars for Ronald McDonald House, made cards for Loma Linda University Children's Hospital patients, and decorated delivery bags for Meals on Wheels senior food program. 
Participants also had the opportunity to become bone marrow donors with Be The Match, which manages the world's largest marrow registry, and to donate hair to the Locks for Love program that creates hair pieces for children suffering from medical hair loss. The last workstation encouraged volunteers to "Keep Serving Others" by challenging them to commit to service activities going forward.
This year's Family Volunteer Night also served as the last such event Thomas and Hegstad will organize. As their children graduate and their families move on, they are recruiting others to take the lead in what has become an annual and inspirational tradition.
"It has been gratifying to see the students get excited about service and to show them that there are many ways to serve others," Hegstad said. "We are hoping through this event service will become a habit for the students of LLA."
By the numbers, participants in Family Volunteer Night have helped provide the following to those in need: 
                  • 25,600 hygiene kits for the homeless through Helping Hands Pantry.
                  • 700 toys for San Bernardino children.
                  • 400 educational games for San Bernardino school children.
                  • 1,700 first aid kits for SACHS Clinics and Helping Hands Pantry.
                  • 2,350 soup mix bags filled for Helping Hands Pantry.
                  • 3,765 cards and delivery bags decorated for Meals on Wheels.
                  • 480 door hangars for Ronald McDonald House.
                  • 645 fleece blankets for homeless and needy families through UReach.
                  • 8,855 cat and dog toys, bandanas and blankets for the Humane Society.
                  • 10,500 cat and dog food bags packed for homeless and low-income pet owners through Paws to Feed.
                  • 1,480 paracord bracelets and 300 care packages for military members through Operation Gratitude.
                  • 150 totes decorated for the homeless.
                  • 250 laundry bags assembled, decorated and packed with supplies for JOBS program.
                  • 119 people donated their hair to Locks of Love.
In addition to coordinating with local nonprofit organizations, the duo have also raised funds and contributions of goods from local businesses each year to cover volunteer night project supplies. This year's Family Volunteer Night donors included diamond level sponsors Arrowhead Orthopaedics, Beaver Medical Group, and Digital Production Ink.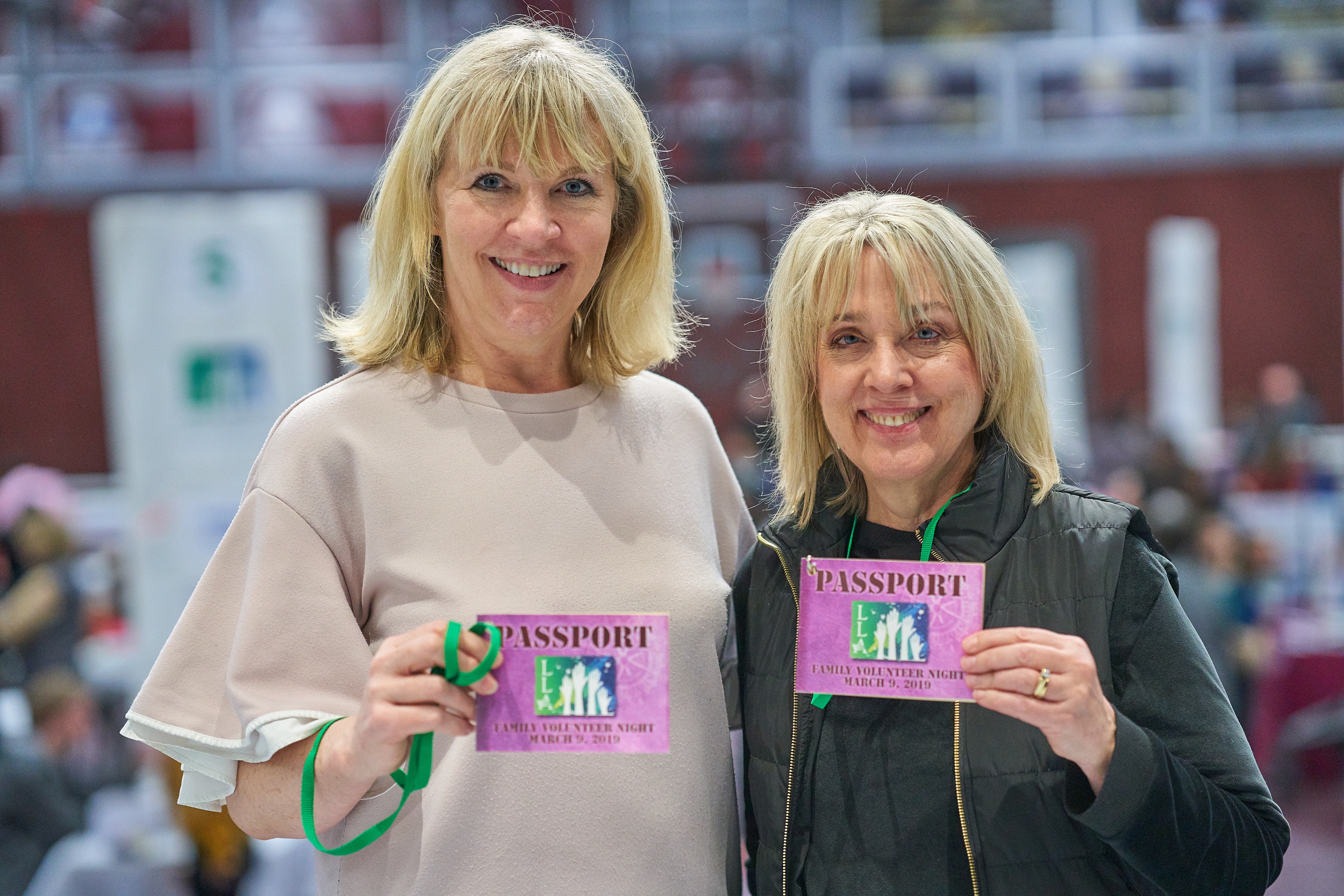 Helping Others
"I like thinking about the people we're going to affect and how it's going to change their lives,"  said Emma Miller, a former Loma Linda Academy student who now attends The Grove School, a public charter school in Redlands. She was helping at a workstation where volunteers tied the ends of fleece strands on blankets.
"It's nice that you're helping someone. It's fun," said Loma Linda Academy eighth grader Kurt Barreta. He along with his parents were writing cards with encouraging messages for patients at Loma Linda University Children's Hospital.
Keledhi Ogom brought her second grade son Samuel Ogom and daughter, Olivia, age 5, to Family Volunteer Night. "It's been fun. They love to help so it's been great," she said.
"I like that we have an opportunity to serve other people," said Léa Roddy, an eighth grader at Loma Linda Academy.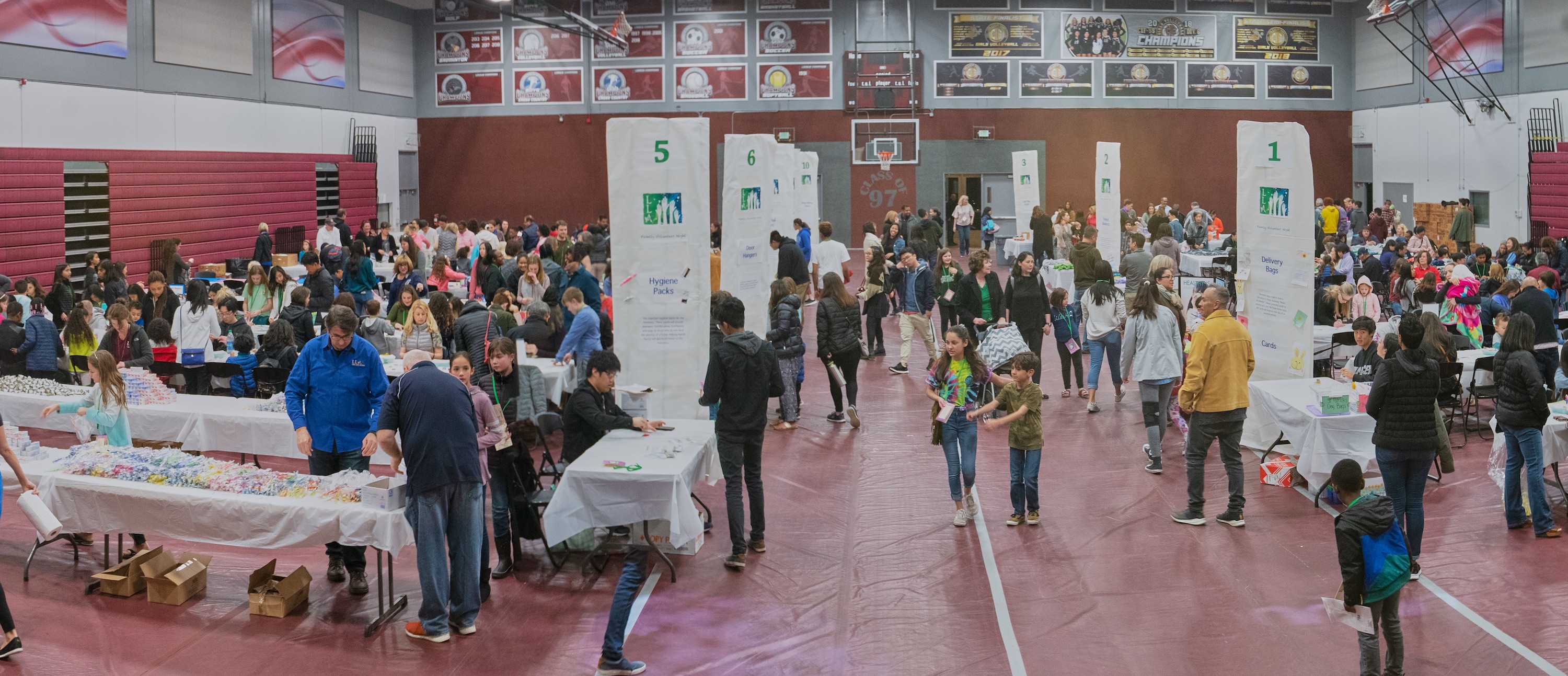 Armand Fabella of Loma Linda has two daughters who graduated from the academy and has another in sixth grade there. He arrives every year to help out with Family Volunteer Night and encourages people to register for bone marrow donation. He knows firsthand the life-saving difference a donor can make. Last year he was matched as a bone marrow donor for his sister, Ellen. The process involved multiple tests before the marrow was collected in February 2018. 
"God blessed us with healing," Fabella said. "I tell people they may be a match. It's a very small thing compared to what Jesus gave."
Beverly Lovejoy, nurse coordinator for pediatric blood and marrow transplant at Loma Linda University Children's Hospital was on hand to sign up potential bone marrow donors with Be The Match, operated by the National Marrow Donor Program. She said 12 pediatric patients at the children's hospital were currently in need of marrow donations. The volunteer night donor opportunity "isprobably the best way a member of the community can give back to patients at the hospital who are requiring a transplant," she said.
Mindy Canwell, a kindergarten teacher at the academy arrived with her aunt, Wendy Nelson, and cousins, Nikki and Andie Nelson, both juniors. "We're here to support our school. It's such a great opportunity to get involved in our community," Canwell said. "It's nice to see families working together."