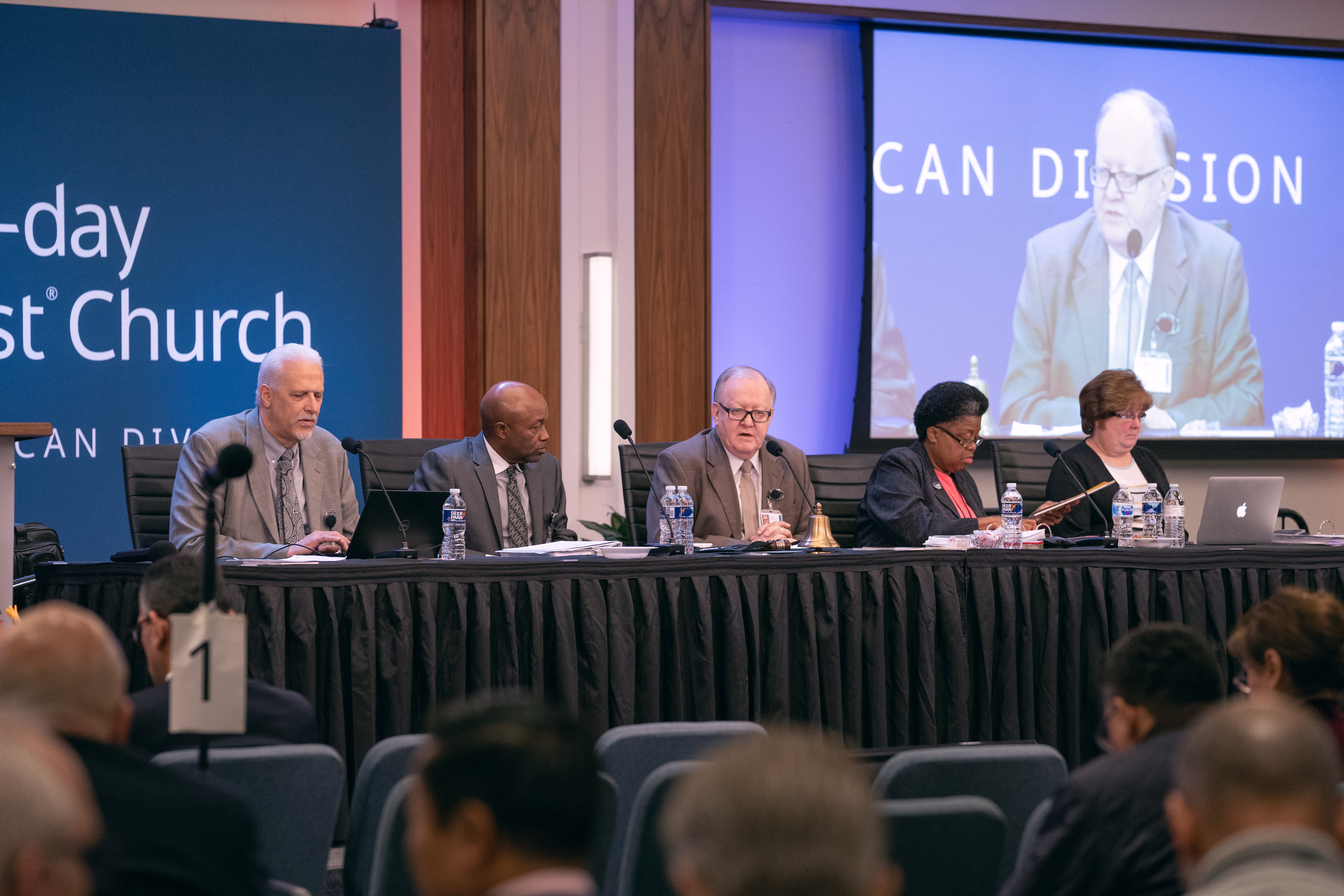 The final morning business session of the North American Division 2019 Year-end Meeting (YEM) primarily focused on pension benefits provided to employees by the represented entities of the territory, including the division and all its unions, conferences, schools, mission fields and independent ministries.
Currently, church employees who are vested into the defined contribution retirement plan also receive the "SHARP" health care assistance program. The plan gives retirees a cash benefit that has been placed in a protected health reimbursement account to assist in the selection of Medicare supplement plans. The amount given is related to years of qualified service to the Adventist Church.
"People keep coming on to the plan, and there is no funding mechanism for that plan," said Raymond Jimenez, III, plan administrator of Adventist Retirement on Nov. 6, 2019, to the NAD executive committee as he shared the state of financial stability for the retirement plan. According to Jimenez, the church has $350 million in unfunded liability for its pension plan.
Jimenez presented a recommendation that was formed after meeting with consultants and actuaries to help mitigate the need:
Employees who were hired before the year 2000 — when the church was providing a defined benefit plan — will continue to accrue service credit toward maximum benefit.
Employees hired post 2000 — when the church switched to a defined contribution plan – will not accrue service credit after January 1, 2020.
The plan will not be offered to employees hired after 2019.
There will be no joint and survivor benefits for employees who have not vested before January 2020.
Additional employers will not be admitted to the plan post 2019.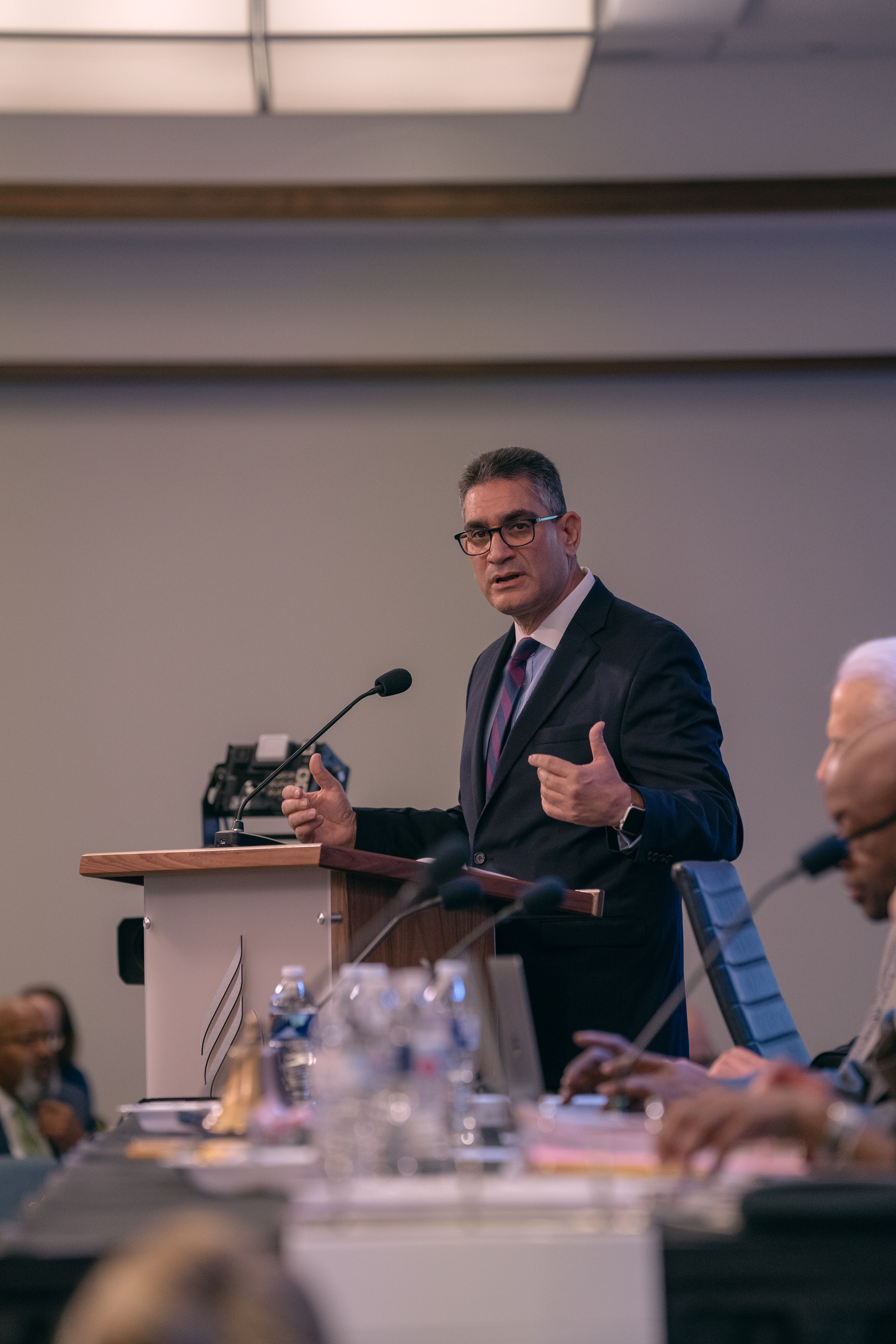 "There's a legacy that will be left with this decision that's made today. We will have to live with the legacy of that decision. Are we ready to do that," Jimenez asked the delegates. "This is not the NAD plan; this is your plan for your employees."
After more than an hour of discussion, a motion was presented to accept the recommendation, then an amendment was accepted to change the transition day from January 1 to July 1 to account for educator contracts, which are set from July 1 - June 30.
The motion with the amendment passed: 164-Yes, 29-No, 2-Abstain.
Volunteer Screenings
The day continued with numerous reports from various entities and ministries. Sterling Volunteers, the criminal background screening service and child protection training program used by Seventh-day Adventist organizations within the North American Division, reported its screening statistics for the 2019 Oshkosh International Pathfinder Camporee. Sterling Volunteers processed 7,835 applicants, 78 percent of the screenings were shared with the corresponding conferences, unions, or organizations that made the initial request. Nearly 200 international background checks were also performed by the service.
Leadership Development
Alvin Kibble, NAD vice president for Big Data + Social Media, Public Affairs and Religious Liberty, Literature Ministries, and Executive Coaching, Training, and Development, teamed up with Adam Fenner, director of the Adventist Learning Community, to deliver a report on leadership development for the Adventist Church.
Kibble announced that the Office of Big Data + Social Media and the Office of Strategic Planning, Assessment, and Research partnered to develop core competencies that can be used to evaluate candidates for church leadership roles and develop a leadership profile for senior executives and executive teams at the conference, union, and division levels of the church.
After hours of research and learning, and incorporating the Korn Ferry validated leadership model that has been used by 20 million people in 25,000 companies across 110 countries, the NAD developed five core competencies and formed leadership roundtable groups that discussed the intricacies of the competencies in separate video segments available through Adventist Learning Community. The five core competencies are thought, results, people, self, and spiritual leadership.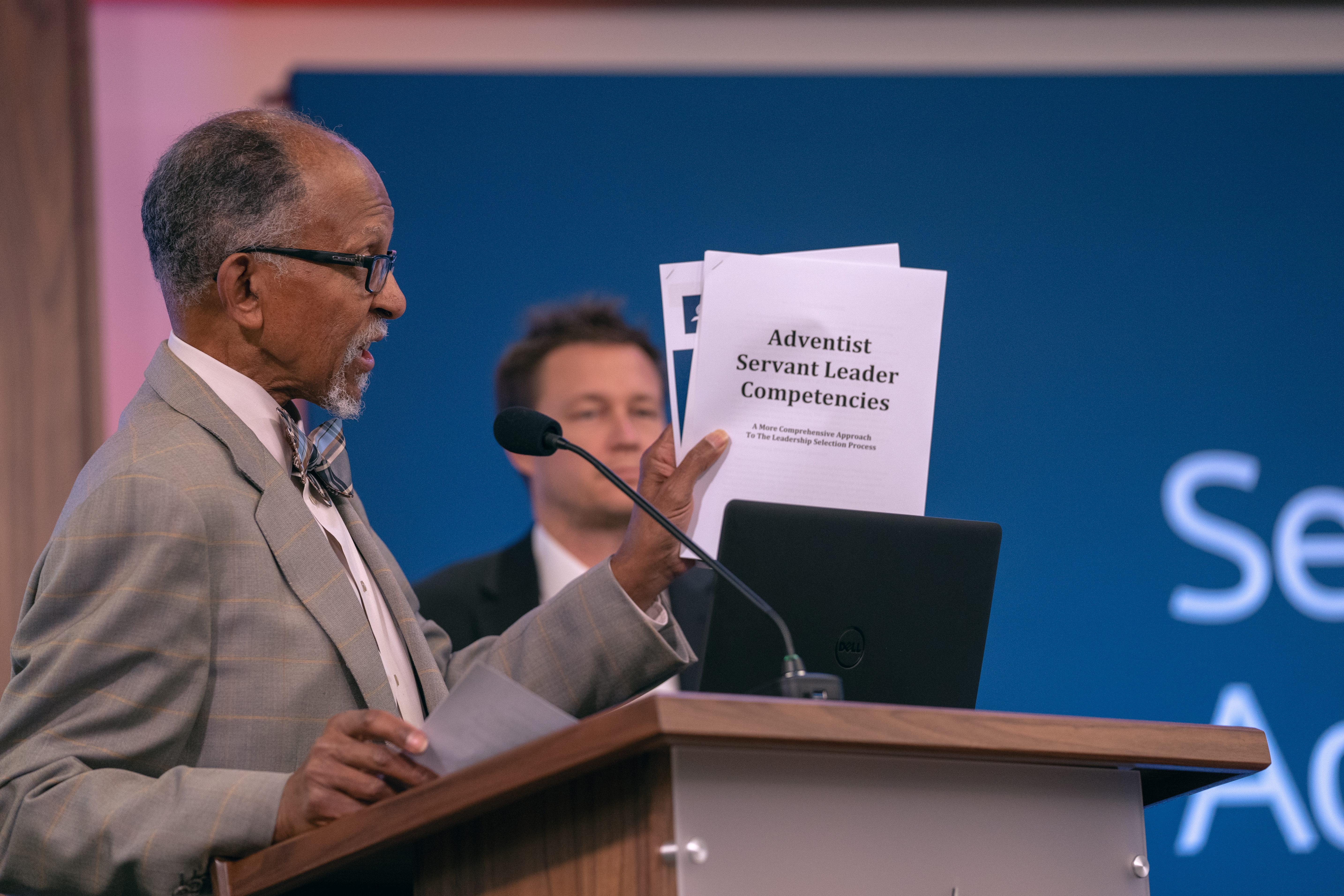 From the General Conference
John Thomas, associate secretary from the General Conference (GC), kicked off the afternoon session by reading two statements from the GC that will be presented during General Conference in Session in 2020 —  the "Statement of Confidence in the Writings of Ellen G. White," and the "Statement on the Biblical View of Unborn Life." While the latter statement makes implications about abortion, it is not a medical statement on abortion, rather a biblical understanding of the sanctity of life. A medical statement on the act of terminating pregnancies is still in the drafting-stage.
Following Thomas, Ella Simmons, a general vice president of the GC, and board member of the Adventist Development and Relief Agency (ADRA), presented a global campaign from ADRA called, "Every Child. Everywhere. In School." According to ADRA, 262 million children worldwide are not in school. Refugee children are five times more likes to be out of school than non-refugee children, and 22 million primary-aged children have never been to school. To help address this, the agency is aiming to collect 1 million signatures to petition world leaders to take action by providing quality education to children everywhere.
"ADRA wants to partner with Adventist Education in North America to allow NAD teachers to work with teachers around the world for this campaign," said Simmons.
Later in the session, Simmons briefly presented an update on the church's Nurture and Retention efforts and the Encyclopedia of Seventh-day Adventists, which is being curated by the GC Office of Archives, Statistics, and Research. She announced that the online version of the encyclopedia will be previewed during 2020 GC Session.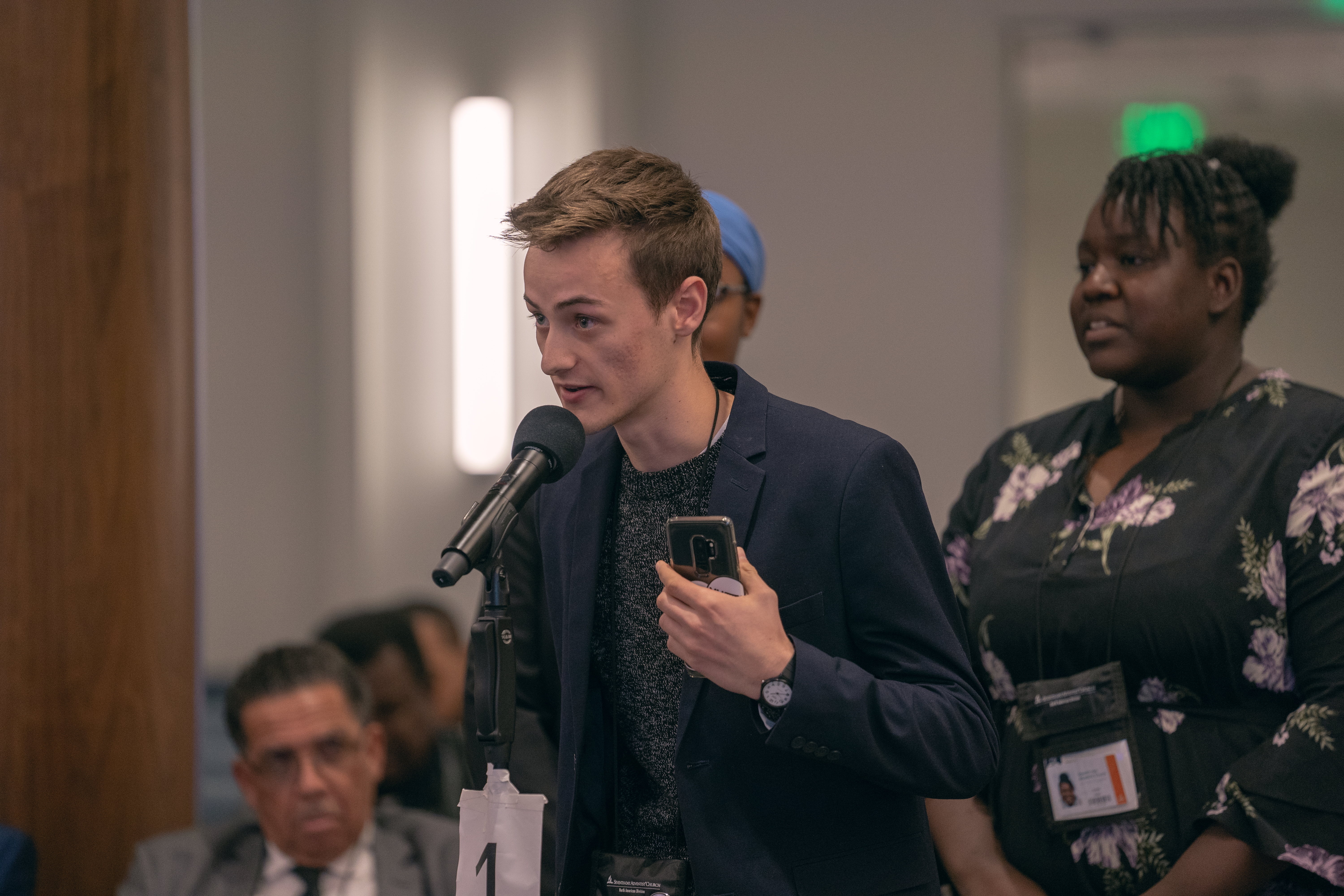 Young Adult Representation
During the afternoon session, student representatives of the Adventist Intercollegiate Association presented a motion to recommend that unions and conferences have at least two young adults on their executive committees. The students hope that if unions and conference accept the recommendation, they would also outline the requirement in their bylaws. The motion was carried.
Women in Pastoral Ministry
One of the major initiatives of the division's current quinquennium is to employ more women into pastoral roles. Carolyn Forrest, associate secretary; and director of Human Relations, Interdivision/International Service Employee Resources, and Archives and Statistics; acknowledged the progress that has been made over the past four years. In 2010 there were 102 women ministers employed by the Adventist Church. Today, there are 178.
"Thank you for placing women in pastoral ministries and leadership roles. The number is almost doubled, but we've got more work to do," said Forrest.
Paul Anderson, director/endorser of Adventist Chaplaincy Ministries added that since chaplains are pastors wherever they serve, whether it's in the military or a hospital, the 115 female chaplains that are endorsed by the division should also be counted toward the total number of women in ministry.
Brenda Billingy, associate director of the NAD Ministerial Association, announced that the women pastors' luncheon that will take place at the CALLED Pastors' Family Convention in June 2020 will be named in the honor of Daniel R. Jackson, president of the North American Division, as a way to acknowledge his support of women in ministry.
Revisiting the 2014 Dulles Report
In between agenda items, Keith Bowman, an NAD executive committee member from the Adventist Learning Committee, referenced a historic meeting that took place in May 2014 near Dulles Airport outside Washington, D.C., that focused on the church's structure, organization, and mission as it relates to church finances, governance, and education.
Bowman made a motion for the committee to revisit the information presented at the 2014 Dulles meeting during the 2020 Year-end Meeting. The delegates voted to have the report placed on next year's agenda.
Department Reports
Year overview reports were delivered from Public Affairs and Religious Liberty, Message Magazine, Social Media + Big Data, and Stewardship Ministries. With the November 1 election of Bonita Shields to serve the NAD as vice president of Ministries, Shields delivered her final report as director of NAD Stewardship.
"It has been a joy. I pray my presence has benefitted the department the way my time in the department has benefitted me," said Shields.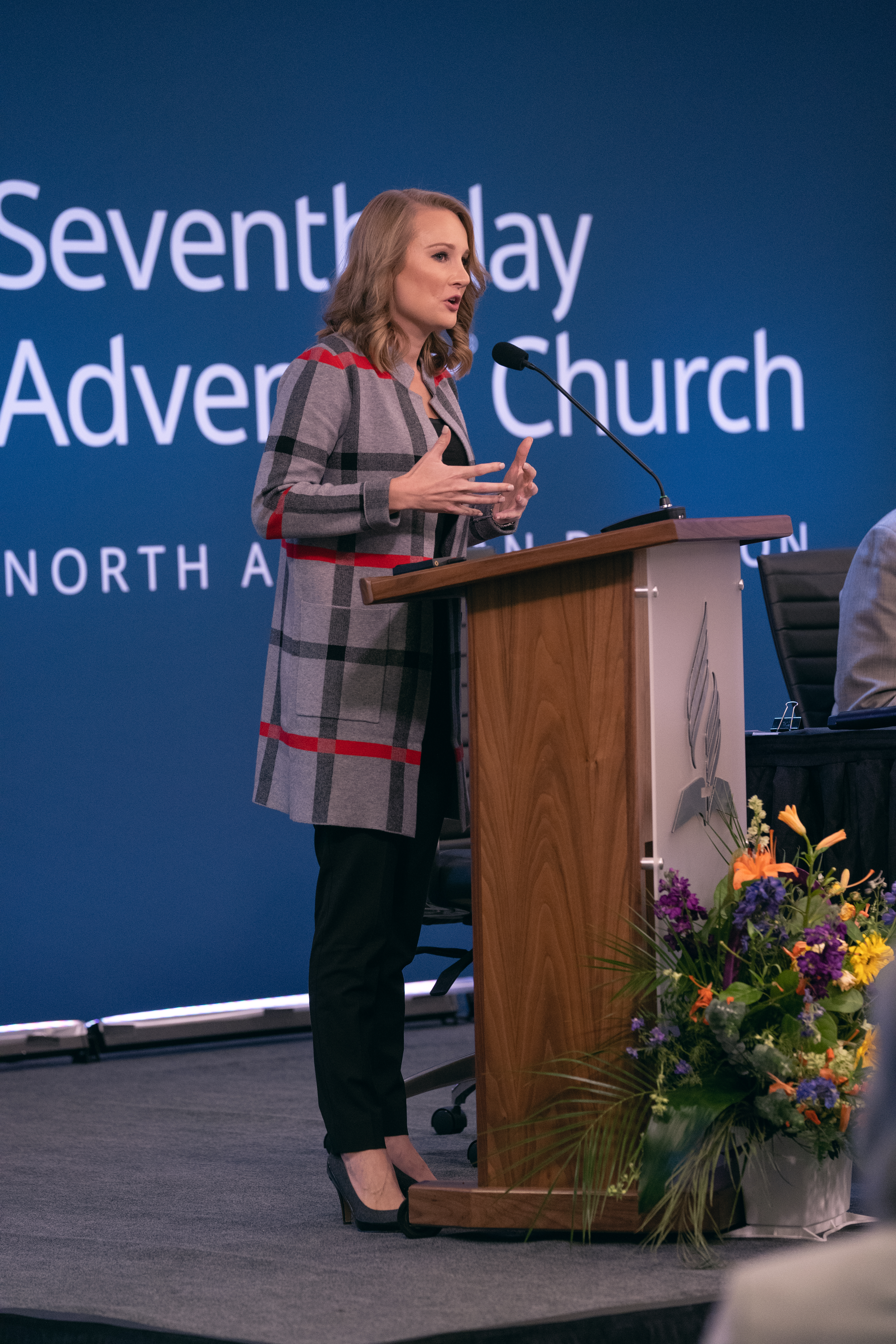 Women's Ministries introduced its film "Church, Too," which shares stories of women who have survived various forms of abuse that took place within the Adventist Church. Erica Jones, assistant director of Women's Ministries,  also discussed this year's "enditnow" NAD Summit on Abuse, which took place at the Seventh-day Adventist Theological Seminary at Andrews University. This year's focus was on helping current and future pastors recognize and stop abuse. In response to Jones' report, Ivan Williams, director of the NAD Ministerial Association, petitioned delegates to place next year's summit on their pastors' calendars.
Health Ministries announced its "Adventist HealthyYOU" initiative that will launch next year. The program aims to use the Adventist health message to create content for the growing demographic of health-conscious Millennials.
Delegates also reviewed and voted on routine agenda items – financial items included church resource development, building funds for Hispanic congregations, and allocations for Oakwood University; consent items included setting offering days and authorized meetings; and policy items included internship plans, and retention and safeguarding of records.
Final Items
In his final remarks of the 2019 YEM, G. Alexander Bryant, NAD executive secretary, presented a motion to recommend that unions allocate space in their delegate pool for GC Session that will allow conference presidents within their territories to serve as delegates. This was recommended in response to a recent action taken at the General Conference Annual Council that took away automatic delegate privileges from conference presidents.
Lastly, he encouraged delegates to review the electronic files of amendments to the church manual and GC bylaws, which can only be changed during GC Session.