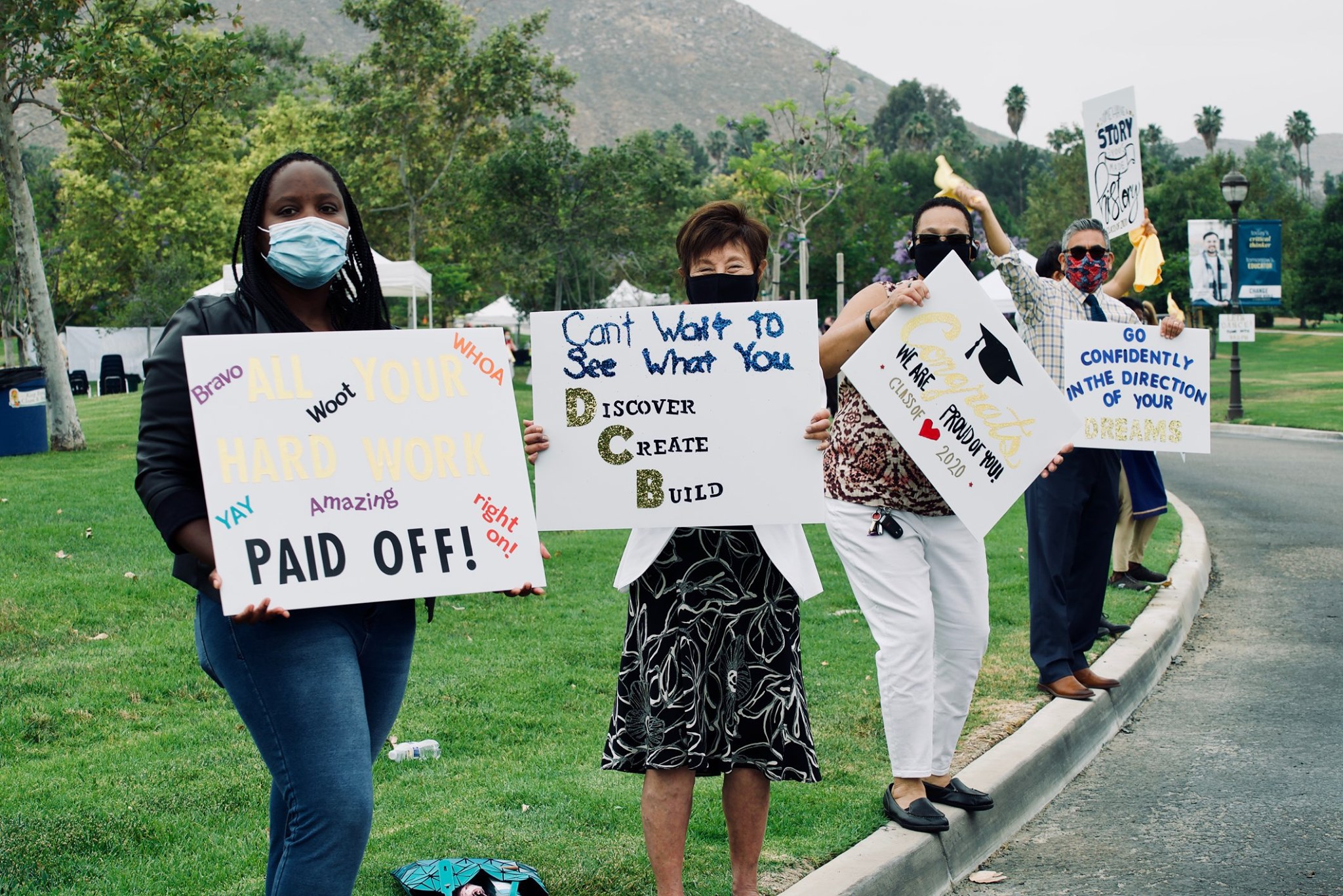 After 14 weeks of online classes, isolation, and cancellation of their traditional commencement weekend due to COVID-19, La Sierra University's graduates were eager for a way to safely gather and celebrate before the rescheduled ceremony, which will take place on Sept. 13, a week before the start of fall classes.
On June 21, they had just such an opportunity with the "Drive-Through Celebration" organized by the university to take place on the day the seniors would have graduated during a formal commencement service.
For more than two hours beginning at 8:30 a.m., nearly 200 grads with their families and friends paraded in their vehicles on a guided route throughout the school's campus. They had the opportunity to pause for a portrait photograph in front of the university's central fountain with surrounding congratulations banners before exiting the campus. Faculty, staff and students, all with face masks in place, lined the roadside and grassy median, waved congratulatory signs, and cheered them on.
The parade began at the front entrance kiosk where university president Joy Fehr, assisted by interim provost Cindy Parkhurst, provided each graduate with a bag holding a mortarboard and tassel, which they could don for their photo. Other gifts at kiosks scattered along the route included a face mask with a La Sierra logo, a sticker of university mascot "Eko," an alumni license plate holder, and a 2019-2020 yearbook.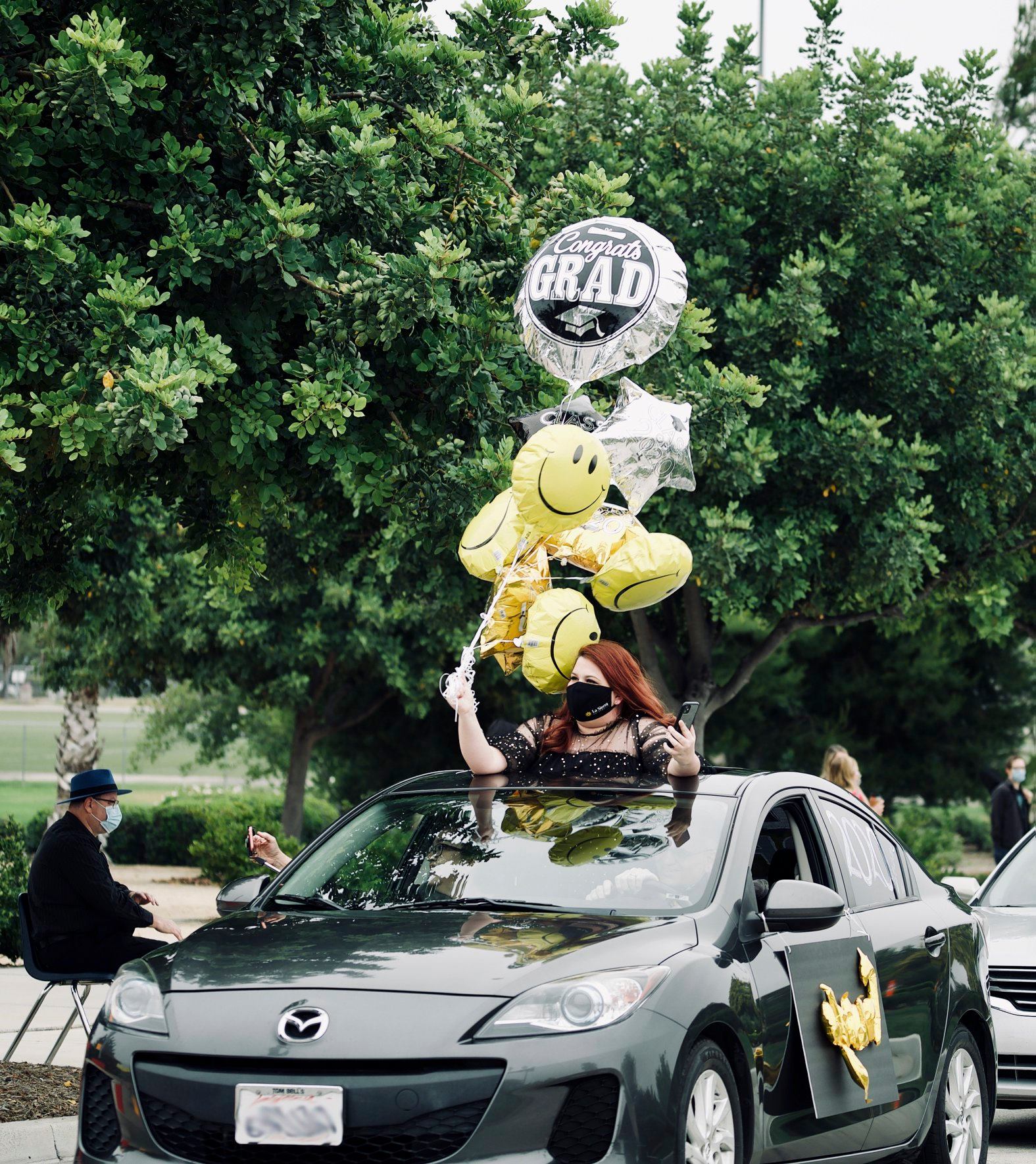 The Graduates
Many graduatess decorated their cars with bright lettering, balloons, signs, and other graduation trimmings, and brought along family members or friends to join in the fun.
"I think with everything that's been going on, this is the best way I can imagine celebrating with the people who helped me get here, from friends to family to people I've met at the school," said Kyrsti Photias, a psychology major and exercise science minor from La Quinta, California. "It's so cool seeing other graduates celebrate with the people who matter to them too. It's so different from sitting in a stadium or underneath tarps … but it's no less special at all."
Vinh Nguyen, pastor of the El Monte Vietnamese Seventh-day Adventist Church and also the father of graduate Timothy Nguyen, drove his family through the parade route as his son waved from the front passenger seat. "I am so proud my son graduated from here. I'm excited to see it," said Nguyen. "It's an awesome experience," added Timothy, a biomedical sciences major aiming for a career in nursing. "I'm glad they did this. I'm glad for the school's support."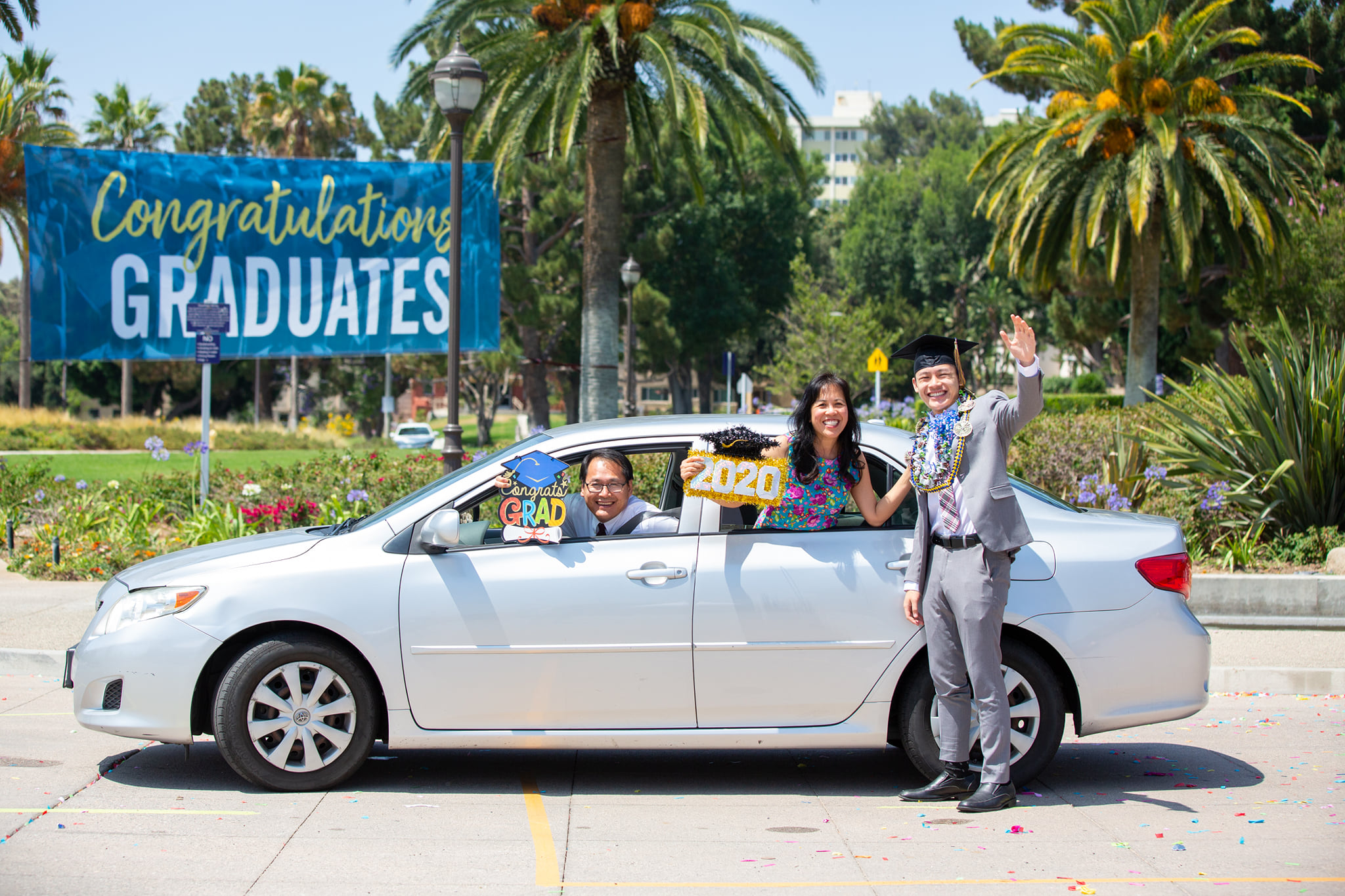 Many graduates described the Drive Through Celebration as an "amazing" experience and a meaningful event as they move on to other chapters in their lives.
"The drive-through graduation was so much fun. It was a blast seeing my professors and the athletic department cheering me on," said sociology graduate Kiana Krumm. Last month, the California Pacific Conference, of which La Sierra's Golden Eagles volleyball teams are members, voted Krumm as the recipient of the Dr. Jim Davies Award as the 2019-2020 "Female Scholar Athlete of the Year." Going forward, she plans to play volleyball abroad while contemplating master's programs.
"I drove through with my parents and my best friend since I was five years old. She was the DJ and blew bubbles while we danced together in the back. The overall experience was so exciting, and I am so happy to have been a part of it," said Krumm.
Celebration and Pride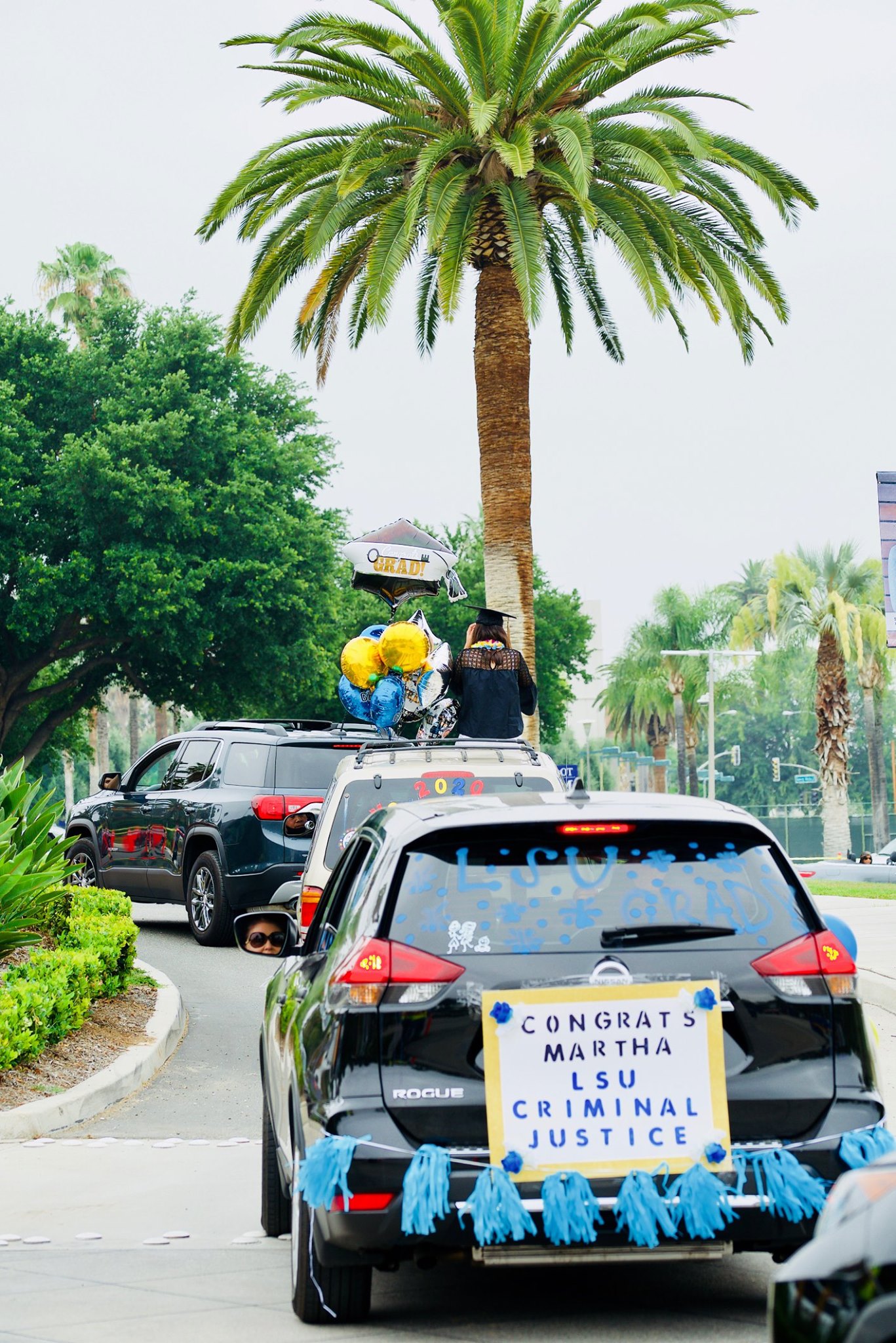 For La Sierra faculty and staff, the morning's event created an opportunity for them to feel a special sense of pride, connection, and community.
"We've overcome all these obstacles and we're living in this [unique] moment in time. This helped bring out the spirit of celebration," said Ken Crane, associate professor and chair of the history, politics and sociology department.
"Seeing them in person, even though I was wearing a mask and they were in vehicles, reminded me of why we do what we do at La Sierra," said Fehr. "[We] provide the foundation upon which our graduates can positively change their and our worlds. The excitement on their faces and the pride in their families' faces made all the challenges of these past three-and-a-half months responding to COVID-19 worth it. I am so proud of each graduate. Each one is truly extraordinary."
--
About La Sierra University
La Sierra University, a Christian Seventh-day Adventist institution nationally acclaimed for its diverse campus and its service to others, offers a transformational experience that lasts a lifetime. "To Seek, To Know, and To Serve" is the key to the mission that drives La Sierra University, with all areas of campus encouraging students to develop a deeper relationship with God.
The Seventh-day Adventist denomination established La Sierra University in 1922 on acreage formerly part of the Rancho La Sierra Mexican land grant. Today the 150-acre campus provides more than 120 bachelors, masters and doctoral degrees for 2,200 students. Programs are offered in the Tom and Vi Zapara School of Business, the School of Education, the H.M.S. Richards Divinity School, the College of Arts and Sciences and in the Evening Adult Degree Program.