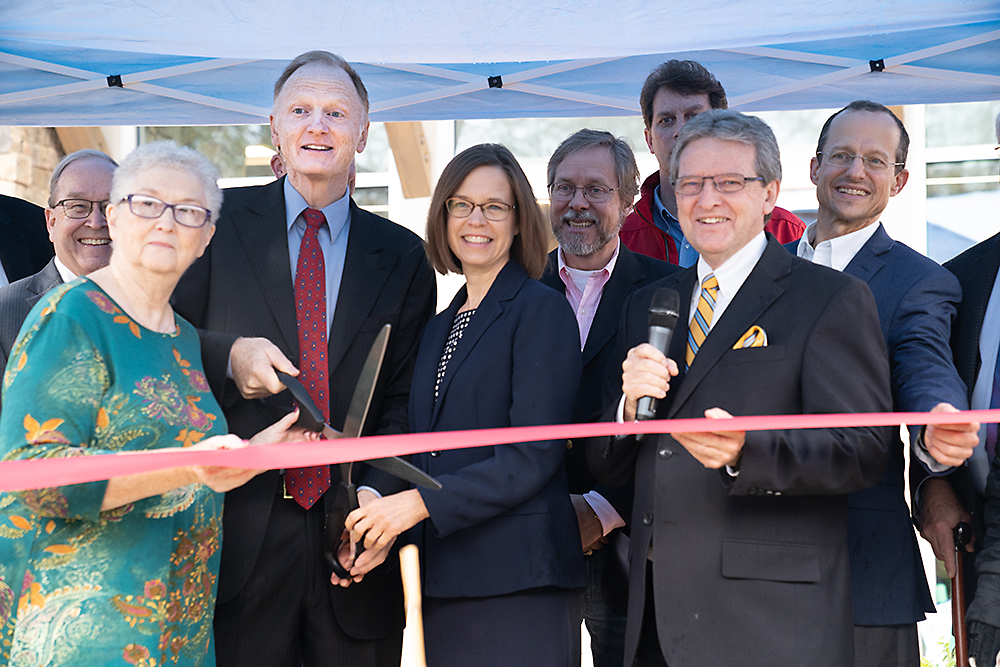 On Friday, Nov. 22, 2019, more than 500 community members, pastors, church officials, and workers gathered for the grand opening of the new It Is Written headquarters in Collegedale, Tennessee. The event was live-streamed on It Is Written's Facebook page and featured a dedication, a ribbon cutting, ministry tours, giveaways, and refreshments.
Although the day was rainy, those in attendance pressed together under tents and umbrellas to hear more about the media ministry that has been around since 1956.
After a series of formal addresses from North American Division president Daniel R. Jackson, Collegedale mayor Katie Lamb, and It Is Written speaker/director John Bradshaw, the audience was invited to take a self-guided tour around the facilities. The various stops throughout the building highlighted new studio space, offices, and meeting rooms, all tailored to provide efficiency to the growing team.
The ministry employs approximately 40 people, from graphic designers, pastors, IT specialists, and more, who work together to produce a variety of television programming and print publications that are distributed worldwide.
"This building, this ministry, is a testimony to God's goodness," Jackson said. "We thank God today for John Bradshaw and his team—for the outstanding ministry, for the blessing of people all around the world and throughout North America. As we open this new home we give honor to God."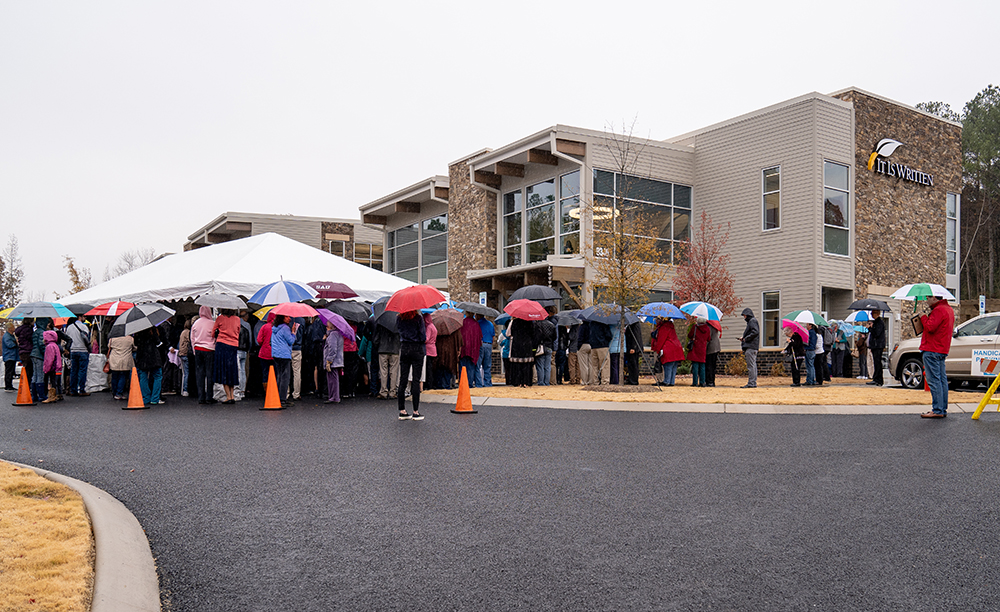 Local Context
During her address at the grand opening, Lamb welcomed the organization to the city of Collegedale and expressed her wishes that those who relocated to the area get to enjoy the amenities provided by the surrounding nature and community.
"Collegedale takes pride in providing an environment for family-friendly organizations. As we work together to this end during this Thanksgiving season, let's give thanks for the religious freedoms that we enjoy," she said. "Welcome and may God bless this organization."
Many community members in attendance came from the surrounding Collegedale area, but some had traveled from farther away, such as Lidia Seda who came from Guntersville, Alabama, to be present for the unveiling.
"We heard about this through a friend, and felt that we should go and support Adventist ministry, so we came," Seda said. "I like the fact that they have enough space not only to do what they need to do, but to grow. That was wise."
Bradshaw said that the support and prayers of those who came to witness the event mean the world to him and his team. "Having people here meant the world to us," he said. "[There were] pastors and physicians and dentists and our neighbors, church administrators, laypeople, people who in some cases drove hours and hours [to attend] because they wanted to be a part of this. It's just very exciting and encouraging in terms of ministry."
The new headquarters, with its 41,000-square-foot building, is only a few miles from the campus of Southern Adventist University (SAU). Many of those employed by It Is Written are either current students or alumni of the institution, making the location ideal not only for the ministry but also for the school.
"Because It Is Written is here, a number of our students and even more of our graduates are now working in this building," said David Smith, SAU president. "They are engaged with the church, they are using their creative skills, and It Is Written is blessed. But so are we, and I'm glad this is being recognized."
It Is Written also sponsors the Soulwinning and Leadership Training, better known as SALT, initiative on the university campus. Students are provided with the resources and skills to become more confident and engaged in personal evangelism.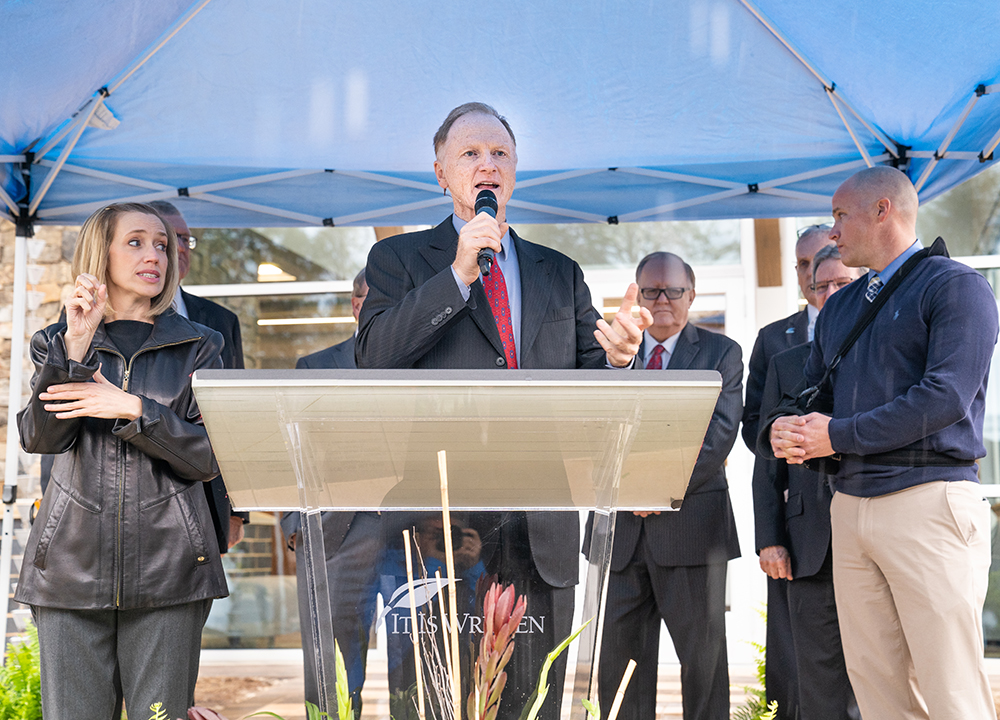 Furthering His Kingdom
Bradshaw believes that all the efforts put forward by It Is Written, whether through training programs such as SALT, television shows, and just day-to-day interactions are working together to further God's kingdom.
"We know the value of this because we meet the people. The people who say 'I was searching, I turned on the TV, there was It Is Written, and I said, "This is something." I kept watching, and I called, and I was baptized. Now I'm in the church today.' We hear those stories again and again," Bradshaw said. "God established this ministry 63 years ago to grow His kingdom, and He's been using this ministry ever since to do just that."
For photos of the new headquarters, visit http://itiswritten.build. Click here to watch the dedication (program participants gather around 12:00 in the video).
— Tierra Hayes is a student at Southern Adventist University and managing editor of the university's Southern Accent.