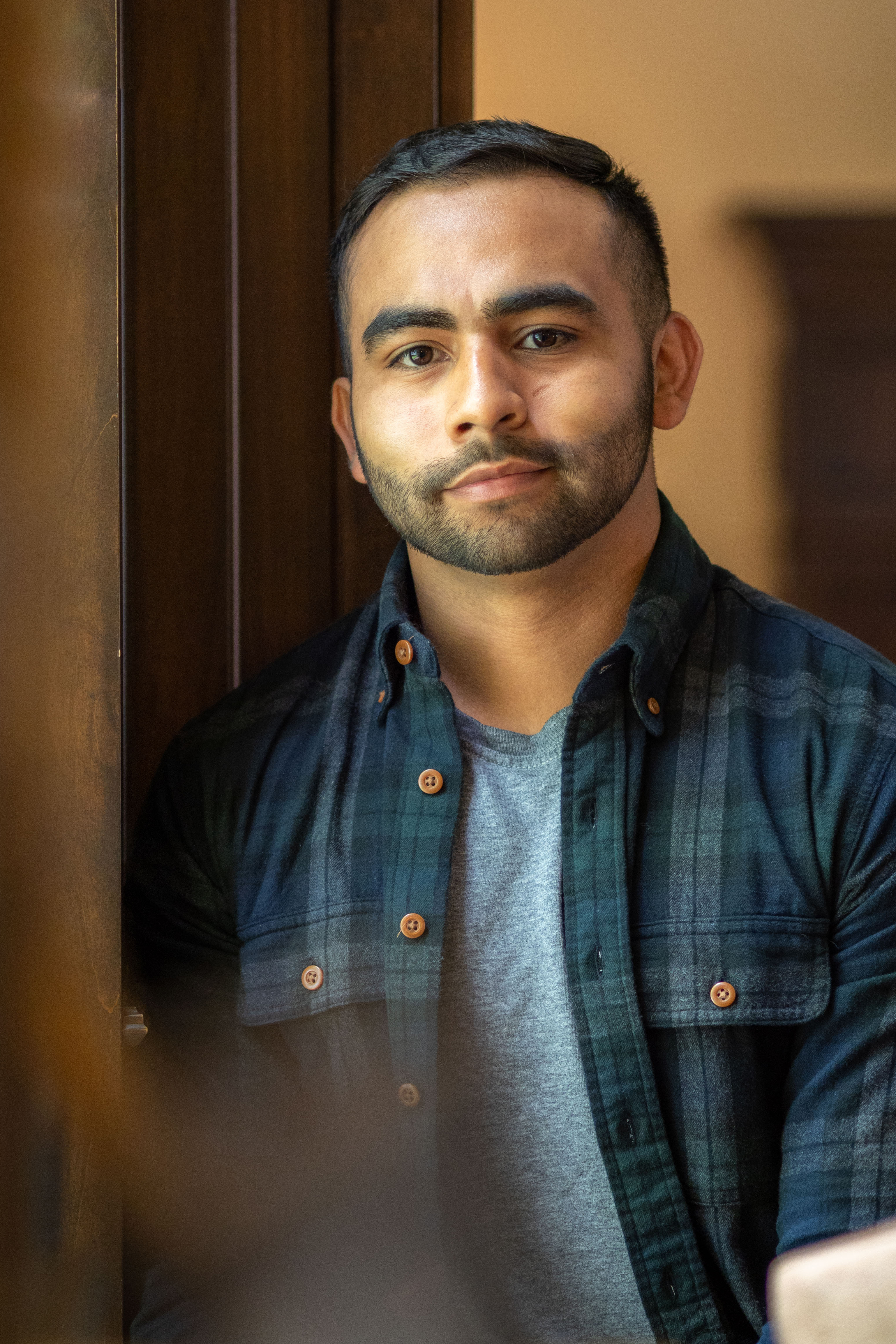 Every Monday during his senior year at Walla Walla University in College Place, Washington, Joel "Joey" Barajas helped kick off the school week by leading Hispanic Ministries Night on campus. The services are in English, and hymns are sung in Spanish. Despite the name, students of various races and ethnicities attend the program.
"It puts in perspective what heaven is going to look like," said Barajas, who finished his studies at Walla Walla as a theology major, which was not his intent when he transferred to the university.
"I came to Walla Walla as a business major, wanting to start my own business and all that stuff. But God had other plans," said Barajas.
Prior to his enrollment at Walla Walla, Barajas attended a community college in Seattle to be near his older brother, who was studying at the University of Washington. Barajas and his family are from Mattawa, a town in the center of Washington with a population of approximately 4,600 people. When his brother went off to school, he invited Joey to visit.
"I loved the city. I loved the city life. Coming from a small town, it was different," said Barajas.
Once there, instead of picking up books for studies, he picked up an addictive hobby.
"I got into that lifestyle of partying and all that. Gambling was a big part of my life as well. I would pass three casinos on my way to school on the bus," said Barajas. "So it was easy for me to ditch school and go to the casinos and gamble all night and day."
"I eventually flunked out of my first quarter while in Seattle. My parents didn't find out until I shared my testimony three years after the fact. They kept asking when I was going to graduate," said Barajas. "I kept saying, 'One more year. I need to take a few more classes.'"
"They believed me. But it took a while for me to return to school."
A Redirect
Barajas completed an associate degree in business when he was 21. Around that same time he decided to be more intentional about his relationship with God.
"My roommates had parties every other weekend. It was difficult to really have that connection with Christ when there was loud music and people everywhere," said Barajas. "So I prayed, 'God, I believe You don't want me to be here anymore.'"
God's response was sudden and direct.
"Out of nowhere Walla Walla University sent me an invitation to visit the school. I'd never even visited its website. I had attended camp meeting on its campus once or twice, but I'd never visited the school," said Barajas.
Barajas visited Walla Walla University during a University Day, which is designed for prospective students to tour the school, attend classes, and meet other students.
"I fell in love with the campus. I didn't grow up going to Adventist schools. I went to public school. Finding a community full of believers like me who were striving to have a relationship with God really impacted me, and showed me what I was missing my whole life."
University Day also gave Barajas the opportunity to encounter the university's spiritual life.
"I fell in love with the vespers service. I cried," said Barajas. "I felt God telling me, 'This is where I want you to be.' As soon as I got back to Seattle, I filled out an application, and the rest is history."
Once he officially transferred, he not only had to get oriented to the school, but also found himself needing an orientation to the Adventist culture.
"Coming to this school was an entirely different world for me, because everyone here is pretty much Adventist. They all had their lingo of haystacks. I didn't call them haystacks, I called them nachos."
Transformation Through Connection
Barajas did not have many friends at first. One person befriended him from their time working out and playing sports together. One day as he was running late for vespers, he saw this friend standing outside the facility where the program was held.
"His body language said a lot. Since I played poker, I knew how to read people's body language and facial expressions. I knew something was up," said Barajas. "I asked why he wasn't going into vespers. He plainly said, 'I'm having trouble believing in God right now.' I had taken no theology classes, but for the next three hours we talked about his view of God."
"At the end of that conversation he said, 'You need to be a youth pastor.' I was in a couple Bible classes at the time, and I was considering becoming a pastor. So that really impacted me," said Barajas.
"I truly believe that God has gifted me in connecting with people and creating a space for them to put their guards down. It's easy for me to open up to people, and that allows them to then open up," said Barajas. "Just being able to share a word of happiness or wisdom creates an opportunity for the Word of God to bring transformation into someone's life."
All In for Christ
Barajas graduated on June 17, 2018, with a bachelor's degree in theology and a minor in business administration. Upper Columbia Conference extended a pastoral call to him, and he was placed at the Pasco Riverview Seventh-day Adventist Church. "I started in August 2018," said Barajas. "But before I began pastoring, God opened a door for mission work right after graduation with ADRA Connections to the Amazon in Brazil for two weeks. That had a huge impact on my life."
Barajas has loved almost every minute of his two-year internship at the Pasco Riverview church as their associate pastor. "Pastoring is emotionally demanding, but seeing lives being transformed for Christ is definitely worth it!" he said.
Barajas has worked primarily with the church's youth and at Tri-City Adventist School, leading Bible studies, chapels, and a week of worship. On Friday nights Barajas has coordinated a worship and Bible study "hangout." Barajas also served as a camp pastor at Camp MiVoden.
"This has been a high point during my internship. I grew up going to Camp MiVoden, and to go back as a camp pastor was amazing! I felt like a camper, but with a beard," he laughed. "Seeing God at work there is something I will never forget. I love all 'my kids' with all my heart, and throughout this internship they have been a reminder of my calling."
This fall, he plans to attend Andrews University to pursue an MDiv.
Barajas admits that his relationship with Christ has been a roller coaster ride. But it's a ride he never wants to get off.
He recalls his gambling days. "When you're playing poker, there comes a point where you have to risk it all and go all in. You either win it all or lose it all. It's a stressful moment because it's all based on luck.
"I have won big, but I've also had devastating losses. Regret seeps in, and all decisions are questioned," he added. "When I went all in for Christ, there has been no regret, no greater prize."
— Kimberly Luste Maran is an associate director of communication for the North American Division and editor of Adventist Journey; Mylon Medley is an assistant director of communication for the NAD.