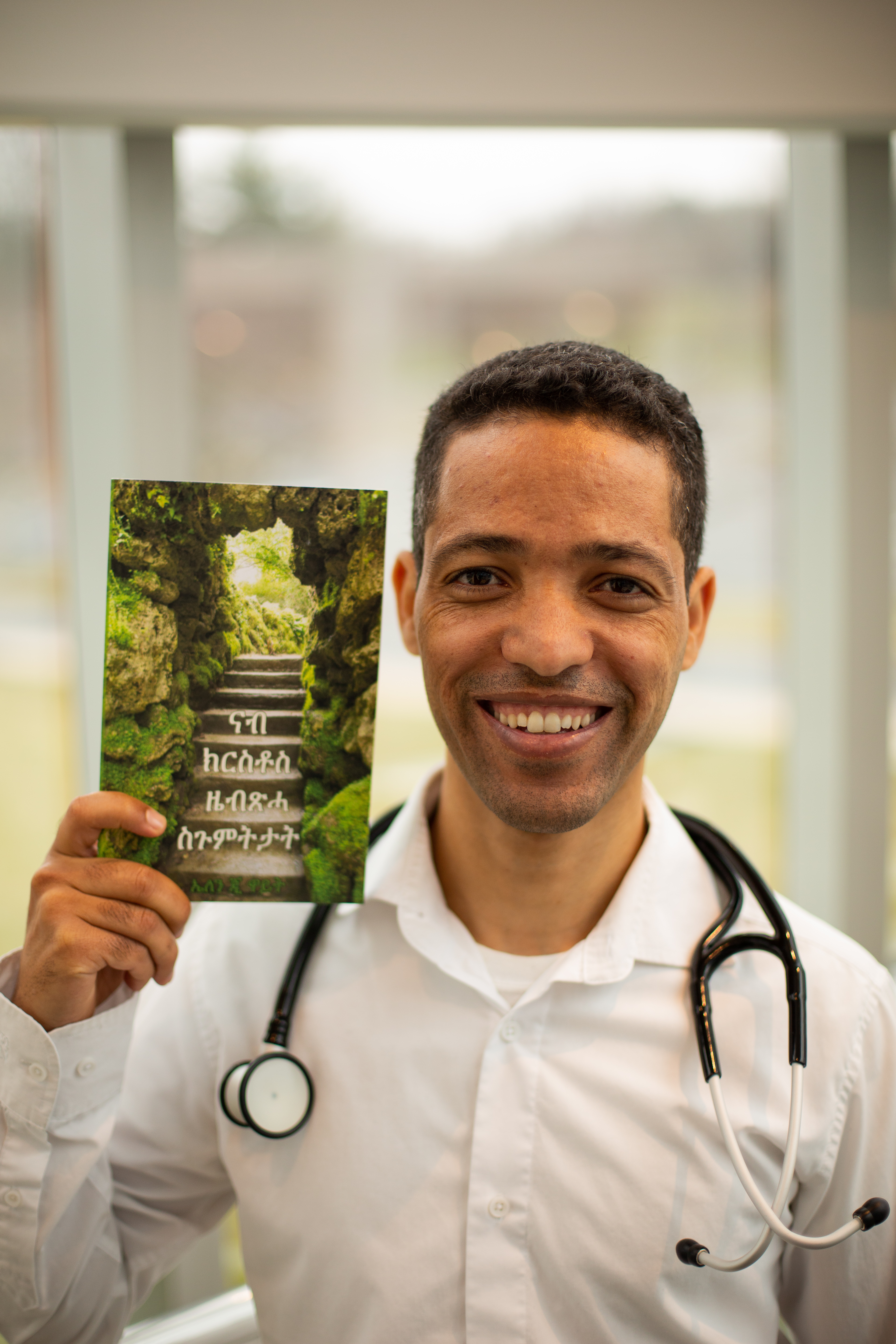 He approached the lake in the middle of the night, one of nearly 20 people. The unfamiliar path toward freedom was on the opposite side of a lake, in a country he had never visited—Sudan.
Each person paid smugglers for a seat on a boat that would travel to the other side of the lake. Bemnet Meried squeezed into a space alongside fellow passengers who all happened to be from his homeland. Every passenger needed to keep careful balance while seated to help prevent capsizing.
As the boat began to leave the shore, Meried recalled a passage from Isaiah 43:2: "When thou passest through the waters, I will be with thee" (KJV).
Some of the others prepared for the possibility of the boat flipping over, clutching personal floatation devices.
"I had only my small Bible," said Meried, who was 25 years old at the time. "I prayed the whole half hour it took to cross. I said, 'God, You promised You would be with me.'"
Meried had secured an interview to apply for a diversity visa for the United States. He was fleeing from a refugee camp to get to Khartoum, Sudan's capital. Once there, he would visit the embassy of his home country, Eritrea, which is where this story begins.
Eyes on Eritrea
Eritrea is on nearly every watch list of countries compiled by human rights organizations and governments that monitor civil and religious liberties. It is among the U.S. State Department's1 list of top 10 countries with the most severe religious freedom violations. The United States Commission on International Religious Freedom (USCIRF)2 lists Eritrea as a "Country of Particular Concern," along with China, Iran, Saudi Arabia, Pakistan, and North Korea.
By 2017, 486,000 Eritreans had been displaced, making them the ninth-largest refugee population in the world, according to the United Nations High Commissioner for Refugees (UNHCR).3
Religious freedom violations were not the only factors driving his decision to leave Eritrea; Meried also wanted to become a medical missionary.
"I was studying the small Bible my dad gave me when I was 7 years old and learning about Jesus," explained Meried. "The more I read about Jesus and how He helped other people, the more I wanted to be like Him. I was 11 [and] I thought that being a doctor would be a good way to become like Jesus. At the time I did not know about medical missionary work or any of these things. I just desired to honor God."
The State of Religious Liberty
Meried's journey to becoming a doctor was peppered with experiences that directly aligned with systematic enforcements of religious and civil liberty infringements in Eritrea.
According to USCIRF, the Eritrean government recognizes only four religious communities—the Coptic Orthodox Church of Eritrea, Sunni Islam, the Roman Catholic Church, and the Evangelical Church of Eritrea, which is affiliated with the Lutheran denomination. All other religious groups are considered "illegal." As a result, the government has closed houses of worship—including every Seventh-day Adventist church in the nation—and raided home gatherings, arrested worshippers, and imprisoned or killed faith leaders without trial.
"Even though we could not go to church, I would watch sermons on the Hope Channel and 3ABN [Three Angels Broadcasting Network], and it helped me a lot. I praised God for it," said Meried, who was then approximately 17 years old.
After Adventist churches were closed, he would secretly visit homes of fellow Adventists to lead out in Bible studies. Not long after, however, Meried was forced to join national service as was mandated by the government for citizens between the ages of 18 and 70. He did not want to get out of his obligation to his country, but he was afraid.
"I prayed and fasted. I asked God to protect me. I asked Him to help me keep the Sabbath day holy, and to keep me from bearing arms. The Lord provided ways to help me."
Meried's Bible accompanied him to his training post, an act that was forbidden. It was illegal to have religious possessions while serving. One Sabbath Meried took a moment to go to his sleeping quarters to read his Bible, but one of his officers caught him.
"What are you reading?" asked the officer.
"I'm reading the Bible."
The officer said, "Good example." Then he left.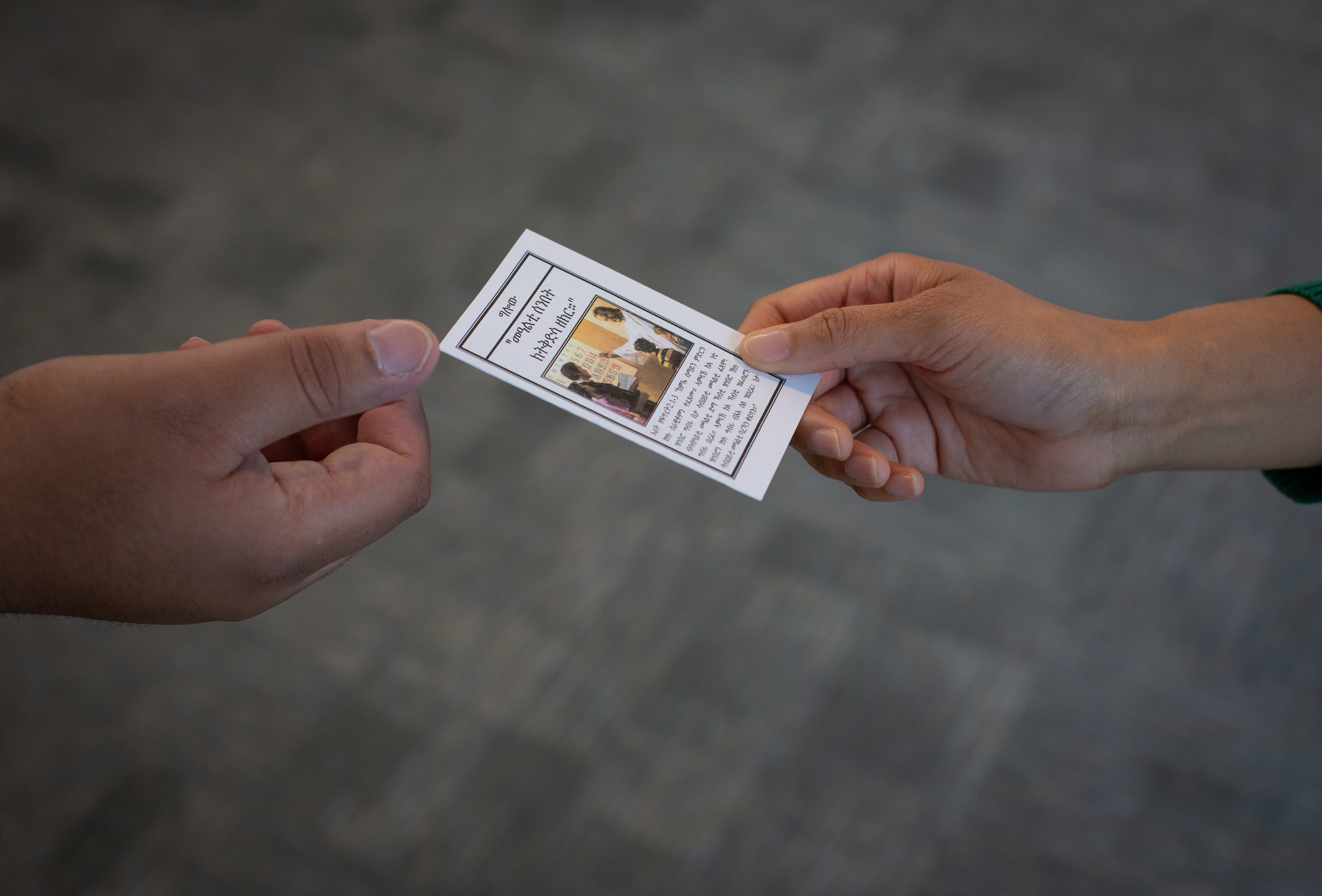 Pathway to Medicine
While national service is mandatory, a test is offered for those who want to opt out of the military. Meried passed the test and returned to his family.
He still held on to his dream of becoming a doctor, moving forward in faith and taking general education courses at the University of Asmara. A medical school opened. After completing the necessary credit requirements for admission, he enrolled in the medical school.
In Meried's final year of medical school he began to pray for a way to go to the U.S. to become a medical missionary. He'd heard about a place called "Loma Linda" that he wanted to visit. Moreover, he wanted to leave his country, since persecution based on religious beliefs seemed to be increasing at an alarming rate. He experienced opposition to the exercise of his faith, particularly observing the Sabbath, throughout his time in medical school. Unbeknown to him, his dean constantly advocated for Meried whenever the government, which controlled the hospitals, would send threatening letters.
Meried applied for the diversity visa in 2009. While waiting to hear more about his visa status, he and another colleague from school worked at a hospital in Asmara, the nation's capital. God blessed their work.
"The medical director was so appreciative of us. He said our work helped to decrease the hospital's mortality rates. God did so many miracles."
On the Run
Meried's interview date for the diversity visa was set for February 3, 2011, in Kenya. Under Eritrea's dictatorial rule at the time, leaving the country was forbidden except for rare occasions.
"There were checkpoints everywhere, making it very difficult to leave. The only way to leave the country was using smugglers," said Meried.
After much prayer and fasting, Meried received enough funds to pay smugglers to take him out of the country.
"I was able to cross the border safely into Sudan. In fact, we walked the whole night for about 12 hours on foot. Smugglers took us to a refugee camp operated by the UNHCR. We stayed for about a week; then they took us to another UNHCR camp," said Meried.
Food was severely limited at the camp. Meried was given only two pieces of bread and a small portion of lentils to eat each day. During the time it took Meried to secure passage out of the country, the deadline to make it to Kenya for the interview passed, but he was able to contact the embassy to notify them of his status. They pushed his interview date to September, but Meried still needed to find a way out of Sudan.
Official travel documents were required to cross the border, but he had only Eritrean identification, which allowed for travel only within the nation. Meried decided to find Eritrea's embassy in the capital of Sudan to see if they could issue him a passport.
"I had to escape the camp because I did not have the necessary paperwork to leave. Other countries help you with that process, but I was not helped there."
Smugglers were the only people who could aid Meried and other Eritreans who needed to get to the capital. Smugglers agreed to help them leave the camp and take them across the lake that was part of the journey.
"We had no choice but to trust them. I was so scared; the trip tortured me mentally. My mind was racing," said Meried. "It was very hard to keep my balance when we were in the boat. It was such a relief when we got to the shore."
Securing the Visa
He made it to the embassy and applied for the passport, but had to wait 40 days to receive it. He was careful not to mention that he was a doctor. A medical degree is viewed as the highest level of education one can acquire in Eritrea—the government did all it could to ensure that doctors did not leave the country. If Meried disclosed this information, the embassy would've denied his request for a passport. Further, Eritrean officials would have taken him back to Eritrea.
Meried was able to stay in an apartment that had been rented out to a friend of his sister, who had just left Sudan to travel abroad. The friend also purchased clothes for him. An Adventist Eritrean living in Switzerland somehow heard about Meried and was able to send him the equivalent of US$100 to assist him through the month.
When Meried got his passport, he could cross the border into Kenya. Meried had been in contact with the East-Central Africa Division (ECD) office of the Seventh-day Adventist Church. The division agreed not only to help Meried travel to its headquarters in Kenya, but to give him accommodations as he went through the process of obtaining the diversity visa. To Meried's knowledge, he is the first Eritrean refugee the division has sponsored.
"I stayed on the ECD property for three weeks. God provided for every need. For the first time in more than two months I had quality food to eat and a comfortable place to sleep and shower. I was so grateful to God."
The visa was granted. It was time to head to America. ECD paid for Meried's ticket to fly to Sacramento, California, where a family was willing to host him.
Seeking the Need
Meried eventually made his way to Loma Linda University, where he wanted to learn about wholistic medicine, but he heard a sermon that changed the course of his career. The message was on knowing God's call. The speaker said that understanding God's call comes from identifying four things—desire, talent, education, and need.
"The pastor said God can change your call according to the need," said Meried. Then he thought to himself, Eritrean people don't need a physician; what they need is a missionary. This is what God is calling me to do.
Later that evening he was struck with a powerful question from the Holy Spirit. "I heard, 'Bemnet, what are you doing for your people?' It was a strong and very clear voice." He reflected on this question for days, often while thinking about the tragedies that have befallen his people.
"Hundreds drowned in the Mediterranean Sea when they tried to escape to Europe. There was even a family who drowned in the same lake I crossed," Meried said. Many Eritrean refugees who cross the Sinai Desert become victims of organ harvesting. "Their abdomens are cut open while they're still alive and tied up," explained Meried.
"Through tears I asked God, 'Do you really care about my people?'" said Meried.
God helped Meried recall the history of the Seventh-day Adventist Church—in particular, "the Great Disappointment." Based on intensive study of biblical prophecy, the denomination's pioneers thought Jesus would return on October 22, 1844, but on that date Jesus took upon His role as high priest in the heavenly sanctuary and moved from the holy place to the Most Holy Place to advocate for sinners before God the Father.
"October 22, 1844 is supposed to be a day of hope. It means Jesus is standing for me before the Father, even though I'm a sinner. It shows that He really cares," said Meried.
This led Meried to begin the Hope 1844 Ministry, which allows him to translate Adventist literature into Tigrinya, an Eritrean language, for distribution in print, and deliver sermons online based on the literature. His first tract was requested by and sent to a man in Ethiopia.
"From there it reached many people around the world. That's how the ministry began," said Meried.
Into the World
A series of providential events would connect Meried to a woman living in Harrisonburg, Virginia, who had been praying for a way to help the growing Eritrean population in her community. A large number of Eritreans live in the Maryland, Washington, D.C., and Virginia area, according to Meried. This woman learned about Meried through his online ministry and connected him to the pastor of the New Market Seventh-day Adventist Church in the Potomac Conference. They helped him relocate to northern Virginia, where he could anchor his ministry and assist the church's efforts within the community.*
Meried has used nearly every technological resource at his disposal to create content for his people in their language, whether its conducting weekly Bible studies over the telephone, producing a YouTube series with sermons in Tigrinya, sharing messages of hope through videos on a messaging app called Viber, or creating a community with more than 4,000 people on Facebook. Meried also runs a special ministry that he was able to employ in Ethiopia once he became a U.S. citizen.
"I work with the church's mission field in Ethiopia to travel to the refugee camps for Eritreans. I've visited one of the camps twice to minister and provide medical services," Meried said.
Meried has committed his life to serving Eritreans. Viewers, listeners, and followers of his ministry are located in Africa, Europe, South America, Australia, and the U.S. "Eritreans are located almost everywhere. Reaching the Eritrean people, I believe, is like reaching the whole world."
*Meried is a member of the New Market Seventh-day Adventist Church in northern Virginia. He assists with Eritrean outreach and translation services for the Potomac Conference and the North American Division.
— Mylon Medley is an assistant director of communication for the North American Division.
1 "Religious Freedom Designations," www.state.gov/secretary/remarks/2018/12/288006.htm, accessed on May 8, 2019.
2Ibid.
3 "Global Trends: Forced Displacement in 2017," www.unhcr.org/5b27be547.pdf, accessed on May 8, 2019.