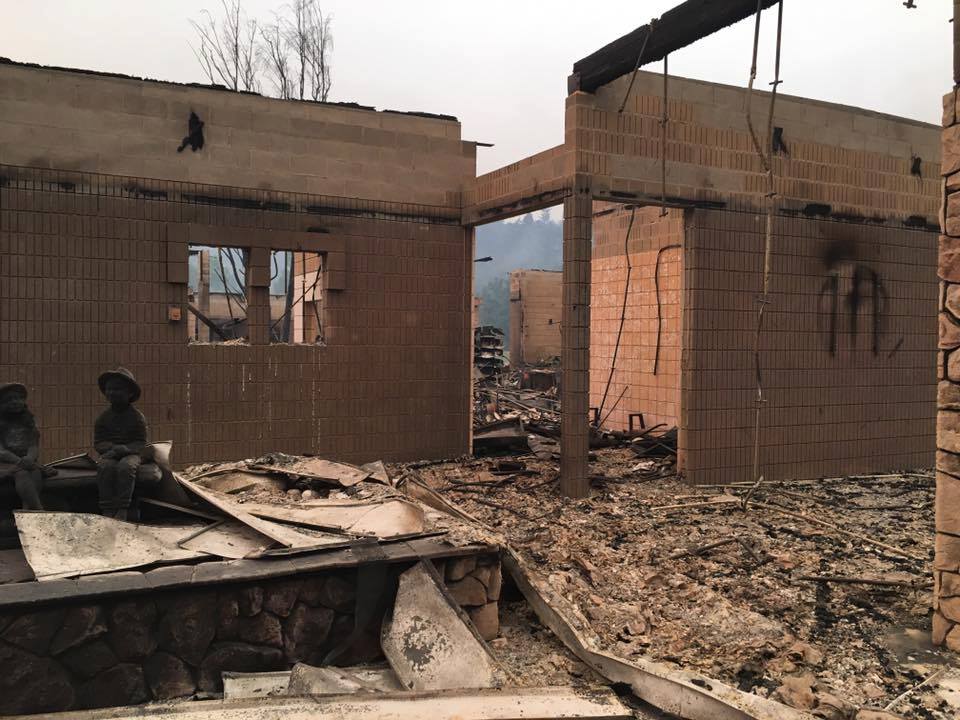 On Monday, Oct. 9, the Tubbs Fire swept into the Larkfield-Wikiup area of Santa Rosa and destroyed Redwood Adventist Academy, located on Mark West Springs Road. No students or faculty were on campus at the time. A nearby public school, Hidden Valley Satellite, shopping centers, homes, and historical landmarks suffered the same fate.
For much of Monday, the fate of the K-12 school was unclear. Rumors spread, but nobody knew for sure what had happened. Twice during the day, Principal Angie Weems and Northern California Conference associate Education superintendent Albert Miller attempted to visit the property. They were unable to get through.
Later in the day, Weems' husband traveled to the area, via backroads, and took photographs of the burned-out school buildings. "It's a huge loss to look at the pictures and see everything totally gone," said Weems, who still hadn't been able to reach the campus as of Wednesday morning. 
Early Monday morning, Weems was alerted that the fire was heading toward Santa Rosa. She decided there was too much uncertainty to hold classes for her 128 students. "I'm so thankful," she said. "If we'd had to think about getting kids out of there, that would have been tragic."
The news of the school's destruction spread through social media and word-of-mouth to shocked teachers, parents, and students. "It just hit me really hard," said sophomore Diego Velis. "I've spent so many hours at the school and have so many memories."
Several of the students lost their homes to the fire. Weems hadn't heard from everyone yet, so she didn't know the total number. Grades 7/8 teacher Jessie Michel grieves for her students. "I'm just so heartbroken for the kids," she said.
Founded in 1931, Redwood has played a large role in the local Adventist community. "Some families have had generations attend here — grandparents, parents, and children," said Weems. "Everybody is going to go through the grieving process in their own way."
Weems' immediate goal is to make sure the students don't lose valuable time. "Our plan now is to have the school open as soon as possible at another temporary location next week," she said.
The close-knit Redwood school community is supporting each other through this challenging time. "We're a family, and we're all really concerned about each other," said Michel. "It's sad, but at least we're not alone. We're in this together."
***
 
Although the property was insured, there will be other costs for the school and its families. You can help! Make donation at www.purecharity.com/redwood-adventist-academy.
 
Kids can share their support by sending cards to the Redwood students! Write to them at the following address: Santa Rosa SDA Church, Attn: RAA Students, 840 Sonoma Avenue, Santa Rosa, CA 95404.
 
For a bulletin insert/flyer to share in your community, please visit www.nccsda.com/RAA.
 
Check for updates on the NCC Facebook page: www.facebook.com/NorCalAdventistsinAction.
 
NCC Schools CLOSED Thursday, October 12
Hilltop Christian Preschool
Hilltop Christian School
Pleasant Hill Adventist Academy
 
NCC Schools CLOSED for the rest of the week, Oct. 12-13
Adventist Christian School of Willits
Clearlake SDA Christian School
Foothills Adventist Elementary School
Foothills Christian Preschool
Middletown Adventist School
Napa Christian Campus of Education
Pacific Union College Elementary
Pacific Union College Prep
Pleasant Hill Discoveryland Preschool 
Redwood Adventist Academy 
Rio Lindo Adventist Academy
Ukiah Junior Academy
Vacaville Adventist Christian School
Westlake SDA School