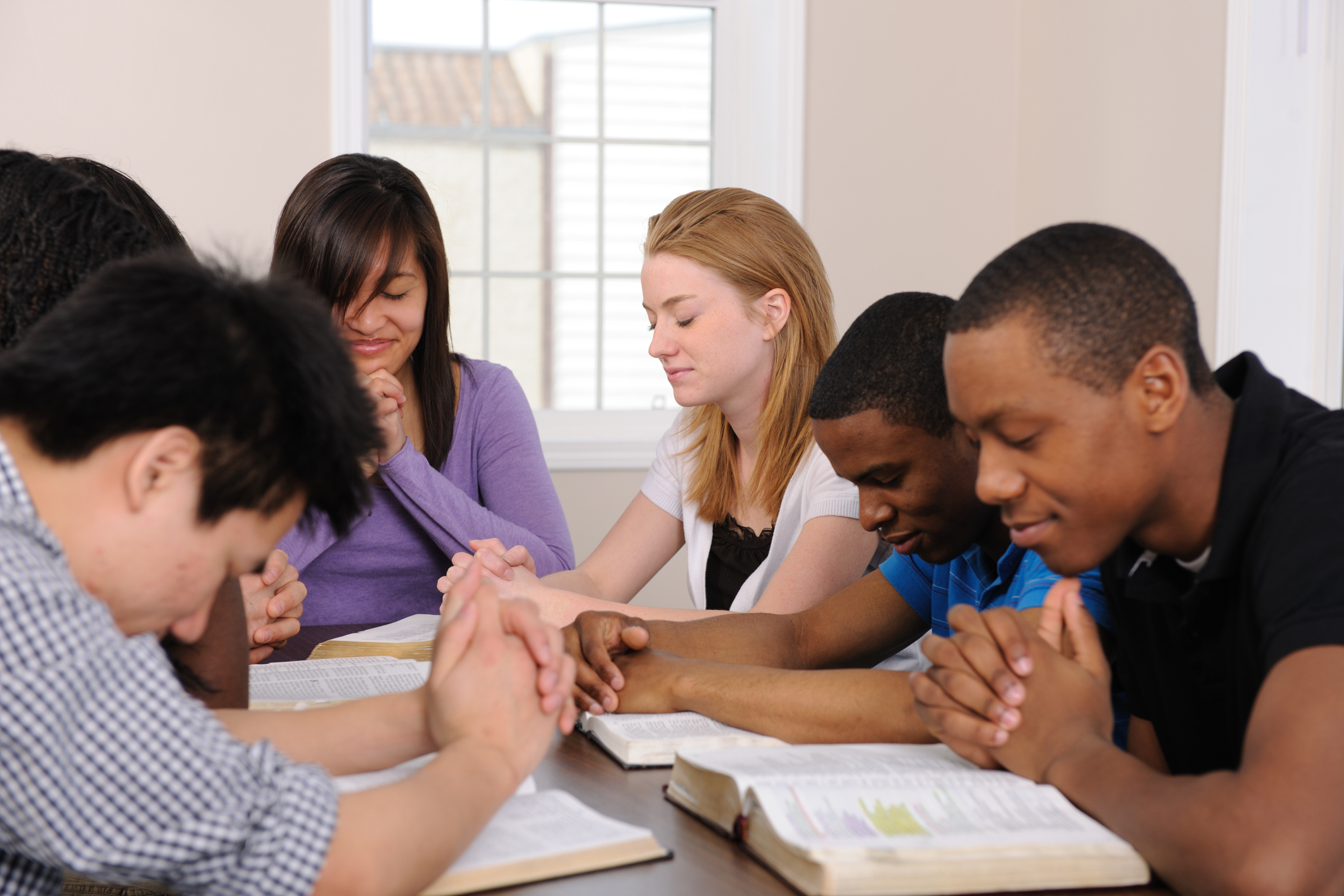 The following article is based on the report "Finding Purpose and Practices for Youth Sabbath School" prepared for the 180° Symposium. This article highlights findings of Steve Case and Hubert Cisneros, describes the status of youth Sabbath School in North America, and offers guidance for the future strengthening of youth Sabbath School. — Editors
Youth Sabbath School predates the official beginning of the Seventh-day Adventist denomination and even predates Adult Sabbath School. James White wrote the first four lessons for Youth Sabbath School in 1852 with the first publication of The Youth's Instructor. Its purpose was simple and straightforward — Bible study.
About 25 years later, Sabbath School became an official department of the Seventh-day Adventist Church. By 1885, a second purpose, world mission, was added to the original purpose of Bible study. In 1944, the General Conference Sabbath School department published three purposes for Sabbath School — studying the Word, world mission, and soul-winning — with the "supreme objective" being evangelism. A fourth objective, fellowship, joined the other purposes of Sabbath School in 1978.[1]
While the Adult Sabbath School purposes have increased and morphed over the years, a purpose for Youth Sabbath School seems silent. It may be assumed that something religious or spiritual should be attempted, but currently the social element is probably the strongest motivation for young people who do attend.This reality begs the question as to the worth of Youth Sabbath School today. Has Youth Sabbath School lost its value? If so, how can we make it valuable again? 
Deciding the Purpose
While it's relatively easy to operate a Youth Sabbath School out of habit or duty, rarely can leaders or participants articulate a clear purpose for it. Rarely does a person ask, "Why are we doing Sabbath School?" or "Why are we doing this particular thing for Sabbath School?" 
As a result, Youth Sabbath School practices often amount to filling time or haphazardly doing whatever comes to mind. Implementing a few key steps can help so Youth Sabbath School can become spiritually purposeful with practices that correspond to the purpose. 
Lacking a clear purpose, we unconsciously evaluate by attendance ("We had more people than last week"); or how a person feels at the moment ("I liked it"); or level of criticism ("At least nobody complained").
When Youth Sabbath School has a clear purpose, both planning and evalutating have better criteria for measurement? Can we identify a purpose or a goal for this weekly gathering? Unfortunately, Adventist Youth ministry, and certainly Youth Sabbath School, usually lacks a current resource that addresses its purpose.[2]
If there isn't a purpose for Sabbath School, it's time to do some brainstorming, and feel free to get input from others. Ideas might include: Go to heaven, have a relationship with Christ, grow the youth group, keep youth in the church, or reach the community. 
Either immediately or over time, some of the purposes will probably be adjusted and improved. Others will fall by the wayside. Asking the question "Why?" helps link Youth Sabbath School to the purpose or goal for youth ministry. 
We suggest the overall purpose of Christlikeness. This is not a new term.[3] It includes accepting Jesus as Savior and Lord, and that involves broad and unique discipleship by living God's kingdom now as well as in the future. Following Paul's familiar "All things work together for the good, to those who love God," Scripture continues with: "He [God] knew those who would be His one day, and He chose them beforehand to be conformed to the image of His Son so that Jesus would be the firstborn of a new family of believers, all brothers and sisters" (italics supplied).[4]
In practice, this is what happened to Christ's disciples: "When they (the Jewish Council) saw the courage of Peter and John and realized that they were unschooled, ordinary men, they were astonished and they took note that these men had been with Jesus (Acts 4:13, NIV)."
There may be short-term goals that lead to this overall purpose, but identifying the big goal enables a person to take sequential steps to move toward that goal.
After starting the plan with the goal, move to the Youth Sabbath School program. And instead of asking "Why?" ask the question "How?"
The program should provide the answer to "How?" — This relates to the method of ministry or your philosophy of ministry. Some would label this your values. 
The Philosophy 
We suggest a five-part philosophy called "Fostering relationships that build responsible servant leaders." 
The term "fostering relationships" forms the foundation of Youth ministry and Youth Sabbath School in particular, because Christlikeness is all about a relationship with Jesus Christ. Building relationships includes horizontal relationships with others and one's vertical relationship with God.
Another component of the method/philosophy is "leaders." This term usually conjures up visions of many people following a specific, charismatic person we label as the leader. But a broader understanding of a "leader" is someone whom someone else follows. It doesn't require a large group to empower a leader. It calls for full participation to empower leaders rather than sitting passively as a spectator.
The "servant" component of the method/philosophy addresses the common adolescent challenge of self-worth. Applying this to Youth Sabbath School, one would expect the youth themselves to fill various roles for a Sabbath School program rather than expecting only adults to lead or to serve. It also means those in the Youth Sabbath School would find options and opportunities to serve others inside and outside of the church rather than expecting all others to serve them.
The word "responsible" usually resonates more with adults than with young people. Adults want the youth to be "responsible," while teens prefer "freedom." In practical terms, this means the Youth Sabbath School serves as a laboratory for young people to be given the freedom to choose what will happen during Sabbath School, and then they must follow through to make that happen. It means entrusting them with finances and support, and then holding them accountable for what they do with what they have been given. Instead of token positions on a church board, give them the authority, financial and emotional support. Offer mentoring to make things happen for both Youth Sabbath School and other church ministries, and give them feedback — affirmation and critiques — so they continue to serve, grow, and minister.
This leaves us with the word "build." We think the best way to build young people is to provide a strong relational foundation for security and then move them out of their comfort zones for positive change. Another way of saying this is that most humans prefer a "neutral environment," in which no change is needed. Young people would label this as "boring." In contrast, most young people prefer a "non-neutral environment," in which change is needed. It is a challenge for stable churches to allow or even encourage change, but young people thrive in such an environment. This is where reinvention can take place. As the Psalmist often said, "Sing a new song to the Lord."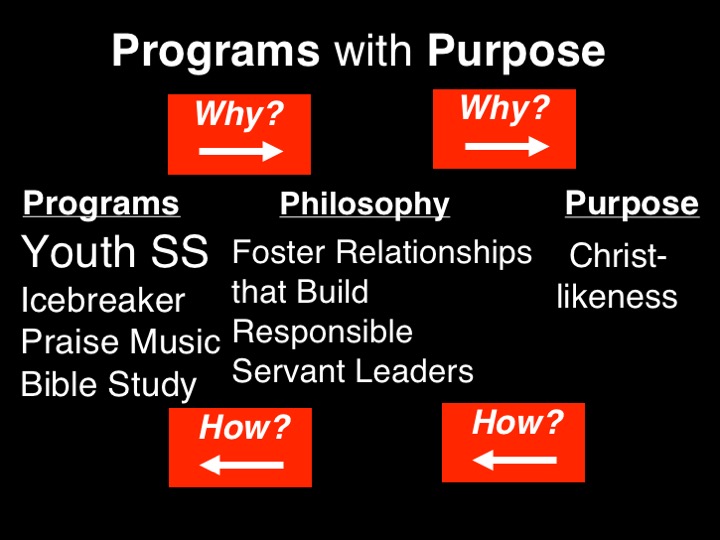 The Bridge Between Programs and Purpose
The philosophy/methodology provides a bridge between the Youth Sabbath School and the purpose/goal of Christlikeness. You can start with the program, Youth Sabbath School, and ask "Why?" The philosophy now answers that question. What is it in your Youth Sabbath School that includes at least one component of the philosophy: relationships, leadership, service, responsibility or a non-neutral environment that motivates change? You may need to adjust your Youth Sabbath School to make that happen. 
Your programs can and should change, or else they will become neutral/boring. When people ask, "Why are you doing this in youth ministry?" answer with the purpose instead of defending the program. You can also point out which element(s) of the philosophy you are using in that particular program.
Putting It Together
Rarely can a person identify the purpose for a Youth Sabbath School. Without a clearly understood purpose, Youth Sabbath Schools will continue their aimless target. The time slot might be filled, but who really cares? Young people who do attend will go through the motions with low expectations and little or no change.
In contrast, a Youth Sabbath School with a clear purpose of Christlikeness can provide a focus for planning, implementing, and achieving the very thing Christ desires—for us to become like Him. 
A philosophy of "Fostering Relationships that Build Responsible, Servant Leaders" explains the methods of doing Youth Sabbath School so each component answers the "Why?" question. Or you can begin with the overall goal of Christlikeness and ask the question "How?" By implementing the philosophy in each part of the Youth Sabbath School, you can make your youth ministry count.
* * * 
Recommendations
We've shared several recommendations with and for the North American Division Youth Ministries team. Based on the need for Youth Sabbath Schools to have purpose, we recommend the following for Youth ministry on other levels in the church:
For Union Youth Directors
Make Youth Sabbath School part of your job description. Initiate this with your union president. 

Coach the conference youth directors in your union to include Youth Sabbath School as part of their job description. 

Provide resources and training for conference youth directors to train local church Youth Sabbath School leaders. This should be done in conjunction with the NAD certification.

Communicate with the NAD Youth Department on needs you have, the conference youth directors have, and the local church Youth Sabbath School leaders have. Share with NAD resources local churches have found effective.

Establish a Youth Sabbath School of the Year Award of $5,000 to be awarded once a year for five years. This will be based on the local church Sabbath School leaders becoming certified, sending monthly reports to their local conference, and fostering relationships that build responsible servant leaders in their church's youth ministry. Funds would be restricted to domestic or international outreach projects or mission trips.
For Conference Youth Directors
Make Youth Sabbath School part of your job description. Initiate this with your conference president. 

Discover which churches in your conference have a Youth Sabbath School. This will take time, especially if little or no relationship currently exists between you and the local church. 

Identify who the Youth Sabbath School leaders are in the churches that have a Youth Sabbath School.

As these contacts with local church Youth Sabbath School leaders are made, listen for feedback on what is happening in the local church Youth Sabbath School, what is not happening, and how the conference youth department can best serve them in their church.

Allocate time to research and respond to the needs expressed.

Develop a network of communication in which you are able to share the good news of what others are doing and solicit help and interaction with fellow Youth Sabbath School leaders in the conference. 

Dialogue with Youth Sabbath School leaders about their purpose(s) for Youth Sabbath School. Be prepared to give short and longer responses as requested and needed.

Provide certification training for local church Youth Sabbath School leaders. Two resources already published and available include A Place to Belong and Building a Great Team.

[5]

 The NAD Youth Department has also begun training specifically for Youth Sabbath School. It's called IGNITE. For more information, contact Vandeon Griffin at the NAD Youth Department.
Prepare to share resources for Youth Sabbath School, and ask what others are using and their evaluation of them. AdventSource carries many youth ministry resources. Cornerstone Connectionsis available as a free app for Youth Sabbath School lessons. Create and share your own as well. The NAD Youth Department created a new website of Youth Sabbath School Ideas that launched in January 2019. Pass along this resource to local church youth leaders by directing them to YouthSabbathSchoolIdeas.org.

Establish a Youth Sabbath School of the Year Award of $1,000 to be awarded once a year for five years. 
For Local Church Youth Sabbath School Leaders
Have an overall purpose for your Youth Sabbath School. If you don't have one yet, develop one as described in this paper or in the resource A Place to Belong. 

Connect and share with other Youth Sabbath School leaders from other churches.

Always be training young people to be leaders in various ways in the Youth Sabbath School

Connect with your conference youth director and ask for input. Get certified through the certification process recommended to the NAD Youth Department.

Tap into the new Youth Sabbath School Ideas website created by the NAD Youth Department. This contains a host of ideas for Youth Sabbath School each week as a supplement to the Cornerstone Connections teacher's guide. You can access it at YouthSabbathSchoolIdeas.org or sign up for a weekly prompt that makes it just a click away.

Share with the conference youth director what you're doing and not doing, as well as needs you perceive when it comes to Youth Sabbath School. You can also post this on the new Facebook page "Youth Sabbath School Ideas."
---
[1] These same four purposes also appeared in 2002 edition of Ellen White's Counsels on Sabbath School Work in the General Conference Sabbath School Department's Foreword.
[2] A wide array of Youth Sabbath School resources used to be available each quarter through Cornerstone Connections. But that stopped and Insight magazine took over and published Insight Youth Resource. This quarterly publication included a collection of Sabbath School ideas, AY program ideas, socials, outreach activities, talk sheets, and youth ministry leadership articles. But that went out of print and the student lessons that appeared each week in Insight magazine ceased when Insight went out of print in 2018. Only a teacher's quarterly is available in print through the cumbersome process of a "standing order" a church can establish with Pacific Press through an Adventist Book Center, or now as a free app for quick access in a more current method of delivery. Robert Holbrook lamented the absorption of the Youth Department into the Church Ministries super-Department in 1985. He marked that as the downturn in youth ministry emphasis, personnel, and a shift from youth soul-winning to youth baby-sitting. The printed aim on The Youth's Instructor 100 years ago is sometimes repeated still today in some AY settings: "The Advent message to all the world in this generation." Few would connect that to Youth Sabbath School today, although a change could be made.
[3] Nevin Harner used this term in 1939 to name the church's objective in educating church members. Klaus Issler used the same term in 2001 to identify the goal to which we educate in the church. In 2014, Steve Case and Hubert Cisneros labeled "Christlikeness" as the broad, overall goal for all youth ministry.
[4] Romans 8:29, The Voice translation.
[5] Both of these resources have six sessions from which a person could choose to provide youth ministry training. These are available from AdventSource.
Works Cited
Case, Steve, and Hubert Cisneros. A Place to Belong. AdventSource, 2014.
Case, Steve and Hubert Cisneros. Building a Great Team. AdventSource, 2015.
Harner, Nevin C. The Educational Work of the Church. Abingdon, 1939, p. 20.
Issler, K. "Theological Foundations of Christian Education." Evangelical Dictionary of Christian Education, edited by Anthony, Michael J. et. al, Baker, 2001, p. 35.
White, Ellen G. Counsels on Sabbath School Work. Review and Herald Publishing, 2002.