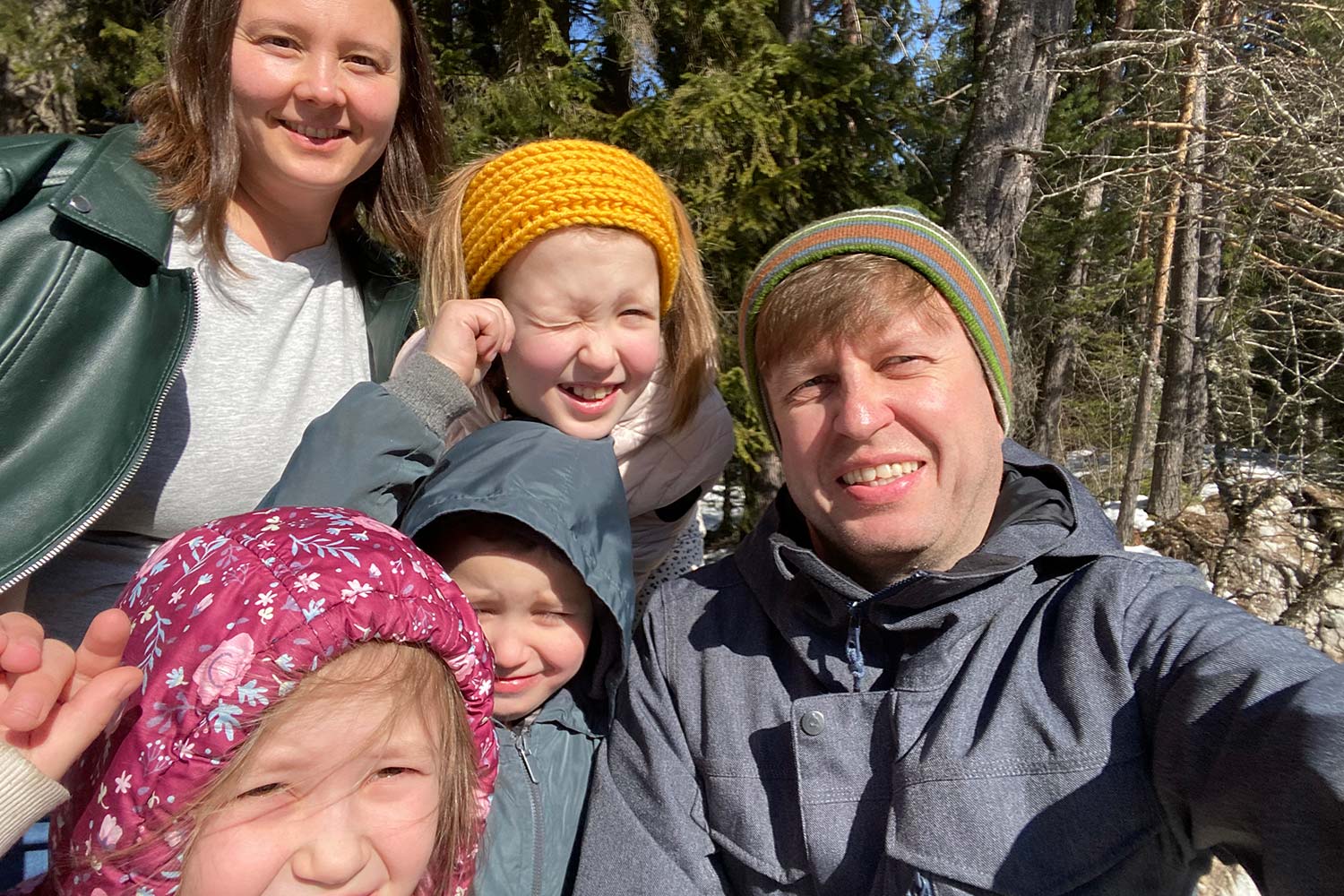 The night before Ukraine was invaded, Andrey Gulko went to bed early.
He and his family had returned from a business trip to the Netherlands. Back to their house with their own dishes, towels, and comfortable beds. Back to the daily routine. Back to their normal life.
Two days went by. It was a Wednesday and they still hadn't unpacked. With three children under 10, normal life for the family was busy. 
The first time Gulko awoke was to the phone ringing. It was his neighbor, anxious and worried about the tense situation with Russia.
Still groggy, Gulko put his neighbor off until morning. There had been rumors for months, but nothing had happened yet. He hung up, closed his eyes and once again let the waves of weariness pull him back into sleep.
He was jolted awake by the sound of loud blasts and rattling windows. It was 4 a.m. The Gulkos looked at each other. It was actually happening. Now.
An Escalating Crisis
The Gulko family, along with millions of other Ukrainians, suddenly found themselves at the center of a crisis that had been escalating for years.
Eight years before, in February of 2014, Russian President Vladimir Putin had ordered unmarked troops to invade and annex Crimea, a southern section of Ukraine. A wave of protests and demonstrations broke out across Ukraine, culminating in the Revolution of Dignity in which Ukrainians ousted their pro-Russian president, Viktor Yanukovych, and set up a pro-Western government.
Putin used similar tactics in the Ukrainian region of Donbas. But that effort devolved into a simmering conflict between Ukrainians and Russian-backed separatists. Twenty-nine ceasefires failed to hold. For years, the situation remained a stalemate.
As early as spring 2021, Russia began amassing thousands of military personnel and equipment in Crimea and on the border with Ukraine.
A full-scale invasion was on its way.
"I Didn't Think it Could Happen"
Gulko grew up in a village not too far from Kyiv.  His father was a Seventh-day Adventist pastor. At 15, he left home to attend Thunderbird Adventist Academy in Arizona, United States, with support from a relative in California. Gulko spoke no English, and no one at the academy spoke Ukrainian — he learned through immersion.
After academy, he studied at Pacific Union College, and worked at the bike shop in nearby Calistoga. One of Gulko's fondest memories from his PUC days is mountain biking. He even finished in the top three of the Napa Valley Dirt Classic, an annual mountain bike race — on a BMX bike.
At PUC, Gulko majored in manufacturing and engineering, and after graduating in 2004, he decided to return to his homeland. "I felt like it was my patriotic duty to go back to Ukraine and teach Ukrainian farmers to farm better," he said.
With its vast arable plains, agriculture plays a vital role in the Ukrainian economy — as reflected even in the nation's flag. Considered "the breadbasket of Europe," Ukraine is a major producer of wheat, corn, and sunflower products.
After returning, Gulko spent a year working for one of the big tractor suppliers in Kyiv as a technical instructor. There he met Natalie, a human resources manager, who would later become his wife. 
The couple had three children together, now ages 9, 8, and 5. They made their home Voron'kiv, a village southeast of Kyiv.
Eventually, Gulko began working at Raven Industries, an American company with its European headquarters in the Netherlands. Raven designs and manufactures products for precision farming. 
In January, as news reports about an impending Russian invasion mounted, Raven Industries sounded the alarm. Gulko readied his team in Ukraine for the "worst-case scenario."
Have extra fuel on hand. Keep your car's gas tank full. Gather together important documents. Pack a suitcase with bare necessities. Be ready for an emergency.
They all did it.
But nobody believed it.
"I myself didn't believe it," Gulko said. "I didn't think it could happen."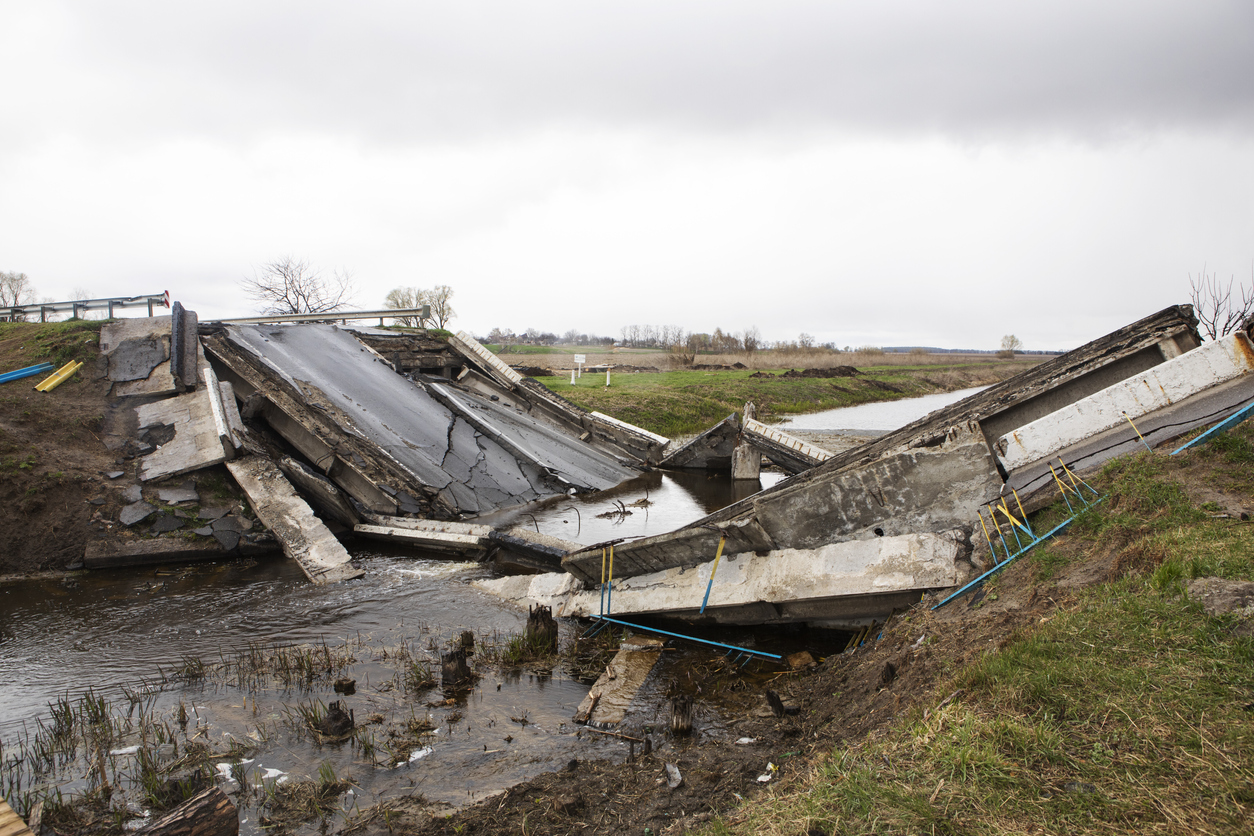 A Non-Stop Adrenaline Rush
Even the government assured its people that there was no possibility of war.
But in the pre-dawn hours of February 24, 2022, war arrived. In a full-scale invasion, Russians moved into Ukraine on the ground from multiple directions. Missiles and airstrikes hit targets across the country.
The Gulkos' young son, looked out his bedroom window and screamed that the sky was on fire.
Orange lights blazed trails across the sky, their arcs ending in explosions. The missiles the boy saw were part of Ukraine's own defense system. But for the 5-year-old, it was terrifying.
Andrey and Natalie Gulko quickly dressed their children in warm clothes and tried to keep them calm as they took shelter in the root cellar.
Soon, neighbors, with no shelter of their own, joined the Gulkos in the cool dry space under the garage where they stored carrots, potatoes, and other vegetables from their nearby field. For a few days, 15 people managed to fit in the cellar — six adults and five children.
Food was scarce for many in the wake of the invasion.
But the Gulkos had plenty. "It's kind of funny, we didn't understand why our parents preserved food and stored staples," Gulko said. "But they lived through shortages."
Generations of families in Ukraine have prioritized food storage since the Holodomor, a man-made famine of the Stalinist era, killed millions of Ukrainians in 1932 and 1933. The psychological effects of that tragedy were far-reaching, and the Gulkos carried on the stockpiling tradition.
Built to preserve food, the Gulkos' cellar now served to protect people.
Temperatures at night were near freezing. It was impossible to keep the cellar either heated or properly ventilated. They made room on the floor for the children to sleep. Adults slept sitting up. Or they didn't. At most, Gulko slept two hours a night. Sometimes only 45 minutes.
"For six days it was a non-stop adrenaline rush trying to keep everyone safe," he said.
Daylight marked a temporary lull from the nighttime air raids. They surfaced from the cellar and ventured into the house to cook. Children played outside in the fresh air, reveling in the warm sunlight. Still, the adults kept a wary eye turned toward the sky, on the lookout for warplanes.
But after six days, the kids were sick. They were cold and had runny noses and coughs. Meanwhile, in the north, a 40-mile-long convoy of Russian soldiers inched toward Kyiv. Increasingly, civilians became targets.
That's when Andrey and Natalie Gulkos made the choice. They had to leave Ukraine.
The Journey West
The Gulko family was fortunate. Raven colleagues in Bulgaria reached out and offered a place to stay.
So in a mid-size truck similar to a Toyota Tacoma, Andrey and his wife fit their three kids, a neighbor's daughter, and their chocolate lab, Sunny.  With just the essentials, they began the journey west.
The family had to take the long way to the border to avoid bombings and attack zones. Many bridges were shut down. Alternate routes took them through small towns and villages with checkpoints.
After three days of driving, they finally reached the Romanian border. But crossing wasn't easy. From noon that day until seven the next morning they waited in line.
Many Ukrainian men were being conscripted to stay and fight. According to Ukrainian law, having three underage children was an exemption, but the family was nervous. "The law is one thing," Gulko said, "people at the border are another."
Andrey Gulko's family was resolute. They would remain with him if he couldn't cross.
Finally, they crossed into Romania. ADRA was the very first large support tent to meet fleeing Ukrainians. The second, right behind it, was the Seventh-day Adventist Church of Romania.
The Gulkos didn't stop because they had a destination and a vehicle, but many others did, not knowing what their future held.
When they reached their destination in Bulgaria, nine days after the Russian invasion began, Gulko could finally sleep. And he did. Off and on for a full two days.
They convinced Natalie Gulko's parents to leave Odessa and join them. But after three weeks, the older couple decided to go back. "They are still in Ukraine," Andrey Gulko said. He sighed. 
From Bulgaria, the Gulkos drove northwest to the Netherlands, where Raven's HR department was planning for their arrival. Raven knew what documents were needed and where to register with the EU. The company had recommendations for schools, and even met with principals to aid in enrolling the children.
Natalie Gulkos also found employment — teaching English at an international school.
The Gulkos are grateful for the kindness and generosity of his Raven colleagues and the others who helped them on their journey to the Netherlands.
But it's not home.
The Sun Will Rise Again
Russia's war with Ukraine is a freezing conflict, Gulko said. There won't be a clear point of victory with a winner and a loser. He and Natalie Gulko ask themselves if they really want to go back to Ukraine and risk putting their children through all of it again.
In the Netherlands, they are not in need. They have housing and essentials. They have jobs and the kids are in school.
Still, it's hard to settle in while yearning for the homeland. "We try to tell ourselves convincing stories about what it would take, but it's hard to feed yourself illusions that it will end soon," Gulko said.
Ukraine's national flower is the sunflower. Since the invasion, it has symbolized to the world the unwavering spirit and hope of the Ukrainian people.
By day, sunflowers fix their bright-yellow faces toward the sun, mirroring its movement until nightfall. In the darkness, sunflowers turn back toward the east and wait expectantly for the first light. The sun will rise again.
It's a hope the Gulkos have, a hope that one day they can return.
"What's the best place for kids?" Gulko mused. "There's no better place than home."
 — Laura Gang, Pacific Union College News