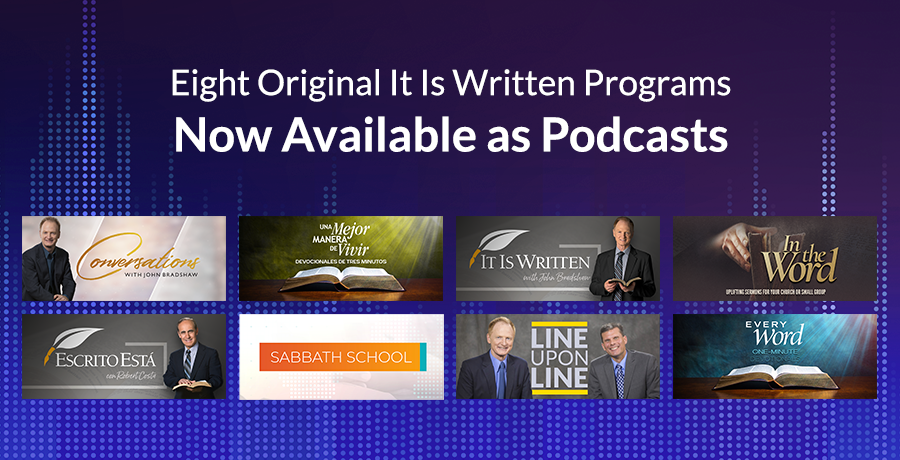 From weekly episodes to daily devotionals to shows in Spanish, eight original It Is Written programs are now available as podcasts on Apple and Google podcasts. "It Is Written," "Sabbath School," "Every Word," "Line Upon Line," "Conversations," "Escrito Está," and "Una Mejor Manera de Vivir" join "In the Word" to provide uplifting content on the go.
The new podcasts allow It Is Written to spread the gospel even further. "Podcasts are extremely popular, so it is important for It Is Written to utilize podcasting as another effective way of sharing life-changing messages," said John Bradshaw, It Is Written speaker/director. "The new podcasts extend the scope of It Is Written and give us a greater opportunity to reach people for Christ. In a short time, our podcast audience has grown significantly, so I'm encouraged that God is powerfully using this."
In addition to podcasts, these programs and more may be viewed at itiswritten.tv. 
Available Podcasts
A new episode of It Is Written is posted every Saturday morning. It Is Written, the flagship program of the ministry, is presented by John Bradshaw and takes viewers to locations around the world while presenting the transforming teachings of the Bible.
Sabbath School is an in-depth study of the Bible featuring the author of the current adult Bible study guide, international evangelist Pastor Mark Finley. The weekly lesson study is posted Friday morning. Beginning August 1, 2020, a short review of the daily lesson study will also be released.
Every Word is a one-minute, Bible-based daily devotional.
A new Line Upon Line episode will post weekly on Mondays. Hosted by Pastors John Bradshaw and Eric Flickinger, Line Upon Line answers Bible questions submitted by listeners.
Released every Monday, Conversations takes you into the heart of inspirational experiences and unforgettable testimonies that will encourage you in your own walk with God.
Presented by Pastor Robert Costa, Escrito Está is a Spanish-language program that discusses a variety of biblical topics, pointing people to Jesus as the only hope for our world. The weekly program is published on Saturdays.
Una Mejor Manera de Vivir is a brief daily devotional presentation in Spanish by Pastor Robert Costa.
Taking you deep inside the Bible, In the Word presents inspirational preaching by Pastor John Bradshaw on a wide range of biblical subjects. A new episode is posted every Friday.
— Cassie Matchim Hernandez is marketing assistant for It Is Written.