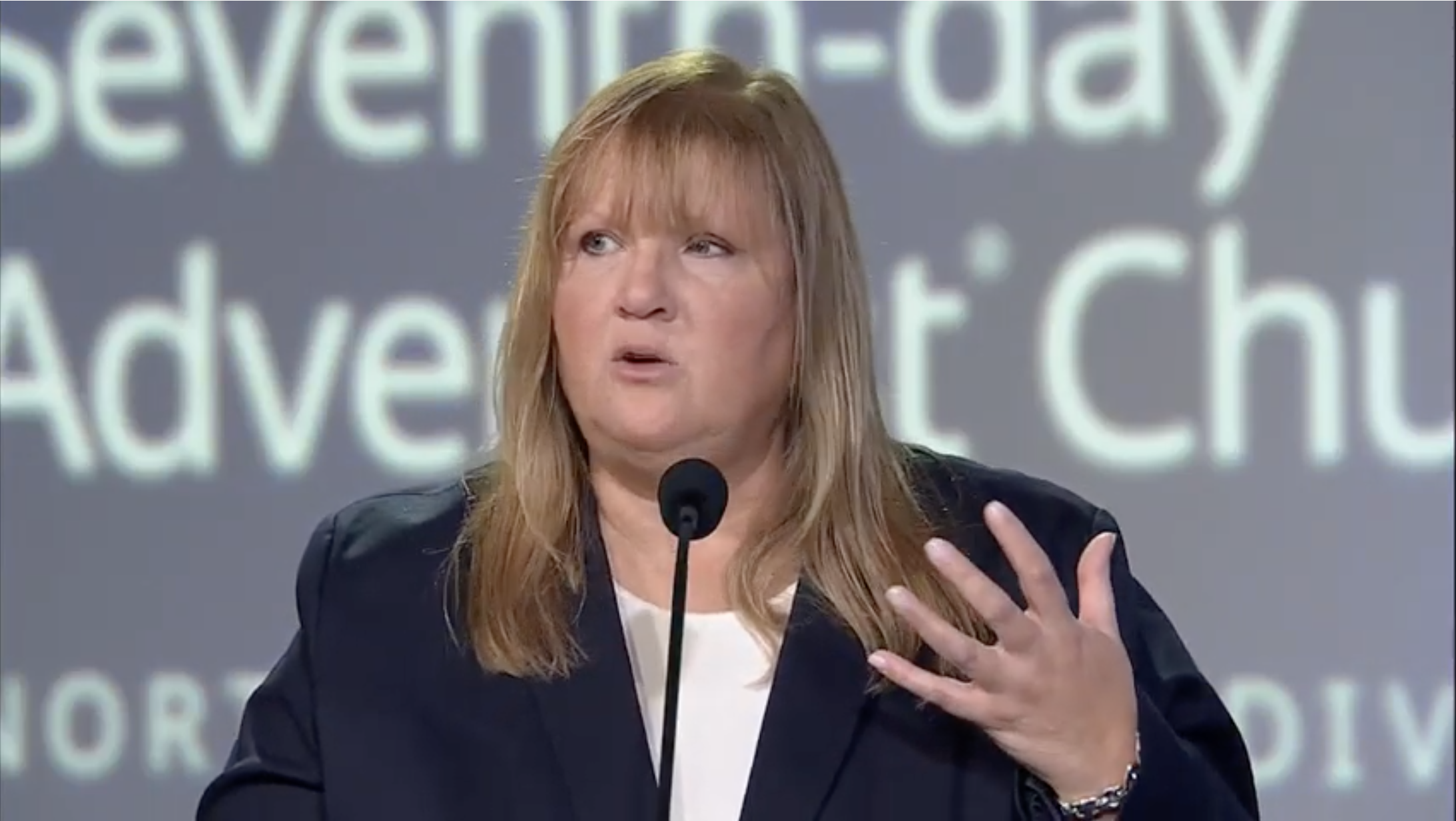 Day four of the North American Division Year-End Meeting began with a powerful devotional by Wendy Eberhardt, NAD vice president for ministries, whose message, entitled "In All Your Ways," focused on Proverbs 3:3-6. "We've gotten used to our routine, our [busy] calendars, and we forget Who we depend on," Eberhardt said. "But we shouldn't depend on ourselves and our own understandings. We should acknowledge God in all our paths . . . and depend [on Him] in everything."
Following the devotional message, Diane Thurber, president of Christian Record Services (CRS), reported on the ministry's activities in the recent past as well as plans for the future. With a mission to empower the blind, engage the community, and embrace hope, in 2020 Christian Record Services provided 99,581 magazines, 3,505 books, 531 braille books, and 2,266 large print books to sight-impaired people, 80 percent of whom don't identify as members of the Seventh-day Adventist Church. In 2022 CRS plans to develop new Spanish-language and mental health resources, as well as launch GLOW tracts in an accessible format.
Erton Kohler, who was elected secretary of the General Conference (GC) in April 2021 to replace G.T. Ng, sent recorded greetings from Brazil, where he and his family are awaiting immigration clearance before coming to the U.S. Kohler expressed appreciation for the NAD's theme Together in Mission. "I like how this project is integrated with the 'I Will Go' initiative," he said.
In his NAD Secretary's report, Kyoshin Ahn remarked how faithful church members have been during the pandemic, pointing out that despite the challenges, 17,392 members have joined the church. The report also included presentations from departments under Ahn's supervision, including the Office of Volunteer Ministries and eAdventist, which provides helpful tools for churches. 
Ahn also gave a brief update on the special GC Session meeting to take place on January 18 when 400 delegates (23 from NAD) will vote to allow virtual meetings and electronic voting. He also indicated that the regular GC Session in June 2022 will be shorter, have no exhibits, and that non-delegates are invited to attend only on the weekends.
The report of Adventist Laymen's Services and Industries, better known as ASI, was given by Andi Hunsaker, who, at the August 2021 ASI Convention in Orlando, was elected to serve as the organization's president in North America. A portion of ASI's brand-new documentary was shown, telling the history of ASI and its founders, Percy Magan and Ed Sutherland, who pioneered in the establishment of Madison College in Tennessee where ASI had its humble beginnings. Hunsaker quoted Gospel Workers, p. 352, in which Ellen White says plainly that the work will not be finished until lay members and church leaders partner together.
Dave Weigley, president of the Columbia Union, reported on how evangelism activities are generating enthusiasm and creative ministry ideas as leaders, pastors, and members work together to share Christ's message of hope and wholeness. Such activities as Bible studies, clothing giveaways, food drives, community baby showers, vaccination clinics, health fairs, and other outreach activities are taking place around the union.
Lake Union's report by Ken Denslow, president, also centered around evangelism, announcing plans for "Our United Cry" Prayer Conference on March 11-12 in Plainfield, Indiana, and Your Best Pathway to Health mega clinic April 17-21 in Indianapolis. Following the mega clinic, pastors and lay people will host health seminars and evangelistic meetings, culminating May 21-28 with a weeklong evangelism series presented by Ted Wilson, GC president.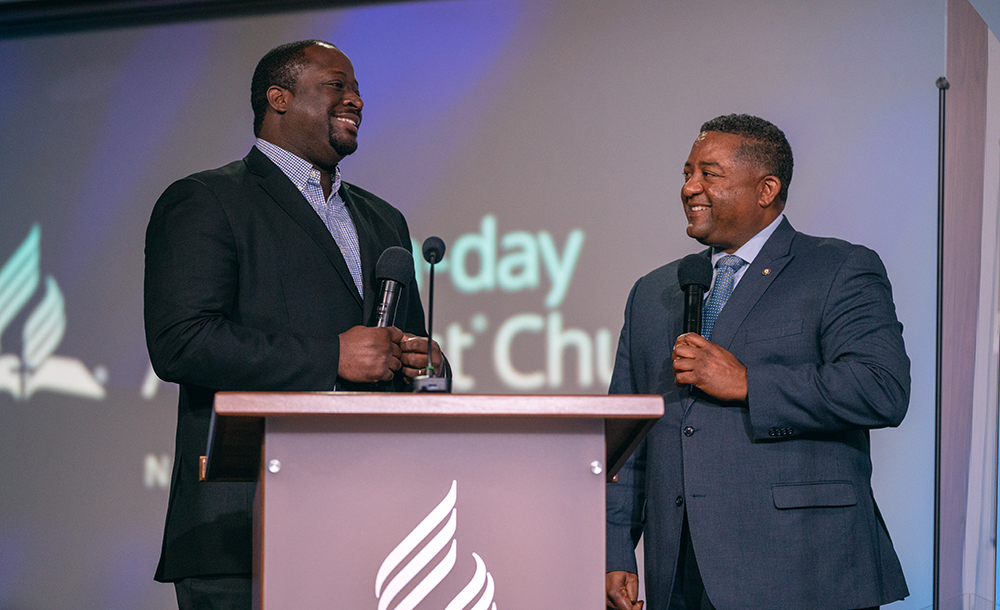 As part of highlighting the division's strategic focus on "multiply," NAD Ministerial Association director Ivan Williams conducted a compelling interview with Isaiah Long, a minister of another faith, who, when challenged by one of his members with a Bible question that he was unable to answer, was led to do some careful study. In the process, Long discovered Amazing Facts Bible study materials, learned about the Sabbath, and was convicted that he should keep it. After an 18-month journey of Bible study, Long was baptized into the Seventh-day Adventist Church. He continues to pastor the same church, which is now a Sabbath-keeping congregation that hasn't yet become an Adventist church.
The final portion of the afternoon meeting was spent in breakout sessions led by each union president, in which committee members brainstormed for practical solutions to the questions that were posed. Participants could choose from a list of seven questions on such topics as "How to increase member involvement" or "How to change our methodology in a post-COVID world." Several common themes emerged from the discussions, such as the importance of reaching out to the community, engaging young people in the mission of the church, and mentoring and discipling members.
— Pat Humphrey, a retired communication professional, writes from Texas.